Retaining Wall Ideas for Sloped Front Yard: 5 Creative Ideas for a Mesmerizing Design
Published: 27/03/2023 | Updated: 10/09/2023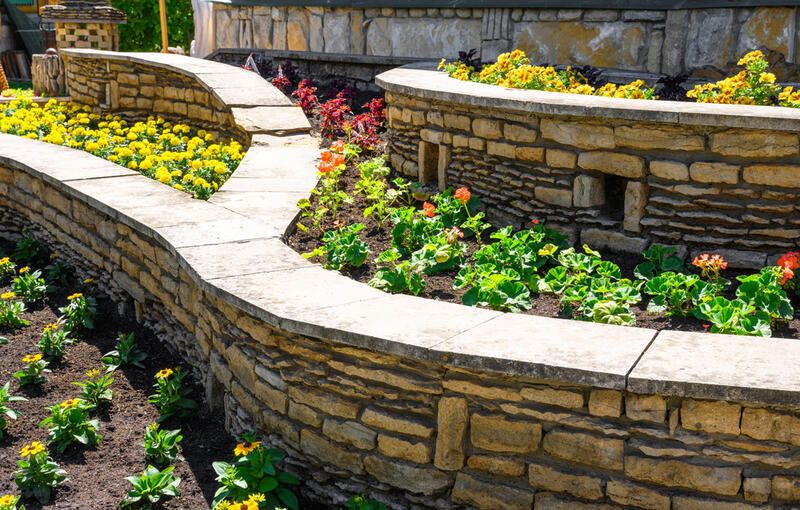 How would you feel if you had finally stumbled upon your dream house — only to realize that this marvelous piece of art is somehow blemished with a sloped front yard?


Bummed out, right?
Well, don't treat this magnificent home any differently or feel like this sloped yard has cunningly stolen your dream away!
Believe it or not, it's quite the opposite. This slope is your gateway to boosting your home's curb appeal. With a well-planned, creative landscape design, this sloped yard can be the talk of the town in no time.
An innovative landscape design that blends art with functionality is like a striking masterpiece brought to life and casually displayed at the forefront of your property for every passerby to marvel at its gripping details!
A creative detail as a retaining wall is a great way to step up your style.
Reasons Why You Should Build a Retaining Wall
Designed in an utterly breathtaking way, retaining walls will make you completely forget about the time when you thought this slope is a living nightmare. Think of it as an opportunity to introduce a captivating design feature to your outdoor space.
While some people build retaining walls for the mere sake of bringing together an attractive façade, others are actually in need of this design feature to meet a practical purpose.
With retaining walls, you will keep soil in place and hinder it from sliding forward, reduce surface runoff, prevent soil erosion, and add more functional space to your yard.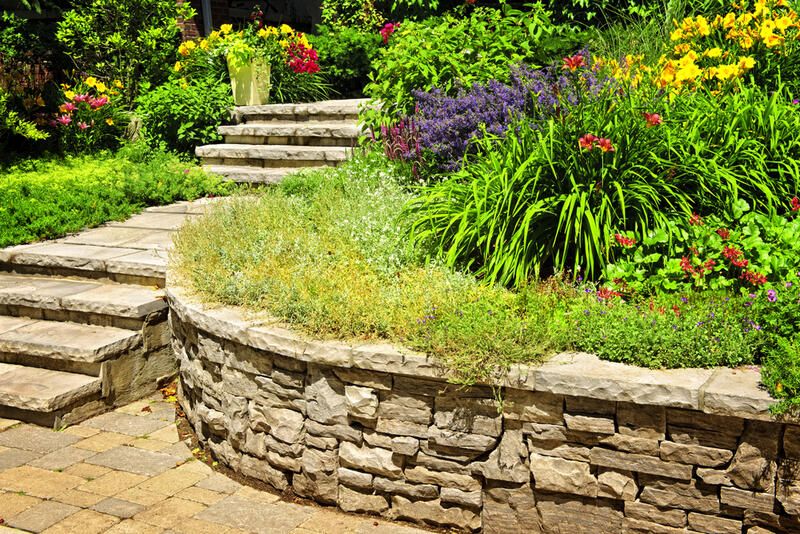 Fashion a captivating space that never goes out of style with the following front yard retaining wall ideas:
Nature's Favorite Choice

No better way is there to appreciate the stunning beauty of nature than by adorning your greenery with natural stones!
Instead of having a drab, lifeless concrete block wall with the sole purpose of retaining the soil, opt for a timeless look with a natural stone retaining wall.
Aside from being long-lasting, durable, and highly functional, natural stone retaining walls gift your outdoor space an irresistible terraced look, create a level area for healthy, well-designed planting, and give your front yard a touch of elegance and strength.
Envision this frustrating slope in your front yard. Yes, this outdoor space has recently become the bane of your existence. Now imagine it while adorned with nature's most beautiful creations: natural stones. Whether it's flagstone, fieldstone, or river rock, your sloped front yard will be transformed into a masterfully-designed piece of art!
Are you one of those who meticulously plan everything down to the last detail and fancies choosing from a wide variety of options to finally put together a to-die-for scene?
Lucky for you, of all the other retaining wall designs, a stone retaining wall comes in an assortment of colors, sizes, forms, and styles to match your dream yard design.
The Fearless Look
Fan of making a bold statement in your landscape design, showy enough to turn every passing head in awe? Boulder retaining wall it is!
Available in a wide variety of shapes, colors, and sizes, boulders not only add a daring, vivacious charm to your front yard but can also flexibly match your landscape design no matter what style it portrays!
This mighty, attractive wall that effortlessly merges into your garden (as if it naturally yet magically grew into the space) is not all about the looks. A boulder retaining wall is a great way to provide support and stability for the soil as well.
When it's time to come up with a design and a plan for your boulders, put into account how huge it is.
Short retaining walls could be built by enthusiastic do-it-yourselfers who fancy working their hearts out for the sake of putting together a show-stopping display! A tall retaining wall, on the other hand, calls for professional engineering.
Imagine what could happen if this retaining wall (which is fighting the force of gravity with every passing minute) is not professionally built. A poorly-designed or inefficiently-constructed retaining wall could bulge, or worse, turn into a living nightmare by collapsing altogether!
The Multi-tiered Design
If you are in search of a more sophisticated landscape design that adds depth, sparks a visual interest, and flows effortlessly with your outdoor space, a multi-tiered retaining wall will give you the satisfaction you need!
Enveloping your front yard with a gentle vibe and adding textures to your landscape design, multi-tiered retaining walls create terraces, steps, and other stunning-to-behold features.
To dress up your hill or slope in this eye-catching design, you can have layers of stones or blocks either staggered or laid in a straight line, depending on your favorite look.
Hold on! This is not the only way your multi-tiered design will steal the focus of your neighbors!
For the sake of introducing an unexpected twist and lending a more natural look to your sloped front yard design, elevate this scene even further by incorporating rows of garden beds.
What you do beyond this wall is what truly matters. This is your chance to show off your style and personality by sprucing up each level with your favorite shrubs, colorful blooms, decorative pebbles, and solar lights.
This attractive garden bed feature, paired with the elegance of the multi-tiered design, is everything you need for owning the crown jewel of your neighborhood!
The Organic Option
Your dream house must have already broken the bank, and now you are faced with this appalling dilemma: a sloped front yard! So, how could you gracefully resolve this issue without paying a fortune?
Thanks to the wide range of retaining wall materials, wood retaining walls, unlike stone or concrete, offer your outdoor space an aesthetically pleasing look, masterfully integrated into the surrounding. Besides sitting there looking gorgeous, timber retaining walls are cost-effective and efficiently support slopes.
Wondering if the water will eventually rot the wood?
Well, this is where you need to opt for the right type of timber. With the help of pressure-treated wood that is both rot and decay resistant, you will extend the longevity of your timber retaining wall and totally forget about this issue.
A Retaining Wall That Comes to Life
Dreading the other options and still searching for a landscape design that never fails to offer a meditative pause? Say no more!
Since every other design has been plain enough not to tickle your fancy, we thought you might want to go down the extra-natural route.
Imagine playing up the architecture of your outdoor space, and instead of opting for the dreary wall blocks, you breathe life into your retaining wall!
Made up of plants, soil, rocks, and wood chips, a living retaining wall is an ideal solution if you love greenery. And depending on your preferred style and front yard design, you get to choose either wildflowers and native plants or shrubs and ornamental grasses.
Design Your Sloped Front Yard With a Click of a Button
We've already established the fact that a retaining wall goes a long way in managing your sloped front yard.
No matter if you are designing a xeriscape front yard with a concrete retaining wall for a sleek, modern touch, or more of a give-back-to-nature look with a rock retaining wall, there's always a retaining wall that matches your landscape design hopes and dreams.
Helping customers fashion the outdoor haven that they can enjoy for years to come, ShrubHub not only commits to providing high-quality services but also deeply cares about its customers' journey.
Looking after your newly-designed yard (and now your favorite hangout spot) is an entirely separate mission. That's why ShrubHub offers you an in-depth, informative, and extremely practical guide to help you every step of the way!
Know what it's like to live in the heart of nature! Get your 3D design now for only $297!