Landscape Design by Shrubhub in Nebraska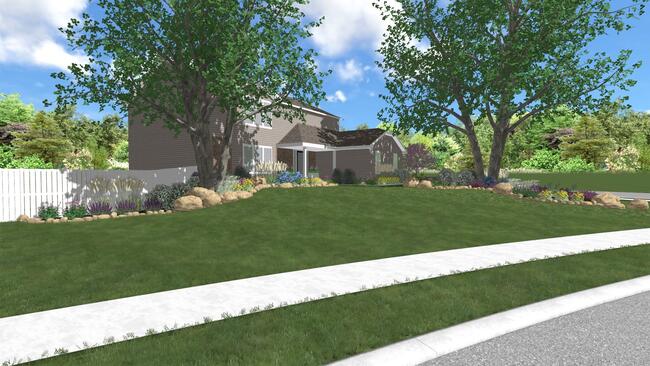 For those who are fond of wide-open spaces, Nebraska offers you an exceptional experience: botanic gardens overcrowded with the most captivating blooms, out-of-this-world sunsets, grasslands, saline wetlands, vast prairies, and iconic rock formations.
Design & Build
The climate and geography of the state inspire a wide range of landscaping styles, from prairie-inspired wildflower gardens to lush, shaded retreats. Many Nebraska homes have a classic Midwestern style, with pristine lawns and tidy flower beds, while others have a more natural, rustic appearance. Nebraskans prioritize functionality and year-round attractiveness, creating outdoor spaces that are both beautiful and functional, regardless of style.
Design My Yard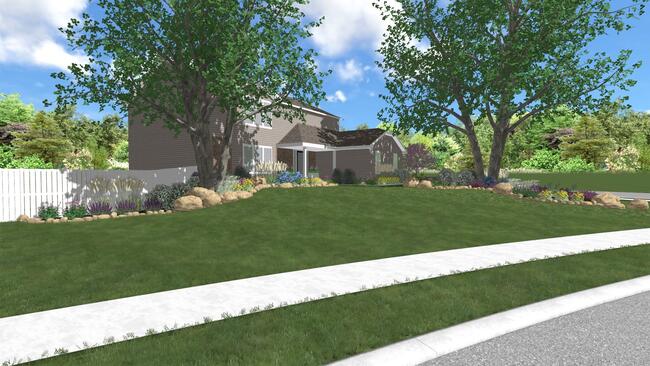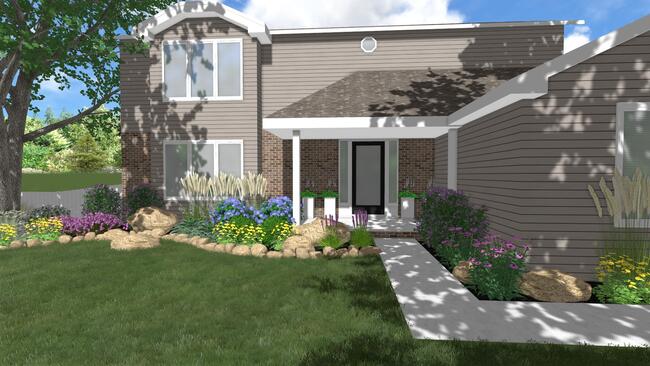 Nebraska Landscape Design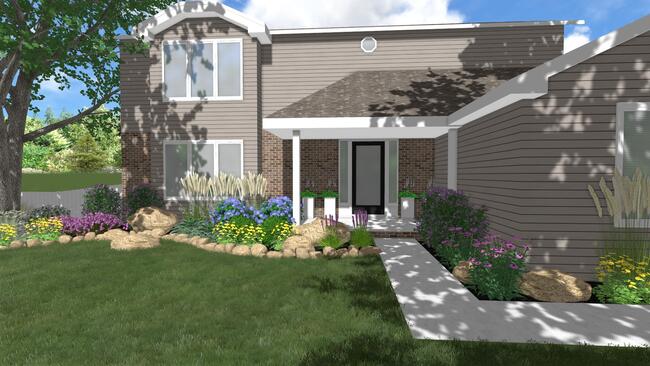 Climate & Planting
Nebraska's continental climate is perfect for a vibrant and thriving landscape! With long warm summers and cool falls, you can create a stunning outdoor space with colorful annuals and perennials. Plus, the fertile soil makes it easy to grow many healthy trees and shrubs.
Design & Build
Start your renovation from the comfort of your own home with a marvelous all-online process provided by industry experts. Our team of talented design specialists will help you completely revamp your outdoor space!
FAQ's
What is the Climate of Nebraska?
Nebraska has a predominantly continental climate with four distinct seasons and a wide range of temperatures. A semi-arid climate prevails in the state's western portion. Summers are often hot and muggy, with a July average temperature of 76F (24C), however hot breezes can cause summertime temperatures to exceed 90F (32C).
What is a Hardiness Zone & Where Does Nebraska Fall on It?
The 2012 USDA Plant Hardiness Zone Map is the tool that farmers and gardeners use to determine which plants have the best chance of prospering in a certain area. The map is constructed using the average annual lowest temperature during the winter, which is separated into 10-degree F zones and then into 5-degree F half-zones.
According to the new 2012 USDA plant hardiness map, Nebraska is divided into four zones. 4a, 4b, 5a, and 5b are all included on the Nebraska planting map. The majority of the state receives extremely low winter temperatures between -20 and -10 degrees Fahrenheit (-29 and -23 degrees Celsius).
Knowing which planting zone you are in will help prevent plant loss during the winter. To discover your location and calculate your growing zone, enlarge the above map.
What is Nebraska's Soil Type?
In general, soils made of eolian sands have a sandy texture, soils made of loess have a silty texture, and soils made of shale have a clayey texture. The majority of Nebraska is located in the Great Plains physiographic province, and the plains are the state's dominant landform.
In the rolling hills and some areas of the loess hills and plains on the eastern side of the state, loam soil, which is a sandy, clay-like mixture, is most common. This is consistent with where soybeans are grown most abundantly in Nebraska.
What Flowers Are Native to Nebraska?
Echinacea species Purple coneflowers / black Samson.

Helianthus Maximilian I Maximilian sunflower.

Liatris species Blazing star.

Linum lewisii Blue flax.

Achillea millefolium Yarrow.

Anemone canadensis Canada anemone.

Cleome serrulata Rocky Mountain bee plant.

Coreopsis tinctoria Plains coreopsis.
Why is Water Features Important in Landscaping?
Water features used in landscaping naturally draw wildlife such as birds, squirrels, and rabbits. All animals, like humans, need clean, fresh water to survive. For example, birds require water for both drinking and grooming. Birds can clean their feathers of loose feathers, dust, and parasites by bathing them in water.
What is Xeriscaping in Nebraska?
Xeriscaping is just desert landscaping with the added purpose of conserving water. This usually applies to places lacking reliable or consistent access to water. In essence, it is a technique for creating irrigation in low-water locations without using artificial materials.
What are the Natural Grasses of Nebraska?
Big Bluestem, Blue Grama, Feather Reed, Indian, Little Bluestem, Maiden, Prairie Dropseed, Sand Lovegrass, Switchgrass, and Sideoats Grama are only a few of the native grasses found in Nebraska and most of the Great Plains.
What Type of Grass is Best in Nebraska Landscapes?
With the probable exception of eastern Nebraska, Kentucky bluegrass is the grass best suited for lawns throughout Nebraska and the northern Great Plains. Long Fescue Tall fescue has a reputation for being a grass that can thrive in a range of settings.
What Can I Use Instead of Grass in My Nebraska Landscape?
Any low-lying plant with a creeping habit is a ground cover. They're an excellent low-maintenance substitute for grass that will nonetheless provide you with a lot of lush, green foliage for your yard.
Ground Cover Options for Nebraska:
Poppy mallow.

Pussytoes.

Serbian yarrow.

Lamb's ear.

Creeping juniper.
How Tall Should My Grass Be?
The mowing height requirement is five (5) inches. Maintain the vegetation's height between 5 and 12 inches where mowing is necessary.
What are the 7 Principals of Landscape Design?
The concepts of unity, scale, balance, simplicity, variation, emphasis, and sequence as they relate to line, shape, texture, and color are among the fundamentals of landscape design. These components are linked together.
What are Landscape Design Styles?
Based on distinct construct aspects, material selection, and conceptualizations of form and space, there are several types of landscape design. The typologies may include traditional gardens from several cultures, including Japanese, Spanish, English, and a few minimalist and modern designs.
Naturalistic: This style of design melds with the surroundings. Therefore, you should choose this format if you prefer an informal setting. The layout's geometry will have wavy lines and organic shapes. Large contemporary properties frequently use naturalistic architectural elements. Small ponds with skewed borders and grassy beaches are how people typically visualize water bodies. Bricks, mosaics, and terra-cotta are a few examples of materials that are used that are quite similar to nature.

Classic Regular Style: Most frequently, this is seen in traditional landscape designs. Such gardens go best with opulent, classically styled homes. The design of the space uses only pure geometry. The pathways are well-marked, and artistic water features can be used to give drama to the area. The soft scape is arranged in either a linear, axial, or circular shape. Ceramic pots arranged in symmetry and other extras create grandeur.
When to Call a Professional
If you enjoy gardening, this step can be simple for you, but landscapers can assist you because they have a thorough understanding of plants. They take into account not only the kinds of plants that grow well in your area but also those that are appropriate for your landscape's requirements and aesthetics. Shrubhub not only helps you with planting your landscape but designing it fully in 3D.
Have Your Yard Designed By A Pro in Nebraska For Under $300!
Over 50,000 Homeowners Have Used ShrubHub to Design their Dream Yard
Design My Yard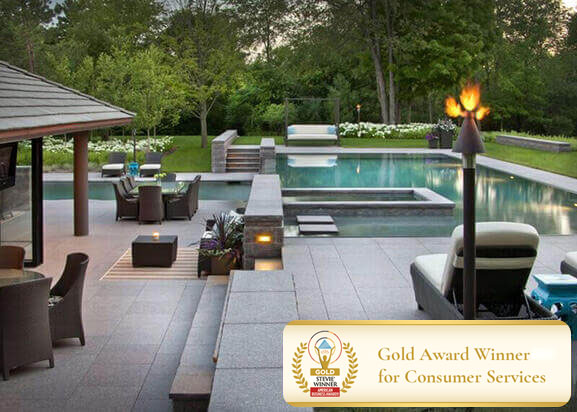 2022 Completed Project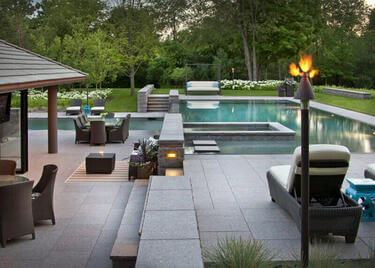 2022 Completed Project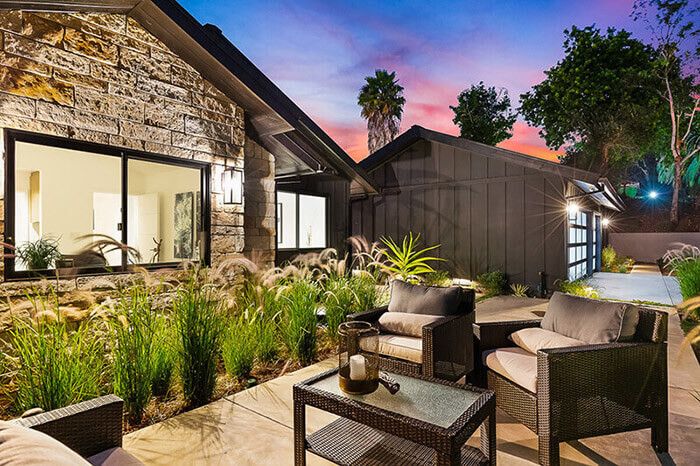 News Wire: ShrubHub Is The #1 Rated Yard Design Service in Nebraska
Stop Stressing About an Unfinished or Ugly Yard

Host Confidently With The Most Beautiful Yard In Town

Come Home To Your Dream Space Every Day

For A Limited Time Only: $997 Just $297 (Save 70%)
See Our 3D Landscape Design Packages:
Front Yard Package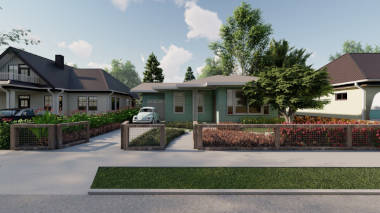 Back Yard Package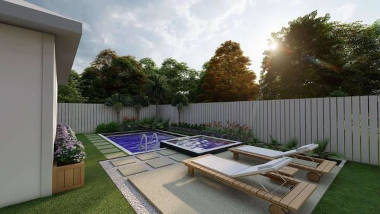 Front & Backyard Package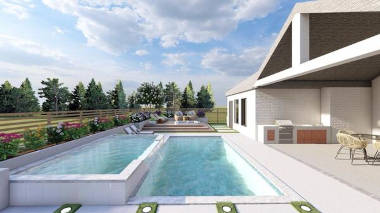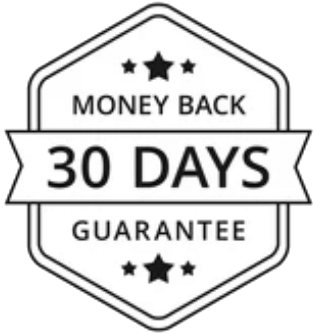 We're so confident in our 3D design service we're offering all of our customers a 30-Day-Guarantee.
ShrubHub in the News
"ShrubHub can design any yard in any style."

"Their innovative design service is changing the way homeowners build their yards."

"ShrubHub is fast, affordable, and perfect for any home improvement project."

Don't Waste Thousands on Outdated Landscaping Services
ShrubHub Can Start Building Your Yard for Under $300
Custom designs from "local professionals" can cost you upwards of $1,000 to $3,000
Our expert designers have years of experience building dream yards. Tired of coming home to dried out grass or a warped deck? Our designers can help you fix that AND increase your home value by up to 23%.
Our team is a network of the best landscape designers in the industry, working from home so we have no overhead. Meaning, all of our savings gets passed on to the customer.
Our Weekly Blog
Here are some pro tips, recommendations, and budget-friendly ideas on landscaping, complete yard renovations, and garden maintenance from our talented group of design experts.
Designers Are In High Demand
Reserve Yours Now!
1
Where Should We Send Your Design?
2
Get Your Personal Designer