Landscape Design by Shrubhub in Alaska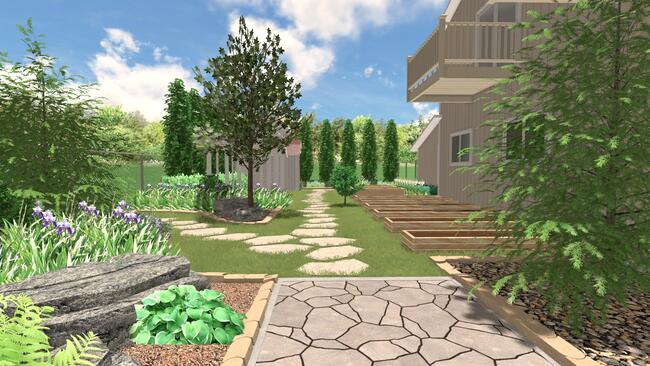 This is where the unmatched, wild beauty truly belongs! From the rugged wilderness, rainforests, and towering glaciers to immense mountains with some of the most breathtaking views in the world, Alaska is not merely a state, it is a journey like no other.
Design & Build
In Alaska, contemporary residences frequently incorporate modern design ideas and sustainable materials to create a distinct blend of history and innovation. Because of the short growing season, Alaskan homeowners often incorporate cold-tolerant plants and hardy shrubs into their landscape design, creating a beautiful but low-maintenance outdoor environment.
Design My Yard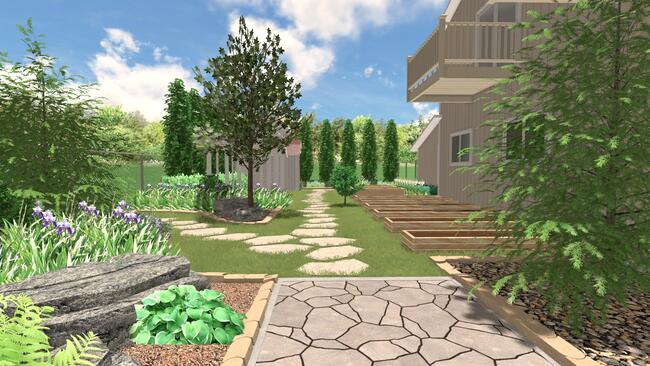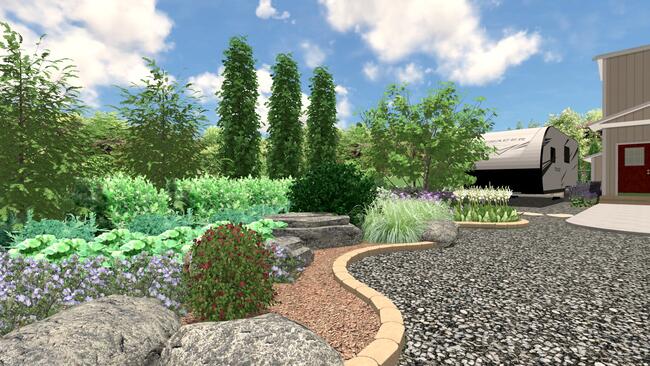 Alaska Landscape Design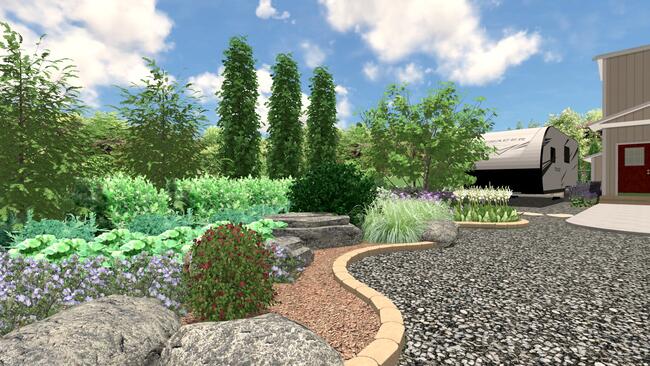 Climate & Planting
Alaska's climate is predominantly subarctic, with long, harsh winters and brief summers.The state's growing season is short, but its fertile soil and ample sunlight make it suitable for growing many crops. With ShrubHub, you can design marvelous gardens that thrive in Alaska's unique climate
Design & Build
Start your renovation from the comfort of your own home with a marvelous all-online process provided by industry experts. Our team of talented design specialists will help you completely revamp your outdoor space!
FAQ's
What to consider when planning a landscape design in Alaska?
It's no secret that nature in Alaska is nothing but breathtakingly impressive. Home to rugged mountains, glaciers, volcanoes, diverse species of Alaska wildlife, abundant marine life, and jaw-dropping scenery in Kenai Fjords National Park and Denali National Park, Alaska landscape and landscape and nature are one-of-a-kind.
So, when planning a landscape design in Alaska, you must pay undivided attention to what nature and climate say! To create your Alaskan oasis, give thought to the following:
Use the USDA Plant Hardiness Zone Map

Study the climate and soil conditions of your area

Choose hardy plants that can survive Alaska's extreme conditions and harsh winters

Create a well-planned design that strikes a balance between functionality and aesthetics

Consider the amount of sunlight your outdoor space receives throughout the year
What native flowers to plant in my backyard in Alaska?
Just like its awe-inspiring scenery and mesmerizing landscapes, Alaska boasts some of the most exotic floral displays.
If you are looking for a native flower that masterfully portrays the unmatched beauty of Alaska, look no further than the forget-me-not flower. It's no surprise that this is the state's official flower— after all, the clusters of blossoms cover your backyard with breathtaking blue clouds.
However, if you fancy making a statement that celebrates your unique, eccentric personality, grow western columbine. Its yellow petal blades contrast with the flower's blaring red color, bringing to your backyard scene a wow-worthy masterpiece. For even more inspiration, check out the following native flowers:
Small-Flowered Paintbrush

False Azalea

Nagoonberry

Monkey Flower

Alaska Moss Heather

Dwarf Fireweed

Pond Lily

Pretty Shooting Star

Liverleaf Wintergreen

Yellow Marsh-Marigold
Are there landscape design ideas that suit an Alaskan garden?
It's quite normal to feel lost when designing your Alaskan outdoor space. To ease your way into your landscape design, start by brainstorming some of the most captivating focal points.
In plain English, a focal point is this destination that gives your yard purpose and converts it into something special. As an architectural feature, focal points smoothly steal visitors' attention once they enter your backyard.
Whether it's a hot tub, a fireplace, or a sauna, this focal point alone can turn your now-boring outdoor space into a mesmerizing retreat!
What is organic gardening? And how to do it in Alaska?
When you grow your plants, flowers, vegetables, and fruits without the use of agricultural chemicals, synthetic fertilizers, pesticides, or genetically modified organisms (GMOs), this is for sure what is called organic gardening.
Organic gardening is your way to go whether you want to grow some vegetables and fruits to enjoy a superior taste, maintain your physical health by steering clear of chemicals, or preserve good quality soil.
When gardening the organic way in your Alaskan backyard, make sure to follow these instructions:
Select cold-hardy plants that can tolerate Alaska's extreme weather conditions: radish, carrots, broccoli, turnip, leaf lettuce, apples, plum, or cherries

Add some organic soil health boosters like compost

Encourage deep root growth by watering your plants wisely
What are ground covers and can I plant them in my Alaskan garden?
As the name already suggests, ground covers are low-growing plants covering your yard's ground, spreading across your outdoor space's soil. Whether you want to replace some bare spots in your lawn, spare yourself regular, time-consuming maintenance, control soil erosion, or opt for a grass alternative for the shady spots in your yard, ground cover is the right answer.
Wondering how to choose ground covers for your Alaskan landscape design? The trick is to choose the ground covers that match your area's climate and soil type. Ivy, ajuga, astilbes, and hardy geraniums are some of the commonly grown ground covers all over Alaska.
How to build a better environment for wildlife in my backyard in Alaska?
As you might imagine from the state's beyond-beautiful nature, Alaska's wildlife is simply incredible! To map out a landscape design that is specially tailored to be home to the diverse wildlife available in Alaska, you need to learn more about the birds, mammals, and amphibians that already exist in your local area.
Building a safe environment for wildlife depends on 3 main factors: food, water, and shelter.
Start by growing native flowers, shrubs, fruit-bearing trees, and bird feeders to attract local wildlife who are accustomed to feeding on these plants. Then, build a bird bath or a small pond to provide a constant source of fresh water. Finally, by getting creative with branches and twigs, you can build real-life-like shelters along with some birdhouses.
Where to get landscape design services in Alaska?
Extending the charm of Alaska's breathtaking natural beauty to your backyard and making it just another piece of nature's wonders call for a well-planned 3D design. No matter your style, personality, preferences, dreamscapes, or budget, there's always a design that meets your needs.
ShrubHub offers its services throughout the USA from California to Maine and everywhere. Luckily, nowhere is off-limits for us!
Driven by our main goal of creating homey environments and exhilarating experiences right in the heart of our clients' backyards, our brilliant designers harness their extraordinary skills and show off their talents using state-of-the-art technology. The result? Your dream yard is brought to life!
Have Your Yard Designed By A Pro in Alaska For Under $300!
Over 50,000 Homeowners Have Used ShrubHub to Design their Dream Yard
Design My Yard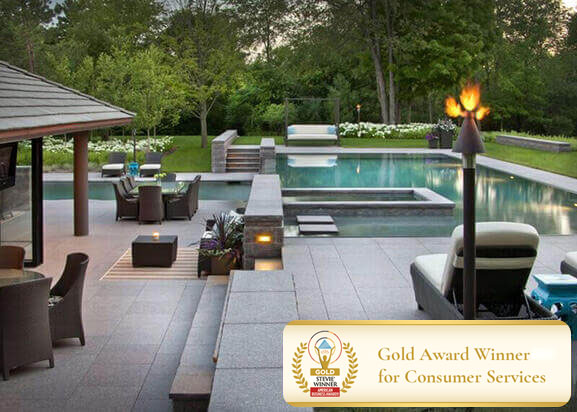 2022 Completed Project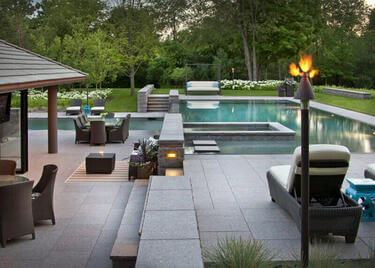 2022 Completed Project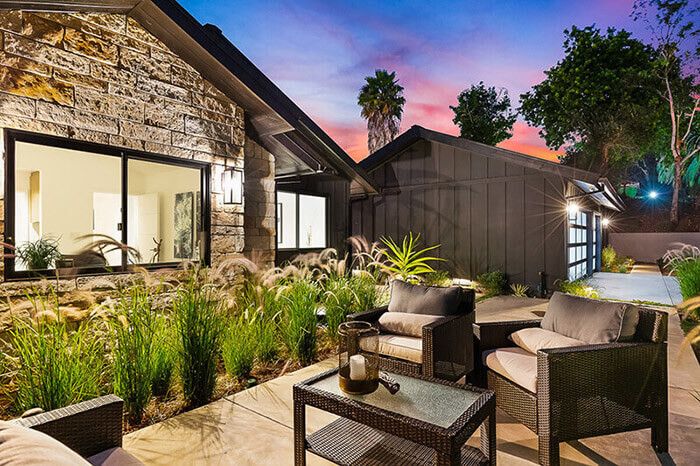 News Wire: ShrubHub Is The #1 Rated Yard Design Service in Alaska
Stop Stressing About an Unfinished or Ugly Yard

Host Confidently With The Most Beautiful Yard In Town

Come Home To Your Dream Space Every Day

For A Limited Time Only: $997 Just $297 (Save 70%)
See Our 3D Landscape Design Packages:
Front Yard Package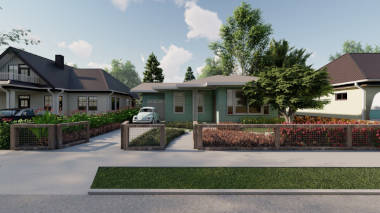 Back Yard Package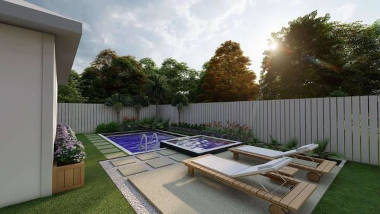 Front & Backyard Package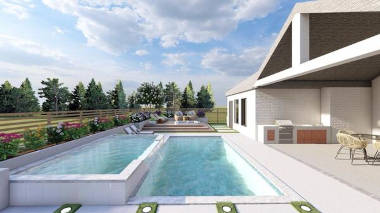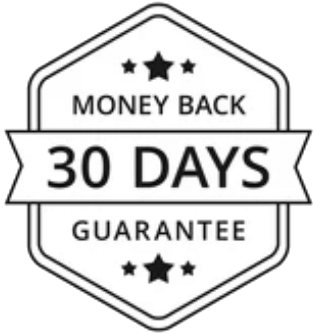 We're so confident in our 3D design service we're offering all of our customers a 30-Day-Guarantee.
ShrubHub in the News
"ShrubHub can design any yard in any style."

"Their innovative design service is changing the way homeowners build their yards."

"ShrubHub is fast, affordable, and perfect for any home improvement project."

Don't Waste Thousands on Outdated Landscaping Services
ShrubHub Can Start Building Your Yard for Under $300
Custom designs from "local professionals" can cost you upwards of $1,000 to $3,000
Our expert designers have years of experience building dream yards. Tired of coming home to dried out grass or a warped deck? Our designers can help you fix that AND increase your home value by up to 23%.
Our team is a network of the best landscape designers in the industry, working from home so we have no overhead. Meaning, all of our savings gets passed on to the customer.
Our Weekly Blog
Here are some pro tips, recommendations, and budget-friendly ideas on landscaping, complete yard renovations, and garden maintenance from our talented group of design experts.
Designers Are In High Demand
Reserve Yours Now!
1
Where Should We Send Your Design?
2
Get Your Personal Designer