Where We Came From, and Where We're Going:

ShrubHub's founders have over 20 years of experience in the landscaping & technology e-commerce industry. With that experience, and a dedicated team who share the same passion for landscape design, ShrubHub set out to revolutionize the landscape design industry.
Our mission is to bring dream yards to life with affordable, world-class designs. We believe in saving our customers thousands and increasing the value of their homes with our professional designs, products & services.
For far too long the landscaping industry has lacked innovation and creativity. That caused prices to sky-rocket while designs never improved. All over the country, homeowners were being overcharged for their yard designs.
As industry insiders, we knew we could deliver the same professional-grade designs for a fraction of the price. So we teamed up with some of America's top designers and created ShrubHub: a place for amazing designs at the best price.
We think the money that goes into overpriced yard designs, is far better utilized on your actual hardscape & landscape renovations to improve your yard. We believe in 100% customer satisfaction with our designs and we won't stop working with you until your design is just right. ShrubHub is leading the way in design innovation, offering customers a better product at a lower price, and causing other companies to either adapt or become obsolete.
Along with our approval team that ensures every single design meets our high design standards, we also offer 24/7 customer support and a money-back guarantee to make your entire journey with us completely risk-free.
Today, ShrubHub is the fastest growing online designer company in the world.
How We're Different From Other Online Designers
ShrubHub is all about offering our customers value, and showing them how easy and affordable it is to create their dream yard.
Instead of charging $15,000 for all of our services like traditional landscapers, or charging $1,000 for one design and nothing else, we decided to offer a complete traditional design experience for one low price.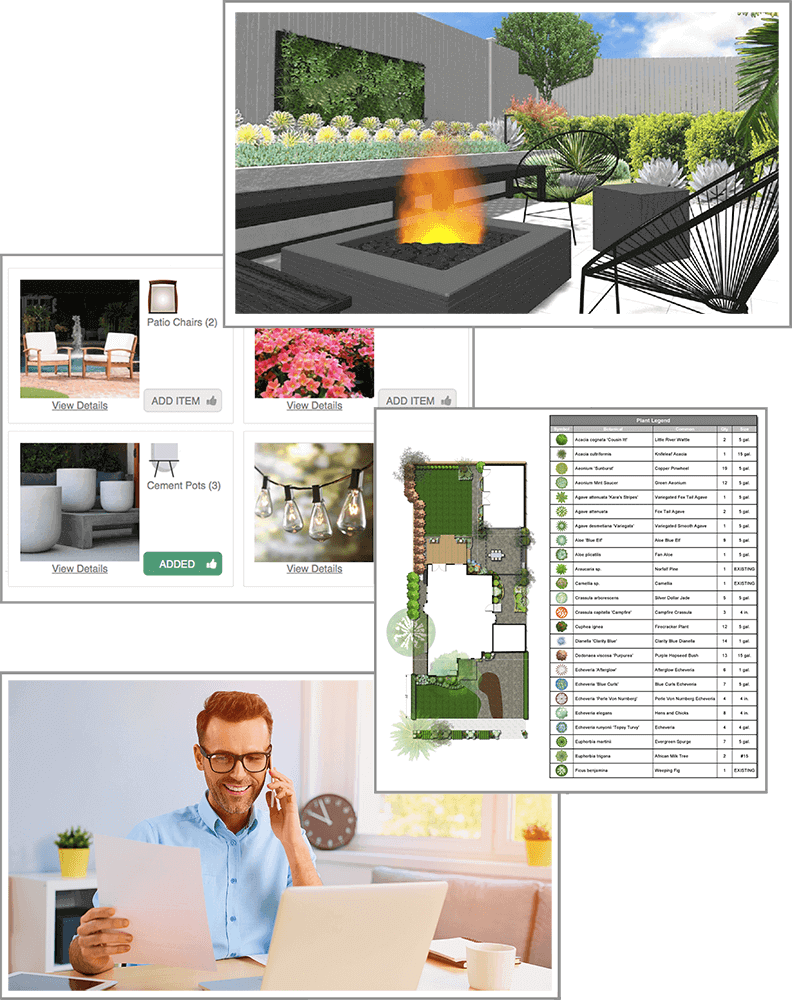 3D Landscaping Design

Shopping List with All Elements & Decor Used

Free Phone Consultations with Your Designer

Free Insider Secrets eBook

24/7 Customer Service
How can we offer this while other companies can't?
While they use outdated design software, we use the very latest in satellite tech and computer aided design to create visually stunning yards.
While initially that decision cost ShrubHub a lot of money upfront, it allows us to offer better designs at a lower price - bringing real landscape design to every homeowner, regardless of location or background.
We provide a complete design experience with shopping lists, design edits, door-to-door shipping from our exclusive nursery, and recommendation for your location's top contractors.
Customer Satisfaction
Above all else, our company wouldn't be able to exist without our loyal customers. Everything we do is to ensure complete customer satisfaction. From customer survey's (so we can see what we can do better) to our 30-day money-back guarantee, we want people to love their new designs.
That's why we're dedicated to high quality customer service. We're here for you from the moment you create your account with us, until the last blade of grass is installed in your yard.

Contact ShrubHub Today!
We're here to answer all of your questions! Our email support team is working 24/7 to get back to you as soon as possible.
Please email: design@shrubhub.com
All your questions will be answered within 24 hours.
Due to ShrubHub's daily demand, email communications are recommended.
If you'd like to call our support staff, you can do so at the number below.

844-710-0329
We look forward to hearing from you!
Transform My Yard