Shrubhub Design Gallery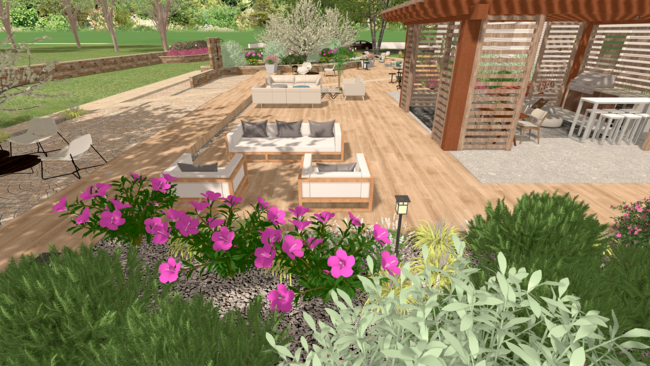 New Jersey
Whimsical and minimal, we went for neutral colors to bring out the beauty of this yard.
The natural sunlit look combined with light wooden color brings tranquillity to the outdoor space.
A pop of color is always a plus, so we added a beautiful splash of pink blooms throughout the space.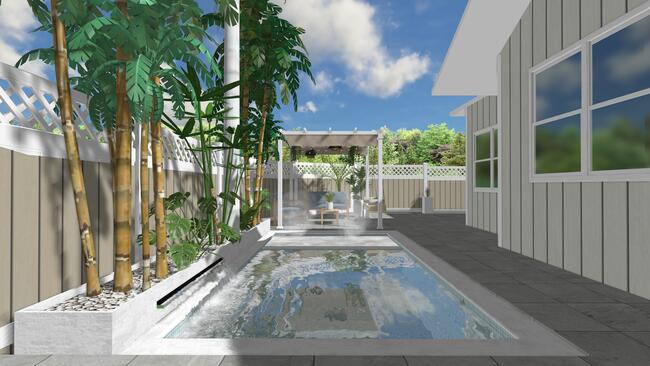 Lahaina, HI
The small space didn't stop us from staying true to the tropical nature of Hawaii!
We created the perfect mini resort with a built-in hot tub a small outdoor living space, and a simple bundle of bamboo and tropical plants.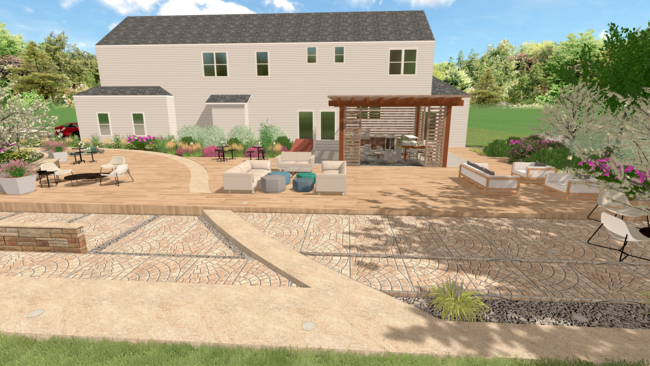 New Jersey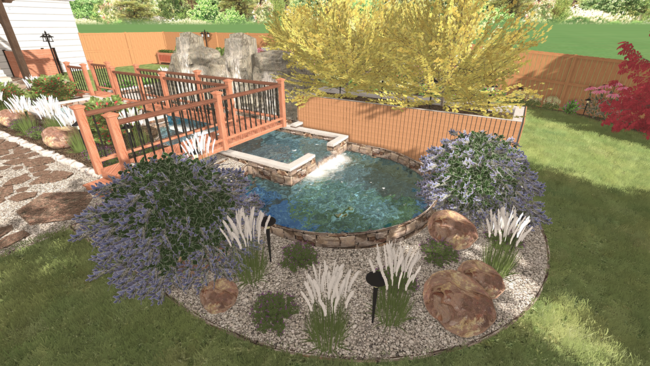 Leawood, KS
A small outdoor space never holds us back or limits our creativity. It opens up a whole new world of possibilities and unleashes our wild imagination.
Nestled among the trees, shrubs, and colorful flowers; this spa/pool looks like it has just been snatched out of a forest! Merely glancing at this sanctuary makes anyone feel relaxed right on the spot.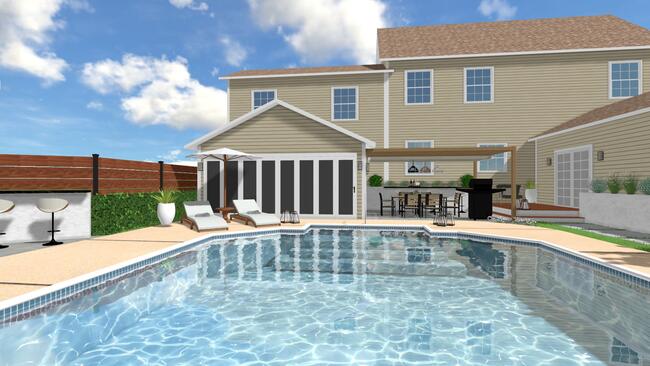 New Hampshire
Entrusted with the task of maximizing comfort and functionality, our team worked diligently to revamp our client's outdoor space.
We achieved a fresh and pristine look for the pool and decking and added an outdoor kitchen area to enhance the entertainment experience.
The raised planter beds and the green wall add a vibrant soul to the yard, creating a relaxed and peaceful ambiance throughout the space.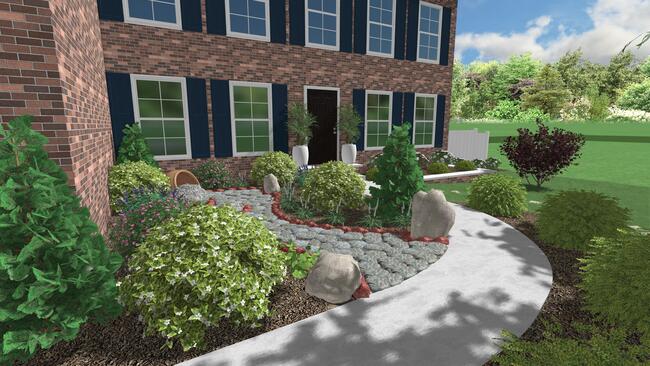 Pennsylvania
Pennsylvania is renowned for its diverse range of home styles, from colonial and Victorian to the ranch and Cape Cod, and everything in between.
We prioritize designing a front yard that meets and exceeds your expectations.
This stunning front yard stands as one of our finest works, boasting an exquisite blend of curves, colors, and materials that create a luxurious look and feel.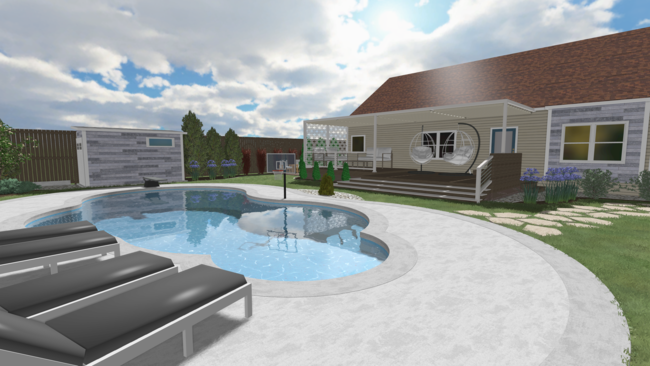 Cincinnati, OH
Our client wanted to find peace in their backyard, so we designed a space that features a relaxing space every corner you turn.
Furthermore, the lounge chairs by the pool are perfect for sunbathing on a beautiful sunny afternoon.
The pool works as a signature piece for their yard for its artistic round design. Lastly, to tie the look together, we went for greenery all around for the utmost serene atmosphere.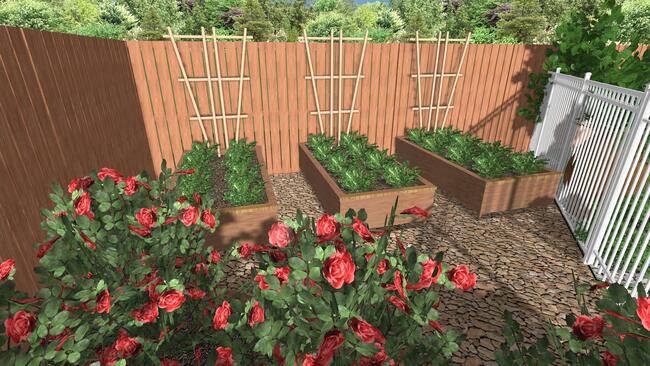 Oregon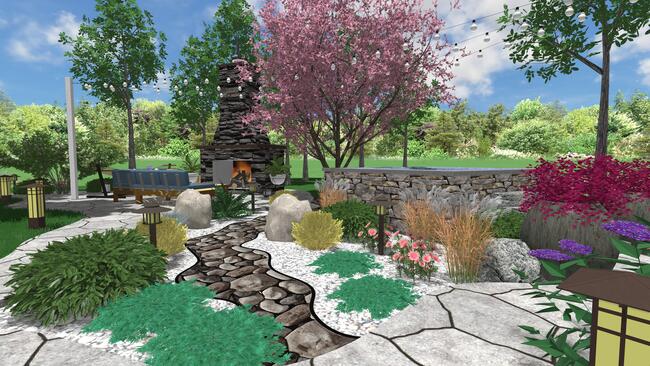 Idaho
This homeowner wanted their yard to reflect their personality and artistic expression, we listened and delivered!
To create a lush design without a ton of required maintenance, we went for a selection of ornamental grasses and easy-maintenance shrubs while keeping the more high-maintenance plants in pots.
We strategically placed everything to create a natural and organic look that would harmonize perfectly with the existing trees.
As for hardscape, we went for a mix of materials to create texture interest and further enhance the natural, organic look.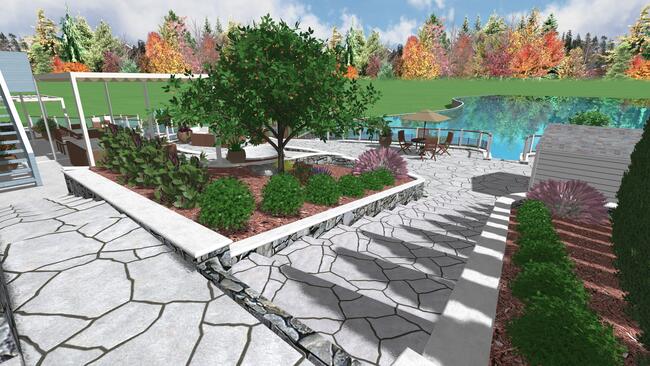 Connecticut
Slopes can waste a yard's functionality and aesthetic potential, but in this design, we made sure every section of this sloped space is utilized to achieve the highest function and the best appearance.
The multi-leveled design allowed the creation of a space that will be enjoyed by all family members as the upper level was used for adult hang-out and dining spaces with stairs leading to a beautiful water view.
And because we know kids don't want to climb stairs we used the slope to give them a bit of a challenge with a climbing board and a slide leading to a fun play area.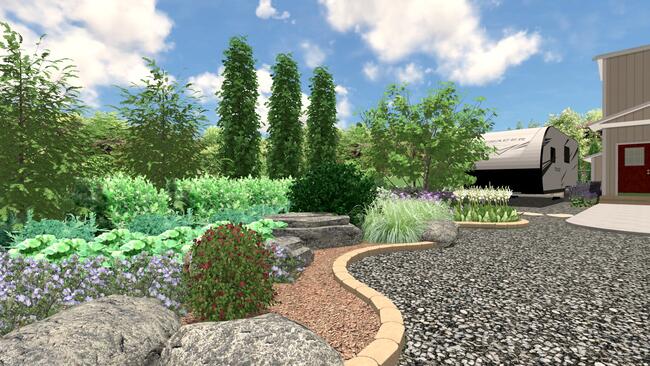 Alaska
While hardscape is the hot shot of landscape design at the moment, many homeowners love to dedicate their yards to what they can't have inside their homes, lush greenery!
This space incorporates privacy trees, lush shrubs, pops of delicate purple, and vegetable garden beds creating the ultimate gardener's haven.
To make it stand out even more, we used flagstone pavers to create a charming pathway and boulders for an extra touch of style.
By using these natural materials, we maintained the organic feel of the design while taking the overall appearance to the next level.