Planting Annual Flowers: Your Way to Brighten Up Your Yard
Published: 11/11/2022 | Updated: 29/03/2023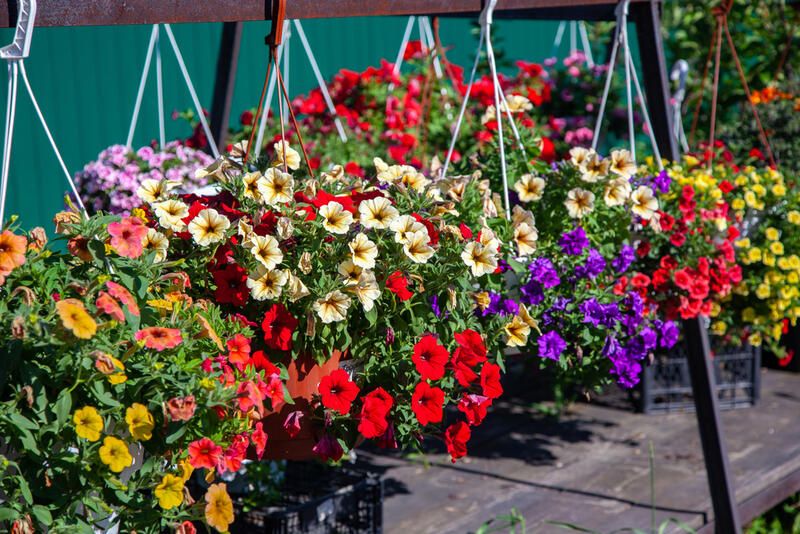 Have you ever felt a certain emotion that was so deep you couldn't even put it into words? This is why flowers exist. Spellbinding, every flower has its range of color, a scent, a unique sense of charm, and a lively character that never fails to grasp your attention.


Whether it's an "I regret what I said", "thank you for your effort", "I miss you", or even "my condolences"; there will always be a flower that speaks your mind and communicates your heart out.
When it comes to planting flowers in your most cherished outdoor space, there are too many perks to count and enjoy.
Whether you have a green thumb or you have just decided to take gardening on as your new hobby, planting flowers not only complements your yard with splashes of color but also broadens your home's curb appeal.
Romantic, vibrant, and enchanting, flowers tend to beautify your space with a vast range of colors that bring sheer joy to your home, enhance your mood, and purify the air. A garden embellished with bright, sweet-scented flowers is just like having a florist right outside your front door. Take a few steps toward your blooms and create your favorite bouquet!
Why Plant Annual Flowers?
Annual flowers are plants that bloom in one growing season and then die. If you want to ornament your outdoor space with flowers that can tolerate cool temperatures, plant hardy annuals and let the beauty of the lively blossoms take center stage amid the seemingly bland surrounding of the freezing winter.
Petunia, a fine example of Semi-hardy annuals, is your way to enjoy the best of both worlds as it fairly tolerates hot and cold weather. For a vibrant summer look, go for tender annuals that thrive in warm climates such as Zennia or Verbena.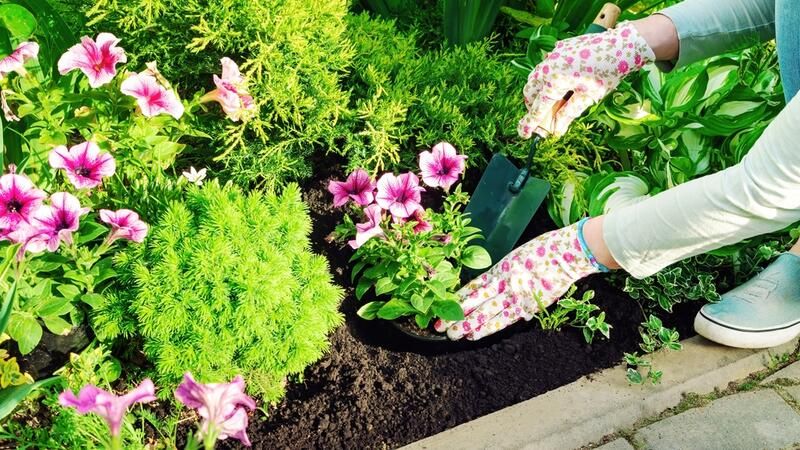 Looking for reasons why you should grow annual plants in your garden? Here are some:
Speedy Growth
Requiring an average of 95 days from seed to full bloom, annual flowers boast the advantage of being fast growers.
Aesthetic Visual Appeal
Glaring in a multitude of colors, annual flowers are not only a sight for sore eyes but also attract pollinators through their irresistibly vibrant colors.
Independent Bloomers
If you are searching for choices that spare you the hustle of sowing the seeds every year, there are many types of annual flowers that simply re-seed themselves. To name a few, Love-in-a-mist, Borage, Sunflower, and Sweet Pea are all self-sowing annuals that will spruce up your yard for years to come.
Tropical Punch
From glamorous blooms to vivid foliage, there is a wide assortment of unique annual tropical plants that blossom all summer long to early fall. Tropical Hibiscus, Bougainvillea, Passiflora, and Morning Glory are all stunning flowers that will help you create your tropical paradise.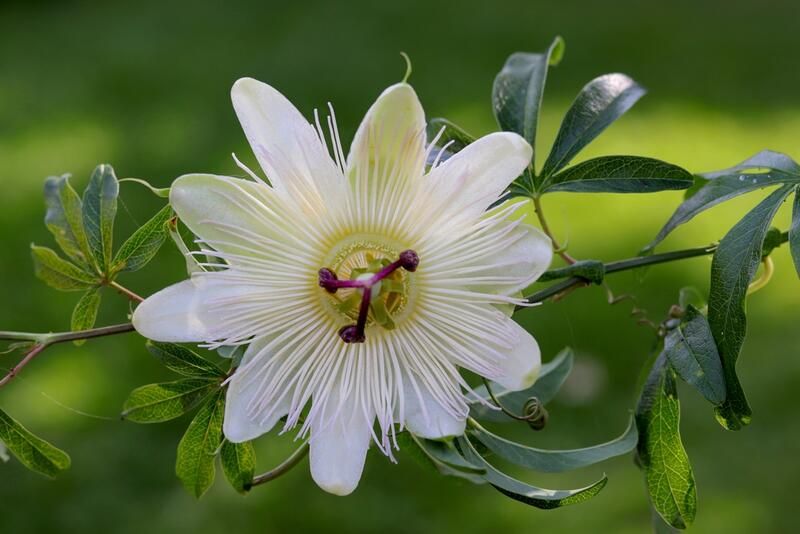 Vegetable Garden Boosters
You might wonder what annual plants have to do with your vegetable garden. Annual plants produce flowers not only to sit there looking pretty but also to attract nature's best pollinators to increase your harvest.
Drought Tolerant
Do you have a drought-prone lawn? From large to small flowers, there is a variety of drought-tolerant annual flowers that require less water yet bring into your yard the romantic style at its brilliant best. The African Daisy, Common Lantana, French Marigold, and Moss Rose are some of nature's charming additions to your garden.
Annuals Vs. Perennials
Planting flowers is your way to find a fertile source of joy and color amid all life's chaos. However, to spark up your outdoor home design, you need to choose the appropriate fit for your landscape design, match your flowers with your character, and most importantly know the type of flower that best suits your gardening routine.
When it's time for early Spring to creep in, plants lower their guard and simply unleash their beauty. Flowers go on a self-realization journey known as the "life cycle", a flowering plant goes through stages of seed germination, growth, reproduction, and seed spreading.
Whereas annuals grow for only one season and provide your yard with rich colors, perennial flowers live for years or even decades, yet the flowers bloom for a shorter period. Although perennial plants are faithful flowers that stick around and watch your kids grow for years, they also require throwing in some love and patience as they often take around a year to start blooming.
On the other hand, if you are a free spirit who loves to experiment and embrace the diversity of nature, plant annual flowers to add a distinct vibrant punch to your yard and have a new flare to it every year. Here are some of our favorite annual flowers: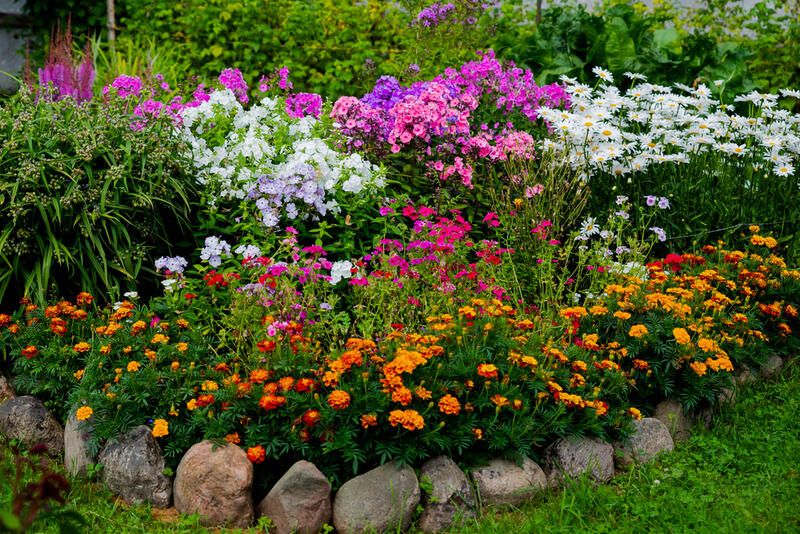 Rose Begonia
Fancy having a garden that oozes love and romance?
Light or dark, pink roses (with all their glaring shades) symbolize appreciation, grace, and delight. You can't beat a Rose Begonia when it comes to charming your visitors.
Embellished with clusters of cheerful rosy pink blossoms further accented with bronze-green foliage, Rose Begonia brings a dazzling visual bonus into the scene.
Anywhere between full sun or partial shade, this annual flower stands 12-24 Inches tall and 18-24 Inches wide.
Whether you want to plant it in your flower bed or breathe a rosy life into your hanging baskets, Rose Begonia is a full-of-life flowering plant that never fails to hold your attention and teach you about delicacy and romance.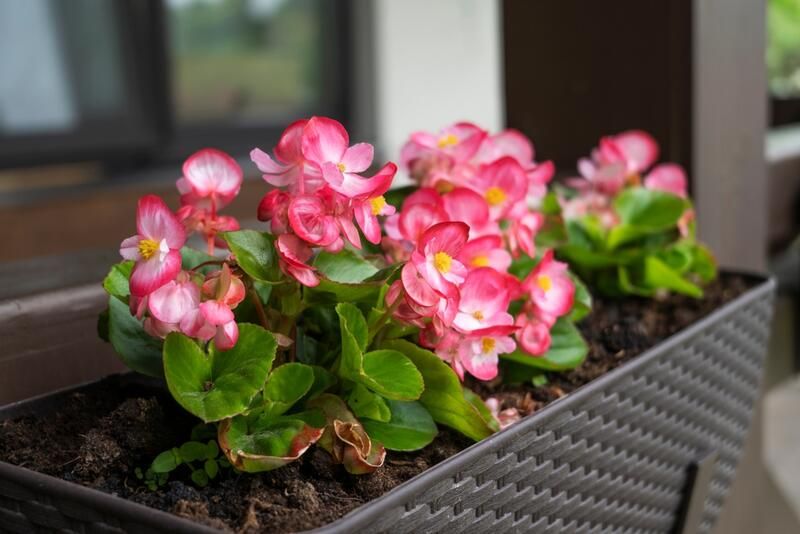 Zinnias
If you are willing to transform your empty yard into an inspiring piece of art that incorporates bountiful, heavy, and beautiful blooms, Zinnias are your way to go.
Almost no fuss is required, Zinnias are known to be easy for beginners and come in various hues and sizes to complement a wide array of landscape designs and please pole-apart personalities.
Boasting daisy-like flowerheads, Zinnias enliven your garden through an explosion of colors. Zinnias blossom in not only shades of pink, yellow, orange, red, white, and purple but also come in a wide variety of bi-color and tri-color.
Although it shows tolerance to low temperatures, a Zinnia plant cannot survive frost.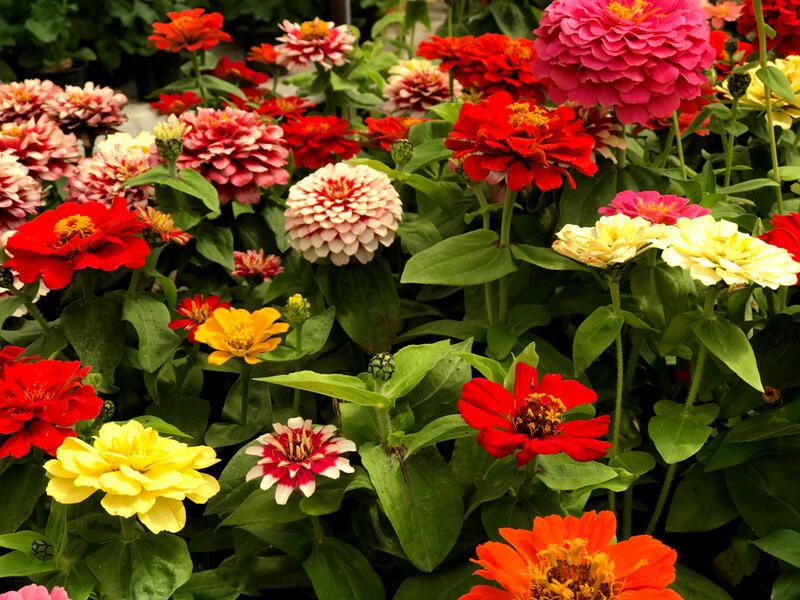 Obsession Cascade Twister Violet
As the name probably gives it away, the Obsession Cascade Twister Violet boasts an exceptional combination of light and dark violet shades, striking a breathtaking contrast.
If your yard lacks a pop of color, this annual flower adorns your outdoor space with bright bold hues within 8-16 weeks.
Common Sunflower
Who wouldn't love to decorate their home with the irresistible vibrant glare of Sunflowers?
Symbolizing loyalty and happiness, Common Sunflowers consist of a dark disk in the middle accented with yellow, creamy white or red delicate petals. Hairy and triangular-shaped, the leaves grow into an eye-catching sunny yellow color that spreads unbeatable joyous energy throughout your yard.
Nestled among the trees, these plants not only boost your home's aesthetic value but also offer you a surefire way to brighten your mood whenever you feel down.
When the flower matures, you get to sit back and take pleasure in watching the birds perching and munching on a heartwarming meal of tasty seeds.
Cherished for their summer and fall lively blooms, Common Sunflowers grow in well-drained soil and full sun. This annual plant features proud flower heads that follow the sun with dedication wherever it goes.
Having a lovely addition as the Common Sunflower to your flower garden is a clever way to celebrate your cheerful character.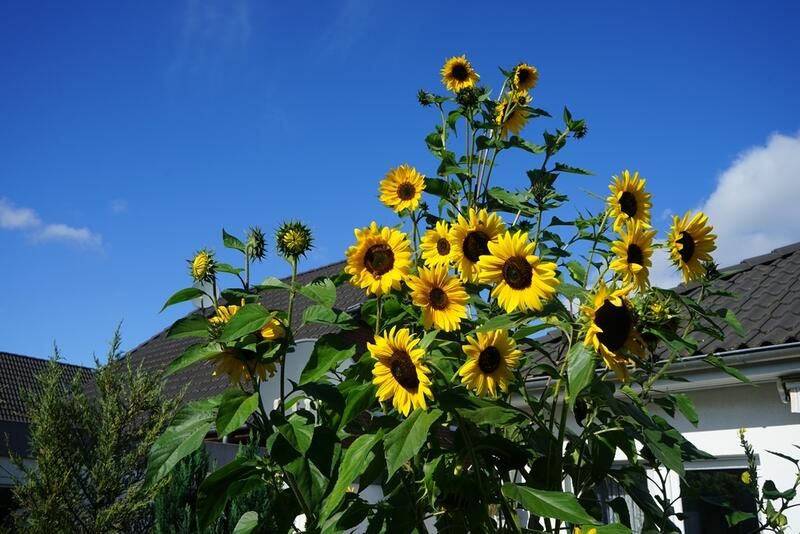 Cosmos
Nearly every summer garden is adorned with this delicate, pretty, and delightful flower.
When the frost comes to an end, simply sprinkle some seeds in your front yard and expect to revel in the beauty of bountiful, colorful blooms in about two months.
If you take joy in the indescribable brilliance of a fluttering butterfly, the mind-soothing bird songs, or the occasional visits of a buzzing bee, then you can definitely connect with nature through the floral display of daisy-like Cosmos.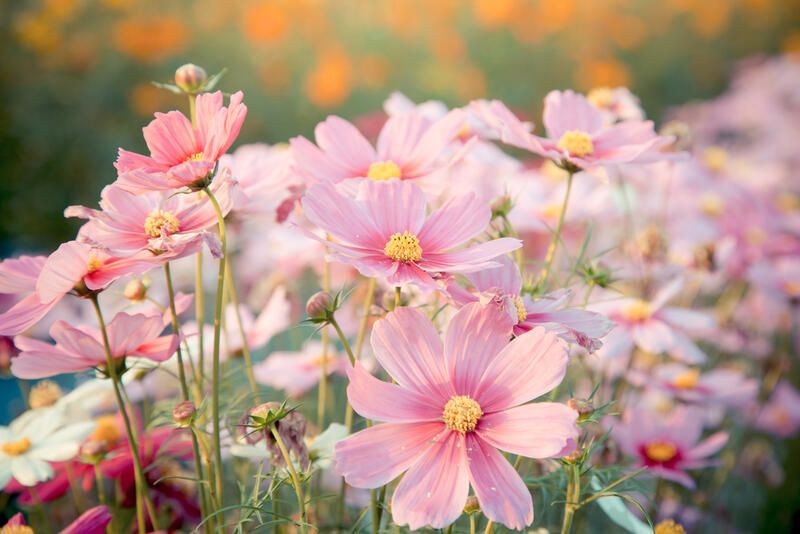 How to Choose Colorful Flowers That Best Complement Your Landscape Design?
Life has always shown great dedication to draining us out of our energy, leaving us lost and not knowing how to recharge our batteries. This is when flowers come in handy.
Ever felt over the moon after receiving a neatly-designed bouquet? It is no secret that flowers lift your mood, spread joy in the air, boost your creativity, reduce stress and anxiety, and cheer you up through vibrant colors and soothing aromas.
The key to pulling your landscape design off is to grasp its character. Knowing the style of your outdoor space is a great way to set the overall mood of your abode, and accordingly, you will be able to decide on the paint, furniture, stones, lighting, flowers, and everything in between.
No design experience? No problem! Shrubhub has got you covered with a wide array of cost-effective 3D designs for your outdoor space. You no longer have to rack your brain for out-of-the-box ideas, just don't hesitate to consult our talented designers for an inspiring outdoor experience.