Fence Design Ideas - 8 Ways to Define Your Borders
Published: 27/03/2023 | Updated: 10/09/2023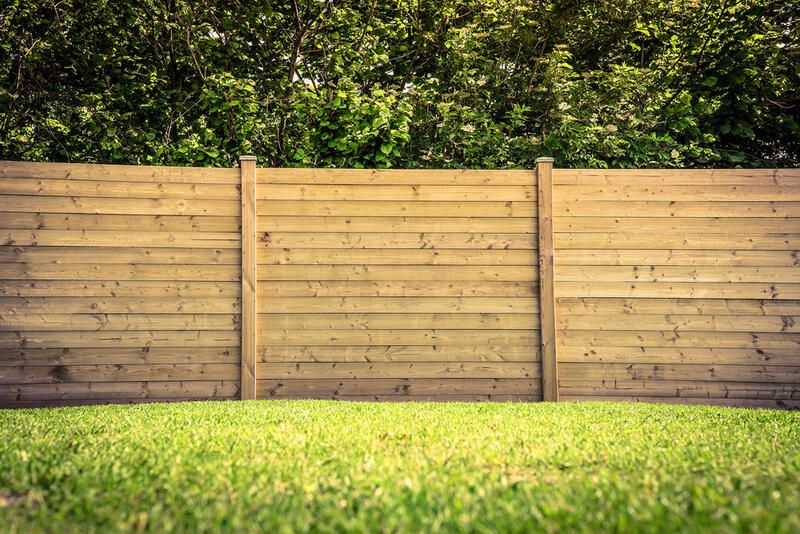 When was the last time you thought to yourself "it's time to bask in the sun and relax outdoors" — only to find out moments later that every passing neighbor is peeking over your shoulder? Talk about the invasion of privacy!


There's something about our homes that is just purely magical. Whenever we step into our space, a sense of seclusion and peacefulness takes over. However, more often than not, this sense of tranquility is heightened indoors, but when we set foot into our outdoor space, the feeling slightly melts away. Well, it's kind of difficult to unwind when someone is watching!
A unique fence design is one of the greatest ways to give your yard some character and bring a sense of privacy to the scene. While back or front yard fencing was originally brought to life for the sole purpose of marking boundaries, today's fences also serve as a focal point for your landscape design.
From the classic white picket fence style that takes you on a journey through time to chain link fences, metal fences for a modern look, and everything in between; you can personalize your fence from a wide range of materials and styles.
What's more, great fence ideas elevate your outdoor space in so many ways — improving security, keeping uninvited guests away, ensuring safety for your children and pets, drawing clear boundaries, enhancing privacy levels, and increasing the aesthetic value of your property.
And that's guaranteed if you style them in the right way, which is where we come in to guide you through the whole fencing process. Dive into some of our favorite fence ideas to help you build a secluded sanctuary!
Basket Weave Fence
Are you torn between a give-back-to-nature classic wooden fence and a less traditional look?
Just like an interwoven tapestry of colors and textures, a basket weave fence stands out for being a more modern take on classic wood fencing. Made from interwoven strips of wood, this yard fence never fails to add movement to your outdoor space, step up your style game, and serve as a distinctive design feature that wows every visitor!
This natural wood fence, which is both extremely durable and aesthetically pleasing, creates an artsy vibe for your yard with its head-turning woven pattern.
Available in an assortment of designs, colors, styles, and sizes, this interwoven piece of art effortlessly builds a private outdoor space that makes you smile.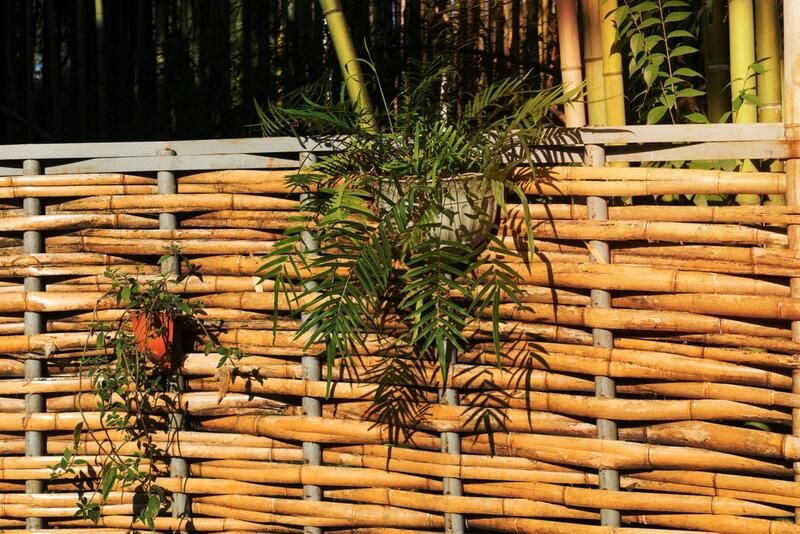 Vertical Slat Fence
Designed to add a more modern touch to your outdoor space, vertical slat fences can either be made of wood slats or metal vertical boards.
Each of these is bound to bring a distinctive style to your yard. If you opt for the cedar fence look, you will perk up the natural, flawless design even more. The staggered pattern of the metal slats, on the contrary, makes a real statement that matches modern architecture.
To pair your vertical slat fence with an air of dreaminess, create a stark contrast by adding a flash of color. Whether by throwing in colorful cushions or planting some of the brightest flowers in line with your fence, this decor will elevate your entire landscape design!
Solid Wood Fence
Of all the fencing designs out there, a solid wood fence ensures the most privacy, provides your outdoor space with maximum security and puts an end to the snoopy neighbors and curious peeks!
Given the fact that the functional theme of solid fencing often takes over, it's essential to bridge the gap between this functionality and style.
Embellish your solid wood fence with black vertical support rails for a playful contrast. The natural light brown color starkly yet favorably contrasts with the black rails, creating an eye-catching design.
To build a dreamy, inviting atmosphere in your yard, amp up your fence style with some fence-hanging pots.
Living Fence
Who wouldn't want a cozy, secret sanctuary tucked into nature's most captivating blooms?
Let's say you own a tiny backyard where you have no room for greenery. You have just installed your seating area and called it a day. Yet, something is still missing. This is not the dream yard you have always envisioned. Well, nature is the answer!
When there's no room to grow your favorite plants, go vertical. Instead of building a drab fence that has no mission except to offer you privacy, breathe life into your fence, and bring nature right into your home.
Evergreen, lilac, bamboo, boxwood, weeping willow, and forsythia are all great options for a living fence!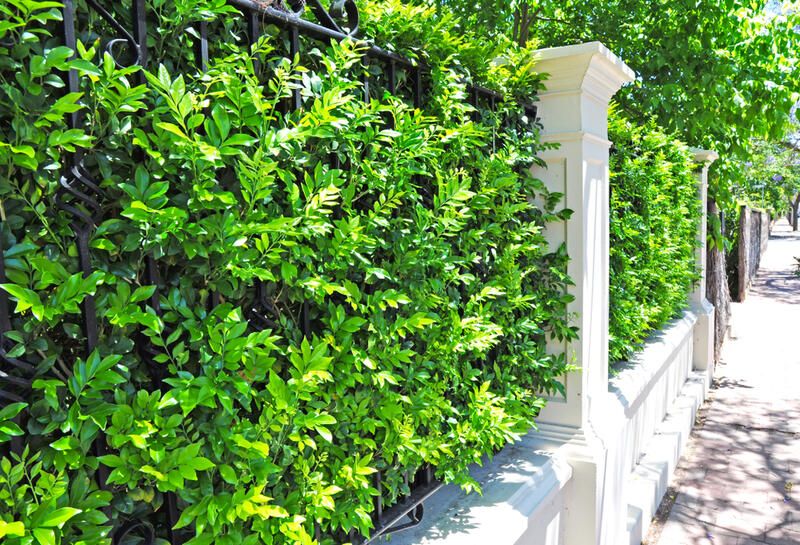 Traditional White Picket Fence
The white picket fence has forever been a symbol of the perfect home. Whenever we picture a dream house, this timeless look squeezes in no matter what. There is simply something magical about surrounding your house with this fence.
Speaking of the traditional spirit, the white picket fence gives off a time-honored aesthetic. The angelic white color and the close-to-heart design bring an extra dose of charm to the entire space.
Plus, nothing adds a romantic enchantment to your fence like growing roses! Not only will you preserve a sense of privacy as the roses grow higher but you will also create a private floral oasis where you connect with nature.
The Artistic Twist Fence
Taking your yard to an entirely different level calls for a creative twist!
Having a unique character that views the surrounding world in an imaginable way, you must be looking for something utterly innovative and strikingly different to give your fence a decorative touch.
To be honest, though, getting artsy and bringing a work of art to life can be a little tricky. To ensure that you maintain consistency throughout your entire landscape design, create a decent-looking mural with elegant patterns.
In case you have some artistic muscles to flex, create a light, cheerful abstract mural.
A Repurposed Fence
When putting this concept into action, you'll have to think outside the box (or throw the box away altogether)!
As the saying goes, one man's trash is another man's treasure. And in this case, your trash is also your treasure.
Repurposing old shutters is a clever way to find new life in things that have already been worn down. Instead of leaving them lying around in your garage for no apparent reason, transform them into a captivating fence.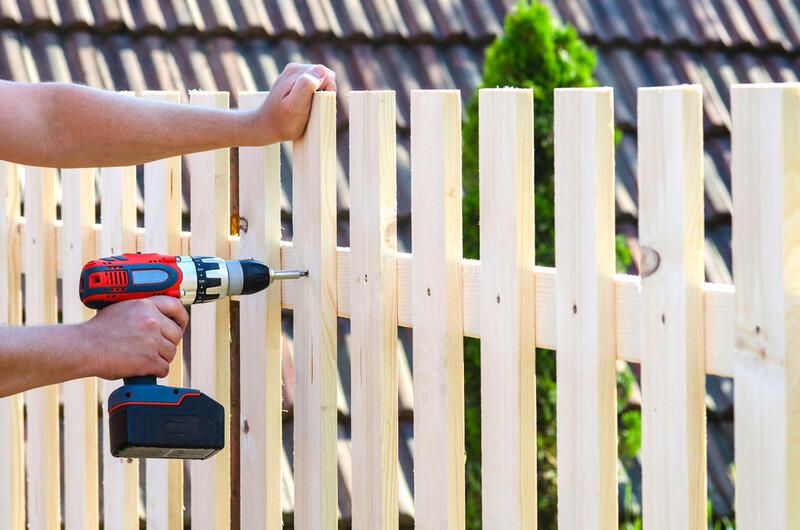 The Whimsical Glow
What if you already have a fence that you can't afford to change at the moment, but at the same time, you are looking for ways to spruce it up? This idea is made especially for you!
Bejeweling your drab fence with twinkling fairytale lights will illuminate your pathway, highlight every design detail in your yard, evoke feelings of delight, and add a whimsical atmosphere to every gathering. With such a cheerful ambiance, every evening will feel like a special occasion.
Wrapping Up
It's no secret that fences are one of the most important design features in your outdoor space. Not only do fences aesthetically elevate your home's exterior design but they also serve a practical purpose.
With a wide variety of materials and designs out there, you might feel overwhelmed as to which fence you should choose. Well, no matter if you are looking for a modern take on the concrete fence, or fancy wood fences and a more classic choice like the pallet fence, ShrubHub is here to help you out!
Because ShrubHub believes that every homeowner deserves a head-turning landscape design, we craft unique pieces of art (also known as landscape 3D designs) that match your personality, style, needs, and outdoor dreams!
ShrubHub's experienced designers are aware of the importance of crafting a personalized landscape design that genuinely mirrors your taste.
That's why it's not only about revamping your yard, it's also about embarking on a pleasant journey whenever you step into your garden.
Design an outdoor space that you can enjoy for years to come and don't hesitate to contact us today!