Your Guide To Yard Fencing
Published: 20/10/2022 | Updated: 29/03/2023
We all dream of our private oasis where we can rest and relax after a long day or week of work.


Rule no.1: If you're resting while stressing about something, you're not resting! If you have neighboring houses or you're close to the street, that tends to take away from your personal oasis experience.
You want to ensure your time spent there, won't be spent worrying about neighbors seeing into your yard or your little ones and pets running towards street danger.
We're all constantly looking to improve our homes and make the best enhancements. As landscape design professionals, we certainly believe fencing your yard is a worthy investment to consider.
Fencing provides security, privacy, and a professional finish to your yard so it would feel more complete.
And that's why we are going to break down privacy fences, fence ideas, and everything you need to know to ensure you're making smart fencing choices for your outdoor space!
Wood Fence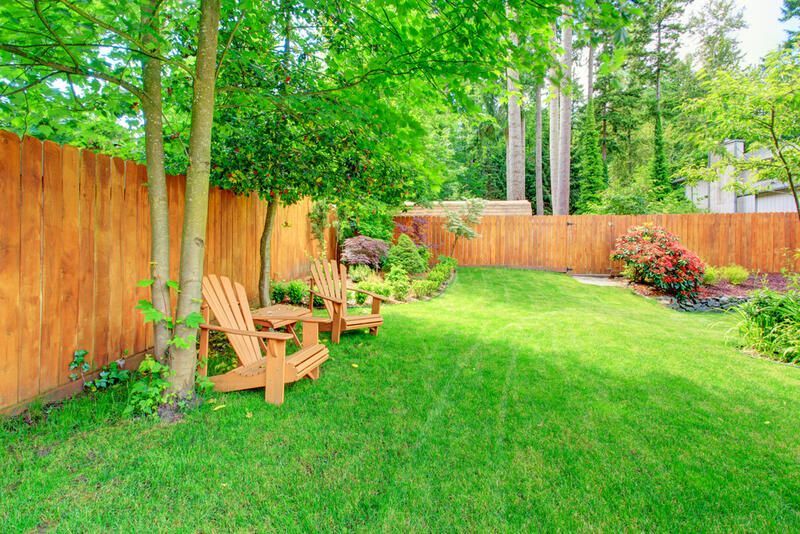 Wood slats fencing is the most classic fencing look, it's safe to say a typical wood fence is the first image that comes to mind when fencing is mentioned. Let's go over some of its types and styles.
Cedar Fences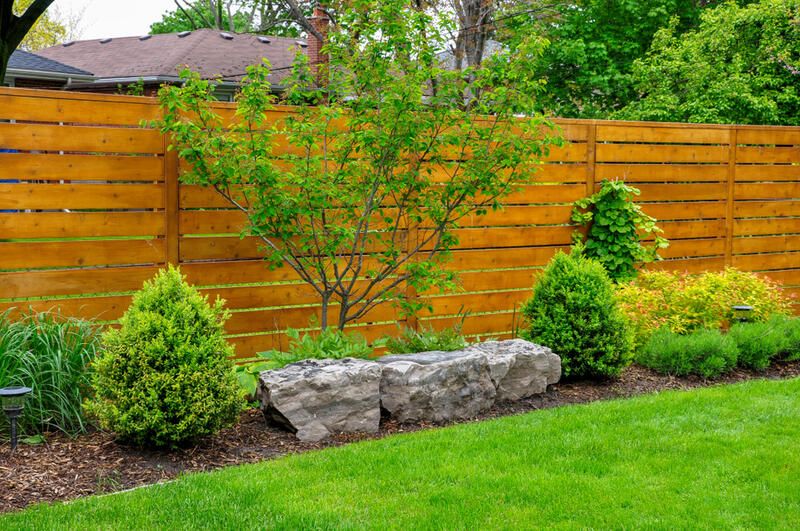 Natural wood comes in grades based on quality and budget, one of the most common types used in fencing is cedar. A cedar fence naturally repels insect infestation and rotting, it's also considered a somewhat budget-friendly wood fence.
Redwood Fences
Redwood is another type used in wooden fencing, it tends to be significantly more expensive than cedar, but if you like the look of it, you can mix it with another material to still get the redwood slats to look less expensive.
Our Shrubhub professional team recommends opting for a pressure-treated wood fence so it wouldn't change color with time.
Will a wooden fence work with the style of your home?
Wooden fencing highly compliments Traditional, craftsman, and English garden styles. If your house is more on the modern and contemporary spectrum you might be wondering if a wood fence will go well with your yard design.
Our professional landscape designers at Shrubhub would recommend a horizontal privacy fence for modern houses that are looking to use wood.
The horizontal wood slats complement the modern style when painted in darker colors like black or darker wood color.
So, with the right adjustments, a wood fence matches all sorts of styles!
Bamboo Fence
Bamboo fences are environmentally friendly, attractive natural fences that can give your yard a natural, organic look.
They're durable and long-lasting and typically require low maintenance.
If you're considering bamboo, keep in mind a sealant must be applied to bamboo when used for fencing, so it doesn't get affected by moisture.
PVC Vinyl Fence
Vinyl fencing is ideal for those who are looking for low-maintenance options. PVC vinyl is durable and doesn't rot or suffer from termites. It also doesn't require staining and maintenance as wood fences do.
With the right instructions, you can paint your vinyl fence for a refreshed look, and, like wood, you can change the style by using horizontal rails.
You should note that vinyl tends to be a lot more expensive than wood so it might not be your best option if you're on a budget.
Metal Privacy Fence Ideas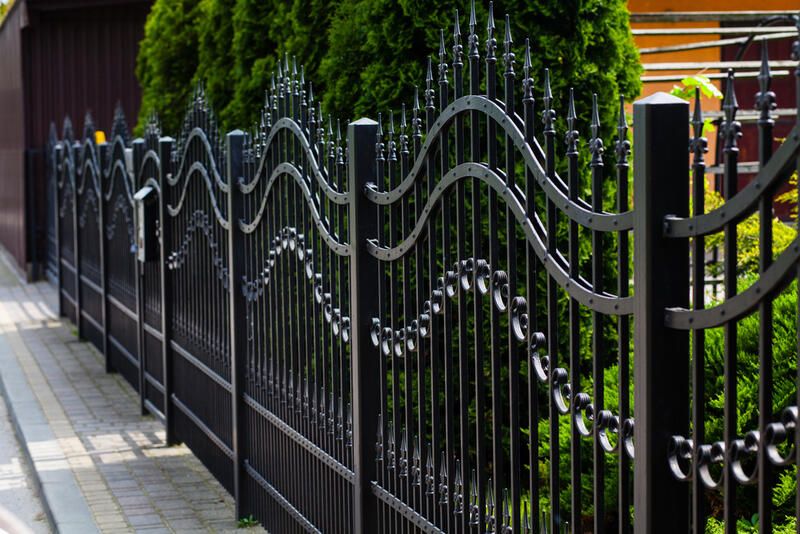 When it comes to metal fences, you'll have a handful of options to choose from. So, if you're on the fence about metal options, let us go throw your best choices to help you make a decision!
Wrought iron: wrought iron fences offer durability and classic beautiful designs they give an elegant look to your garden making it look fancy and well taken care of. Iron is certainly an expensive option and requires professional installation.
Aluminum fences: Aluminum is another highly durable material that requires little to no maintenance and offers a nice look. It also scores a point higher than wrought iron because it doesn't rust.
Aluminum fencing is comparable with wrought iron in price, so, if you're looking for a more cost-effective metal fence, you should consider a steel fence!
Corrugated Metal Fence
This type of metal fencing is more convenient for a DIY project. It uses corrugated metal supported by wood or metal posts which makes it an affordable option that requires low labor and maintenance.
Stone or Prick Fences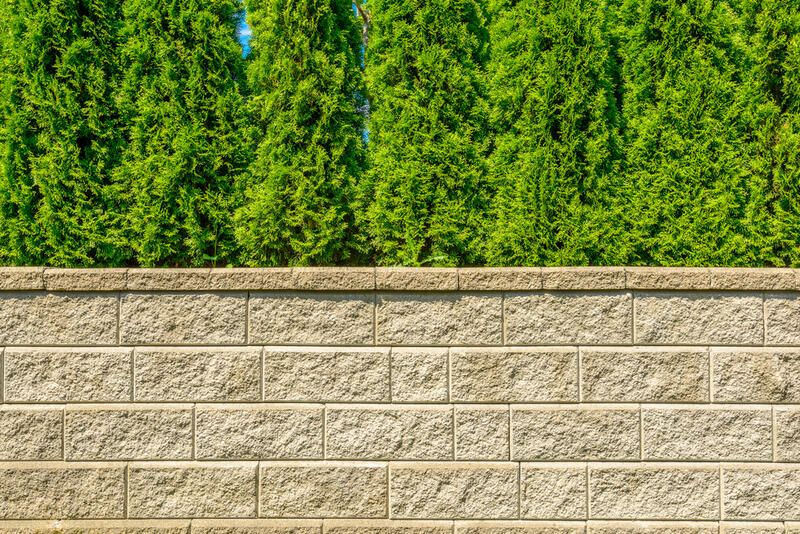 Stone fences are the strongest, most durable type of fencing. They can survive most environmental conditions and generally require minimal maintenance. Stone fences are also very aesthetically beautiful and can be made to match the style of your home, giving your yard a more elegant finish.
Retaining wall fences: retaining walls are great at holding back the soil and giving you more flat, usable surfaces. If you have a slope and want to work on a retaining wall to flatten your yard, you can build a privacy fence right on top of it, making it a double-use feature.
DIY Privacy Fence Ideas
Most work can be DIYed if you put your mind to it. Though, these fence materials make the DIY job a lot easier as you can easily find step-by-step installation instructions online for these fence materials.
Chain link fence: chain link fence is a very affordable option and one that's suitable for a DIY project. They also offer high durability and will allow the sun to visit your garden! Chain link fences can also be decorated in many ways to soften the metal look.
basket weave fence: basket weave wooden fences are very aesthetically pleasing options. they provide privacy, and beautiful designs and allow airflow.
Lattice fences and gabion walls are also ideas that will add character and interest to your garden. And the icing on the cupcake: They are DIY-friendly!
Decorating Fence Ideas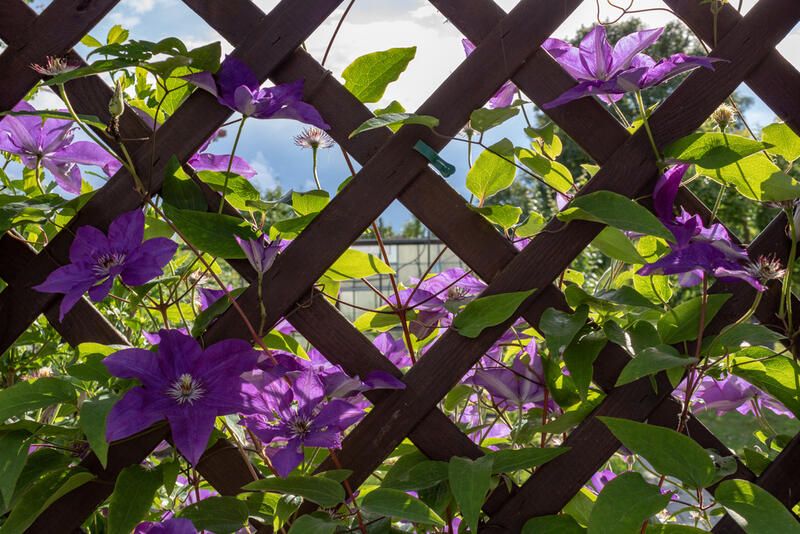 For a softer look on the inside of your yard and a nicer view from your patio, consider some landscape and decorating options for your fence.
If you choose a fence with gaps or horizontal slats you can grow vines and climbers on it for a softer look.
And for a similar but more professional vibe, you should consider vertical gardens.
Fencing your front yard
While fencing a front yard is less popular than fencing a backyard, it still offers you a ton of benefits.
A classic picket fence will define your yard and mark your property, which will prevent people from walking into your yard or neighborhood pets from doing their business on your lawn.
A classic white picket fence will enclose your yard without completely secluding it from the street.
Check out our special offers on design packages and start working on your dream personal oasis! Visit shrubhub.com for more information.