Outdoor Catios: The Cat's Meow in Outdoor Cat Havens
Published: 27/03/2023 | Updated: 09/09/2023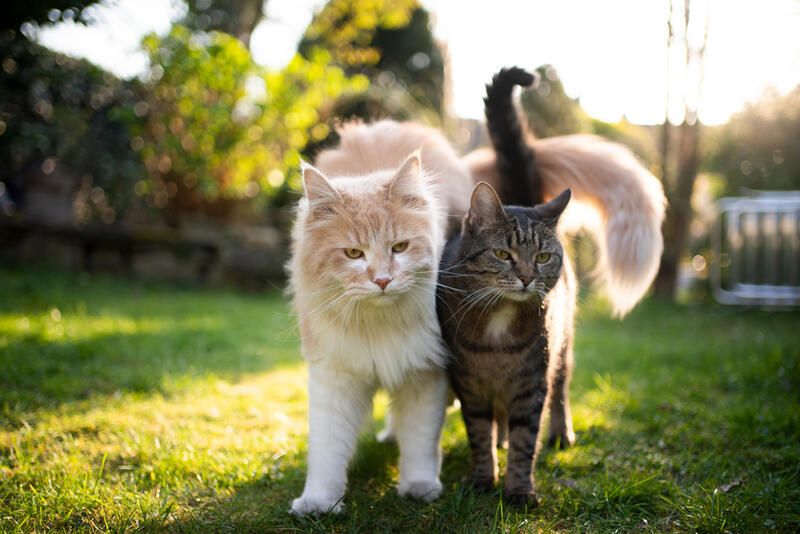 At some point, all cat parents have witnessed their indoor cats peering out of a window, stimulated by the movement of birds and butterflies, or even staring at them as they spend time outside.


We all want to share joyful moments with our pets, and while we'd love to bring them outside, we're concerned about outdoor dangers or can't get them to feel secure enough to go outside.
That's why the Shrub Hub team is here to share the best cat enclosures and catios, outdoor ideas, and great tips on making your outdoor space a safe and enjoyable haven for your cats.
What Is An Outdoor Catio?
A cat patio or a catio is an outdoor space dedicated to containing cats and keeping them safe while they enjoy the outside time.
Catios are often referred to as cat enclosures since they typically have walls of wire or mesh to keep the cat safe within their dedicated space.
What Are Outdoor Catios Good For?
A study showed that outdoor cats have longer lifespans compared to indoor cats which can go as far as 15 years.
This goes to show how important it is for cats to interact with the environment.
The great outdoors offers numerous benefits to our fur friends such as mental stimulation and physical well-being.
When cats are outside they're constantly moving and exploring which keeps them in good shape and prevents boredom that results in destructive behavior.
Outdoor cat enclosures provide a safe outdoor space for cats to move and explore freely in the fresh air without being exposed to outside dangers.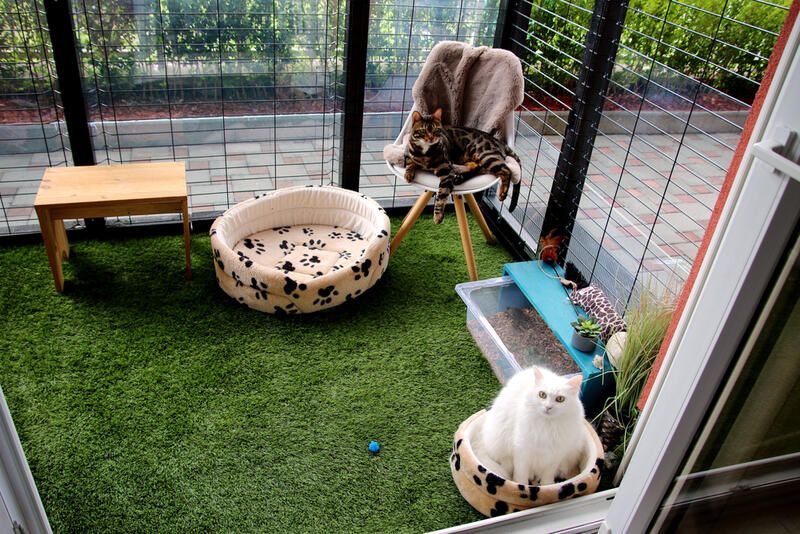 Types Of Outdoor Cat enclosures
Cat enclosures come in many types, designs, sizes, and shapes. Some of them are small, others are bigger to contain multiple cats comfortably.
There are even fixed and portable catios to suit every cat parent's needs and available space.
To find the perfect patio for you, you have to think of the available yard space and how many cats you have. Let's look at the most popular types of catios to help you decide.
Attached Catios
Attached catio structures are usually connected to a part of the house that contains a cat door or a window so the cat would roam freely in and out of the house.
These attached catios allow cats to enjoy their time outside and head back to the safety of their homes whenever they feel like it and without the help of their owners.
Standalone Catios
Freestanding catios give homeowners more freedom with location as they can be placed anywhere in a yard and can be moved around when needed. They could be less convenient for cats as they'll have to be carried there instead of going in when they feel like it.
Window Catios
Much like attached catios, these enclosures usually connect to an existing window like a balcony, allowing cats to enter and exit the enclosure through that window.
They're usually made to be hung on a side of the house over a window so so they're smaller than other catios.
Can I DIY An Outdoor cat enclosure?
One of the great things about cat enclosures is how DIY-friendly they are.
If you're a DIYer, you will easily find many catio designs plans online that suit all sizes and materials you're looking to employ.
Depending on the size of the catio you want to make, the materials you choose, and the assistance you receive, you can build a catio from scratch on a weekend or even over a few hours.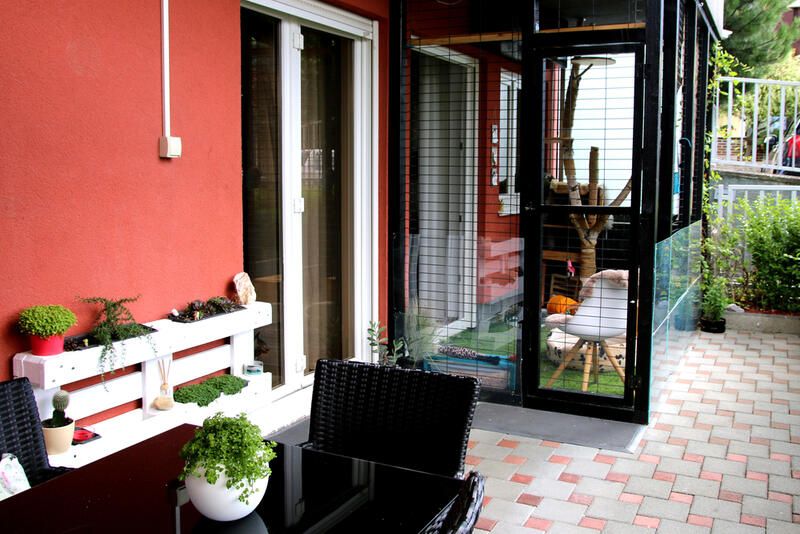 Outdoor Tips And Ideas For Cat Parents
Whether you're looking to install a large outdoor patio in your yard or let your cats roam outside freely, these ideas and tips will ensure their time spent outside will be safe and enjoyable.
1. Keep Your Fur Babies Hydrated
Dehydration causes many issues in a cat's health, and it's common in cats since they tend not to reach for water regularly.
Installing a cat fountain will not only make sure your cat is hydrated at all times, but it'll also add a zen element to your yard and your cat's space.
2. Cat-Proof Your Fences
If you want to give your cats the space to run, play, and interact with the surrounding environment freely without worrying about them leaving the yard or getting lost, cat-proof fencing will be an excellent option for you.
There are numerous creative ways to cat-proof a fence, here are a couple of ideas to draw inspiration from.
Curved fence overhang: A curved overhang can be made with mesh or chicken wire and added as an extension to the top of the fence to prevent cats from trying to jump over.
Spinning fence-top extensions: This option is less restricting but is still very effective in preventing cats from jumping over the fence.
When cats attempt to jump and grab onto the top of the fence, this extension spins, making it difficult for cats to hang on to it.
3. Add A Few Scratching Posts
Any cat owner knows cats LOVE scratching, they'll scratch their nails on a scratching post, a chair's arm, or your pricy leather handbag (this may or may not be a real story).
Adding scratching posts to their space or throughout your yard gives your cats mini entertainment stops to keep them engaged and protects your furniture and precious belongings.
4. Give Your Cats A Mini Garden
While cats are not greens eaters, they enjoy nibbling or munching on grasses and other plants.
Create a small garden in their space by adding cat-friendly plants such as cat thyme, catnip, and lemon grass.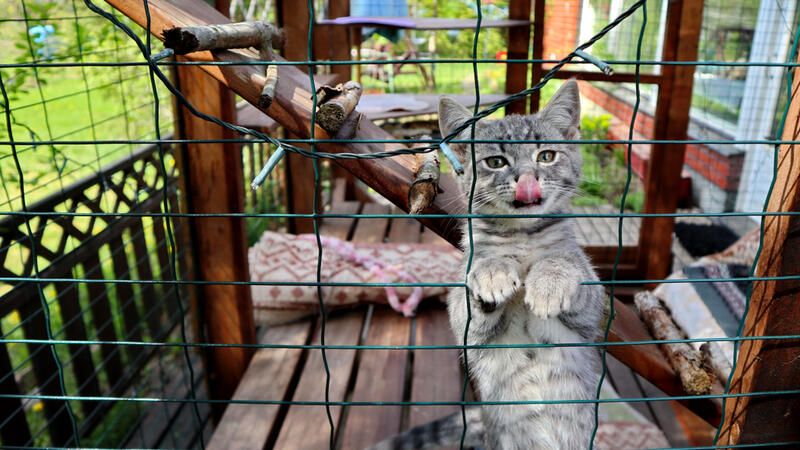 5. Make Sure to Avoid Toxic Plants
A lot of popular landscape plants happen to be toxic to cats, that's why it is very important to keep your cats in mind when choosing landscaping plants.
Ask your landscapers to avoid suggesting potentially toxic plants and research any plants before purchasing if you're planning to let your cats free in your yard.
Some toxic plants to avoid are Ivy, Azeleas, Hollies, Hydrangea shrubs, and most lilies.
6. Install Cat Trees And Climbing Shelves
A cat tree or climbing shelves will keep your cats entertained, physically active, and playful! Consider adding one to their catio to make their time spent outside as enjoyable as possible.
Your Dream Yard Is Attainable!
When you look at your outdoor space, do you picture a lush paradise? A beautifully planned entertainment oasis? Or even a simple space perfectly balanced between hardscape and greenery?
With a bit of help from the creative design team at Shrub Hub, your daydreams of the perfect yard can become a reality!
We tailor our designs to fit your space, lifestyle, and budget perfectly.
All you have to do is provide us with some pictures of your space, have a brief conversation with your project manager, and get ready to be mind blown by the results!
Visit Shrubhub.com and start your home planning journey today.