Yoga Garden Ideas: How To Design The Perfect Spot for Relaxation
Published: 09/11/2022 | Updated: 29/03/2023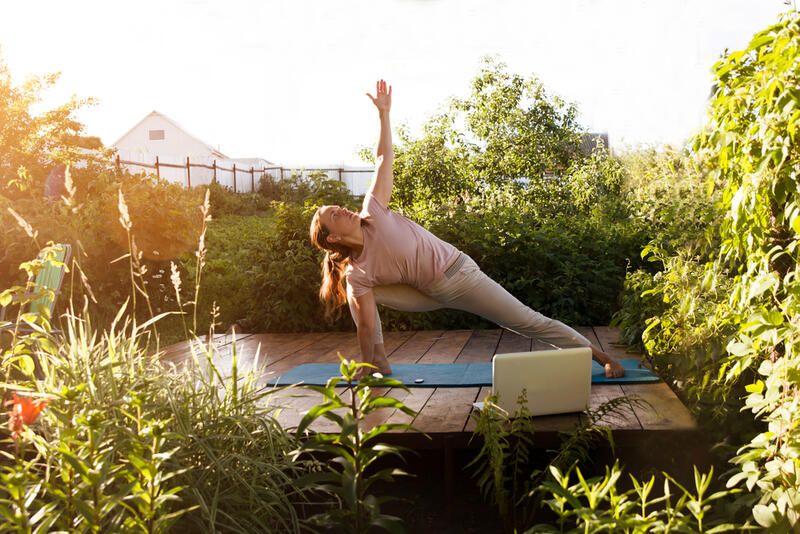 Create a Yoga Practice Sanctuary In Your Own Backyard and Embrace the Joys of Outdoor Yoga


Have you ever dreamed of having your own yoga studio?
With an outdoor yoga garden, you can practice vinyasa and sun salutations in the comfort of your own backyard. Learn how to create a yoga garden and the benefits of practicing garden yoga by reading about it.
Why create a yoga garden, you ask?
Outdoor yoga practice offers a host of advantages that go beyond the moment.
Being outside and practicing yoga both have many positive health effects, including reducing stress and improving balance, memory, and self-esteem.
Additionally, stretching and meditating out in a beautiful yard is significantly more pleasant than crowding into a hot yoga studio and staring at a blank wall.
Moving your training outside can motivate you to exercise longer simply because it's more fun.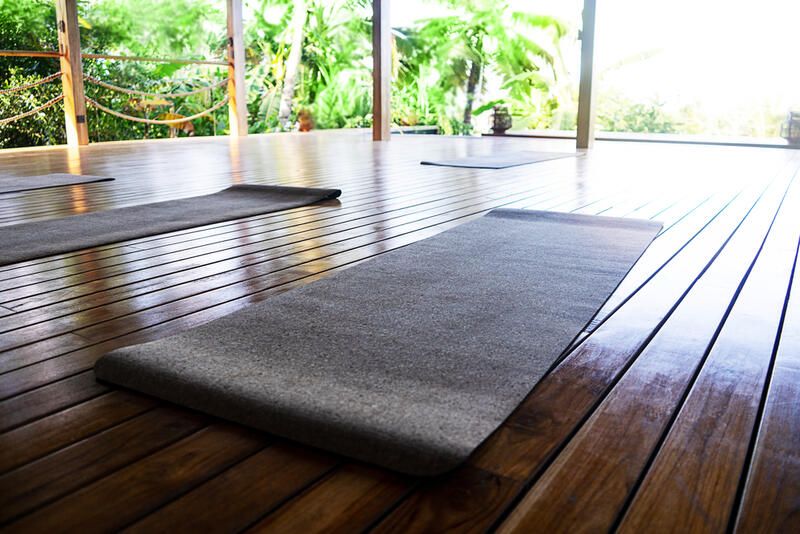 The Basics of a Yoga Garden
As you start to design an outdoor yoga garden, keep in mind your goals for the space as well as how you want to feel while utilizing it.
A Private Sanctuary
Consider privacy carefully when designing your yoga garden, because it serves as a quiet retreat where you can relax and restore your sense of calm.
A pergola with curtains or a privacy screen may be an option you want to consider adding, in addition to the calming backdrop provided by large flowering shrubs and trees like oaks and arborvitae.
A Harmonious Space
Having a well-designed yoga garden is like having a backyard oasis all your own.
Consider color theory and the foundations of landscape design to make sure your yoga garden appears harmonious and visually appealing.
With a few gentle tweaks, you can maximize the beauty of your outdoor practice space.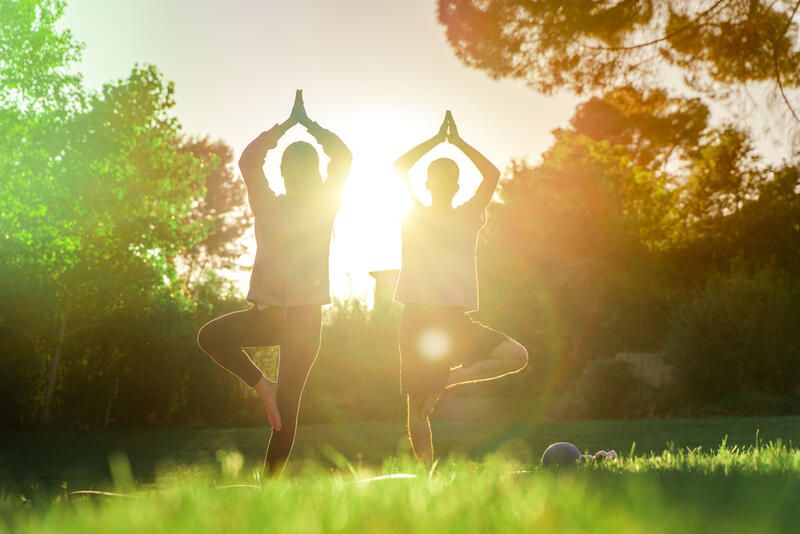 A Place of Comfort
Garden yoga could become difficult if you're sweltering in the heat, swatting at bugs, or lying in the mud during savasana.
To comfortably stretch into your yoga postures, keep comfort in mind when brainstorming garden design ideas.
Consider adding elements like a patio or deck, a source of shade, or perhaps a quiet outside fan.
Before you start creating your zen garden, design the plan of your yoga garden to avoid feeling overwhelmed.
Create a budget to help you stay within your spending limits and decide what you want from your practice space.
Do you want to dedicate a small, hidden arbor to your practice or do you want to create an open-plan, well-lit space?
Choose Complimentary Plants
A yoga garden is a perfect venue for adding some of the design features of sensory gardens and Japanese zen gardens in order to make stepping into your garden an immersive experience.
Pick fragrant flowers and deep-green container plants like ferns and ficus to beautify the space.
When selecting flowers for your yard, pay attention to cool color schemes like soft purples, lush greens, and cool blues. These quiet tones can be combined with white flowers like Jasmine to create a calming atmosphere.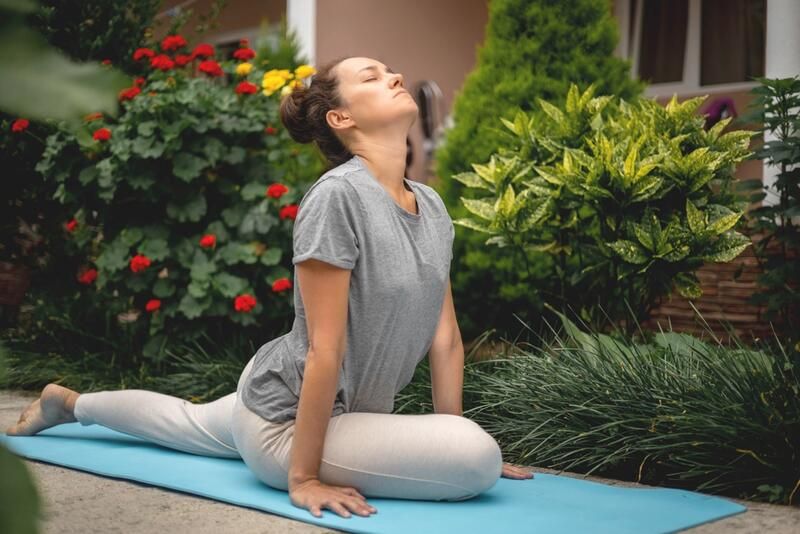 Add a Water Feature
Including a water feature in your yoga garden has several benefits.
In addition to creating a tranquil sensory experience, the trickling of a fountain or waterfall can help you block out outside noises so that you can fully concentrate on your yoga practice.
If all you want is a little area to practice while listening to the sound of running water, there's no need to worry about a full landscape installation.
A humble solar-powered fountain is a simple self-contained option that is easy to install in your yard.
The Bare (Feet) Necessities
After practicing yoga outside, the last thing you want is mud on your mat and splinters in your toes!
You should include a location where you feel comfortable going barefoot in your backyard yoga design.
On an existing deck or patio is the ideal site for your outdoor yoga room.
You only need to add an outdoor carpet or rug to create a level surface.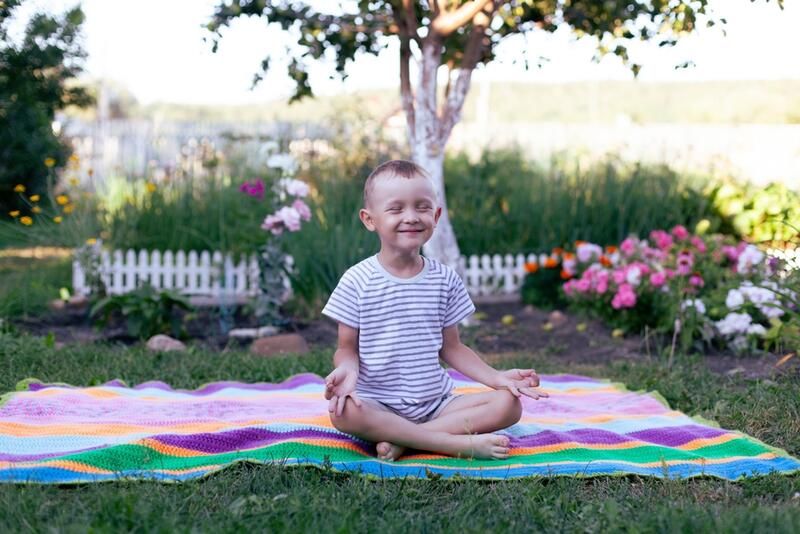 Add some decorative elements
A few ornamental accents can help create the perfect meditative space.
Wind chimes can add a wonderful musicality to your garden, and having a few yoga-themed statuettes in view can help you to feel centered.
Don't Forget the Lighting!
Lighting can have a tremendous effect on how a space looks.
Good lighting is particularly important if your garden is not blessed with a lot of direct sunlight or if you like to maintain a nocturnal practice.
If you want to practice meditation or yoga in the dark, hang some yellow hanging lights from the branches of the trees.
Install in-ground LED lights in your preferred colors to provide a stunning highlight to your space, line them up along a walkway, or illuminate the garden bridge if you have a sizable yoga garden.
In terms of safety, adequate lighting makes it possible to navigate the garden at night.
Soft mood lighting is the perfect way to create a relaxing and inviting space.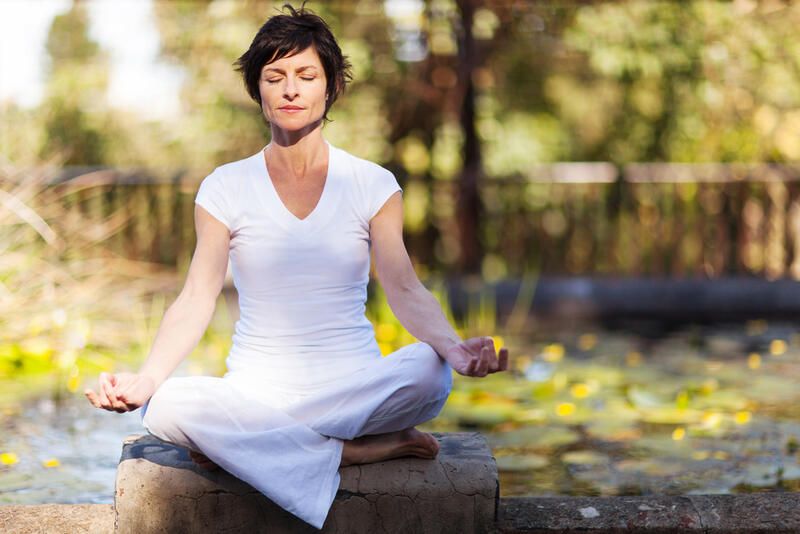 Include a Rocky Outcrop
A rocky outcrop will make your yoga practice more exciting and give the yard a rustic, natural look.
This method is fantastic if you have a boring, sloping area in your yard.
Combine your rocky additions with a few statuesque conifers, alpines, and low-growing sedums along a fine gravel walkway for a harmonious sense of texture that delights the senses. To give your green space personality and depth, you can embellish the surface with decorations like miniature statues, ceramics, or terracotta pots.
Get Started With a Landscaping Professional
At ShrubHub, we're all about providing our customers with the most value for a low-cost price. Your garden can be your new favorite place to gather all your loved ones, entertain guests, or relax after a long day!
Our entire process is done online, which means you can start your renovation from the comfort of your own home! With the guidance of an experienced Project Manager, we will bring your dream yard to life, and thanks to our very latest 3D technology, you'll know exactly how everything will look from an eye-level perspective as if you were walking through your yard.
Start planning a first-class makeover with ShrubHub today!
Visit our website for more information.