What Is It Like to Own Your Bridgeport Yard Design?
Published: 07/10/2022 | Updated: 29/03/2023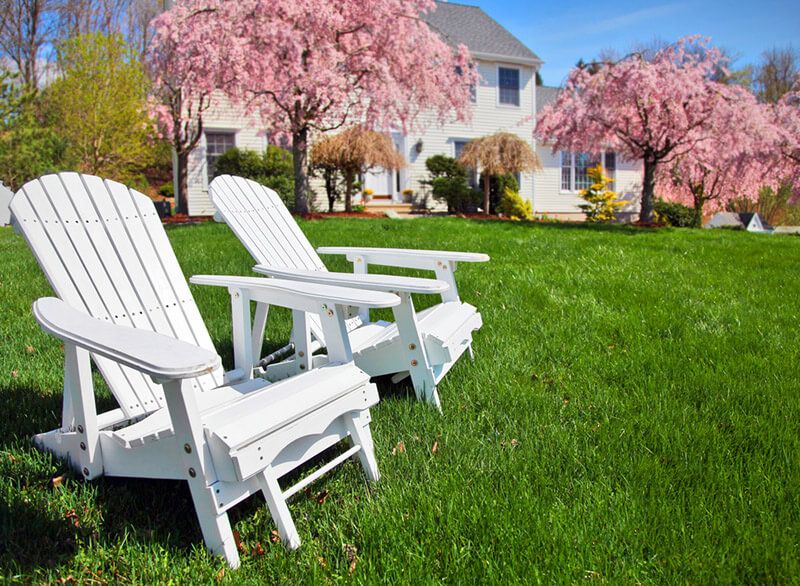 Let's plant Dahlia Flowers outdoors to live through the freezing nights of Bridgeport, CT!


Sounds crazy, right? Nothing can be more frustrating than coming across a non-native yet bewitching flower in a nursery, and deciding to plant it back home — only to find it dead a month or a couple later. Understanding what the weather is like in your local area and how it could impact your plants plays a key role in planning your yard design. While some plants thrive under the blazing sun and enjoy the bright beams of sunlight, other plants with thin leaves will blossom just fine in rainy weather.
If you get the whole picture of your local geographical location, you become fully aware of the features of your land and your area's climate. Imagine being in the dark about how your location can interfere with your landscaping designs! You might -unfortunately- build this enchanting yard that is doomed to die within a few months, leaving you clueless about what is going on with your yard.
Looking forward to having a stylish yard design in Bridgeport that you can actually relish throughout the seasons? To pull this off, you will need to take a few main factors into your consideration.
Before selecting the plants that you will enjoy in your garden every day, know more about your site and dig into the function of those plants to understand if they will match your environment and lifestyle. These plants must have what it takes to live through the high and most importantly the lower temperatures of Connecticut.
Lucky for you, there's no need to feel beaten by all the Connecticut landscaping details because there are professionals who can take it off your shoulders, with fast and affordable landscaping services, so you can sit back and enjoy the results!
What Is Nature Like in Bridgeport, CT?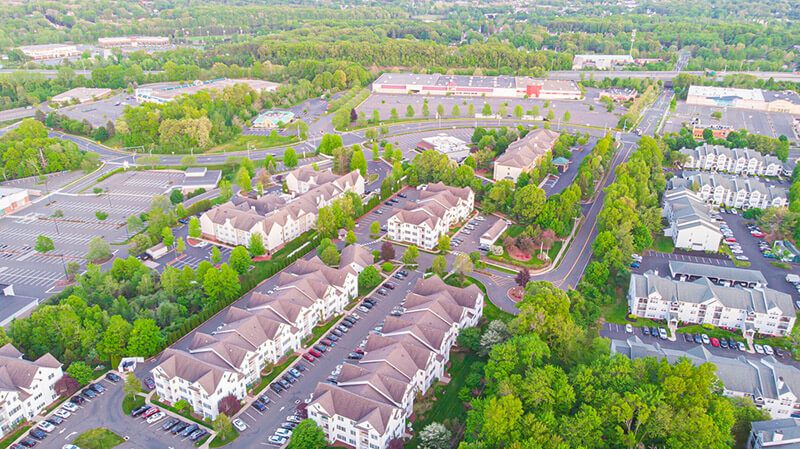 Located in Long Island Sound at the mouth of the Pequannock River, Bridgeport is home to cultural diversity and rich, colorful history. Distinguished by its renowned parks and forests, Bridgeport is where you can lose your mind and find your soul while wandering in the wilderness.
The Roosevelt Forest, Pequannock River Valley State Park, Seaside Park, and Devil's Den Preserve are some of Bridgeport's fascinating creations where you can just breathe nature in and listen to the whispers of the trees and the serene sounds of the creeks flowing through the forest.
In Bridgeport, the weather is fairly warm and humid in the summer with the highest temperature being 82 °F. In winter, the weather is most likely freezing cold, snowy, and windy with the lowest temperature being 24 °F. Yikes!
Bridgeport Native Plants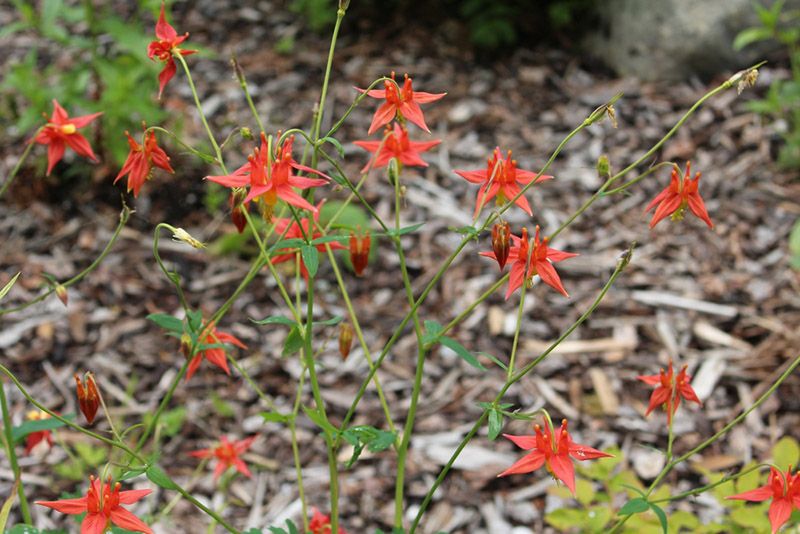 Calling a plant "native" means it has thrived over the years -independently, without the interference of human beings- in a certain region, so not all states share the same native plants. A plant that might be native to New York can be impossible to plant in another remote state. Just like people, when relocated to a country with a climate that is drastically different from one's hometown, plants too feel quite disoriented and have a hard time getting used to new climates; they might even give their thumbs down to the entire notion of accommodating.
Blossoming amid an environment that's perfectly compatible with their qualities, native plants are not only crucial to the local ecosystems but are also vital to preserving biodiversity. When planning your landscape design, keep tabs on the native plants as they are more tolerant to the area's soil conditions and water availability, can be deeply rooted, and are already adapted to the local climate.
Here are some of Bridgeport's native plants:
Staghorn Sumac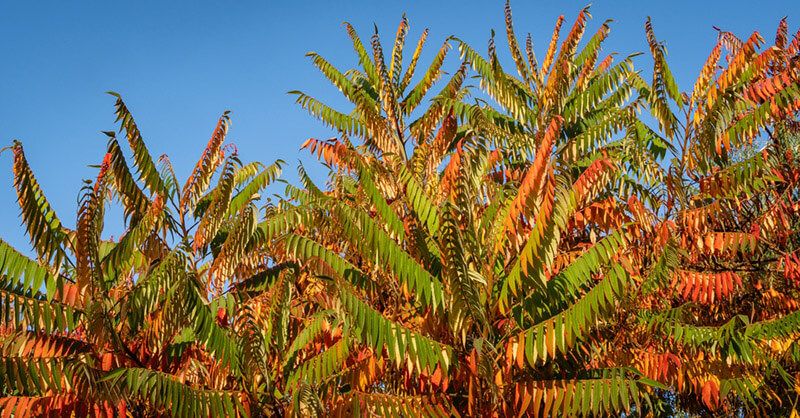 With its tropical-looking leaves and vibrant autumn shades of orange and yellow, the Staghorn Sumac tree is just the perfect treat for the eyes. Given its captivating foliage and vibrant, crazy-looking clusters of red berries, it is often incorporated in Bridgeport's yard designs as an ornamental. Growing as tall as 4-8 m and as wide as 6-9 m, Staghorn Sumac does not pose serious pest or disease issues and tolerates a wide array of soils.
Pinxterbloom Azalea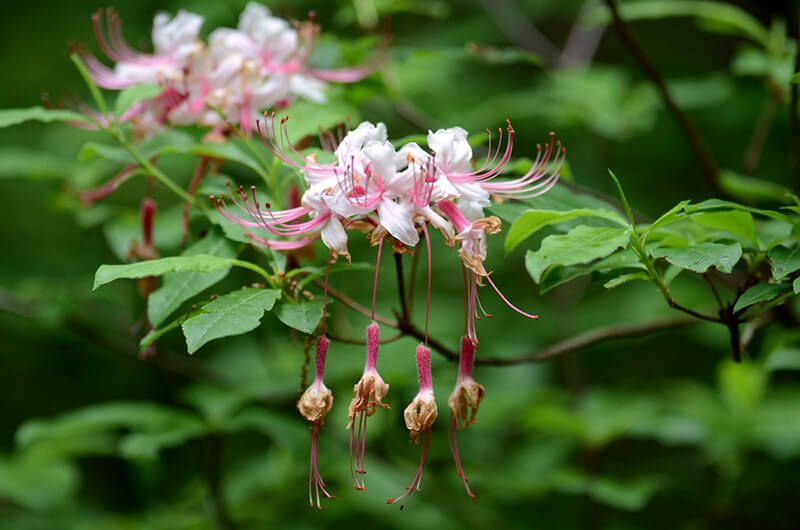 Who wouldn't want to adorn their garden with spreading clusters of soft pink blossoms?
Pinxterbloom Azalea boasts a striking appearance and excessive brightness through its pink trumpet-shaped flowers. During fall, pink magically turns into a calming purple that uplifts your spirit and encourages your creativity. The shrub's delicate display charms more than just humans, attracting butterflies and hummingbirds to your garden for breathtaking scenery and a festival of colors. Growing up to 3-6 ft. tall, Pinxterbloom Azalea shrubs can be perfectly designed into a privacy screen.
New England Aster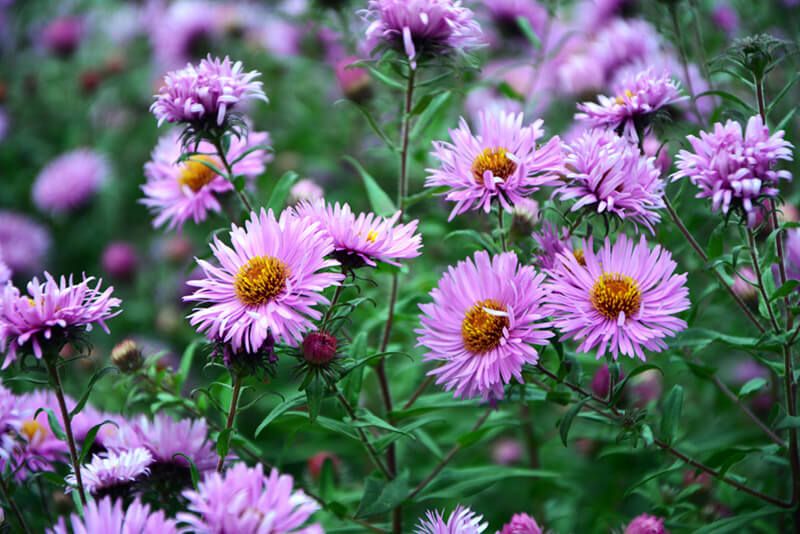 Add a pop of color to your garden with the New England Aster! Adorned with its lilac purple hairy, delicate leaves and a center of vibrant shades of yellow, its flowers bloom in profusion and become a nectar source for butterflies. The daisy-like flowers can bloom their best in a sunshiny area, preferring rich soil with good drainage. Showy, large, and lively; this aster typically grows 3-6 ft. tall and 2-3 ft. wide. If you are looking forward to lighting up your garden while giving it a romantic look, New England Aster could definitely fit into your Bridgeport yard design. Nobody says no to a colorful turn in their landscaping project!
Connecticut Classic Landscaping Designs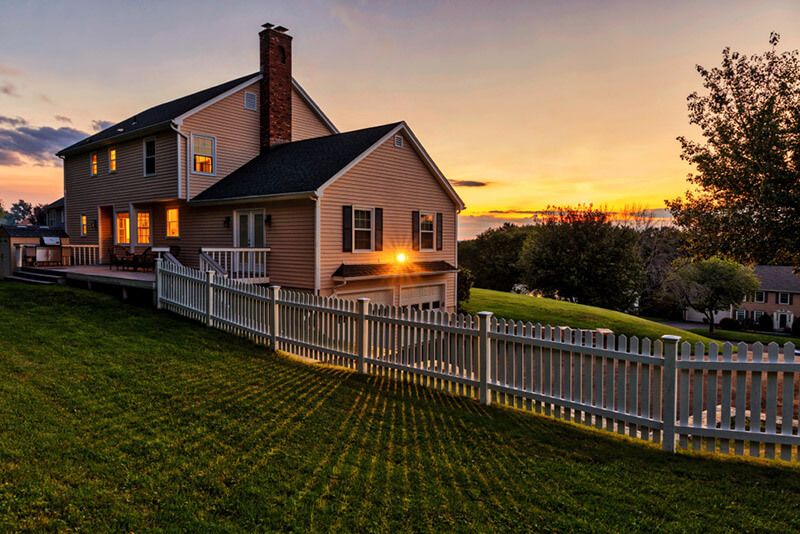 When taking a better look at yard designs in Connecticut, you will marvel at those mind-boggling vintage designs. Leaning toward the traditional English colonial style, Connecticut yards are a thing of classic beauty. Featuring a timeless look, these traditional gardens are designed to take you on a journey to the colonial era. Hardscaping, plants and shrubs, fencing, and décor are the main players that set the foundation for a colonial-themed yard.
If you are willing to abide by the rules of a colonial design, you have to bid cement farewell. You must have gotten the picture by now: the colonial design is grounded on the foundations that boost the vintage effect, and cement most certainly will not do this part justice.
So, for an enhanced classic feel, opt for brick, stone, flagstone, or slate. Consider an earthy, unmistakable look by selecting a stone patio design, and to add to your colonial appeal, install brick retaining walls.
As a staple of this era, beautifully-built fences are most likely to be featured in classic colonial yard designs. Although colonial times deemed them a necessity and required properties to install 4½ feet high fences, they serve nowadays a more aesthetic function. Even though they require putting in the extra effort to maintain them over time, classic wood picket fences are usually the first thing to pop into your mind when looking at your traditional style options.
To heighten the dramatic effect even further and take your garden up a notch, you might consider adding a traditional-looking fountain. Fountains will not only give your Bridgeport yard a vintage appearance but will also offer a tranquil addition to it.
What Does It Take to Design a Breath-taking Yard in Bridgeport, CT?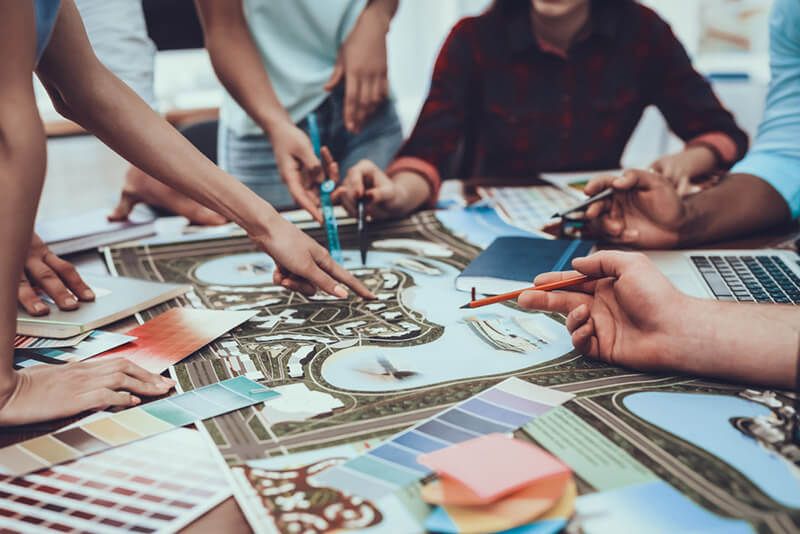 Nature offers plants and trees of various shapes, sizes, and needs across continents, countries, and even cities. By observing our surroundings, we can get a better feel of the patterns of plants, trees, and weather. Understanding how nature works in your location is your path toward a great yard design.
With a professional twist, this vintage landscape design can fit both residential and commercial properties. Art-based, landscaping projects are flexible enough to embrace your thoughts, ideas, and dreams. Whether you envision a unique entrance for your family-owned business or aspire to upgrade your home outdoor space to stand out from the other regular yards, this colonial-themed yard design is your way to go if you want your neighbors to succumb to the green-eyed monster.
Being driven by the passion for design is not the one thing it takes to build a successful yard design in Bridgeport, CT. It's rather about striking a balance between studying climate and nature and of course being experienced enough to notch up success. Merging the vintage look of the colonial Bridgeport design with a slightly modern touch of the present time is a genuine talent that only professional designers have.
Although there are some DIY tasks that you can give a try, hiring a landscaping company takes your landscape architecture to the next level. Powered by their own full range of skill sets, landscaping companies have a design team with a mission of transforming your vision into your new haven. A full-service landscaping company provides you with landscaping maintenance, lawn installation, tree services, lawn maintenance, plant installation, and snow removal services. And aside from the property maintenance services, it offers you professional design services to boost the value of your house.
Depending on your taste, lifestyle, and house preferences, your colonial-themed garden design will be customized to complement your home. If you feel overwhelmed by all the details, you can always make your life less complicated by depending on ShrubHub's professional designers to map out your yard design and inform you of the options that best suit your home.