Traditional Luxury Designs: The Essentials of Classic Landscaping Design
Published: 11/11/2022 | Updated: 29/03/2023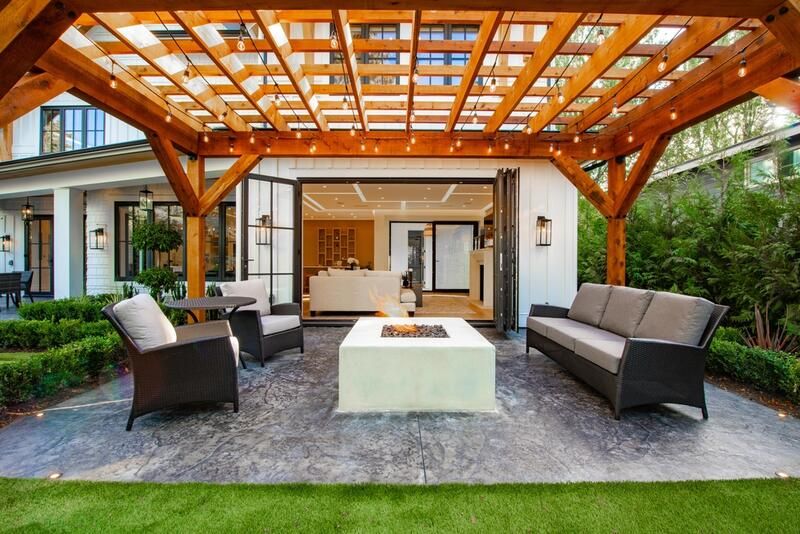 Ever dream of having your own luxurious 5-star resort-style yard in the comfort of your own home where you can host fabulous parties and be the talk of the town?


Is budget a non-issue for you, and are you willing to go as big as you want to achieve the most lavish and glamorous yard in your neighborhood?
Well, we would love to help you achieve your goal of designing the ultimate luxury yard with all the glamorous resort-style flairs you wish for!
Our ShrubHub experts are providing you with a few design ideas to help you turn your luxurious yard into a wonderland that will leave anyone who visits your home in awe!
Choose The Right Luxurious Theme For Your Yard
Luxury doesn't necessarily mean over-the-top, there are a variety of different design styles that will help you achieve the utmost luxury without having to worry about exaggerated elements that may turn tacky!
You can go for a chic modern minimalistic design which is very popular amongst celebrities nowadays. Minimalistic modern designs are extremely elegant and can be very calming, they are also perfect for those of you who don't enjoy crowded elements but would rather have a few stand-alone beautiful focal points that make up the yard.
You can be inspired by different cultures and traditions and draw design elements from across the world. Mediterranean-inspired aesthetics are very elegant and combine the beauty of structure with natural elements. Famous architects from around the world
You can go full tropical and design your yard the same way a luxury resort off the coast of Hawaii would, with tiki torches, statues, palm trees, and even a waterfall!
You can design your meditation garden with statues and a gong and a beautiful rock garden. The possibilities are endless which is why we are here to help you decide which design style is best suited to you!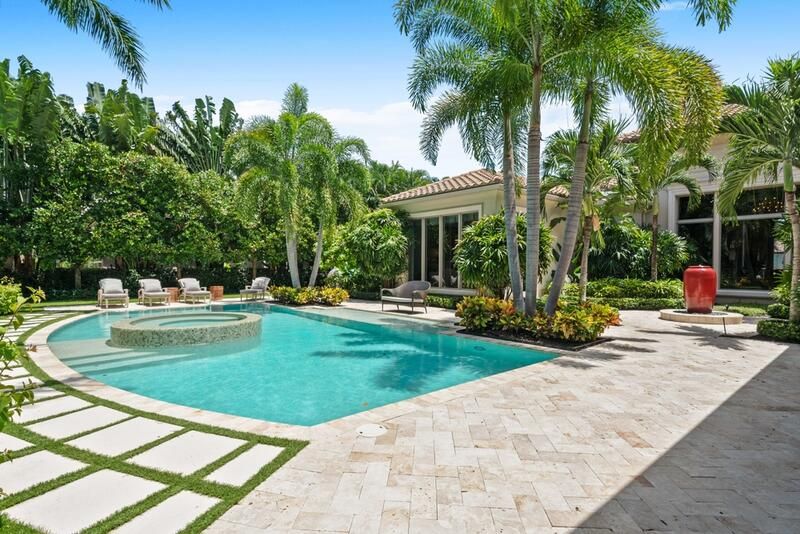 Hardscaping Is Your Best Friend
The main way to create a super luxurious is by developing hardscaping elements to allow you to make use of your outdoor space! There are so many hardscaping elements that you can add to your yard that will give it the feel of a luxury resort.
We have listed our top luxurious hardscaping ideas below:
Outdoor Kitchens
Outdoor kitchens are not only extremely useful for a cookout, but they are also crucial for hosting fancy dinner parties, with an outdoor kitchen your chef will be able to whip up delicious entrees for your guests.
Outdoor kitchens are crucial for an elegant yard as they are extremely functional and make family gathers much more special. You can add as many accessories as you like to your outdoor kitchens such as an oven, a minibar, a fridge, and even a large grill.
Compliment your outdoor kitchen with an outdoor dining area where you can serve your guests the delicious meal you whipped up in your outdoor kitchen.
When picking out furniture options for your outdoor dining area, it's important to match the aesthetic of your kitchen to your dining area, for example, use the same paint colors. You can use wood for your dining table and chairs, granite countertops, and plenty of other durable materials to create the perfect design for you.
Outdoor Bars
What could be more exciting than an outdoor kitchen? You guessed it, an outdoor bar! During the past few years, most of us missed the feeling of heading downtown to the hottest new bar and we grew to understand how to use every inch of our homes to entertain us.
Now more than ever we can appreciate the value of having your bar in the comfort of your yard as it makes life a lot easier! You can decorate your outdoor bar however you like, you can have your tropical tiki bar, a chic speakeasy-type bar, or even just a classic backyard bar.
You can even take it a step further and build a swim-up bar inside your pool with built-in underwater bar stools and a fancy large countertop.
Large Patios/Gazebos/Pergolas
Patios are a staple to every yard! Your yard would not be complete without a fabulously furnished patio. Not only are patios used for the entertainment of the whole family but they are also a great investment option as they increase the resale value of your home. Patios can be used to enjoy a nice cup of tea on a breezy summer afternoon, for host guests, and even just to sit back and enjoy a good book.
Building a large pergola around your patio will not only add shade to your patio but will also add an even more sleek and luxurious touch to it that will elevate your yard design. You can even draw inspiration from old Hollywood and decorate your pergola with flowing curtains to add texture to it give it a more rustic design and protect yourself from pesky mosquitos.
You use a Mediterannean-inspired aesthetic and grow hanging vines against your pergola to create a gorgeous cascading effect, whilst some hanging vine species require a little bit of effort to grow, others can be very low-maintenance and hassle-free so do your homework!
Gazebos also make beautiful focal points for your home, especially when placed on their own surrounded by blooming shrubs and rockscaping elements. They are also perfect for backyard events as they can be decorated however you like and look beautiful.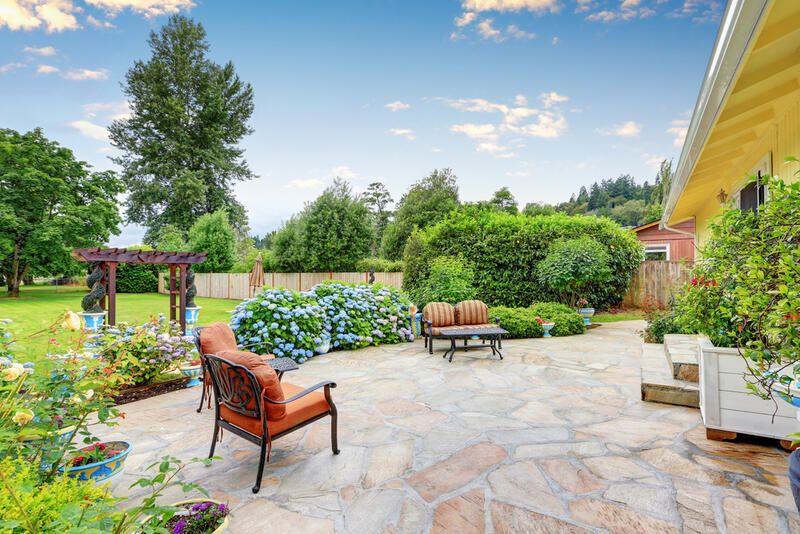 Outdoor Spa
Yes, you read that right! You can design your outdoor spa with all the works, a sauna, a steam room, and even a massage room filled with scented oils and candles. This design option is perfect for those of you who love to pamper and treat yourselves in your own homes!
Build Your Outdoors Own Tennis/ Basketball Court or Gym
Whether as a hobby or as a great form of exercise, when you build your own sports court in your own home you are creating a very practical solution to having to deal with the hassle of using public sports zones.
You will no longer need to drive for miles to your local country club, you can simply walk down to your private tennis court and play a one-on-one match with your private coach. Private yard gyms are also the perfect solution for those of us who keep subscribing to gyms only to use our membership once a month when we find the time.
We can often be deterred from using our local gym memberships due to having to drive down in traffic after a long day at work only to get there and find all our favorite machines occupied. With your private gym, you can skip all that hassle and work out in the comfort of your own home.
Horse/Pony Stables
Whether you just love horses or have a member of the family who is a medal-winning equestrian champion, a horse stable is a perfect addition to your yard.
With a private stable, you can make sure your champion horses get the nutrients and care they need to continue racing. You can even add small ponies to your stables for the little ones to care for and enjoy!
Marble Fireplace
A marble fireplace is a great way to add a functional seating area to your luxury backyard. You can use black marble for a contemporary-inspired luxury design complimented with a built-in couch and granite flooring. You can also stick to a white marble fireplace if you are going for a minimalistic modern design.
Don't Forget Water Features
Luxury architecture is never complete without a water feature. Creating a breathtaking modern water feature in your outdoor space where you can lounge and bask in the sun will allow you to combine both luxury and practicality.
Pools
There's not much to say, if you want to live like a celebrity you need an inground pool. It wouldn't be a luxury without a pool! Pools are so much more than a fun activity to partake in occasionally, having your private pools shows you have status and is the best way to show off!
Your private pool means you can host pool parties or lavish dinner parties in your yard with tables beautifully decorated around a gorgeously lit pool. Pools are not just meant for jumping into and splashing around, they are a beautiful centerpiece for your yard and are, most of the time, the main focal point of your yard which is why choosing the correct pool style is crucial!
From a tropical paradise pool with a rocky waterfall surrounded by gorgeous blooming trees and flowers to a cool desert-style pool with intricate hardscaping sculptures, to a vanishing edge pool, or an infinity pool the possibilities are endless! Why stop there? You can even build a water park-like slide in your pool for all ages to enjoy!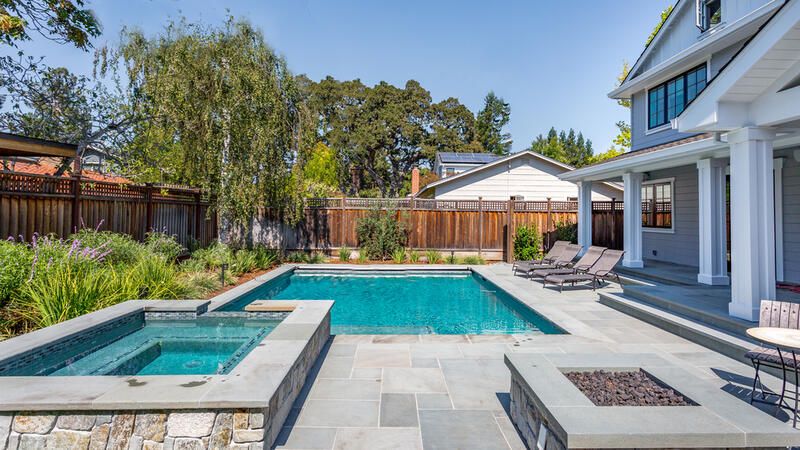 Jacuzzies
Why just stop at a pool when you can take it a step further and have your jacuzzi? The best thing about jacuzzies is they are used year-round, even during the winter! Just sit back, relax, and feel the jets pumping away and massaging your back as you sip a nice, chilled glass of wine in your gorgeous jacuzzi.
It makes sense to match the style of your jacuzzi to the style of your pool, so if you're going for a tropical paradise pool make sure your jacuzzi compliments and matches your pool's style.
Fountains
In every movie about a royal family living in a beautiful castle, there is always 1 common factor, they always have a gorgeous fountain as a focal point in their yard, if not a few fountains!
Fountains are pinnacles to achieving luxury and elegance, they are beautiful piece of art that acts as a focal point in your garden or front yard.
A resort-like yard would never be complete without a beautiful marble or granite masterpiece that brings everything together. You can even ask your favorite sculpt artist to design the perfect sculpture for your fountain.
You can even fill your fountain with beautiful brightly colored fish such as Japanese koi, catfish, or even goldfish!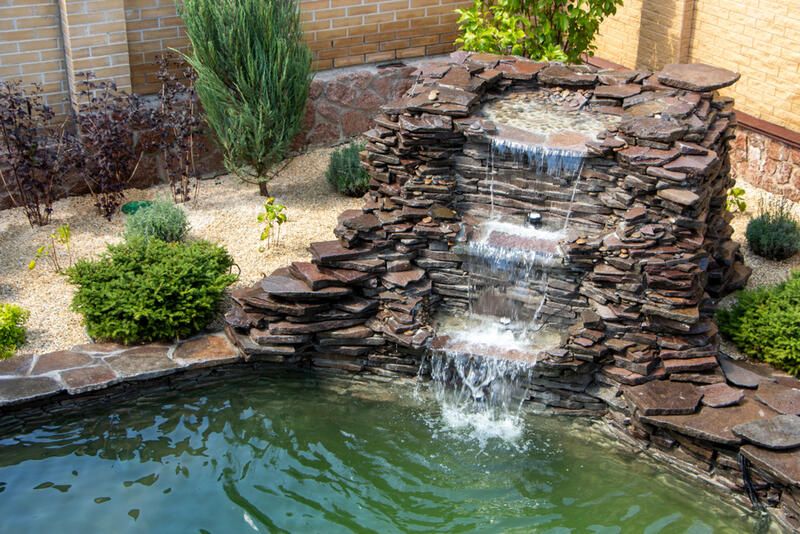 What's Next For Your Luxury Design Journey?
There are plenty of things you could add to your yard to turn it into a lavish resort-like palace.
At ShrubHub we work with some of the best architects in the country to help you design the most luxurious and breathtaking outdoor space.
We can help you achieve the yard of your dreams within whatever budget you have set. Our design ideas start from just under $300 so hurry up and visit ShrubHub to start your luxury design journey with us!