Top Rated Decking Color Ideas for 2023
Published: 22/03/2023 | Updated: 18/04/2023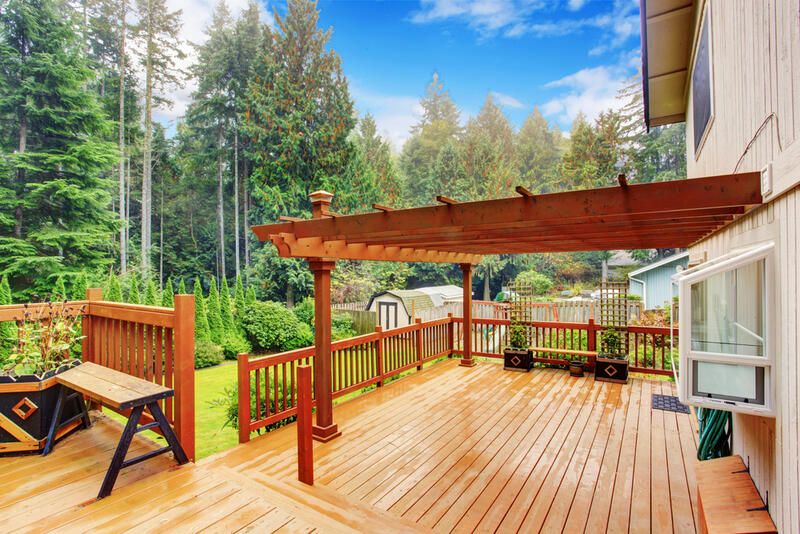 A deck is a welcome location to soak up the sun, regardless of where you live—in the city, the suburbs, the country, or by the sea. You must pick a deck color that goes well with the exterior of your house to build your ideal deck. Making a choice may be challenging because there are more color selections for decking than ever.


Whether you live in the city, the suburbs, the country, or by the sea, a deck is a welcome place to soak up the sun. To design the perfect deck, you must choose a color that complements the exterior of your home. Choosing a decision may be difficult because there are now more decking color options than ever.
Deck Color Ideas That Compliment Your Home's Exterior
The deck color choices that best complete your outside space might be greatly influenced by the design of your home. While your deck should look good with the exterior of your house, that doesn't always mean it has to be an identical match.
It is possible to give your deck its visual personality while yet making it feel like a seamless extension of the exterior of your house by selecting a complementary color, or even one with a minor contrast.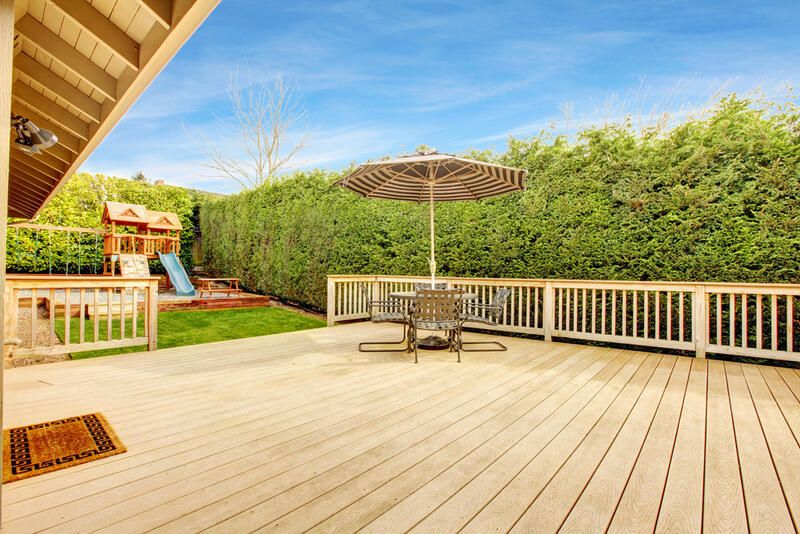 Color combinations for homes and decks are frequently:
Fresh & Lighter Colors: Coastal Homes
The light color schemes of white, tans, greys, and blues that are typical of coastal-style residences reflect this style's maritime roots.
Use bright composite decking in tones like light greys and tans for the ideal deck. Choose a white composite railing for your deck's perimeter to match the clean white trim on your house.
Cool, Character-Rich Tones: Craftsmen Style Homes
Authenticity and a handmade touch are highlighted by the craftsman style. These homes' deck color schemes can vary greatly, although they typically incline towards cooler tones. To enhance the handcrafted sense of these remarkable residences, choose a composite deck color in a medium-toned grey with rich color variations.
Textured, Dark Hues: Modern Edge Mid-Century
For a dimensional appearance, mid-century modern homes feature angular shapes and a combination of materials including wood, stone, and metal.
With dark, textured composite decking, you can incorporate rich wood tones into your mid-century modern design. Do you like your deck's design to include more textures? For a distinctive perimeter, mix and match railing materials like stainless steel cable infill.
Best Deck Color Ideas
Gray Deck
Gray has had a comeback as a neutral color that works with everything, despite once being regarded as uninteresting. A wood deck gains personality from grey wood stains or deck paint.
Gray is available in a vast array of warm and cool tones, from light stone to dark charcoal. Any of these colors complement a white home with black trim effectively because grey sits in between these two extremes.
Underneath flashes of vivid color, grey provides a peaceful neutral backdrop. Composite decking, which is available in a variety of grey tones, is a long-lasting, low-maintenance deck floor material. You won't need to paint or stain a Trex deck or other grey composite deck if you buy one. Although though the initial cost is higher, saving money over time comes from not having to replace the deck stain color every few years.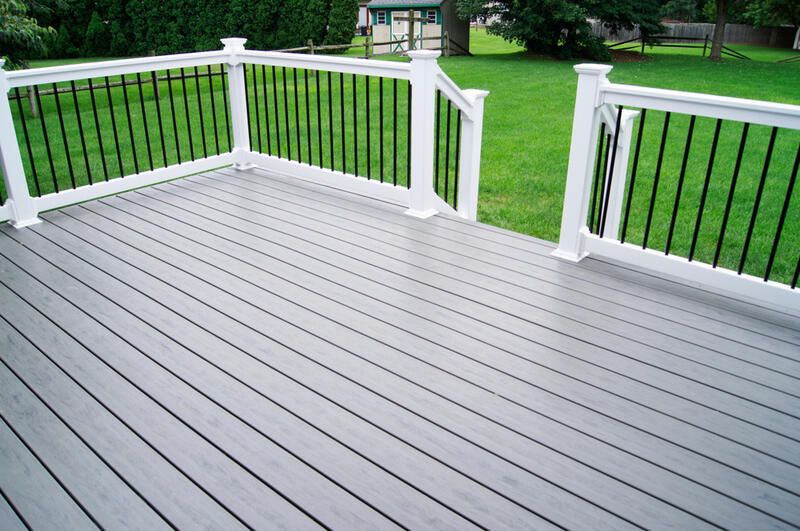 Honey Decks
One of many cozy deck hues that will aid cheer up an outdoor area is honey. A semitransparent honey stain will still let the wood grain come through if you haven't painted your deck previously. The result has a safe, modern, and natural appearance.
Slate Gray Deck
A deck floor made of natural slate would be cool and dark in hue. Slate grey is a preferred shade for concrete decks and wood stains. Because actual slate can be slippery when wet, making it a less-than-ideal decking surface, many individuals who adore this hue of grey opt for paint or colored concrete instead.
As they closely resemble the real thing but can be found with slip-resistant coatings, slate-colored tiles make an excellent deck surface. One of the best deck stain color suggestions for a contemporary home's wooden deck is dark slate grey. For a sleek, modern look, use it with black rails and balusters.
Stained Deck Color Ideas
In addition to giving, you the color you want, deck stain also shield your investment from the weather. Your choice of deck stain will affect how much of the wood's natural qualities show. For instance:
Solid stain: Similar to paint, it covers the majority of the wood's color and grain. If the goal of your deck color plans is to create a uniformly dark impression, go with a solid deck stain.

Clear wood preserves: If you're planning a redwood, cedar, or other beautiful wood deck renovation, this clear finish will highlight its beauty. The qualities of the wood can be the focal point of your porch, patio, or pool deck thanks to these transparent stain treatments' weatherproofing and UV protection.

Semitransparent Stain: Allows the natural qualities of the wood to show through while providing UV protection and weatherproofing. Do this if buying high-quality wood is a part of your decking ideas.
There are several shades and tints available for each type of deck stain. The majority belong to the redwood, brown, tan, or grey color families.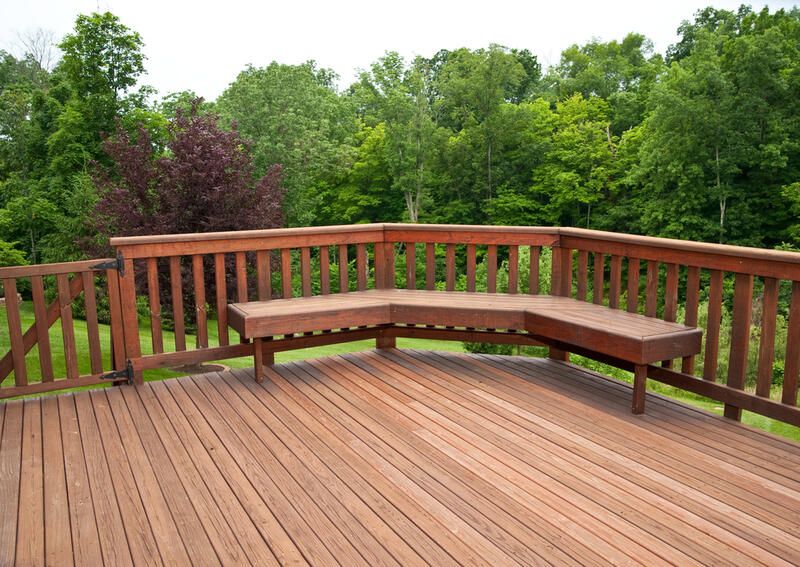 Black Contemporary Approach
Black might be a striking color choice to paint your deck if you want to add contrast to the color of your house or patio furniture. The original color on each deck board can be completely covered up with this Cabot solid black acrylic deck stain, which is offered at Lowe's. The stain also safeguards the wood against moisture, UV rays, and scratches.
Tan
Tan comes in a variety of colors, from the lightest, coolest khaki to dark honey and maple. Tan is a preferred stain shade for decks since it complements almost any exterior color scheme.
Tan deck stains are the greatest at preserving the material's inherent qualities because nearly all of the natural shades of wood fall within this spectrum. Tans and browns are also great options for desert settings because of how well their colors blend in with the natural surroundings.
If you prefer tan deck surfaces, natural stone or brick pavers are also excellent options. Around a fire pit or for a path leading to a garden pergola, light brown, beige tiles or stonework well.
Clear Stain
A transparent stain, such as this selection from Defy, which is sold at Amazon, may be desired by those looking for the best deck stain that will help retain the natural appearance of a wood deck. While the clear coat will keep the wood's natural color and beauty, applying the paint over the wood is crucial to preventing the boards from aging and splitting.
Two or More Colors (Two Shades)
There are many methods to include two or more colors in your deck design if you are unable to limit your deck color choices to just one.
Deck boards and balusters in warm brown and railings and columns in glossy black go well together. White posts and handrails stand out against dark deck and stair surfaces. Gray, maple, and black are three hues that are used in several deck designs.
Choose grey composite decking in a dark slate and a somewhat lighter grey hue for a durable two-tone deck.
A black border surrounding a lighter main deck is one layout suggestion from expert deck builders among many others. Moreover, deck boards can be organized in a herringbone pattern or another design that contrasts two colors from the same color family.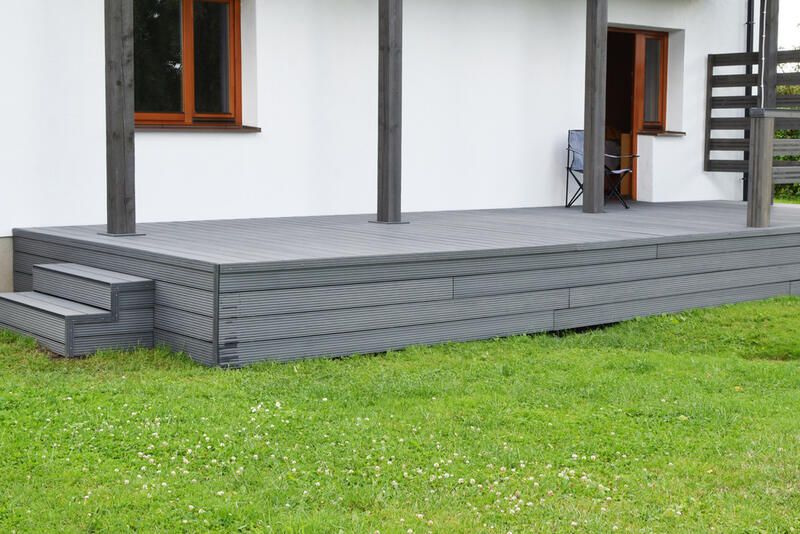 White for a White House
Although an all-white deck could be more difficult to maintain clean than others, it's occasionally the greatest option.
White rails, trim, and decking frequently look the best on coastal homes and Victorian porches. In hot climes, a white deck is useful because it reflects heat from the blazing midday sun rather than absorbing it.
For a contemporary home, a white deck can also be a fantastic option, especially if the property's exterior is mostly white.
The picture of sleek minimalism is a white tile deck with metal handrails. White is the classic blank canvas that enables your furniture, flowers, and artwork to be the center points of your deck, regardless of the type of your home.
Gorgeous Deck Design Ideas
Varied Wood with Deck Boards
The deck appears like wood but is composite. The boards come in a variety of colors, from a warm, darker chocolate brown to a mid-level tint that leans orange.
Although though the material is artificial, the effect appears natural due to the variety of colors. A color that is too uniform can come out as excessively synthetic. Also, it adds depth and texture to the deck, which can be visually appealing.
Contrast is also established by combining the white railing with the wood tones. It's yet another, albeit subtle, approach to increase visual interest.
Take Inspiration from Indoor Flooring
Homeowners are beginning to consider their outdoor living area as an addition to their house, carrying indoor trends like multi-width boards and lighter flooring outside.
Consider extending the color of your indoor flooring onto your deck, especially if it is directly connected to your living area.
Dark Trim Boards with Traditional Warm Wood
Every home in the traditional design can benefit greatly from warm wood tones with amber undertones. But this design goes above and beyond when it comes to wood deck color schemes.
The edge and trim boards are slightly darker than the deck's main boards, which adds some aesthetic appeal. It's a minor decision that has a big impact and enables you to highlight stairs and even give the appearance of a fake area rug.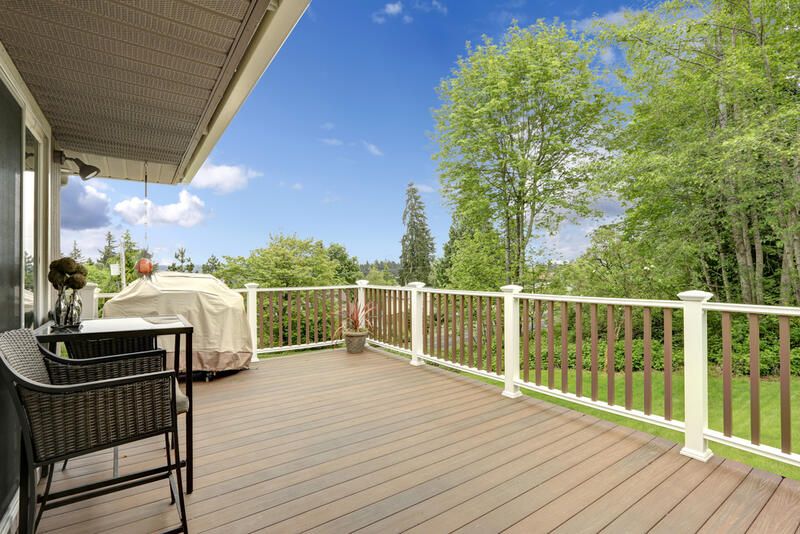 Red Wood & Taupe Toned Deck Boards
This can be a contender if you're looking for deck colors for a tan house. The deck's surface is taupe with grey and brown undertones. Due to its extreme adaptability, it might blend in well with a tan exterior.
The addition of the hot tub, skirt, and reddish wood railings adds a soft burst of color. The natural wood color contrasts effectively with the lighter decking and exterior paint colors of homes.
Vibrant Orange & Red Deck
Even though wood stain can accomplish this effect, the final product appears considerably more dramatic. The deck boards' blazing red, orange, and brown tones combine to create a cozy, welcoming appearance.
Anybody searching for deck color ideas for tan houses has another choice in this case. Any earthy color, from lighter sand to dark chocolate brown, goes nicely with it. It is aesthetically striking without dominating the room.
Let Natural Beauty by the Center.
There may not even be a need to paint or stain your deck if your budget allows for high-quality, real-wood decking, like cedar. Use an oil-based clear wood sealant instead to make your decking waterproof without sacrificing the beauty of the natural wood tone.
Many California yards highlight the home's desert-midcentury mood, demonstrating that natural wood tones might occasionally be the ideal color choice. Jaccard searched for material to contrast the dark-gray gravel in the yard before deciding on the amber-colored decking above. Highlighting your deck can also allow you to highlight your favorite colors with accent decorations.
Deep Chocolate Brown Contemporary Vibe
When your deck's color is more consistent, it has a more contemporary appearance. By choosing a chocolate brown, the overall appearance is modern. This is particularly true given the deck's extremely linear shape and placement next to concrete slabs.
The concrete and brown stand in stark contrast to one another. In contrast to the concrete slabs, which provide something cooler and more industrial, it gives warmth and a sense of the outdoors.
Flowy Organic Reddish Brown Deck
The surrounding plant life pops out strongly by using a warmer color scheme. Due to the reddish undertones, it acts as a contrast to the green, increasing the contrast. Because of the variation in hue, it also adds aesthetic intrigue.
The deck's curving section gives the whole design an organic feel. This is the best option for anyone who would rather have their deck blend in with the surroundings rather than stick out against them.
It's Time to Get Started
You shouldn't be uncertain about which deck color ideas would be best for you any longer. Examine the aforementioned alternatives and select the one that will benefit your home the most.
We sincerely hope you enjoyed these decks. It's time to start discussing your ideal deck color scheme or to express your thoughts on the ideas. If you're feeling overwhelmed with the decision or want to try out a few options, we suggest giving Shrubhub.com a shot! Shrubhub.com completely designs your landscape in 3D so you can try out a plethora of options when it comes to your decking, furniture, or even builds! Check them out now for 70% off along with a free phone. consultation!