Top Outdoor Heating Options For Any Yard
Published: 11/10/2022 | Updated: 05/04/2023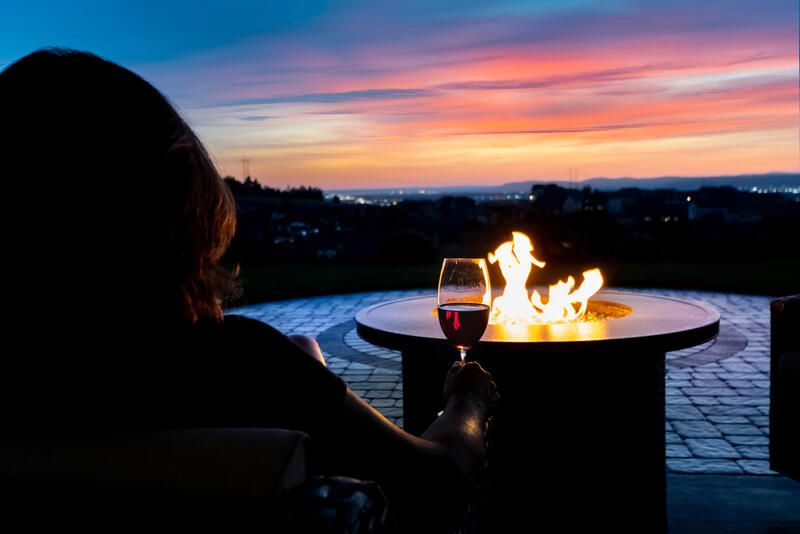 One of the things people can forget about when it comes to a new yard renovation is installing a good outdoor heater or outdoor heating system. This is especially true when living in a climate where temperatures tend to dramatically plummet during the fall and winter.


Extending the home's comfort outside to the yard is a challenge many homeowners face when it comes to yard renovation. Something to keep in mind is many of the main points of your house are often replicated outside, like an outdoor kitchen or a lounge area. The main difference between your home and outdoor living space is that your outdoor living space does not have any insulation so having outdoor heating options and awnings or coverings is important. Outdoor heating not only creates a cozy, relaxing environment for you once the temperatures drop but for your friends and family.
Things to Look Out For
When considering installing any type of outdoor heater is important to keep in mind a few things.
Safety: Make sure that whatever you get and how you place it won't affect any wildlife, plants, pets, or kids you might have running around.

Outdoor Decor: We know how important aesthetics are so always try to visualize how the color and shape of your outdoor heating unit will look on your patio, deck, or backyard.

Access & Product Size: Sometimes you can go a bit overboard while shopping online and forget how important measurements are especially when it comes to free-standing units like propane patio heaters (make sure you look at the watts of these heaters), a type of fire pit, a fire bowl, or outdoor fireplaces, so you need to take into consideration your outdoor space. Smaller patios do best with something portable, you'll also want to opt for something lightweight, that requires fewer materials and little to no power. Now if you're looking for something to stay in place permanently, measurements and placement are very important since you'll be looking at things like a wall-mounted heater with a remote control to keep it efficient.

Get a Protective Cover: Regardless of what method you choose to bring some heat into your outdoor space, it is important to invest in a protective safety cover. There are different types (like a glass wind guard) depending on what heater you choose.
Today we're going to discuss some of the main types of heating options for your yard and the benefits of each one. And if you'd like more help with your yard design, at the end we will discuss a 3D yard design service that's offering front & back yard designs for under $300.
The Three Types Of Fuel Used:
Let's get started by looking at the different types of fuel used for heating an outdoor space.
Natural Gas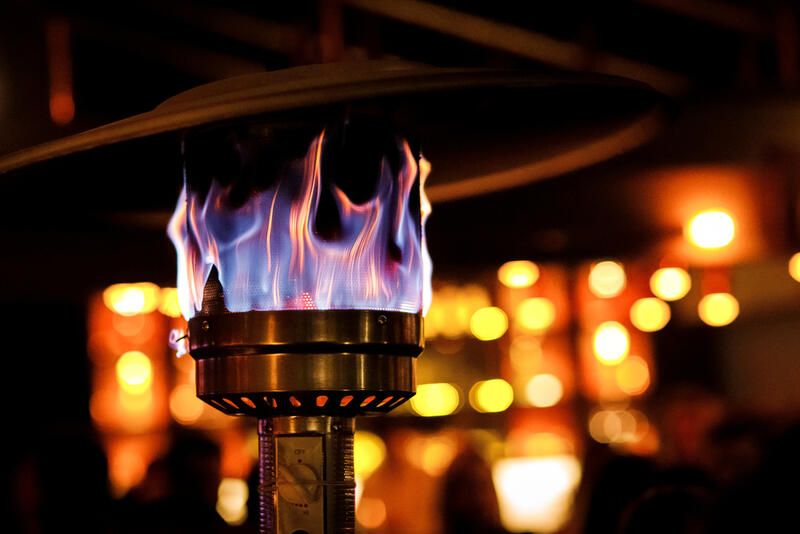 There are several different types of natural gas patio heaters. They can be free-standing gas units like propane heaters, although wall-mounted or ceiling-mounted installations are more common. They are all set in place since they are connected to a natural gas line, which is the one thing in common with them all.
This has both good and bad aspects. On the one hand, it is less expensive over time than a heater powered by propane, and you don't need to continuously remember to restock on fuel and it provides a very inviting heat. On the other hand, it requires professional installation, isn't extremely portable, and will require a tank if you don't have a gas line set up.
Propane Tanks
Similar to a propane grill, propane patio heaters predictably include a liquid propane tank. As a result, however, they're very easy to set up. All you need to get started is a propane tank and a regulator. The main drawback is that a propane tank does eventually run out of gas. So making sure you have a second full tank is always recommended to keep the heat going and avoid ending the night on a chilly frozen note.
Wood Burning Heaters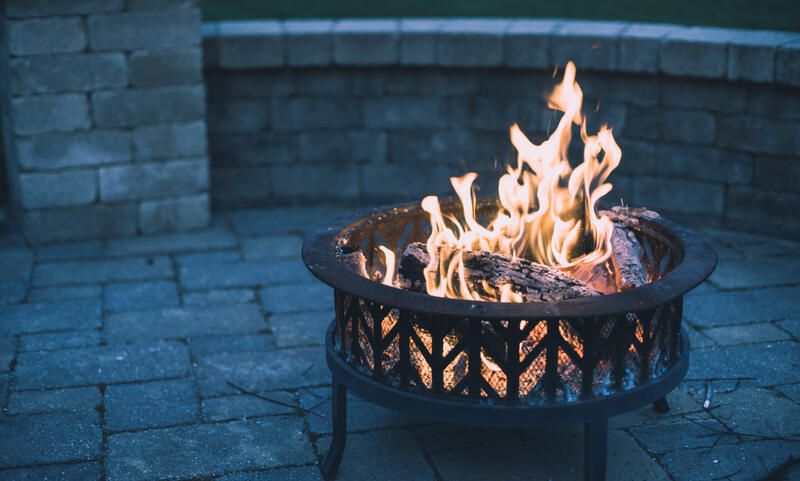 Nothing beats a classic fire with your favorite freshly cut wood burning emitting heat in the cold while your kids' voices fill your outdoor space with inviting laughter and cries for smores. Most of our beloved, warm winter moments are those done around a traditional fire pit.
When it comes to a more traditional setup, like a wood-burning fireplace, you have your pros and cons. The number one con is whether or not it'll be more of a hassle or if it'll be convenient and the flow of the smoke in your patio or outdoor area. The best way to avoid this completely is to think long-term about where and how you plan on sourcing your wood supply. Once you have this settled, you pretty much have nothing too major to think about!
If you have a more traditional set house you might opt for the classic outdoor fireplace to keep your feet warm. But if you have a more modern house, you still have, surprisingly, a lot of modern wood-burning options!
Outdoor Garden Stoves: Here is the solution if you want to treat someone this Christmas. This product screams luxury, too. This is the ideal Christmas toy because of its lovely landscape format, adaptability to be placed exactly where you want it, and substantial log storage.
Outdoor Fireplace: Modern design methods are used to create new-age outdoor fireplaces, which provide a cozy, secure, and welcoming heat setting for your outside space.

Fireball Fire Pit: Now this is more of a fun one, fireballs are a new introduction to the landscaping and hardscaping industry but they are definitely worth the intrigue. You feel a genuine connection to the finished item. Fireballs have a warm, impressive fire pit that oxidizes charmingly over time. Charnwood is known best for these types of firepits.

Concrete or Brick Firepit: Nothing beats the classic, gather around the fire, concrete or brick firepit. Easily accessible and even convenient to make and maintain. They also give off a very pleasant camping aura with the smoke they produce
Electric Patio Heaters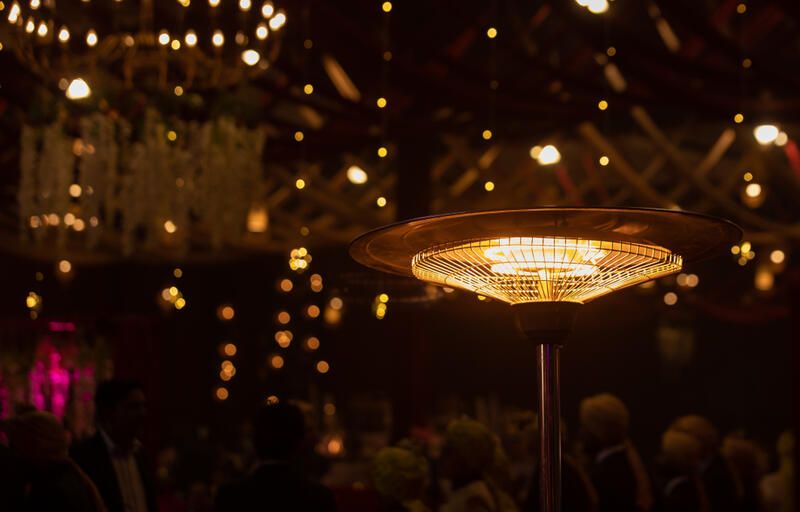 It is possible to hardwire electric patio heaters or simply plug them into a regular socket. This means that they can be fixed in a certain place, like natural gas heaters, or movable, like propane heaters, depending on the application.
Types Of Outdoor Heaters
Fire Pits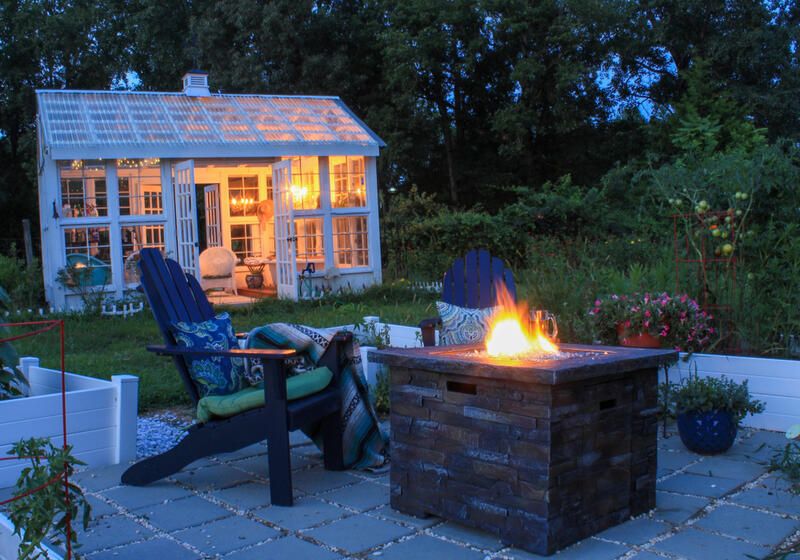 We're getting started with a classic option, the fire pit. Fire pits are a great option. Their appearance can be modified to work in most styles of homes and often look very appealing.
Their ambiance is very warm and welcoming and they can also be used to add a rustic appeal if needed. However, the downside is that they usually only provide warmth to a very limited area so this type of heater works best accompanied by circular seating surrounding the fire pit.
Mushroom Styled Heaters
Mushroom-styled heaters usually look best in homes with a more tropical look since they often relate to the look of tall totems or podiums. There are different sizing options when it comes to this style which is great because they can be placed in multiple areas around your yard in different sizes depending on the area.
Since they stand pretty tall and slim they work fantastically for smaller spaces or spaces where people tend to walk more. Budget wise they are pretty easy on your bank account being one of the least expensive options.
Glass Tubes or Quartz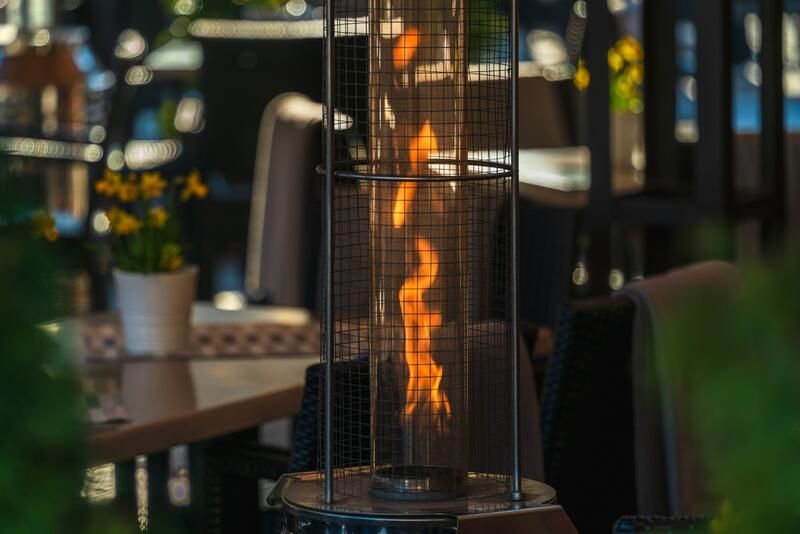 Glass tubes or quartz heaters are more modern-looking outdoor heaters. They work great for small spaces while still maintaining a luxurious look. Budget wise they're more mid-range but can go up depending on the brand and size.
They heat less space than a fire pit would so we wouldn't recommend putting them in a large area as they have little wind resistance as well. Glass tubes are great on a patio near a lounge area.
Wall or Ceiling Mounted Heaters
If your yard is pretty full already or maybe you prefer no freestanding elements, using a mounted heater is a great option. They work great especially if most of your heating will be done on the patio space.
They take up little to no space, work more efficiently than freestanding units and give you more control options. The downsides are that they do tend to be more expensive than the options mentioned above, their installation is more intensive and requires a professional, and they are not portable.
Make a Decision with Shrub
When it comes to outdoor heating, trial and error via design is a great way to make a decision. Using design platforms like Shrubhub helps you determine what would work best for your space while keeping budget and aesthetics in mind.
Even though some design programs can go for well over $1000, ShrubHub offers a full extensive 3D plan for less than $300! They can help you design your entire yard renovation in less than 30 days. Shrubhub offers free phone consultations so check them out now!