Top 8 Best Perennial Flowers To Grow In Your Garden
Published: 09/11/2022 | Updated: 29/03/2023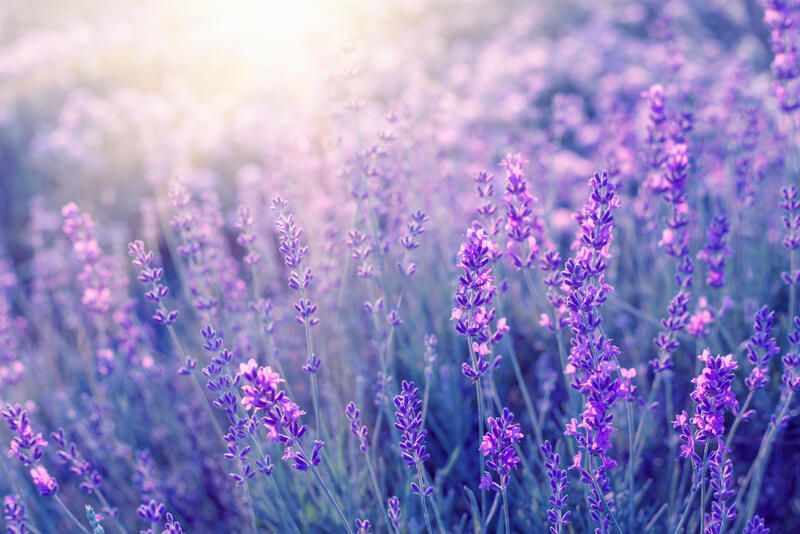 Perennial flowers are a great long-term investment to make for your yard. Unlike regular annuals, which only provide color for one season and only live up to a year, perennial plants and flowers provide texture and color to your yard for many seasons to come and can live on for many years.


Typically, most perennials take up to a few years to get fully established, meaning during the first 2 years of their growing stage you won't get much foliage out of them. But have no fear, this is just a sign that their root system is growing and making them bigger, stronger, and better with every year to come!
Perennial flowers tend to bloom for shorter periods of time and their flowering period may only last a few weeks, but those few weeks are more than worth it. During their flowering season, perennial flowers provide beautiful and vibrant colors and gorgeous aromas to your yard and because of their longevity, they will continue to do so year after year for many years ahead!
There are a variety of perennial plant species that would make stunning additions to your backyards, but we know that being bombarded with too many choices may just confuse you! This is why we decided to take matters into our own hands and provide you with our top choices of the best perennials for you to grow!
Here at ShrubHub, we pride ourselves on making your lives easier, so leave it to us to pick out many perennials that will look beautiful in your garden!
The Most Popular And Favorite Perennial Plants And Flowers For Your Garden
Black-Eyed Susan Early Summer Flower
This beautiful wildflower is native to North America, it gets its unique name from the center of its daisy-like flower heads which has deep shades of brown or black seed heads surrounded by vibrant yellow petals.
It's the perfect perennial for your garden as it can grow to a staggering 3 feet tall and blooms from late summer all the way to the early fall.
Its pretty flowers are favored by bees and butterflies for their sweet nectar and they need full sun to thrive. The Black-Eyed Susan is guaranteed to transform your yard into a beautiful meadow guaranteed to put a smile on your face as you pass it by.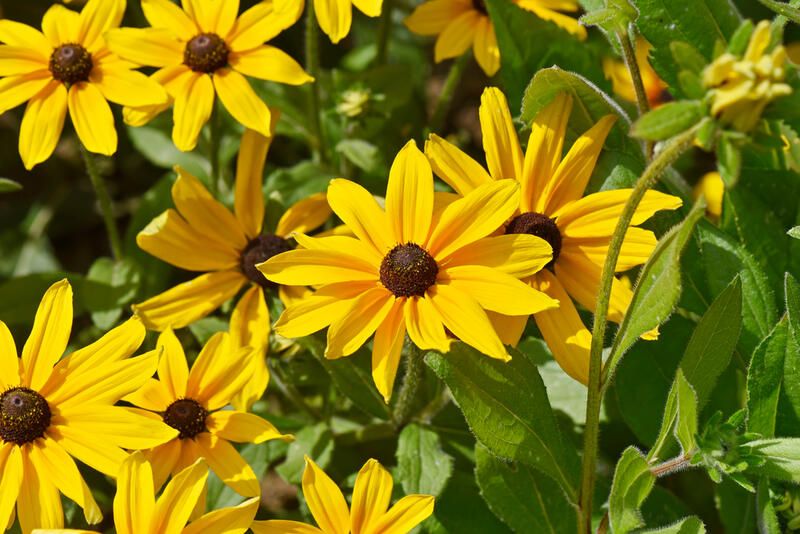 Baptisia Low Maintenance Flowers
This perennial plant may be overlooked by some homeowners due to other more popular varieties overshadowing it. But don't sleep on these colorful beauties as they can make gorgeous additions to your backyard flower gardens and can be used as ornamental grasses.
This bold beauty is also known as the False Indigo, it is very low maintenance, tough, and easy to care for due to its pest-free and disease-free nature and grows very impressive foliage of tiny purple blooms. Baptisias make beautiful and colorful flower beds that will transform your yard into a lovely cottage garden.
These gorgeous perennials grow up to an impressive 4 feet tall and bloom beautiful spikes of indigo, pink, yellow, and white flowers that attract bees and other pollinators. They are drought-hardy and lead long lives and bloom during the early spring.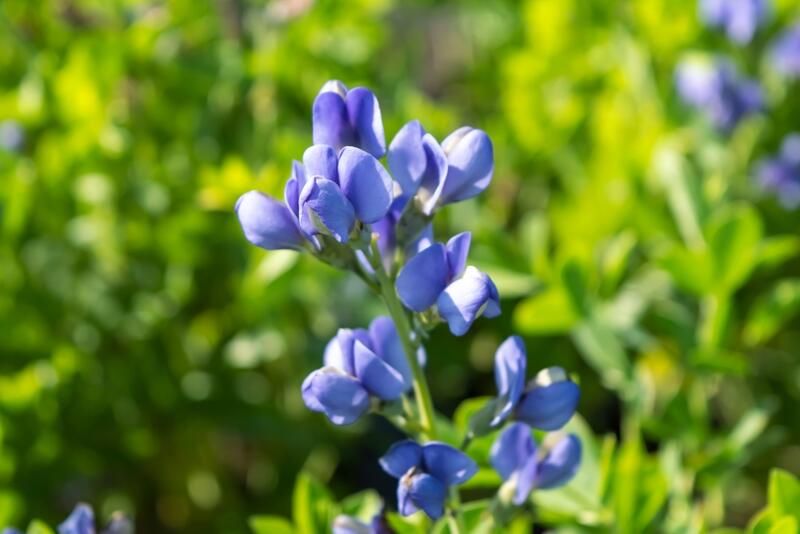 Sedum Perennial Plants
The Sedum perennial, also known as the Stonecrop, is a hardy succulent with impressive, thick, fleshy foliage. There are many varieties of this plant, some are low-growing, and some grow upright and bloom long-lasting beautiful flowers.
The Sedum plant is a very low-maintenance drought-tolerant plant and thrives off full sun exposure, however, it can tolerate slight shade. It blooms from mid-summer to late fall.
The low-growing varieties can be used as a beautiful ground cover or as ornamental grasses, they can also be grown against stone walls like draping vines. The upright varieties produce tall stems and large, beautiful star-shaped flowerheads that are reddish pink, and pollinators love them.
Another benefit of these beautiful perennial plants is that they can be very easily propagated. All you need to do is cut off a piece and place the cut end in the ground, soon the cutting will begin to root and form its own thriving plant!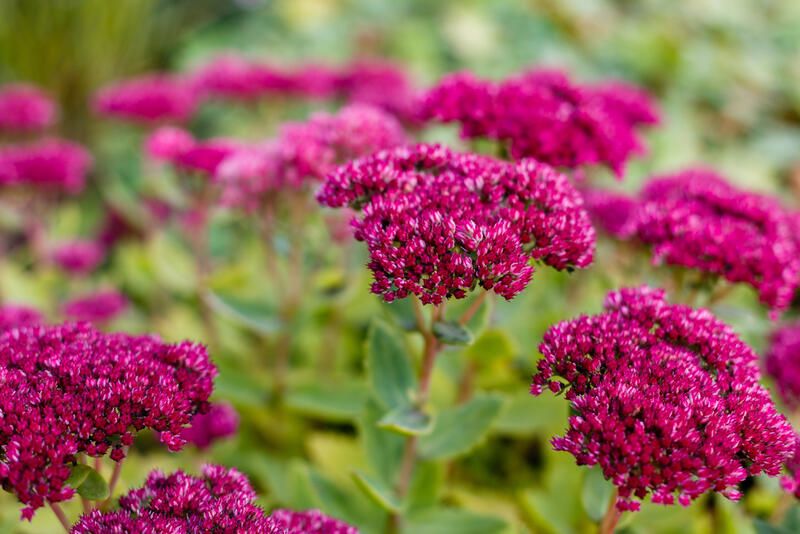 Daylily Individual Bloom Flowers
Another example of a breathtaking, bold, and hardy perennial is the Daylily. Year after year this beautiful plant multiplies and is extremely easy to grow. Daylilies are disease-tolerant, pest-free, and drought-tolerant, although it's preferable to give them an inch of water every week. They get their name from the unique way they bloom.
Daylilies provide individual blooms of breathtaking yellow flowers or orange flowers that last only for 1 day. However, they flower abundantly all the way from the late spring season to the beginning of the fall.
For the best blooms, be sure to provide these gorgeous perennials with full sun exposure. Your cottage garden would not be complete without these pretty flowers.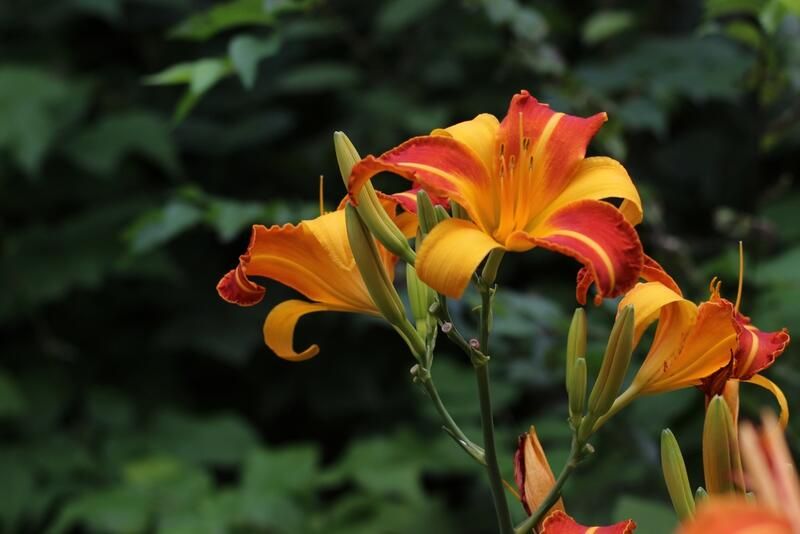 Foxglove Bell-Shaped Flowers
Your cottagecore meadow-like garden is not complete without these bell-shaped beauties. The Foxglove is perhaps one of the most stunning and picturesque perennials to grow in your yard.
Foxgloves grow an array of brightly colored beautiful bell-shaped flowers that grow on a long stem, they are very easy to grow and care for. They provide blooms of pink flowers, purple flowers, and yellow flowers!
Whilst some species are biennials there are a few foxgloves that are true perennials and bloom on a yearly basis. Foxgloves thrive in any well-drained soil type and require regular watering during dry spells. Some species do best with full sun exposure whilst others prefer partial shade so make sure to do your homework before planting these stunning additions to your yard.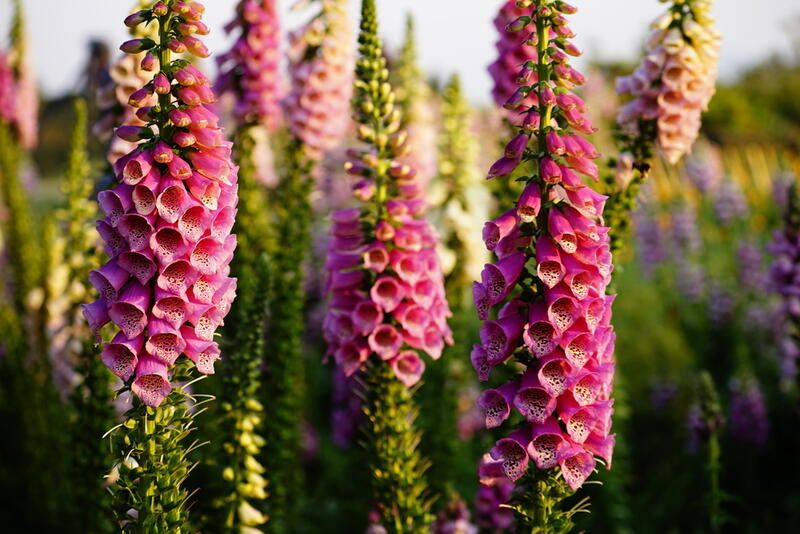 Hosta Plants
Hostas are another example of hardy and extremely aesthetically pleasing perennial plants. They are reliable, grow in any soil type, and are easy to care for plants that are almost impossible to kill! These tough perennial plants are so long-lived that they may continue to grow and thrive in your yard for many generations to come!
This plant is as versatile as they come, there are plenty of varieties that come in different sizes, colors, textures, and heights that you can play around with in your yard decor.
They can be used for borders, in rock gardens, and to uplift your patio design! Most plants of the Hosta varieties vary in height between 1-3 feet tall and provide foliage of green, white and blue leaves.
Some species even produce very attractive and fragrant pink flowers, lavender flowers, and blue flowers. This flower blooms from early summer to early fall and prefers partial shade to full shade.
These flowers are favored by hummingbirds, and butterflies adore them as well as other pollinators. But beware, if you live in a state with a large deer population Hostas are a very tasty snack for them that they cannot resist!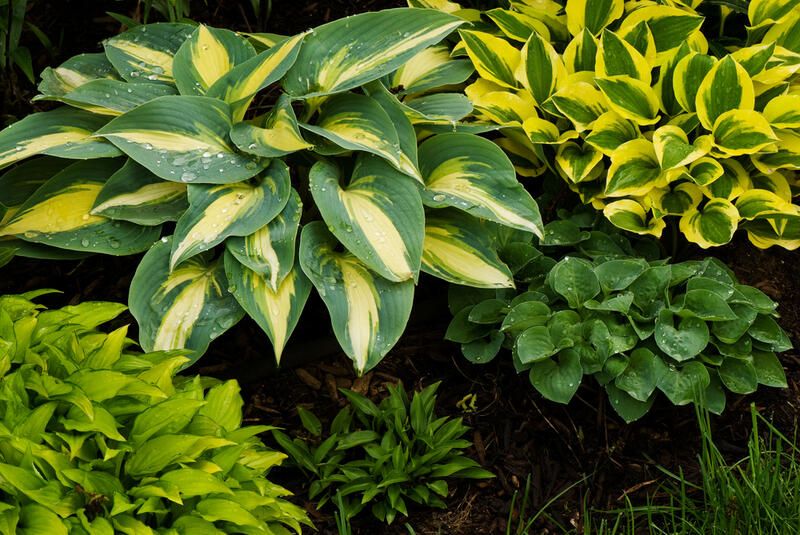 Lenten Rose Purple Flowers
Despite their names, these gorgeous shade-loving perennials are not roses, in fact, they belong to the buttercup family. It is a hybrid that is bred from crossing Helleborus Orientalis with other species closely related to the same species.
The plant gets its unique name from its beautiful rose-like flower that blooms during the Lent season which falls during the late winter season. These plants bloom during their growing seasons from the late winter to early spring and provide beautiful color to your winter garden making them ice plants.
This stunning ice plant perennial is favored amongst gardeners as it blooms a variety of white flowers, pink flowers, purple flowers, and rose evergreen foliage. Newer hybrids can also produce purple, maroon, and yellow foliage.
Lenten Roses are perhaps the easiest plant species to grow, they require partial to full-shade gardens and well-drained, damp soil.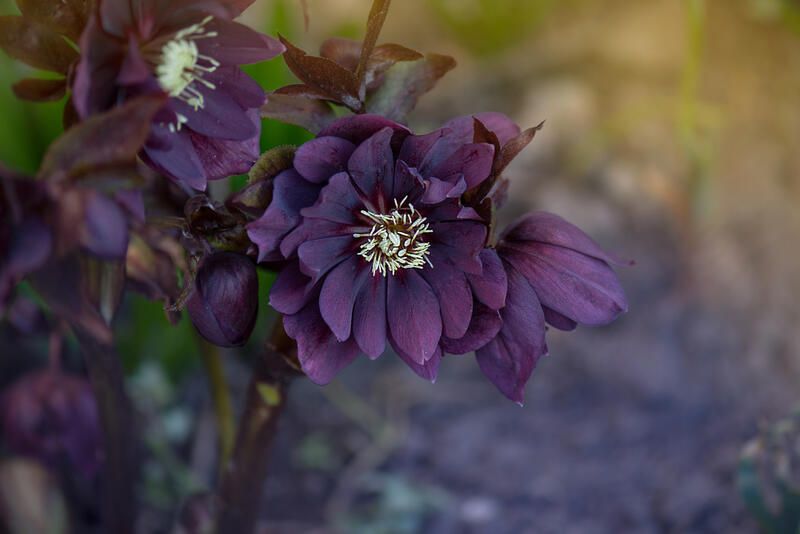 Lavender
We like to save the best for last which is why number 8 on our list is none other than the beautiful herb Lavender. Lavender is a fan favorite, not only is it grown and cultivated for its beautiful silvery foliage adorned with gorgeous tiny flowers that look like small purple spikes, but it is also tough as nails once established.
Lavender is known worldwide as a beautiful scent and is used in many fragrances as a base note, but did you know that lavender also has many health benefits? Lavender has many therapeutic benefits, it can be used to improve sleep, and reduce anxiety and stress by being brewed as a calming tasty tea, all you need to do is pick a few fresh buds from your garden and steep them in boiling water for 15 minutes.
Newly planted lavender requires regular watering during the summer season however once the plant is fully established it is drought-tolerant. The growing season for lavender lasts from early spring to late summer and during that time its impressive purple flower heads bloom.
It requires full sun and well-drained soil to thrive. Make sure to prune your Lavender plants regularly as this promotes growth and keeps them looking neat and tidy!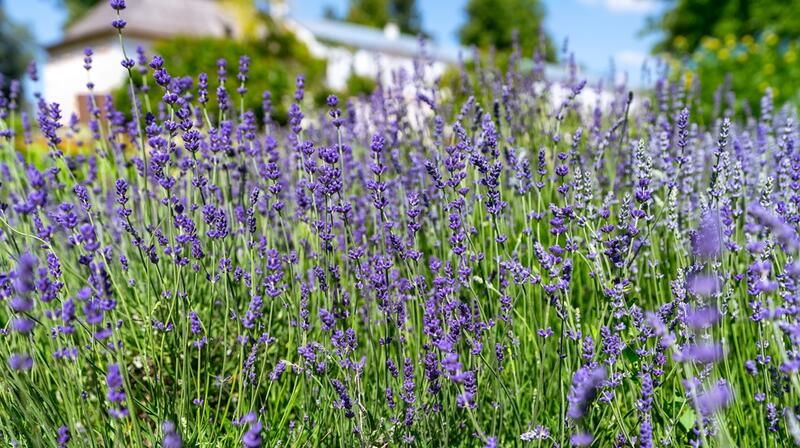 Where Else Can I Learn About The Best Plants For My Yard?
Our ShrubHub plant experts are available to answer any questions you have about the best type of perennials for your yard at the press of a button!
All you need to do is check out ShrubHub and sign up to learn about more plants that you can grow in your yard. Our plant experts will also help you plant perennials that are perfect for your garden design!
Fall is finally here and designing a winter-friendly yard is becoming more and more crucial which is why for a very limited amount of time we are providing you with an amazing deal. Get your ShrubHub yard design for under $300 with our Limited Fall Discount!