Tips & Tricks to River Rock Landscaping
Published: 20/01/2023 | Updated: 29/03/2023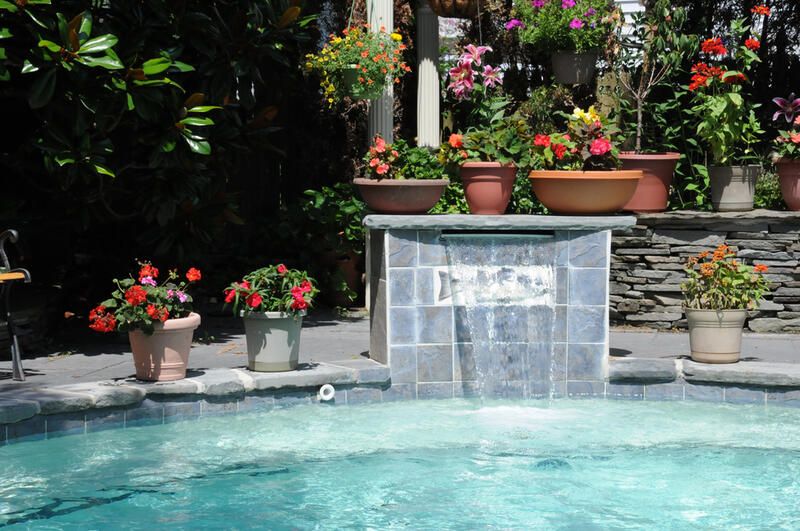 Your home's landscaping can be made more beautiful by the natural tones of river rock, which come in 50 different shades of grey, beige, and brown. But where do you even begin? Let us assist you by sharing some of our favorite tips for using river rock in landscaping!


What is River Rock Landscaping?
In essence, river rocks are rocks, gravel, or boulders that have been taken from riverbeds or other locations where water has softened and smoothed their edges. Small pea gravel, larger stones with sizes ranging from lima beans to avocados, and bigger rocks and boulders can all fall under this category. River rock can be used in a variety of places, including patios, rain gardens, beds, containers, walks, and edging.
Despite being a flexible material, river rock has some usage restrictions. A steep or sloped region is not a good candidate for gravel or stone since the weight of the stone will eventually fall to the bottom, aided by rain and other factors. Using stone in high-traffic areas or areas next to trees with a lot of leaf litter or fruit debris (such as maples, ginkgos, black walnuts, or crabapples, to name a few) may result in a seasonal mess that will get tiring to clean up year after year. Stone can also be difficult to keep looking tidy. The material can be removed with the aid of a rake, broom, and small leaf blower.
In a desert or xeriscape garden, river rock can be a valuable component because it can be utilized as a covering in place of mulch and provides drainage. However, because of its porosity, weeds may find it to be a favorable habitat! Lay landscaping cloth or sand down beneath your gravel or rock layer to avoid this. Spraying with salt water or horticultural vinegar will help to prevent weed growth.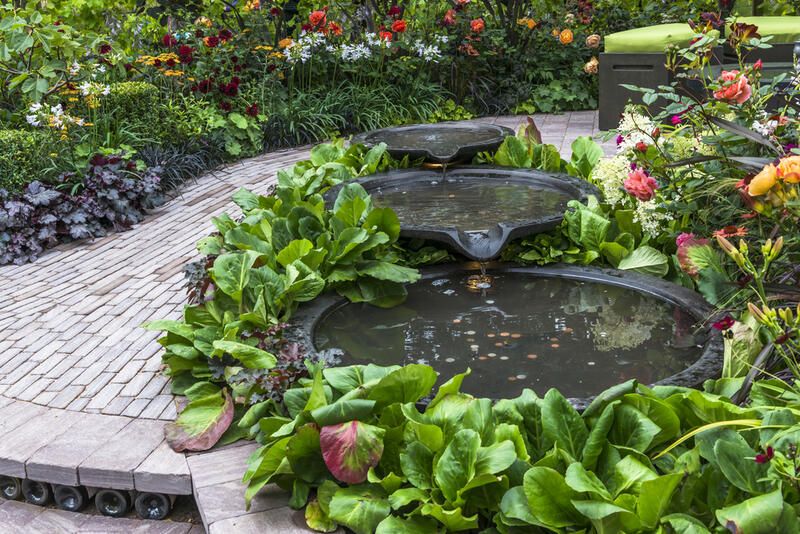 River Rock Landscaping Ideas
Water Features
Because of how effectively their flat surfaces reflect light as water trickles over them, river rocks are a fantastic material to utilize in the construction of a water feature. You can use them to create a cascading pond or even add them in for texture!
Try them out in bird baths and ponds but the real twist is integrating them into your pool if you have one! Line up along the sides or create a beautiful focal point with them.
Stone Walkways
Using a nice-looking stone path that blends huge natural pavers with two different types and shades of river rock (tan pea gravel and grey stones), it cleverly employs separators to keep mulched sections and gravel separate to keep things tidy.
With stone paths come stone walls so you can help with the division of your yard with paths and miniature stone walls for a more cottage core look.
Your ears will enjoy the clicking, crunchy sounds as you walk on the rocks, and your eyes will enjoy the texture of the trail. In comparison to other masonry, this provides your yard with a more natural aspect.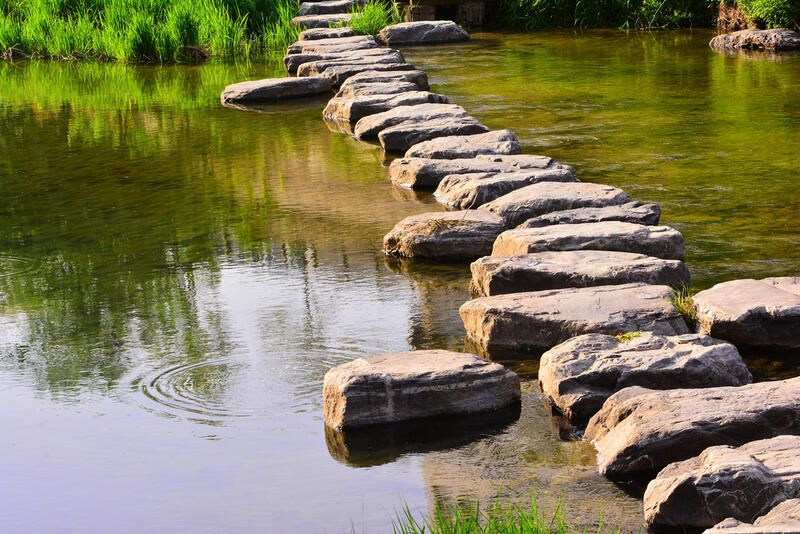 Pebble Pots
Feeling crafty? You can create eye-catching plant pots by stacking small river rocks with mortar or attaching them to terra clay planters using waterproof adhesive. You can hang your plants in them on your patio or even spread them out throughout your garden!
If you have kids, let them get their creative juices flowing and paint a few as well!
Gravel Patio
Using a simple pea gravel patio and a minimalist seating area with a long fire feature and contemporary wicker seats. Granite stair slabs and edging provide a streamlined, refined appearance.
Stone Beds & Planters
You can develop a modern herb garden area with stone planters on a bed of white pea gravel that is simple to access and maintain and is home to Mediterranean plants that benefit from the warm stone surfaces.
Craft a Zen Garden
Using pea gravel and bigger stones, you may make a smaller replica of the traditional zen rock gardens found in Japan in your yard. Consider using a design that aims to depict nature's symbolic aspects, such as the wavy patterns in gravel that stand in for ocean waves. Your Zen Garden will have a smooth feel if you use gravel made from rounded river rock.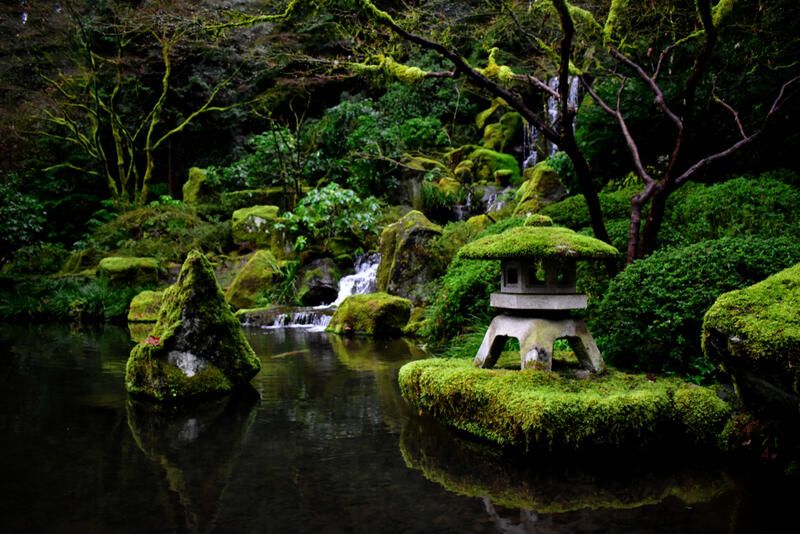 Xeriscaping
River rock landscaping fits well with xeriscape gardening in low-rainfall locations. In a bed of pea gravel, succulents, cacti, and creeping drought-tolerant plants thrive, such as the euphorbia in this picture. Stone retains heat and cold, thus thanks to the stone's outstanding conducting qualities, this desert garden will also chill off wonderfully at night.
Try a Stone Sculpture
Since many river rocks have flat surfaces, it is simple to stack them and create sculptures out of them. These can be built out of rocks of almost any size and positioned all over your yard, on a table, or even next to your entryway.
Succulents!
Succulents thrive in little soil and can even grow successfully in gravel. These plants, which are native to arid climes, flourish in the excellent drainage and heat retention that a rocky setting offers. They come in a variety of sizes, shapes, and colors, making them versatile in terms of design.
Dry Creek Bed
Similar to machine-crushed gravel, rounded river rocks can not easily join together to form a compact surface, thus water can easily pass through these tiny stones and into the earth.
Water habitats like streams and rivers can become polluted by contaminated runoff as a result of poor drainage. Additionally, runoff might harm the basement or foundation of your house.
A surface made of river rocks enables greater drainage. Because concrete, pavers, and asphalt are nonporous materials, they prevent water from draining into the ground below.
Design Your Mosaic
For a lovely walking path in your front yard, you can design a river rock mosaic that is embedded in concrete.
Your family and visitors will be impressed with your well-kept lawn and the river rock mosaic in the front yard.
Landscape Edging
Your garden beds should have a layer of river rocks around the edges. By creating a distinct border, edging draws attention to your gardens and flower beds and aids in preventing erosion.
Additionally, edging garden beds with river rocks helps stop mulch from escaping from the beds in the event of a strong wind or storm.
Highlight Your Trees
Tree landscaping can be challenging. While some plants will grow beneath a thick canopy of leaves, many others won't do well in a dry, shady environment.
Put river rocks around the base of your trees for a simple, low-maintenance solution. Choose stones with light shades to instantly brighten the area. To create an attractive, well-designed, yet organic setting, you can add one or two plants beneath trees and perhaps a larger rock.
If you want to give the area a curious, wooded feel, you might also think about constructing a winding trail out of bark chips.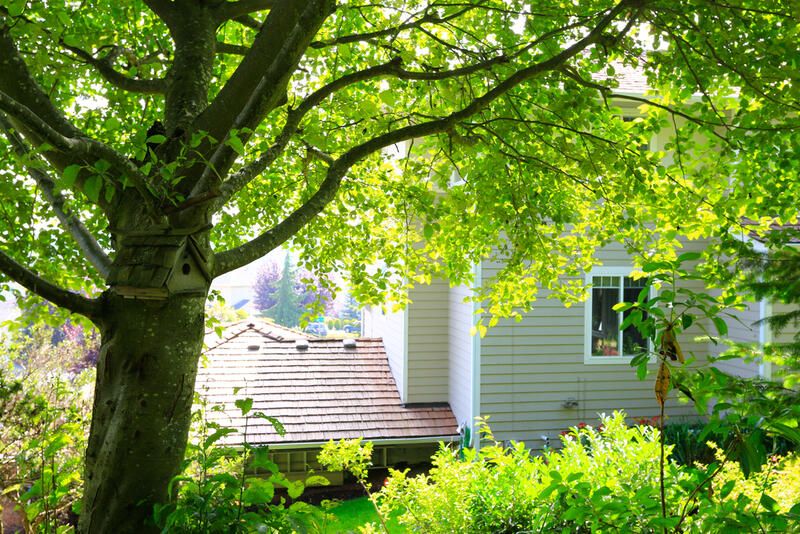 Line a Fence
Want to style your fence line with a low-maintenance garden idea? You might think about making a border out of a few random shrubs and some pale river rocks.
It's a cleaner, simpler solution that is also really fashionable. To complete the modern picture, add spike lights for an evening glow and perhaps a garden statuary or a tiny water feature.
Additionally, you might think about painting your garden fence a trendy color like dark black, stylish grey, or crisp white. Any timber boundary can be prepared cost-effectively.
Contrasting Colors
When choosing the color of your river rocks, take into consideration how your garden as a whole will look. Do you want them to stand out against the background or contrast sharply with it, for instance?
The bright white stones provide a striking color contrast with the lush green plants and scarlet-hued Acer. Pebbles in deep grey or black can give a place a striking, contemporary feel and look amazing next to lime-green plants. Additionally, a combination of sandy tones can give off a beachier vibe that is ideal for balancing with the greatest coastal plants.
Mix Texture
Choosing the right river rocks will give your flower beds a tranquil, wooded vibe. It will act as a non-biodegradable mulch and help to stop soil erosion in addition to suppressing weeds. The combination of textures will also create an appealing contrast. To make care simpler, just spread down some landscaping fabric below.
Larger boulders will improve the appearance and keep the motif going while also adding sculptural highlights to the design.
To sum up, making paths, establishing a dry creek bed to aid in drainage, creating a mosaic, and landscape edging are some of the best landscaping ideas with river rock. Pick the ones that work best with your landscaping.
To enhance your landscape, get in touch with Shrubhub's landscaping professionals.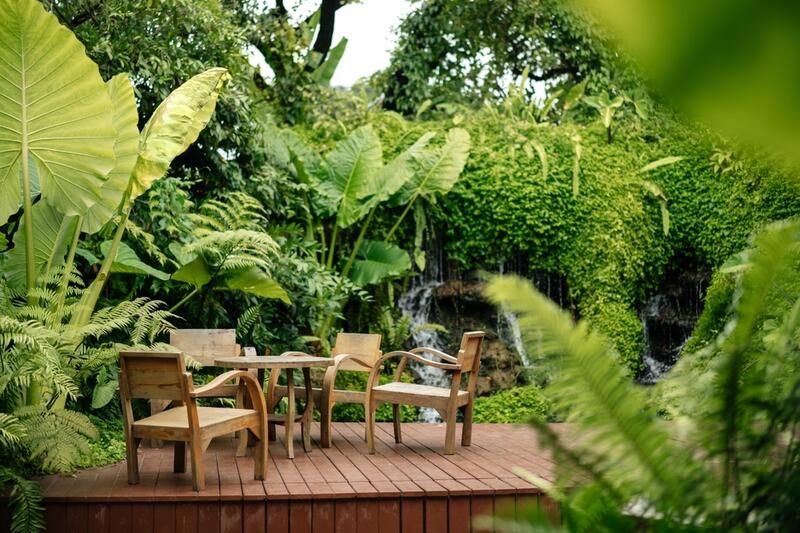 FAQs About River Rock Landscaping
What is the Average Cost?
The cost of river rock depends on the size, color, form, and polish of the rocks.
Purchasing tones? Costs per ton can vary from $100 to $300, and on rare occasions, they can reach $800.
Per pound price? Prices for a pound normally range between 5 cents and $1.
Possible Disadvantages of River Rock
Some homeowners might opt to use landscaping materials other than river rock.
Here are a few drawbacks of river rock:
Landscape removal might be challenging.

The soil and river rock may need to be separated by a barrier, like landscape cloth.

Because it is an inorganic mulch, your plants' soil won't receive any nutrients from it.

River rock can get too hot to touch because it absorbs heat. Some plants could be harmed by excessive heat.

It can be challenging to add fresh plants to a ground cover made of river rock.

The price of river rock varies.

Seeds and soil may accumulate between river rocks as debris.

Your mower may become damaged if you mow too close to river rocks. How? The stones could be thrown out by the lawnmower and hurt surrounding residents.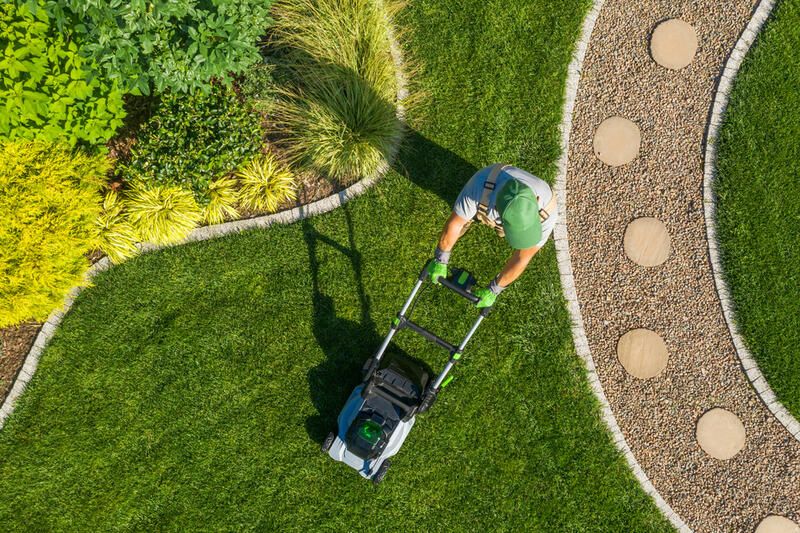 Calling a Professional
River rock landscaping is not always simple. There are times when you require professional guidance while selecting from a variety of landscaping designs and river rock kinds.
Check out Shrubhub.com landscaping services for a free phone consultation on all your landscaping needs!