The Best Hot Tub Designs For Any Budget
Published: 09/08/2022 | Updated: 29/03/2023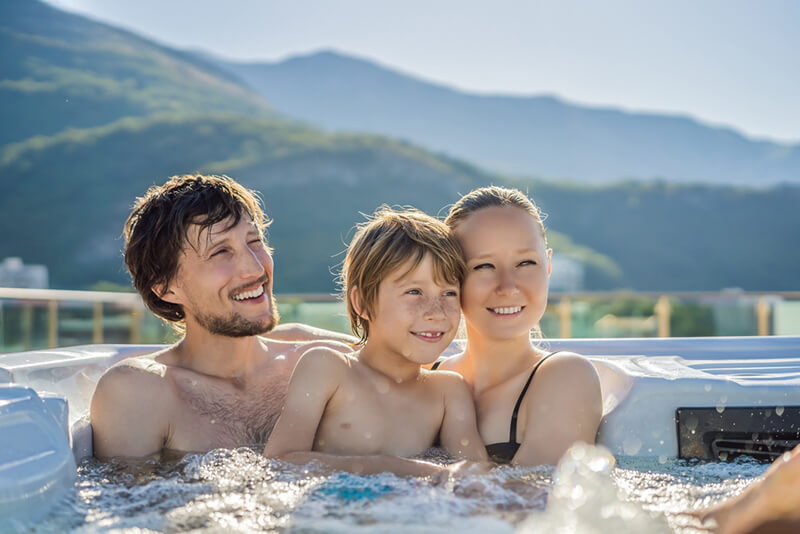 We all want the perfect backyard: a comfortable, relaxing space we can go to after a long day for a well-deserved unwinding session. To achieve our perfect at-home retreat, we may consider incorporating a relaxing water feature into our outdoor space, because it can help craft an ideal garden that brings your dreams to life, suits your needs, and meets your budget.


The million dollar question is: swimming pool or hot tub, which would it be? The majority would go for the hot tub, and we know exactly why. All of us could all use a little more relaxation, or me-time, and just imagine being able to enjoy this time in your own private tub! Plus, they can be less expensive than swimming pools, they tend to be easier to maintain and can come in handy for some sweet relaxation all throughout the year.
If you'd like to craft and install the perfect hot tub to optimize your space while saving yourself some energy, time, and money you can get started with our professional landscape design services: we'll work on an ideal design for you, and we'll hook you up with an expert general contractor, or pool builder!
How much can it cost to create the perfect garden retreat?
A hot tub can be adapted to include a deck, built-in seating, and many other features, but it should also be designed taking into account both the architectural style and existing materials of your property. Hot tubs can range from inflatable alternatives (which are ideal for those with smaller budgets), to basic purchased models, and custom-built designs that may be a bit pricier, but can better enhance the aesthetics of any yard.
When you're in the market for a new hot tub, one of the first questions that comes to mind is "how much will it cost?"; the truth is, there's no definitive answer, and this is not due to industry secrecy, but more so because prices vary significantly depending on several factors.
The sale price for a new hot tub can start at less than $1,000 and can go to $20,000 and up. The price range is immense, so you may feel a little lost if you're trying to determine how to get the most value for your money.
Truthfully, there is a lot to consider, and choosing with no guidance can be tricky, as it can lead to customers misplacing their money on items that won't match their needs. As industry professionals, we are here to give you a hand and to break down the typical price ranges, detailing what you can expect in terms of quality and features for four different budgets!
Get guidance from industry experts to make sure you get the most out of your new hot tub!
Most Affordable: Inflatable Hot Tubs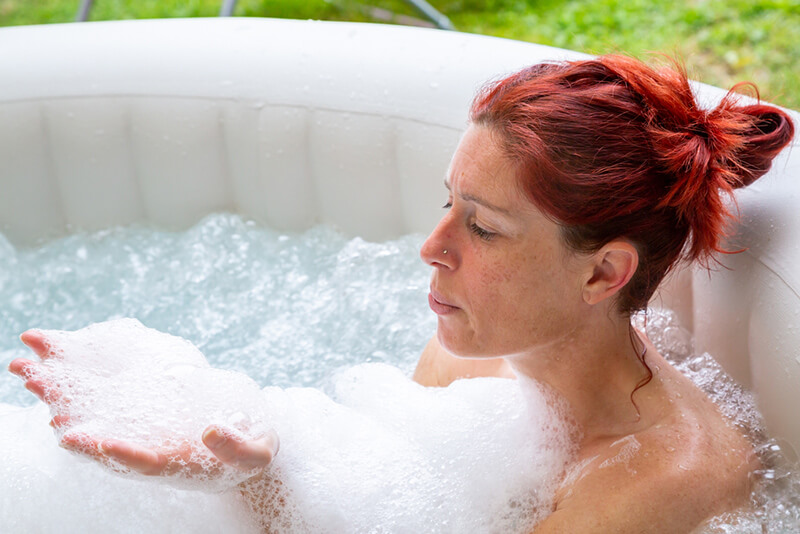 Typically cost less than $1,000.
Top-quality inflatable hot tubs are convenient, easy to use, and allow for relaxing moments all year round wherever you decide to set them up, whether it be indoors or outdoors. Among the most relevant pros of inflatable tubs we highlight the following:
You can very easily take them with you on vacation.
They don't require excruciating maintenance routines.
They are the most affordable of the hot tub market, making a blissful backyard oasis a possibility for everyone, regardless of their budget.
With so many inflatable hot tub options out there, it can be hard to know exactly which one is perfect for your home at first glance; but here are some of the main points you should consider before purchasing:
Depending on the amount of people you expect to entertain, the size of your tub will vary. There are two-people sized tubs for those who'd rather reserve this commodity for a more private retreat, and for those who love hosting outdoor parties, there are tubs that can easily accommodate up to eight people.
Functionality is key, so one of the first things you should ask yourself is "What will I be using my hot tub for?". From this starting point you'll be able to reduce your options by eliminating the alternatives that won't suit your needs whether it be because they don't have enough advanced features or on the contrary, they have too many extra elements that you won't use and will make you spend unnecessary extra money.
Inflatable tubs can be mistakenly disregarded as the "lesser alternative", but in reality they come in many different shapes and sizes as well as different styles, and surprisingly to some, can have as many amazing features as custom-built tubs, such as LED lights, drink holders, and bubble jets.
Affordable: Entry-Level Hot Tubs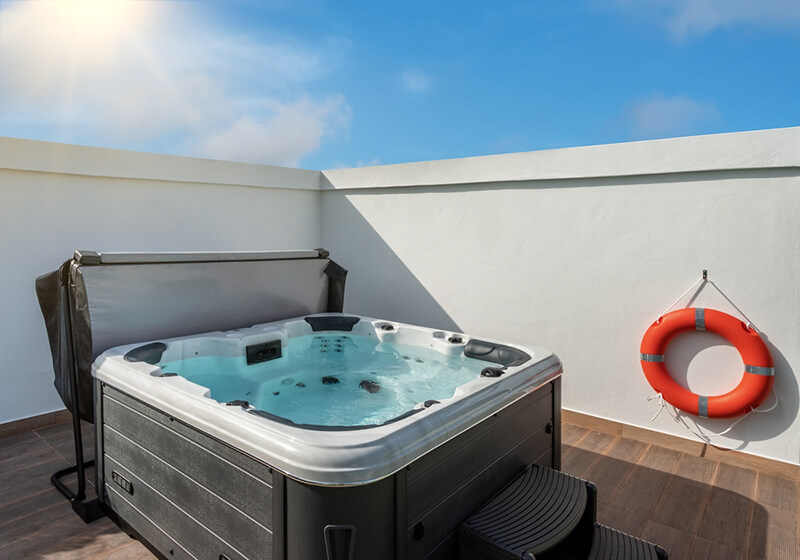 Typically cost up to $10,000. The starting price varies between manufacturers, but the top-quality ones usually start at around $5,000.
Entry-level hot tubs are the most affordable tier hot tub brands have to offer, they're usually made of less expensive materials, and have fewer jets. That being said, they can feature foot, back, neck, and hand jets, and many of them can be plugged into a standard outlet, making them easier to install as opposed to luxury and value-priced hot tubs, which usually require an electrician.
Some of the factors that make all the difference in terms of pricing are energy requirements and efficiency, water filtration systems, jet technology, among others. Entry-level tubs tend to come with in-line chlorine dispensers that slowly and regularly release chlorine into the water, and while this has proven to be a safe and efficient system, many homeowners try to avoid the dry skin and chemical smell that goes hand in hand with chlorine.
While their "plug-and-play" feature makes them easier to install, the low voltage implies less power for the jets and more time to heat up the water, as opposed to hard-wired alternatives.
One of the most noticeable differences between luxury and entry-level hot tubs is jet technology, because the latter tend to offer simpler jets that shoot a steady stream of air, but some of the more costly entry-levels tend to include a control panel that gives users the option to adjust the jets positions and cycle.
More Expensive: Value-Priced Hot Tubs
Typically cost $10,000 and up, for an in-ground hot tub design and installation, you should expect to pay at least $15,000.
Value-priced hot tubs include many of the comforts and performance details you could expect from lower-priced luxury tubs, they're made of durable acrylic and tend to have more jets and more features than entry-level alternatives. If you're willing to invest a little more in a long-lasting, comfortable, and functional hot tub, these might be the perfect fit for you.
On the down side, some value-priced tubs come with alluring features but poor performance or the opposite (quality performance and little to no enticing features), so it's wise to keep an eye out for this tricky aspect. Keep in mind that the best models will prioritize performance over flashy features!
Luxury hot tubs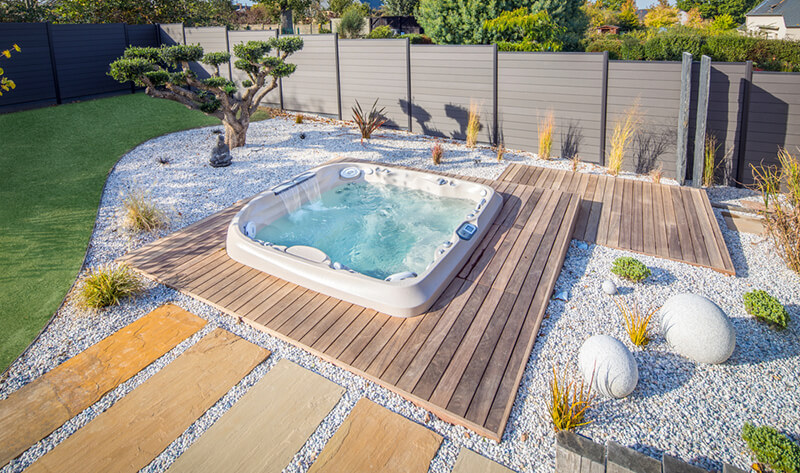 Typically cost $19,000 and up.
Beyond all the different functional and aesthetic features you can get for the aforementioned options, we should note that all hot tubs are luxury items. They're fun to have, they have important health benefits for sore muscles, neck and back problems, and most importantly, they help us relax and significantly reduce stress; and throughout this article, you've learnt you can bring your hot tub dreams to life for way less money than you may have initially thought.
That being said, there are some who would prefer to dedicate a significant amount of their budget to a top-quality, long-lasting luxury hot tub for several reasons, including but not limited to:
Their integrated industry leading water care systems, such as saltwater chlorine generators, that use low levels of salt in the hot tub's water to automatically generate chlorine.
Their full massage systems, which are built into every seat.
More expensive tubs include a great quantity of jets and utilize the latest jet technology, such as pulsing and motorized jets that sweep up and down the user's back. They also include advanced control panels (and some brands even offer app connectivity) to allow for more customizable massage modes.
Luxury tubs tend to be more energy efficient due to better insulation technology that keeps the water hotter for longer with less energy, and they also have shorter heat up times.
Most of them come with adjustable lighting and Bluetooth sound systems, additional accessories, and customization options.
Once we take these factors into consideration, high-end hot tubs aren't as expensive as they might seem, as they will cost less to maintain and operate, and have much longer life-spans, so you can expect them to last you for about 20 years (or even longer) before you need to replace them.
Bring your hot tub dreams to life with a professional landscape design
Your own private hot tub is a wonderful feature to share and enjoy with your loved ones for as many years as possible. At ShrubHub Design Experts we know how to craft the perfect at-home retreat for you, helping you choose the right hot tub and the right spot to place it, paying much attention to maximizing accessibility within your available space, and making sure your newest addition will help enhance the overall look and feel of your outdoor space.
Our entire process is done online, which means you can start your renovation from the comfort of your own home! With the guidance of an experienced Project Manager, we will bring your dream yards to life, and thanks to our very latest 3D technology, you'll know exactly how everything will look from an eye-level perspective as if you were walking through your yard.