The Best Trees To Plant In Your Yard
Published: 17/08/2022 | Updated: 29/03/2023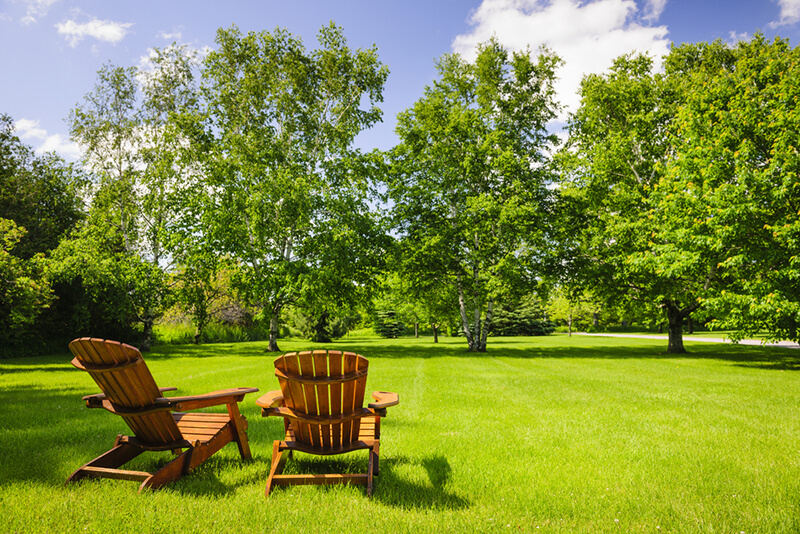 One way of tackling the inevitable effects of climate change is by doing as much as we can to protect mother earth, even if by starting with a small gesture, like planting a tree!


Not only is planting trees a great way to protect our surrounding environment by reducing air pollution but they also provide our yards with a variety of benefits! They provide shade, aesthetic appeal, privacy, and even bear fruit for us to enjoy and bake into tasty meals!
Another benefit to planting backyard trees is that they can increase the curb appeal of your home and increase the resale price of your property making them a great long-term investment!
Selecting the right tree to plant in your backyard can be challenging especially for those of us with smaller gardens that have less space to work with. This guide will provide you with the best trees to grow in your yard depending on what feature and function you are looking for.
Our ShrubHub experts are here to help you choose trees that are best suited for your yard, depending on where you are in the country we can even help you choose the best native trees to grow or even your official state tree!
Privacy Screening Trees
Adding privacy to our gardens has become increasingly important, especially when trying to keep Nosey Nancy from across the street from trying to peep into our yards!
You can add privacy to your yard the traditional way by building tall fences or you can add a touch of greenery and grow trees to add privacy.
The following trees provide a beautiful pop of green to your backyard as well as keep those nosey neighbors at bay!
Wisteria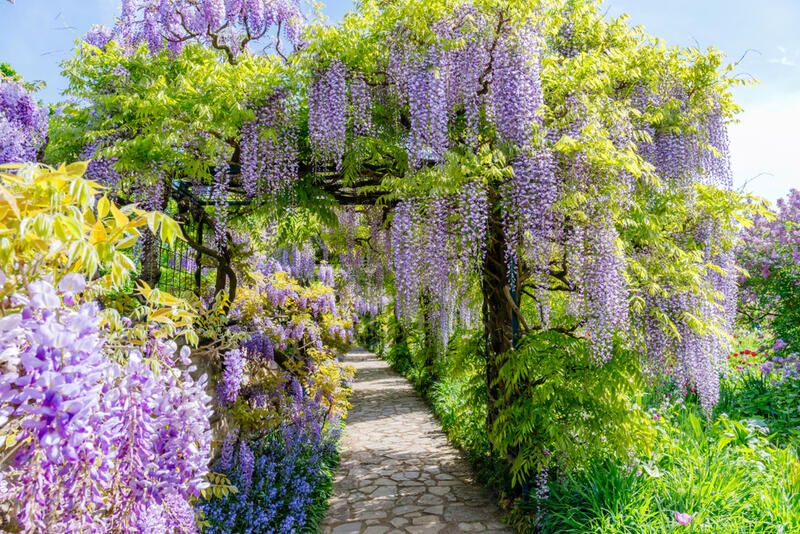 Wisterias are a very romantic addition to your yard. They are of the climbing variety which makes them perfect for growing against a surface. You can grow them in your front yard against the wall of your house, on an archway, or draping against a large pergola.
If you want your backyard to look like a cottagecore fairytale wonderland, you can also grow these trees against your backyard fences for privacy with a fun, dramatic twist!
Wisterias need full sun to thrive and can stand partial shade, they require well-drained soil and need to be well watered. It blooms gorgeous white flowers and lilac flowers during the late springtime.
Leyland Cyprus Tree
This privacy tree is perfect for natural fencing. They are evergreens that can grow up to 40 feet tall in a cone-like shape, if left unpruned they could even reach a staggering 70 feet tall! They provide evergreen bluish-green foliage of needle-like leaves that keep their color year-round.
Leyland Cyprus trees are relatively low maintenance and thrive in full sun, although they can tolerate slight shade. This tree is a fast grower which means you might need to prune and trim them up often but they are perfect for privacy.
They need well-drained soil and can be slightly drought tolerant, take good care of them and they will provide your yards with year-round interest! Just remember, younger trees require more watering than older ones.
Dogwood Tree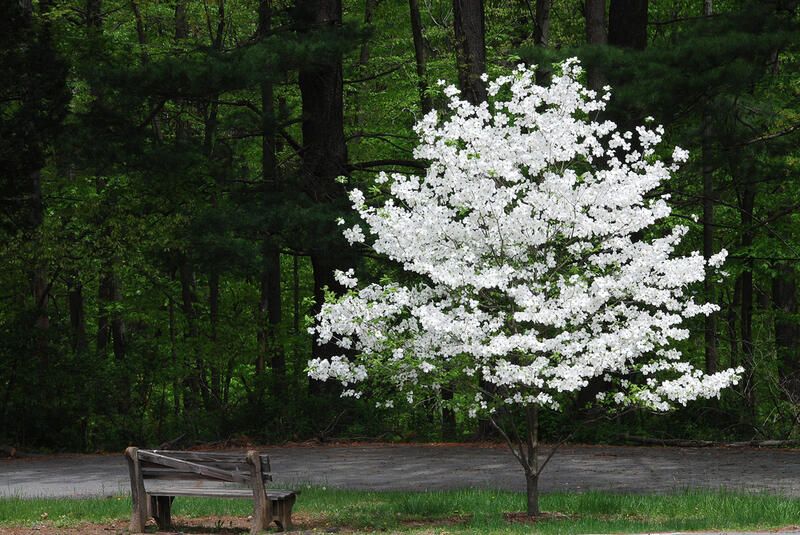 The dogwood tree is another perfect example of a tree that provides privacy screening, specifically spot coverage of your neighbor's favorite view of your patio! This tree is an all-American classic and is native to most states from New England all the way to Florida.
The flowering dogwood, also known as the Cornus Florida, provides vibrant foliage of white flowers and even produces ornamental berries that attract local birdlife! For a pop of color, you can even grow eastern redbud trees next to them to provide color contrast. The eastern redbud provides pink blooms that contrast beautifully against the white flowering dogwood!
Provide dogwoods with plenty of sun and soil types that are well drained. This colorful beauty is a very tough tree and can withstand weather fluctuations from extremely cold to extremely hot!
Shade Trees
Weeping Willow Tree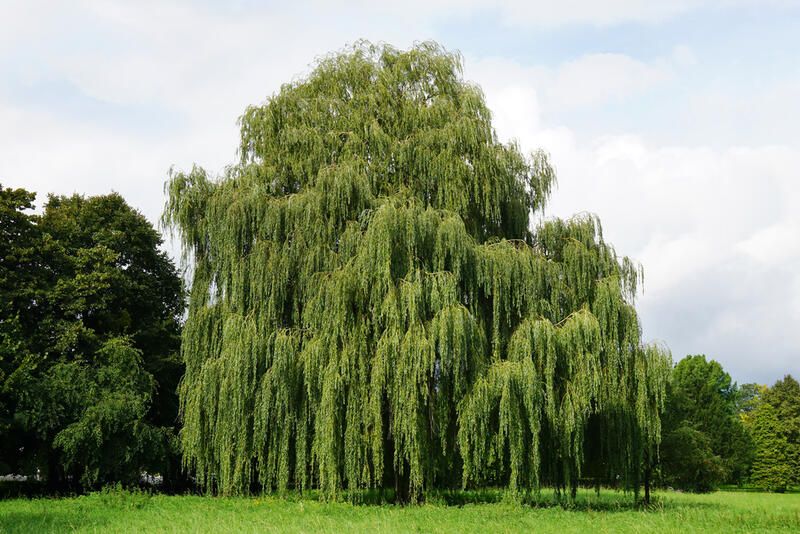 Weeping Willows are a breathtaking sight to see. They add drama and texture to your yard whilst also being a great source of dense shade. Picture a cool fall afternoon, you are laying on a cozy blanket propped up against its tree trunk reading a thrilling book whilst sipping on a warm pumpkin spice latte! I can't imagine a better way to pass the day during the fall!
These majestic shade trees can reach about 50 feet in height and width, making them a great option for those with large yards and having plenty of space to let them grow and thrive.
Weeping Willow trees require full sun but can tolerate partial shade, they can be drought tolerant and prefer standing water which is why you tend to see them in nature growing nearby streams or lakes.
Their roots grow very deep so they are great for making sure any rain puddles in your backyard get absorbed. They are also quite hardy trees and can withstand cold temperatures and extreme heat.
Quaking Aspen Tree
This magical shade tree is known for its breathtaking fall foliage. As the fall season is upon us you will start to see golden yellow leaves that brighten up your garden with a gorgeous and vibrant pop of fall color!
For many of us, fall is our favorite time of the year, these are the best trees to serve as reminders of how beautiful and special this time of the year can be.
Quaking aspens are native to North America and are very easy to care for, they are weather tolerant, tolerate most soils, and prefer full sun. They are large trees that can grow up to 50 feet tall providing dense shade to your backyards.
Red Maple Tree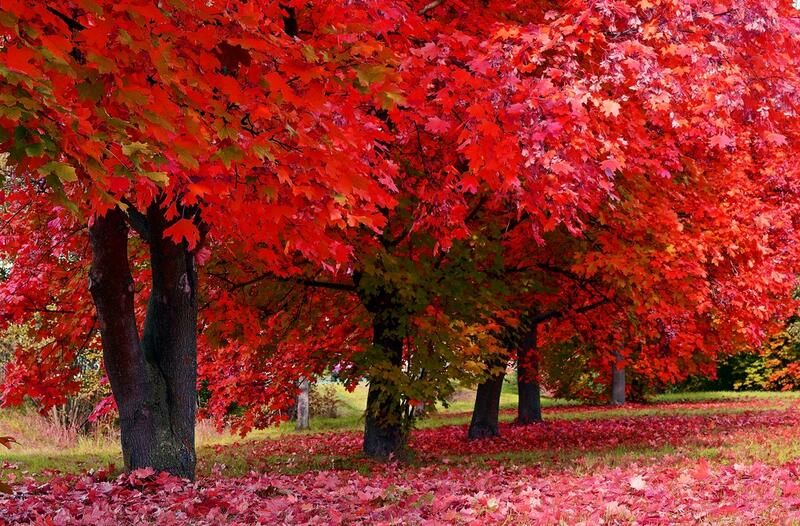 Another beautiful addition to your fall garden is the red maple tree. This shade tree is native to North America and is the fastest-growing tree in the Eastern US region. It is one of the best backyard trees for fall foliage. Its beautiful reddish brown foliage provides color to your yard not only during the fall but also during the spring and summer seasons.
Red maple trees grow up to 70 feet tall which makes them ideal backyard trees. They are also quite hardy and withstand temperature fluctuations as well as most soil types as long as they are well drained and moist.
Sweet Gum Trees
This deciduous tree is native to the South-Eastern US region and is another perfect tree for providing fall color. The beautiful color range and texture this tree provides year-round is why it is mostly grown as an ornamental tree. During the warmer seasons, this tree provides green foliage however once the fall sets the leaves to turn a bright red!
You can plant it as a stand-alone or you can plant a few trees together depending on how much yard space you have.
This tree also has a commercial purpose, originally it was grown for the gum produced by peeling bark off it and was used as medicine, nowadays this sweet gum is used for medicine, cosmetics, and in perfumes!
Red Oak Tree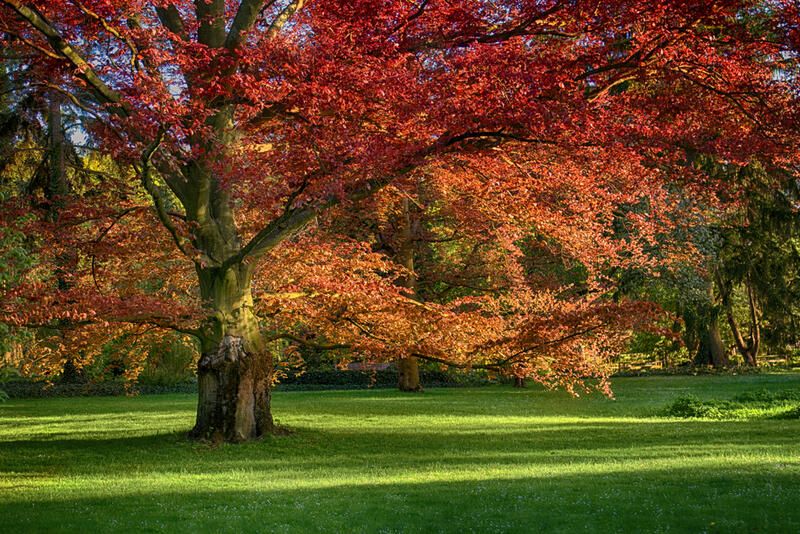 This majestic deciduous tree is native to the East Coast and is the largest tree we will be discussing in this guide so unless you have a huge backyard that can accommodate this tree, maybe leave it to your local park!
The red oak is another fall favorite, its vibrant red foliage that appears mid-September helps us prepare for the spooky season to come! Nothing is a better reminder to start carving up those pumpkins than seeing the mighty red oak turn a bright pinky-red!
Evergreen Tree Types
Olive Tree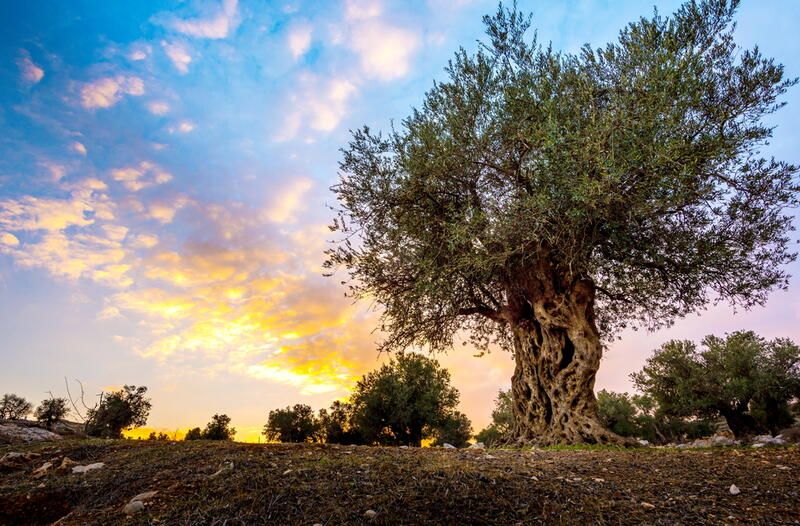 These hardy trees are virtually impossible to kill. Olive trees are the best trees for those us with brown thumbs as they are practically indestructible and extremely low maintenance. They are an ancient tree species that have been around since ancient greek times and bear a fruit that, let's face it, you either absolutely love or absolutely hate!
Olive trees are drought-tolerant and can grow in most soils as long as they are not heavily clay based. Once your olive tree has reached a mature height it can provide your yard with shade but more importantly, it will provide you with plenty of olives for you to pick off and enjoy!
If you live in urban conditions and don't have access to a yard where you can plant large trees, olive trees come in dwarf varieties that make perfect potted plants. They purify the air and make a gorgeous addition to your interior decor.
American Holly Tree
As Christmas time approaches, it's only fitting to mention this Native American classic, the evergreen vibrant American holly! With foliage of dark green leaves and a vibrant deep shade of red berries, this tree will make your garden feel like a North Pole winter wonderland!
This is one of the best backyard trees to grow in your yard, not only is it an evergreen that provides your yard with year-round color and texture, but it is also extremely versatile. You can also grow American holly trees in a row and once they reach a mature height, you can trim them to form a tall and secure privacy hedge around your property.
This tree is also extremely low maintenance and very easy to grow, it survives any climate and requires watering once a week.
Fragrant Flowering Trees
If you want your yard to smell like the perfume section at a department store, these are the trees you need to plant to provide a heavenly lingering scent.
Just remember, if your preferences are flowering trees with a pleasant fragrance, stay far away from the Callery pear tree, beautiful as it is, some people compare its scent to rotting fish!
Sweetbay Magnolia Tree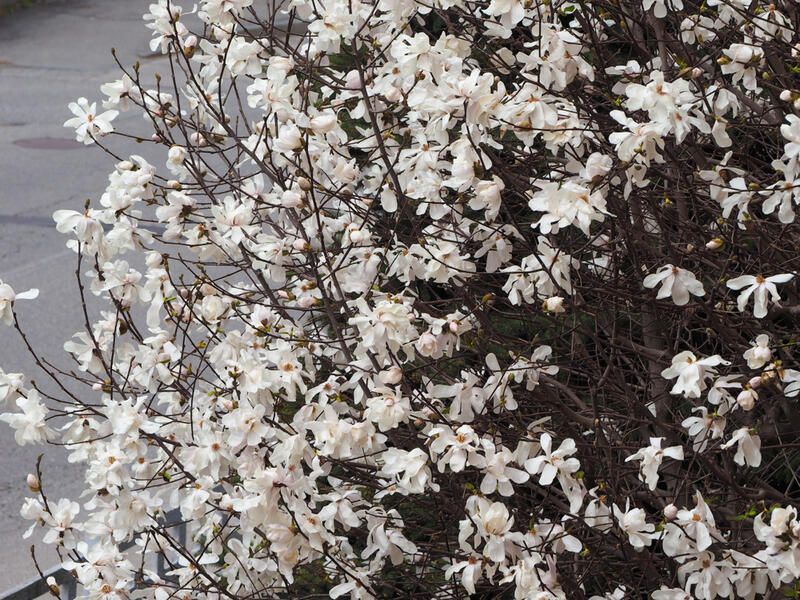 Sweetbay Magnolias are as pretty as their name and bloom gorgeous fragrant flowers during the spring. Unlike most trees, this beauty can either be evergreen or a deciduous tree depending on the climate where it's grown.
They are usually medium-sized trees that grow between 10 feet tall to 35 feet tall and are relatively easy to grow. It's best to plant this pretty tree during the early spring but don't expect it to start flowering until it reaches a mature height.
Once it matures, the sweetbay magnolia will start to bloom gorgeous white spring flowers that have a heavenly lemon scent that will linger over your yard.
Crab Apples
Crab Apples are normally small to medium-sized trees which makes them perfect for a smaller backyard! They provide vibrant foliage all year round, and during spring they provide reddish pink flowers or white flowers depending on their species.
They provide gorgeous fall color due to the small apples they start fruiting during the colder seasons. Depending on the species you plant in your yard, your tree can either be apple blossom scented or provide strong cinnamon and clove fragrance.
Looking for More Advice on What Trees You Need For Your Yard?
There are thousands of tree types to choose from, big, small, or medium and each one serves a unique function in your yard. Our plant experts at ShrubHub have extensive knowledge in all things tree related and will help you pick out the best trees for your yard!
Hurry up now and sign up for our unmatched service and you can design the tree-filled yard of your dreams for just under $300!