The Best Ideas For Pergola Covers
Published: 27/03/2023 | Updated: 10/09/2023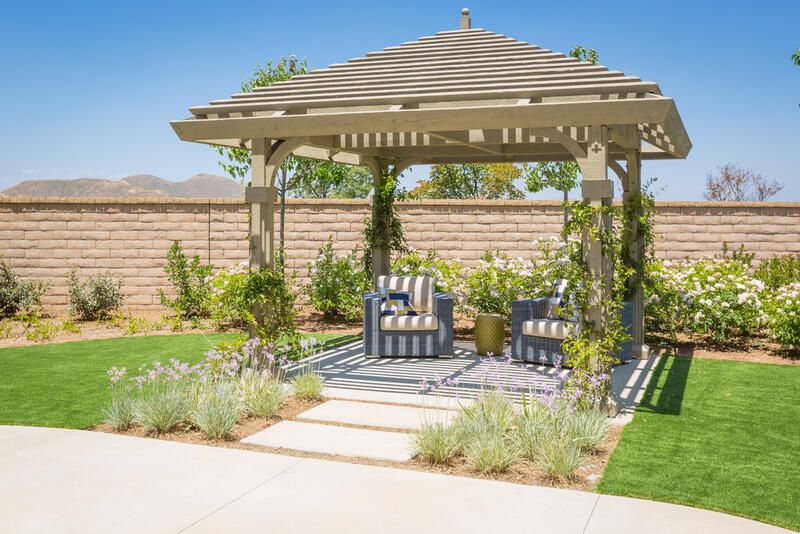 Installing a pergola is an optimal choice when you're looking to improve both the curb appeal and livability of your outdoors.


It can improve the look of your outdoor space by giving you privacy when you're spending time outside in your home garden and giving your area a unique and stylish look.
The best thing about pergolas is the abundance of types customized for every home type and need. Pergolas come in different sizes, styles, and materials, so you won't run out of pergola cover ideas when looking for the right one for your backyard that can give it a unique look that reflects your taste and personality.
All of this while also drawing the attention of your neighbors and any possible buyers in the future, increasing the value of your house in the market.
In this article, we give you a complete guide to understanding pergolas and offer you the current best pergola cover ideas!
What is a Pergola Cover?
A pergola is a type of gazebo, an outdoor arched structure that serves different purposes for a garden. It's mainly used to form a shaded walkway and can be combined with decks or patios.
It is a structure that resembles a roof and is usually made of waterproof panels but can differ in materials depending on needs and preferences. Pergola covers are generally a great outdoor feature to customize your garden or outdoor living space, adding unique style and character to your home or business.
Why Should You Get a Pergola Cover?
The benefits of a pergola cover are unlimited. In one structure, you can add protection from all elements that are beneficial during the four seasons of the year!
Rain Protection
One of the best benefits of pergola covers is that they offer protection from rain, allowing you to comfortably hang out and entertain guests outside even if it's pouring heavy rain.
This means that your outdoors won't be just for spring and summer seasons, but also during the cold, rainy days. This is especially the case if you live in a rainy area!
And rain protection isn't just for you either! It's also for your patio furniture. This would be less maintenance for you.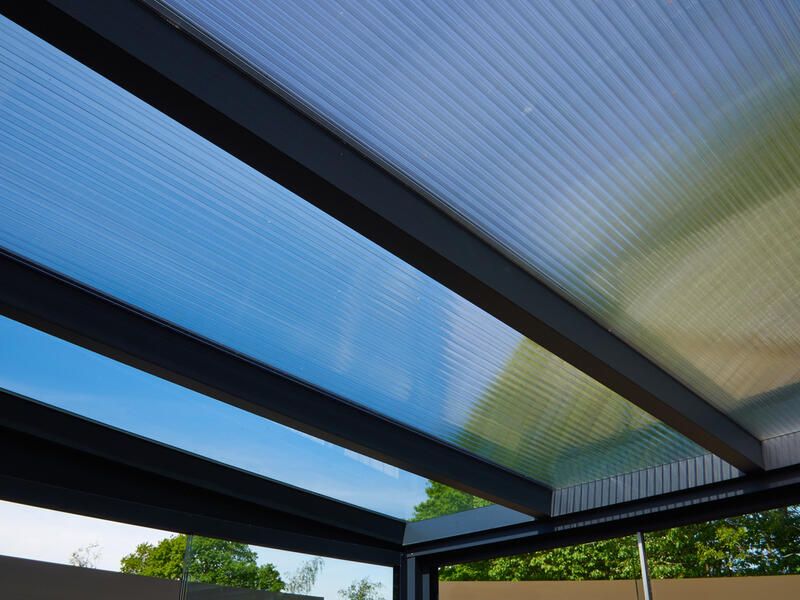 Provide Shade
Rain isn't the only element pergola covers protect from! Pergola canopies also provide extra shade from the sun, protecting your patio and furniture from wearing down because of UV rays.
If the sun is a particularly bothersome problem to you, you can even choose a pergola canopy material that could offer even more shade.
Otherwise, it's a shaded area that offers good protection for you and your guests to hang out comfortably, uncovered by sun and rain, and even heavy snow.
Provide Privacy
Other than offering shade and protection against sunlight and other elements, a major use of a pergola canopy is creating privacy in your outdoor area.
With a roof over your head, while you're hanging out outside, you can rest comfortably knowing no overhead neighbors are staring down at you during your private time.
This reflects on the quality and quantity of time you spend in your garden!
Beauty
On top of all the practical benefits of a pergola canopy, pergolas are also very aesthetically pleasing and add to the style and character of your outdoors!
Pergola covers are a perfect solution to enhance the usability of your garden. Whether you install a wooden pergola, a waterproof pergola roof, or a cover, it will give your garden enough shade to have guests over.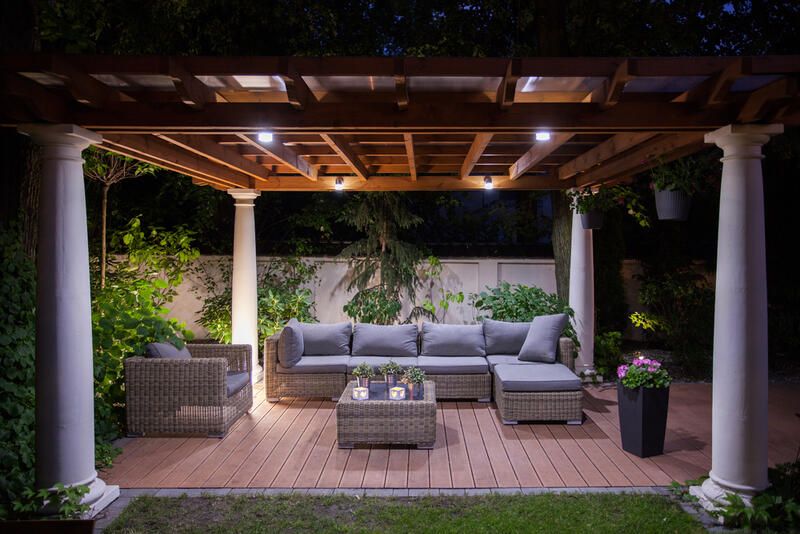 Pergola Cover Types
Pergola cover types are available depending on what you're looking for and every type has something unique to offer.
A Retractable Canopy
You can enjoy your stay on hot or rainy days with great air quality with a retractable canopy. But the best thing a retractable canopy offers you is flexibility. If the day isn't too hot and you want to enjoy the direct sun on your skin, you can just retract the covered pergola!
They aren't limited to any particular usage. Retractable roofs are great for any business area or open space, like the patio of a restaurant. Customers can continue eating even if it starts to rain by simply closing the pergola roof.
Retractable roofs come in both manual and automatic options. Both are good, depending on what you'd want! But automatic retractable pergola covers can be more practical if you want to have more and better control.
A Wooden Pergola Design
Wooden pergolas are simple, classic, and easy to build. They can even be a DIY pergola if you have a little skill and enough time on your hand!
Wood pergolas are also optimal because they are eco-friendly, inexpensive to build, and long-lasting. Of course, the type of wood plays in longevity.
But generally, if you choose good timber, your pergola will last for decades.
The rustic appearance of a wooden pergola is especially aesthetically pleasing and adds character to your landscape.
Fabric Pergola Tops
Fabric covers are a practical option for those looking for something without added care or extra maintenance. Depending on the type of fabric, they could also be as practical as a metal pergola or a wooden pergola.
Fabric roofs are a great idea for flexibility of personal expression as well. You'd have no limits in choosing colors and patterns.
Privacy Fabric Edges
You don't have to completely choose between types too. You can combine a metal pergola with a fabric roof by adding a privacy shade fabric to the structure.
You could make those pergola cool shades yourself with a sewing machine, grommets, and ties if you want to be extra creative, but plenty of ready-made options are available if you don't want the extra work!
The fabric cover can provide shade and can last a long time, but you'll need something more substantial if you live in a rainy or snowy area.
You can invest in a metal pergola or make your waterproof cover from sheet metal or plastic. As a bonus, raindrops will sound lovely as they hit the solid pergola cover.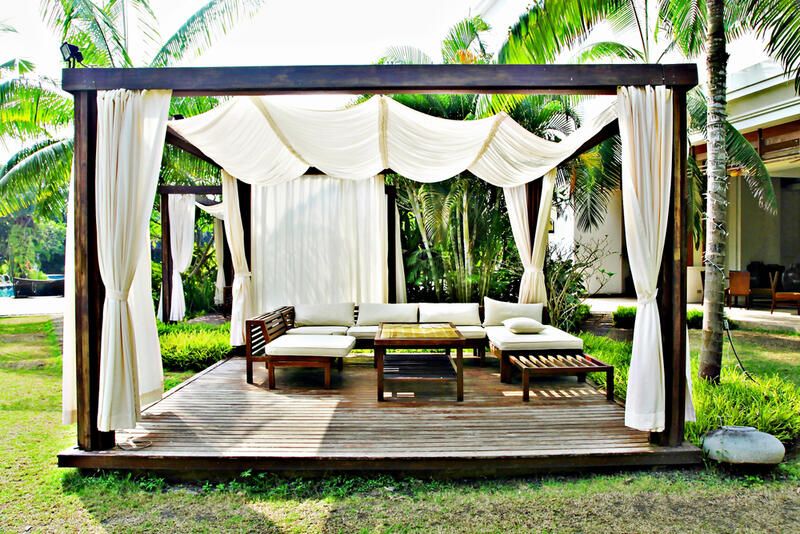 Decorative And Practical Pergola Lattice
Lattice or wire is often added to pergolas of any kind but especially works well with a metal roof to facilitate vertical gardening. Even without any additional shade, the lattice is helpful for the plants and adds a lovely twist to your structure.
Shade Sail Pergola Covers
A shade sail is an easy and inexpensive way to add shade to any yard, you can hang shade sails over decks, between trees, pools, and pergolas. With a pergola canopy, they make a lovely mix that will attract attention to your garden.
Sundeck Pergola Covers
Mixed with a patio or deck, a DIY pergola, whether a freestanding pergola or a fixed one, adds immensely to your garden and makes the seating area much more inviting.
A freestanding pergola here is especially advisable as you can move it to the bar area or the outdoor kitchen, or cover the seating area, all depending on your needs.
This helps your sloped backyard to look better, adding visual interest to your outdoor space with few endeavors.
You may get pergolas explicitly made for mounting over top of a deck, or you can build your pergola and patio for a truly unique look.
DIY Pergola Cover Ideas
A DIY pergola design in your backyard using innovative ideas will add more value to your home than just a piece of garden furniture.
Giving your house a chic curb appeal and a distinct look that draws homeowners' attention to it will allow you to sell it at a high price in the future.
One of the less obvious benefits of a pergola is that it can have solar panels built into its solid roof. Installing pergolas with solar panels will provide shade for your relaxing area.
Pergola Covers with Climbing plants
For a truly unique look, a creative homeowner can plant climbing plants, such as ivy or clematis, to create a living wall of green.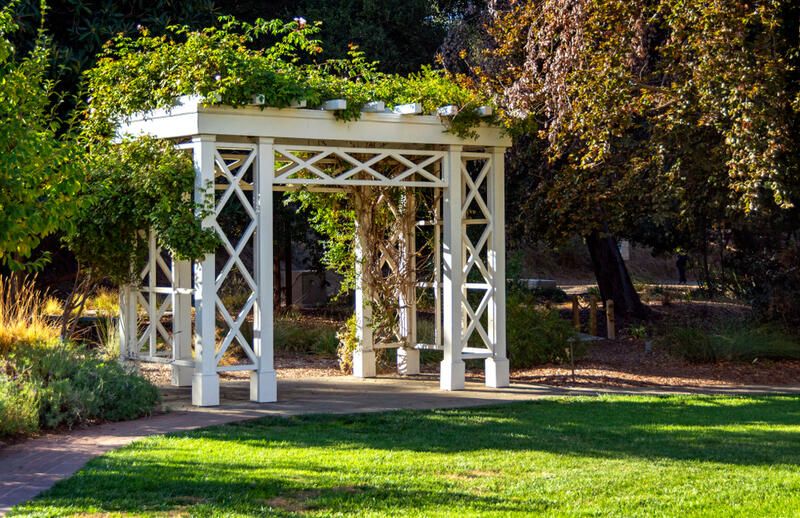 The best types of different plants for your garden vary on what you need and the style of your yard and patio, but here are a few great options to start with:
Climbing Vines
Pergolas with rose bushes are the latest rage. They come in various colors and styles and can evoke the look of a classic and enchanting rose garden if you arrange them well.
Many climbing roses look great on pergolas, but Cecile Brunner, Eden Climber, and New Dawn are some of the best.
They are both pretty and useful because their long, bendable stems can be easily manipulated and guided up pergola pillars.
Grape vines plants
Pergolas often feature grapevines because they are excellent climbers and give off a Mediterranean vibe. They require a relatively warm and sunny environment to thrive.
On the other hand, outside of this type of climate, they would do badly, so they are only a good fit for some gardens.
Although grapevines don't bloom, they produce fruit that may be eaten, used to make jam, or even fermented into wine if you're ambitious.
Even though grapevines can grow thick enough to make a shaded canopy, which is perfect for a covered pergola, the density is easy to control with pruning, making it also low maintenance.
Trumpet vines
A trumpet vine's glossy, dark green, and elliptical leaves can grow to be 15 inches long, and the plant has seven to eleven serrated leaflets.
Hummingbirds and other pollinators will flock to your garden when they see these flowers as well!
The trumpet vine can grow up to 40 feet tall, but you should raise it carefully because it can spread quickly.
Plant trumpet vines in the spring or early fall for the finest results. Given the right conditions in the garden, it will thrive and live for decades.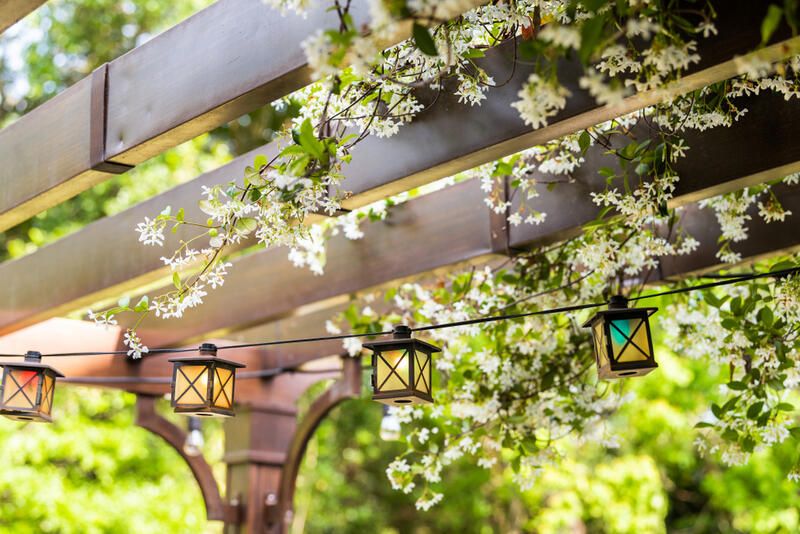 How to Choose a Pergola Cover?
While looking through pergola cover ideas, there are a few key pergola features that should be your top priorities, on both the stylish and practical front.
Whether you want wood or metal for your pergola roof panels, as well as the thickness of the wooden beams and louvered roof, make sure they can stand up to strong winds and other weather conditions.
Most homeowners are looking for durable material for pergola covers to complement their garden space. But there are other things to consider when choosing between equally durable materials.
For example, a wooden pergola provides a natural look, and waterproof pergola roofs can protect your pergola from sun and rain dangers.
As another example, if you're looking for more flexibility in terms of protection from outdoor elements, a retractable canopy might be best as the retractable canopies can be pulled out over the pergola when needed and stowed away when not in use.
Finding one that complements your home and fits your budget is critical, whatever type of pergola cover you choose. Those are the elements you want to keep in mind while deciding!
Coating
A cover provides shade all day and can protect you from rain, sun, and high winds. At a certain angle, exposed beams can provide shade, but the sun will still shine into your backyard seating area.
More coverage may be all that is required to spend more time in your yard, outdoor kitchen, or on your patio.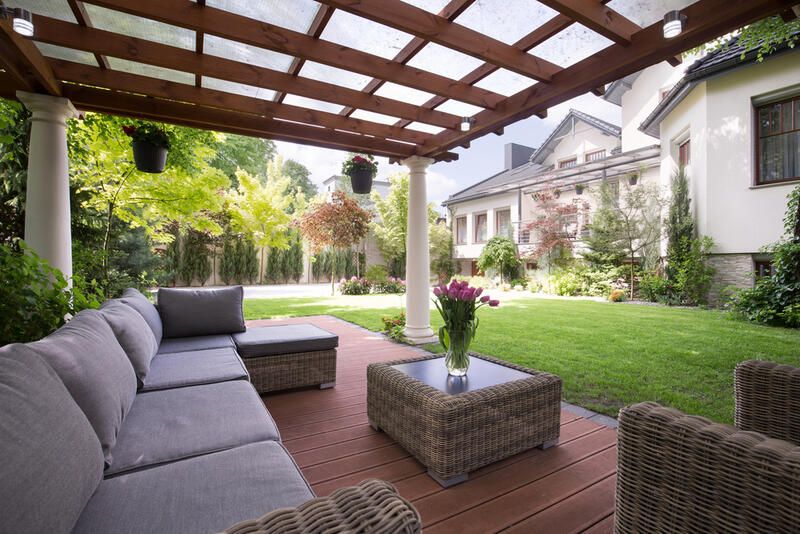 Cost
Are you willing to invest in cutting-edge pergola designs, or are you looking for a more cost-effective option? When researching coverage options, keep your budget in mind. Some fabric types are cheap, but a retractable pergola canopy or a hardcover may cost more and live longer.
Your choice depends on your budget and whether your plans are long-term or short-term. But they also depend on your direct needs.
If you live in a dry area with rare rain, then a fabric roof is sufficient to protect you from the rain without investing more money in a metal canopy or a wood one when all you need is just a backyard open structure that provides shade from the sun.
Refrain from letting the cost of covering your seating area deter you. There are great roof and canopy ideas for every budget and need.
If you're dissatisfied with the sunlight or wind you get while sitting on your patio, investing in a cover can help you benefit from this investment.
Utility
Pick out something that makes you want to spend more time outside. Utilizing your outdoors to the best of its potential is the goal here!
A sturdy cover is easy because it doesn't need much maintenance and gives you more nice days relaxing outside.
You can enjoy the summer sun in your backyard, but it will only be possible if you have a covered patio. Retractable designs make it simple to cover or uncover your seating area as needed. A retractable canopy or a removable design is a convenient option to have the most flexibility.
Innovation
While stain, sealant, and paint can help you personalize your structure, a shade cover is another way to create a memorable yard. Investigate patterns, textures, and colors that complement your wood structure and landscaping.
Another way to make an eye-catching outdoor living space is to use walls or screens. Use them to create a calming backdrop, provide privacy, or block the wind.
Pergolas provide excellent shade, with choices in style, shape, color, and the fabric type and different ideas are endless. But with endless ideas comes the necessary foresight to make the most perfect choice for you!
And because this is generally difficult, at shrubhub.com we offer 3D designs of renovations so that homeowners can perfectly see what their new additions or changes will look like, day and night.
But also, if you think your full yard needs a full renovation, then it's best not to add anything new to it before doing so. Lucky for you, we currently have a limited-time 70% discount on all our services. All you'd need is easily sign up here. We also have a 30-day money-back guarantee to ease any anxiety you might have about this great step!