The Best Cheap Ways to Block Neighbors' View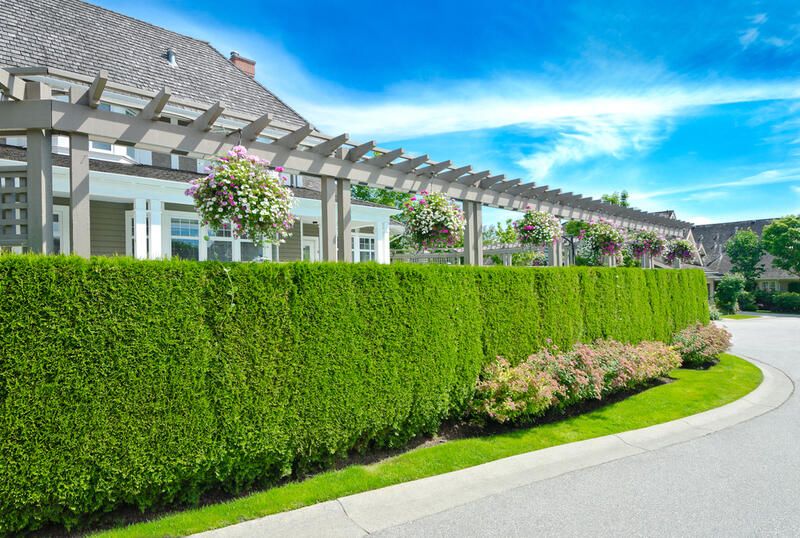 Privacy is invaluable. Especially the privacy of one's own home, even in the outsides of this home.


No matter how aesthetically pleasing, well-designed, and well-furnished an outdoors landscape is, if it's fully private, it would be hard to be as comfortable there as in the inside of the house if your privacy isn't equally protected there.
And sometimes changes to neighborhood brings unpredicted effects which means new measures for privacy should be taken where none had to be done before.
No worries, however! Even if it wasn't previously in your budget plans, there are still tons of inexpensive methods you can implement in your yard to ensure the privacy of your family and guests.
Planting Hedges
Planting hedges on your property line is a natural privacy screen among many green ones. But it's also considered one of the best due to the natural thickness and largeness of hedges.
You want to be careful, however, because it's the same qualities that make it perfect that might bring you trouble.
Hedges often surprise homeowners with how large they can get, stepping over the boundary lines of your property into your neighbors.
So make sure you take your measurements correctly, set up the right expectations for your privacy hedges, and talk to your neighbor about any possible overlaps with any property line.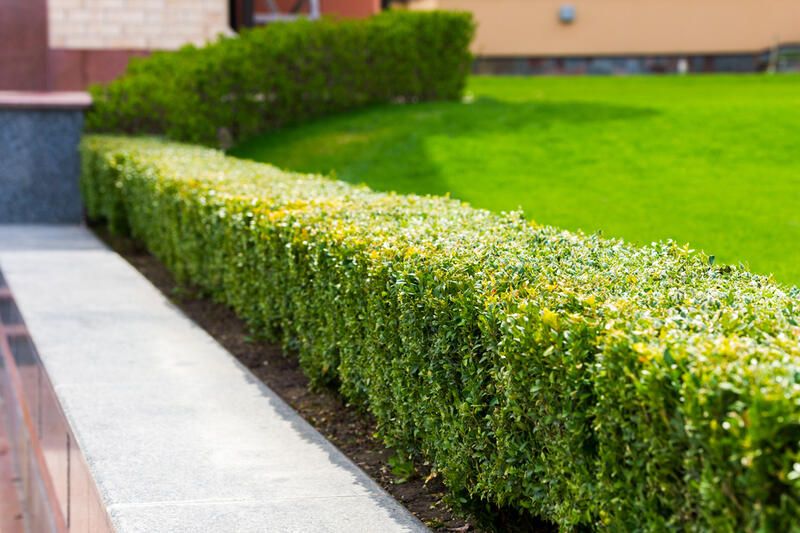 Tall Trees and Shrubs
Fast-growing trees and bushy shrubs are other green, natural privacy fences. They are pretty good and cheap ways to block neighbors' view of your home while also adding to the natural aesthetic of the backyard garden.
There are tons of benefits created for both you and your environment when you plant trees. Blocking a neighbor's view is only one of them! To create privacy, you want to plant trees and shrubs that are naturally large like evergreen trees, and evergreen shrubs as screening cheap ways.
Evergreen trees are perfect because they make for naturally tall trees, are fast-growing trees, and provide you with many choices depending on your preferences. Italian cypress is, for example, a pretty great choice if you choose evergreen trees.
Tall Grasses
Trees and shrubs aren't the only tall plants out there. Even grasses can be used as a natural privacy fence. Grasses are one of the most convenient ways out there if you can't spend too much money.
As fast-growing as ornamental grasses are, however, they still need around two growing seasons to reach their full maturity. If the timing isn't a problem for you and you're not in current urgency, then they are great for you.
You can go for zebra grass, feather reed grass, and/or fountain grass. Any of those can make for an excellent border plant, but you could also go for a combination to make your border screening cheap ways extra colorful.
Climbing Plants
While we're recommending natural and green cheap ways to block neighbors' views, we can't forget climbing plants!
If you already have a trellis or any other fencing structure that is open and doesn't block neighbors' view, then you can always plant those sorts of plants, like vines and others, and the foliage will have a place to hang and block your neighbor's view, while also adding more beauty to the structure.
Those combinations are among the effective and cheap ways to block neighbors' views!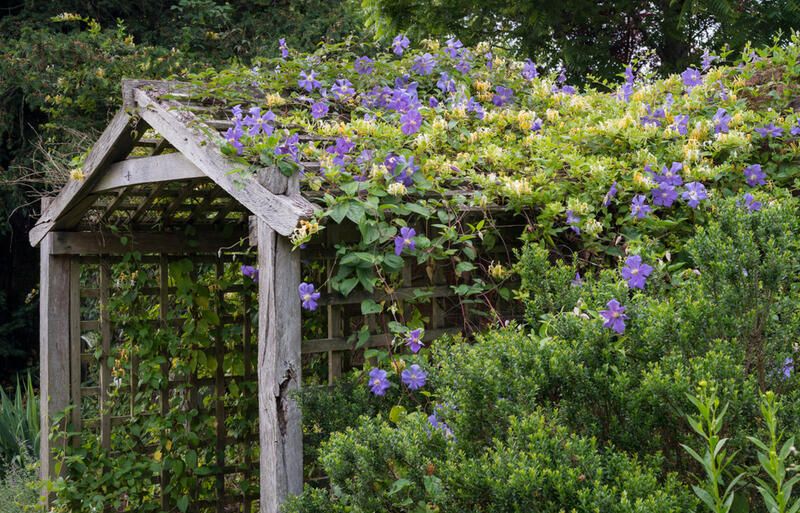 Container Garden
Container gardens are another great option for the green thumb in you! Not only are container gardens cheap ways to block neighbors' views, but they are also some of the most beautiful and radiant ways to go with your garden.
It encloses your garden privately while also giving the garden a magical feeling. It's an option that requires constant maintenance, however.
But if that wouldn't bother you, then this is a great option to go with. As, like the other green option, you get a lovely living wall that protects your privacy and brings life to your yard.
And depending on whether you'll start the garden from scratch or buy mature plants, this method can be among the most readily accessible ones for immediate results.
Implement Shade Structures
Shade structures aren't only perfect for providing shade from the sun and making your outdoor space more enjoyable and habitable on the other summer days, but they are also perfect for providing you privacy from any neighbor's second-story window.
If you're seeking privacy from any prying eyes in any sight lines not only direct ones, then overhead shade is a must. And an overhead shade can be anything, it doesn't have to be an expensive pergola or so.
Canvas Walls
You can also make your canvas walls block any view of your garden!
The great thing about canvas walls is that they satisfy the artist inside you and leave much room for creativity, while also being an effective cheap way to guarantee privacy for your garden.
Those canvas walls can be made up of old cloth, curtains that aren't in use in your house anymore, or wood pallets.
Install the posts, then hang curtains or whatever else, with any additions or paints you want to apply to them. This way, you get yourself screening cheap ways with little effort and a small budget.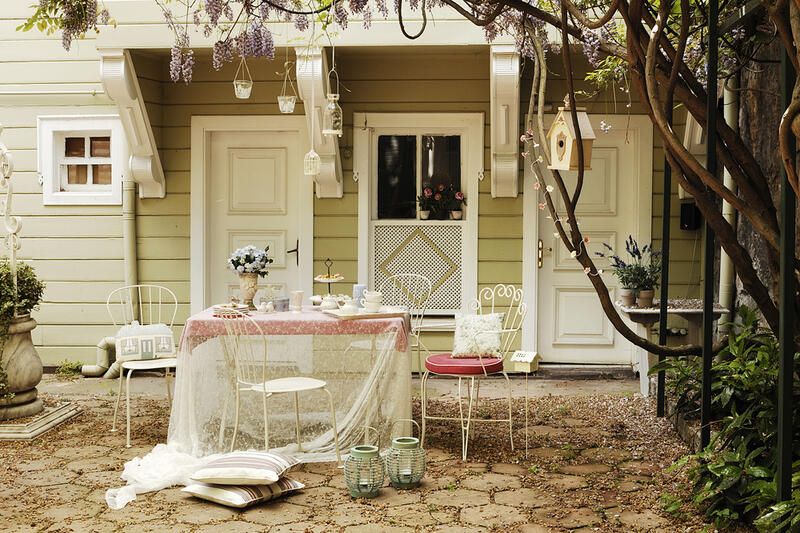 Outdoor Curtains
The magical creation of curtains isn't there to only monitor privacy inside your home. But outside too. You can hang outdoor curtains, and it'll give you both the aesthetics of the indoor living space, and some of its privacy too.
There are curtains specifically made for the outdoors, meaning they can handle the weather and the general outdoor roughness.
Outdoor curtains aren't extremely cheap, but they are pretty affordable for what they provide.
Plus, the thing that makes outdoor curtains one of the best options out there is the flexibility it gives you. Just like indoor curtains, you have the choice of closing them for privacy and opening it later at any given moment.
Outdoor Screens
Outdoor privacy deck screens make for really elegant and simultaneously cheap ways to block neighbors' views.
Outdoor screens are cloths, or other materials, that are hung on metal stands.
They are usually also easy to move around. So if you don't a fixed structure around a large landscape, you move this around depending on where you're hanging out, patio/deck or otherwise, to block any neighbor's view from any angle.
Fountains To Block Their Noise and Your Private Conversations
Screening cheap ways also include screening fountains. They aren't as cheap as other types but if you live in a noisy neighborhood or have particularly nosy neighbors, this outdoor privacy screen is a good way to block neighbors' views and access to your conversations.
They are also very aesthetically pleasing and can make a brilliant focal point in your yard.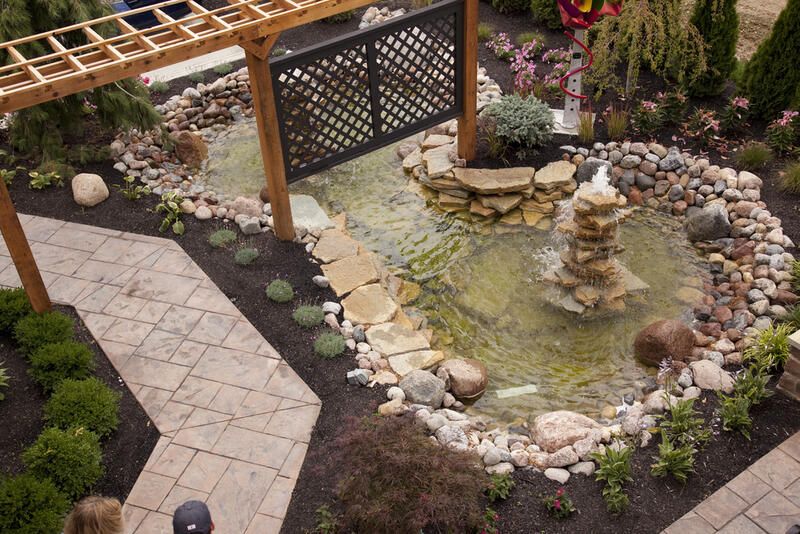 Fences
A traditional fence is an obvious choice for blocking a neighbor's view while also granting a layer of protection to your backyard, whether it's a dog or young children who might wander off.
And while fences aren't the cheapest option in the world to create privacy, a privacy fence doesn't have to be that expensive either.
There are tons of affordable options there for a private backyard.
Bamboo Fence
If it fits with the style and aesthetics of your garden, bamboos are a perfect choice.
They are incredibly strong and nearly indestructible, very close to any wooden fence in that sense, which means it would be a lifetime investment. Their thickness and the way they are structured means neighbors would have a hard time catching even a glimpse of your backyard.
Lattice Fence
A lattice fence is easy to put together, and a relatively cheap way to outsource wood or plastic for. Depending on your preference, you can have it made of natural materials or artificial ones.
Covered with plants and foliage, with maybe some potted plants around it to cover the bottoms, it'll completely block neighbors' view of your backyard.
This way, it makes for one of the loveliest cheap ways to block neighbors' views.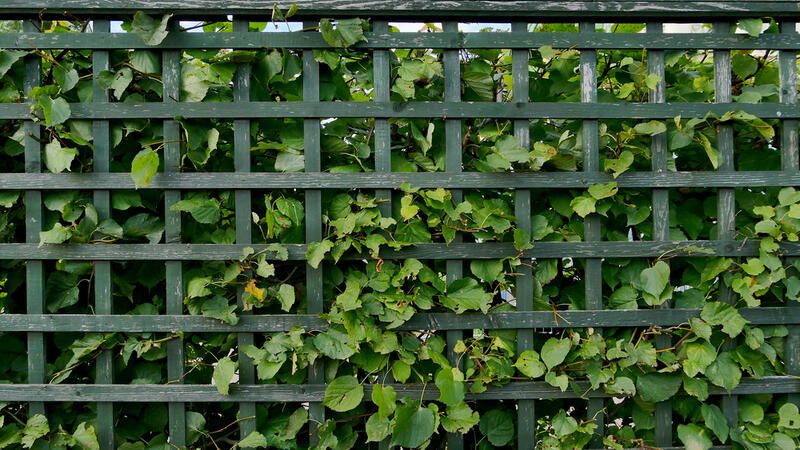 Corrugated Metal Fence
A corrugated metal fence is a guaranteed privacy fence. It won't let even a glimpse pass. And with how durable metal fences are, they are a very worthy investment.
It's very unlikely that you'll need to replace or fix this fence as long as you have your house.
One problem is, like bamboo, it won't necessarily fit any style of the garden out there.
But if that's not a problem with your garden, then you should consider it, as it's an amazing privacy wall that will block neighbors' views.
Wooden Fence
For a fence, you could also go for wood. Wood prices depend on the type and its strength, so you will likely find something to match your budget no matter what it is.
Wood fences are also preferred for their aesthetical qualities! With them, you can get both lovely and cheap ways to block neighbors' view.
Stone Walls
A stone wall around your garden is another excellent way to block neighbors' view.
Not only is a stone wall sturdy and likely to last a lifetime, but it would also be a classic, visually appealing addition to the aesthetics of your garden.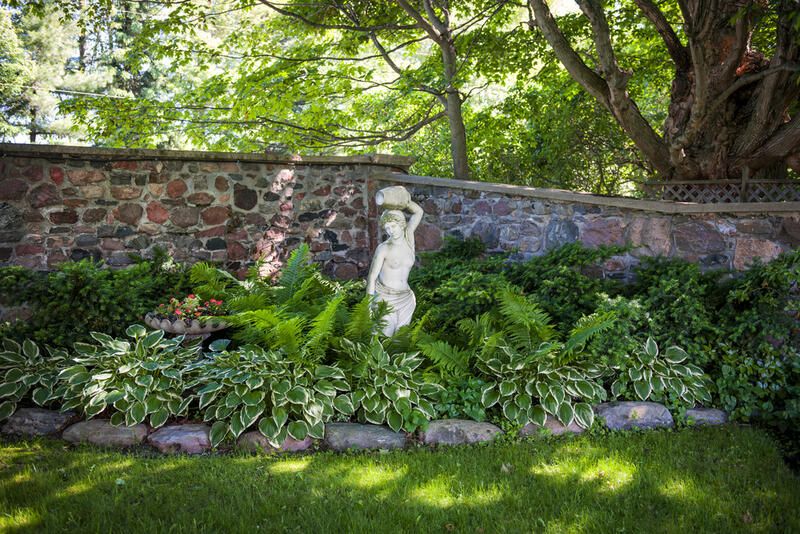 Masonry Wall
A masonry wall is perhaps one of the least cheap ways to block neighbors' views on this list, but to the point where it's not affordable. And it gives you value for the money spent.
Not only is it a fully secure way to get guaranteed and complete privacy, but it's also very likely to last as long as the house itself.
Otherwise, it's also very visually pleasing and will blend beautifully with its surroundings while keeping away any neighbor's view of your garden.
Lattice Screens
Lattice panels are also among the screening cheap ways to block any nosey neighbor from having good visual access to what happens in your private outdoors.
They can also beautifully complement your outdoor living furniture!
Covered Patio
Like overhead shade, covered patios are great to provide both shade and privacy from any overhead neighbors' view.
Covered patios are particularly perfect for a farmhouse exterior style if you want to go for that look.
And while those structures can't be guaranteed cheap ways to block neighbors' view, the price will greatly vary in many aspects.
It's cheaper for small patios, as well as cheaper if you have the skill set to implement it yourself.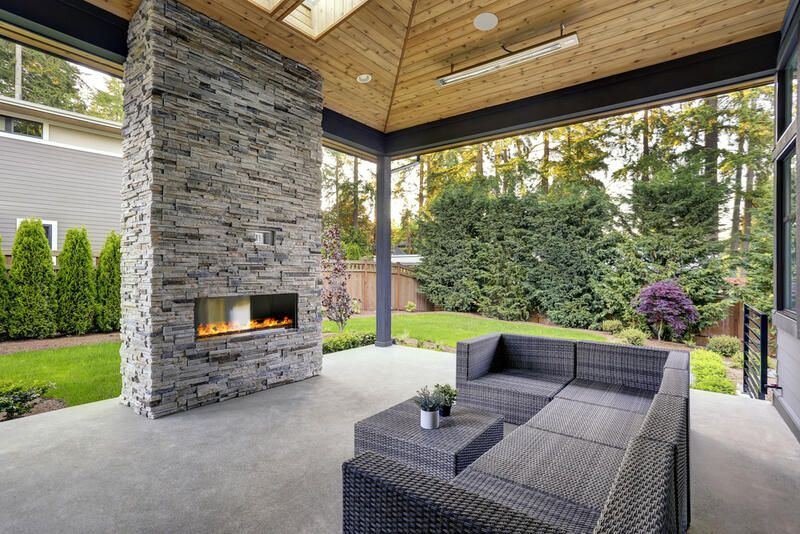 Wooden Boards For a Wall
You can make a wall similar to a wooden fence by using recycled bare wooden boards. The wooden look is especially lovely if you have a cottage-style garden.
It also fits with many other styles, as wood goes well with many things. And wood could also get painted to fit the scheme of your garden!
Either way, using wooden boards make for one of the really good and cheap ways to block neighbors' view.
DIY Fence with Old Doors and Windows
If you've recently renovated and have some old doors and windows laying in your garage, or if you want to make a fun trip to a nearby junkyard, then this idea is perfect for you.
It's one of the nicest cheap ways to block neighbors' view and is also just a very fun project to undertake.
You can make it colorful by painting the doors and windows different colors, to create a more playful and fun look for your garden, while also getting all the privacy you need.
Chicken Wire Privacy Screen with Vines
Chicken wires aren't naturally that beautiful. But they are very good protective screens around your garden, and with plants, and maybe some ornamental grasses around it, they can be completely transformed.
With your choice of plants, flowering plants or plain vines, or any other that you prefer, you'll get a great privacy screening that also allows sunlight in.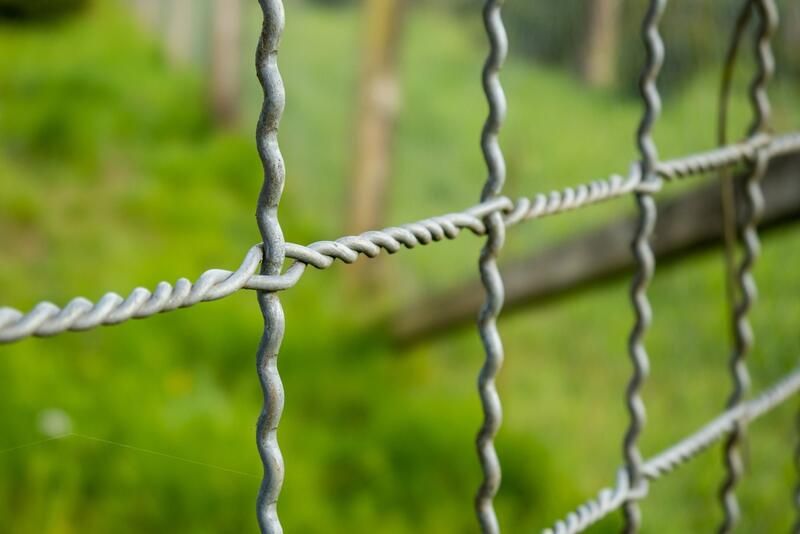 Garden Slat Wall
Garden slat walls are beautiful, cheap ways to block views of your garden, while also being relatively easy to sort out yourself.
You only need to dig two holes for the posts, each around 20 inches deep. Then once you put on the posts, pour concrete sand into the holes around them to make sure the posts are stable.
Then all you'll need is to install the cheap wooden pallets one by one, with enough space between one and the other.
The structure will be beautiful in its own right, but you can hang it on flower pots to make it even more stunning.
And if you want to make sure there are no spots that allow insight into your yard, you can use large potted plants like clumping bamboo.
Wrapping Up
One last note is, before building or purchasing any new structure, pay attention to your city's building codes so that you don't accidentally end up spending more money on fines if you break local building codes and had to erect what you built.
Another way to save money when you're thinking about screening cheap ways around your yard is to consult and hire a professional landscaper. This might sound counterproductive but in truth, it isn't. You might save short-term money on labor costs, but lose that money when you have to re-build something that wasn't installed correctly the first time.
With Shrubhub, you won't have to worry about any of that. As our natural process takes place online, you can contact our representatives any time from the comfort of your home, and the entire process will be taken care of for you. Beginning with complete adherence to local laws so you don't have to worry about any problems, to choosing the perfect screening cheap ways for your yard depending on our experience, your preferences, and needs which are our top priorities!
And of course, by giving you a 3D view of how your yard would look with the new additions before implementation so that you're perfectly sure everything is what you want it to be and your yard looks the most perfect to you!