ShrubHub's Top 10 Trees for Small Gardens
Published: 24/01/2023 | Updated: 23/04/2023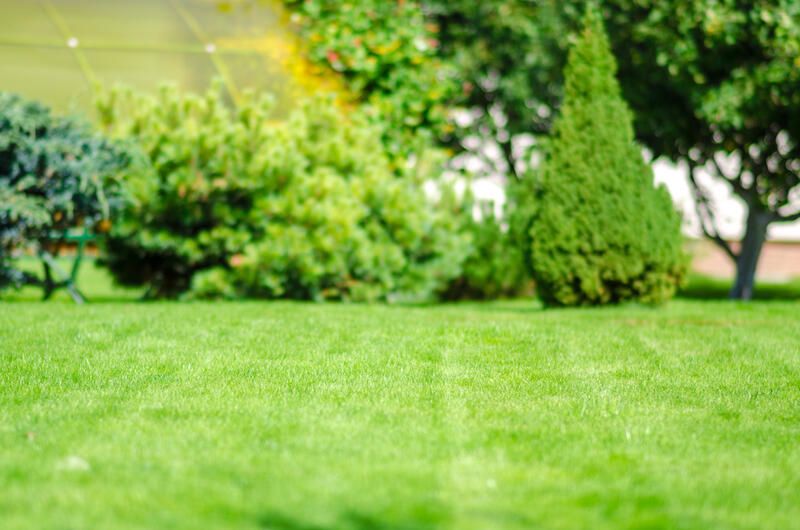 "Change is the only constant in life", says the adage. Just like our daily life, a garden is forever subject to transformation and evolution because it is never finished! It is rather a masterpiece in the making, constantly developing with every passing season.


Whether it is a newly-discovered trend to test, an exotic plant to grow, a hot tub to install, or a recent theme to dress up your yard with, there's always something new to give your outdoor space a fresh flavor.
As a fan of your garden, you are unceasingly improving your landscape design, enhancing one section at a time, and constantly freshening up your outdoor decor.
In support of these positive changes and ambitious evolution, take your small garden to the next level with a simple design tweak: planting a tree in the right spot. It doesn't matter if you have a huge garden or a small one, a tree is a bold statement that gives your yard an ethereal feel and a spectacular display that follows.
Are Trees a Waste of Space or a Design Splash?
Aesthetics
Spellbinding, trees more than often are the way to go when it comes down to sprucing up your abandoned yard, turning this empty small space into your hideaway.
From the myriad hanging leaves that flock together, deep-rooted wooden trunk, and grandiose aura of its actual size and shape, and down to the festival of green shades and naturally-carved homes for birds; trees are for sure the definition of beauty.
Envision yourself laying down on the grass, enveloped by the sacred presence of nature. Shades and sunbeams in a perfect marriage, the wind gently caresses the delicate leaves, birds chirping, and hues of green ooze tranquility and hopefulness.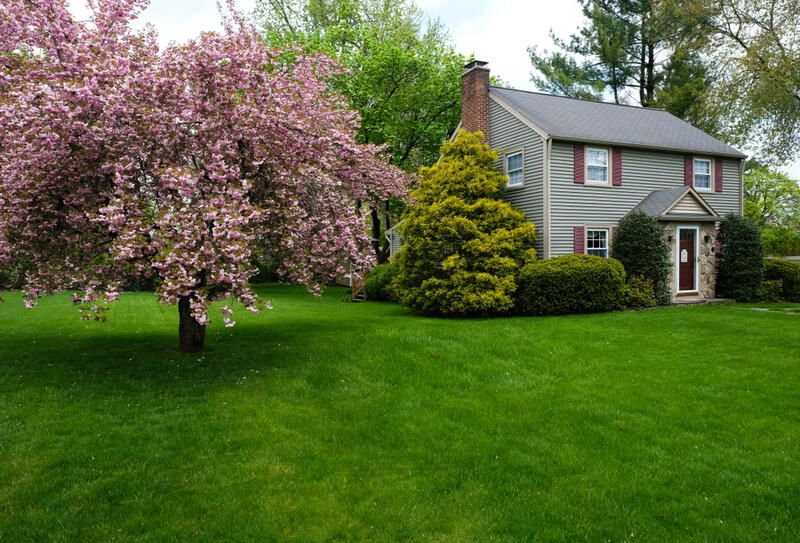 Practicality
Casting a dappled, leafy shade over your outdoor space, trees never fail to bridge the dreaded gap between functionality and style in your garden. Trees (literally) have a ground-to-sky appeal, selflessly gifting your small garden a restful interlude, naturally ready for you to enjoy any time of the year.
Beyond the irresistible beauty of its shade, small trees serve as an architectural structure, be it in the form of a focal point, a privacy screen, a canopy, or a zone divider.
A simple modification such as growing a small tree can set your garden apart from the rest of the neighborhood. Not only do they reduce noise levels, purify the surrounding air, prevent erosion, and increase the value of your home but also serve as a wildlife habitat.
What Happens If You Plant the Wrong Tree?
It might sound ridiculous to you that after all the aforementioned perks of growing a tree, there could ever be such a thing as a "wrong" tree.
There's no doubt that trees give your outdoor space an irresistible charm, but in this particular case, size is key to this charm. Imagine opting for a certain tree, and planting it in your small garden, only to find out later that it has overgrown your tiny space.
Devouring every other element of your landscape design during its growth and somehow taking possession of your land, this huge tree (although majestic in a larger garden) is now your living nightmare!
In short, the key to pulling planting a tree in a small garden is to learn more about them. And if you own a tiny garden but still are in search of a gateway from which you can tap into the marvels of nature, spring for growing your favorite tree and revel in this strong link with nature.
We've rounded up the top 10 small garden trees so you can find the perfect fit for your garden: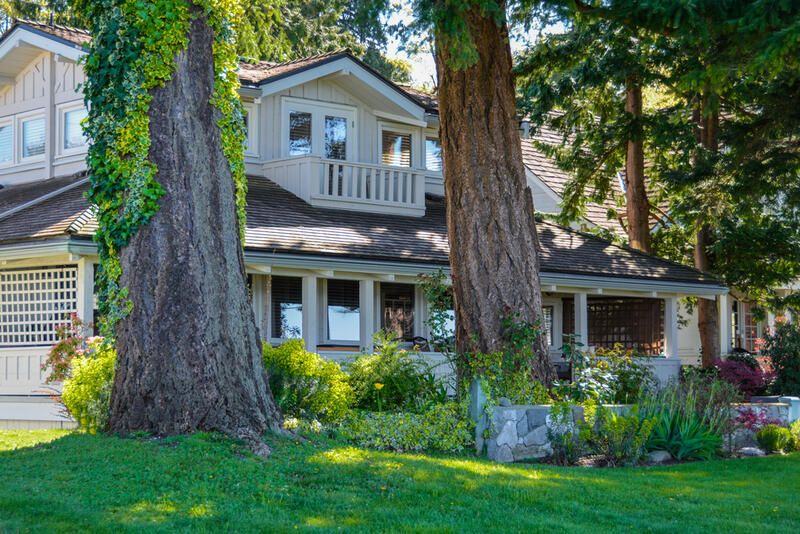 1. Smoke Tree
It's everyone's dream to pull off a bold statement in their garden, one that draws their visitors' eyes up, serves as a focal point, and adds a little flare to their abode.
If this is your dream too, a smoke tree is a way to go. Bizarre and awe-inspiring, this tree (as the name gives it away) boasts airy clouds of smoke with attractive reddish fall foliage.
Growing up to 10 to 15 feet tall in full sun and well-drained soil, this fluffy tree adds a touch of singularity to your garden with extremely bright fall color, lovely spring blossom, and deep pink flowers that bloom from late spring to mid-summer.
2. Japanese Dogwood Tree
Evoking feelings of delight and pleasure whenever coming across its angelic scenery, Japanese dogwood is a fairly slow-growing tree and is broadly recognized for its delicate beauty.
This captivating dogwood is one of the stunning-to-behold fruit trees because of its star-shaped white flowers that pop up in your outdoor space in the early spring. As a lovely surprise, in early summer, this tree gifts you a strawberry-like fruit.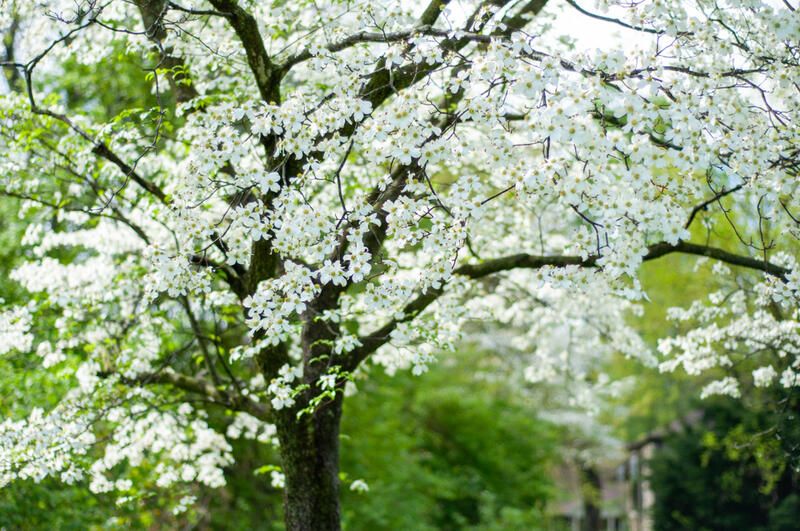 3. Magnolia
Blossoming tulip-shaped, flushed flowers, magnolias add a posh look to your abode with their rose-pink flowers. Talk about making an entrance: a magnolia tree not only captivates your visitors with its romantic vibe but also greets them with a sweet perfume.
Magnolia trees are a perfect fit for small gardens as it boasts a delicate display of pretty petals that wouldn't overcrowd your garden.
For a magnolia to thrive to its full bloom, make sure they are planted in a sunny yet sheltered spot.
4. Acer Palmatum
Commonly known as Japanese Maple, Acer is a fiery tree with a rich autumn color palette of blazing orange, deep burgundy, and rich pink.
Requiring an average water need, full to partial sun exposure, and low maintenance, a Japanese maple grows up to 10-25 ft. tall, magically dressing up your garden with dazzling colorful foliage, elegantly-shaped leaves, and a majestic presence all year round.
Acers come in a variety of shapes and sizes, allowing you to select the one that can best complement your small garden.
5. Crab Apple
Who wouldn't want to light up their garden with adorable clusters of colorful blossoms? Aside from casting varied shades of purple, pink, yellow, and gold, the crab apple tree introduces richly colored fruits.
Although crab apples are not as popular as regular apples, they still make delightful jellies and give your outdoor space a quintessential glow.
Pick a sunny spot and moist soil to give this tree the ideal growing conditions it needs to thrive.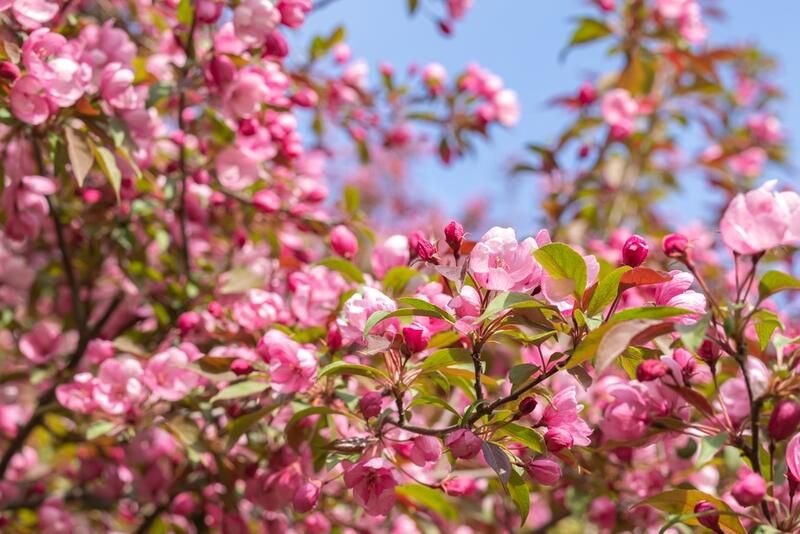 6. Rowan
Known in history as The Tree of Life, the rowan tree symbolizes bravery, wisdom, and protection. Feather-like and delicate, its leaves cast fresh green shades over your garden every spring, instantly giving your compact garden a facelift.
Every Rowan berry is embellished with a captivating red color complemented with hints of orange. As for its flowers, the rowan tree showcases dense clusters with creamy-white petals brightly glowing in the air.
7. Olive Tree
Posing as a slow-growing small tree, the olive tree is perfectly suited for compact space as it grows up to 6.5 ft. in 10 years.
Adorned with silvery foliage, a leathery trunk, bundles of aromatic white flowers, and flavorful fruits; this evergreen tree dates back to ancient Greece and summons the Mediterranean charm to be celebrated in the heart of your garden.
8. Seven-son flower
Let a Temple of Bloom take center stage in your small garden! Displaying a year-round beauty, the seven-son flower tree features large, curling leaves, peeling bark, and sweet-scented white flowers.
Come August, every other form of nature gradually withers away and turns into a colorless structure. In contrast, this long-blooming tree keeps on attracting bees, butterflies, and hummingbirds with its delicious flowers. And when they eventually fall to the ground, the tree unveils stunning vivid red bracts.
Simply, a seven-son flower tree's unyielding beauty never fades away!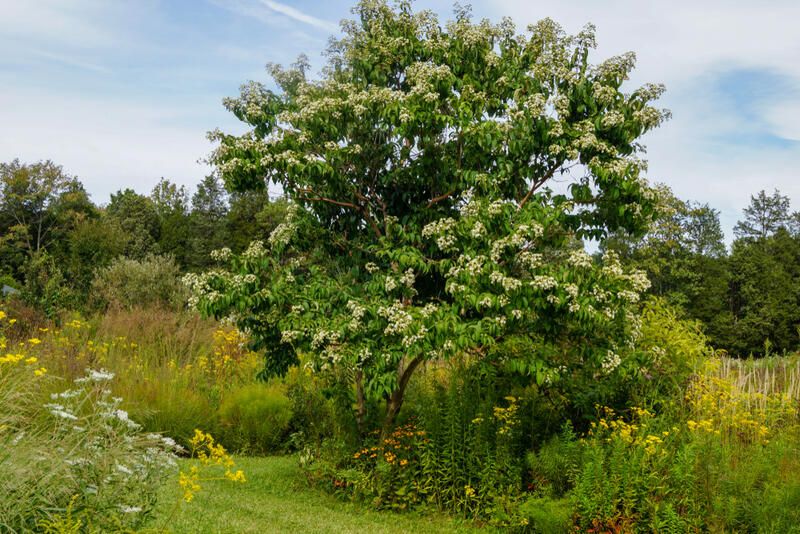 9. Amelanchier
Also known as juneberry or serviceberry, the Amelanchier tree shows off two palettes throughout the year: dreamy, white star-shaped flowers in spring and fiery red and lively orange shades in autumn.
With its otherworldly, snowy glow, this tree grows reddish-purple berries that form a tasty meal for the birds.
10. Silver Birch
If you are looking forward to adding an elegant accent to your small garden, go for the pale beauty of the silver birch trees.
Even though there are fairly huge ones, Betula Utilis Jacqumontii is a medium-sized one with a shimmering white bark that poses as a stunning architectural feature in your outdoor space. And to get the best results, grow your silver birch in moist but well-drained soil and full sun to partial shade.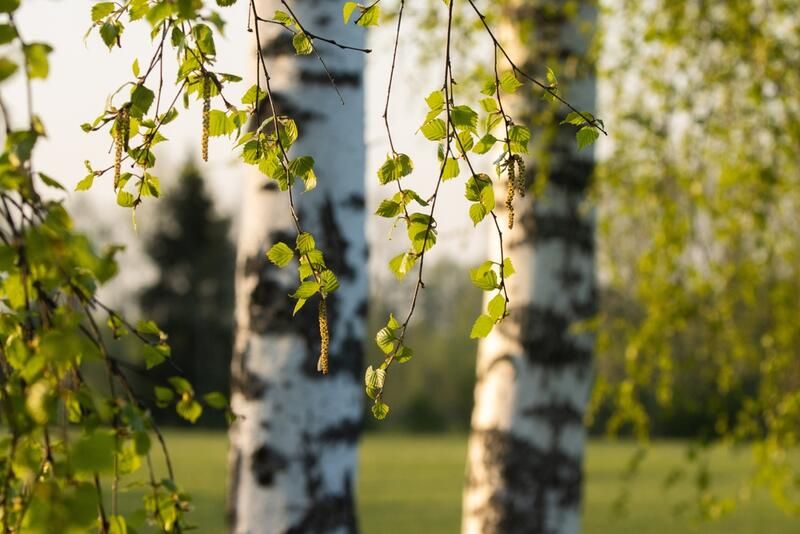 Bottom Line
We have already established that introducing changes to your garden is a great way to improve it. However, whenever garden owners consider a dramatic change, they somehow fail to remember the majestic impact of a tree.
What better way to make a bold statement or add a pop of color to your small garden than by planting a tree? Imagine a small tree with yellow flowers that creates a stark contrast with its surrounding elements. Such a simple adjustment makes a huge difference in your landscape design.
Willing to learn more about trees in your landscape design? Reach out to ShrubHub's team of talented designers to know more about the best tree pick, that one piece of art that will make your garden shine!