Outdoor Plant Stand Ideas to Spruce Up Your Yard
Published: 25/01/2023 | Updated: 14/04/2023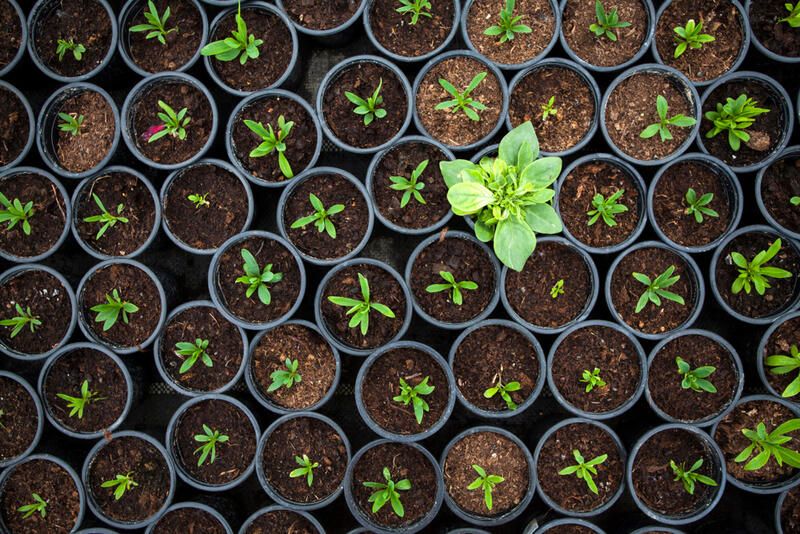 Ready to give your favorite plants the spotlight?


We all love showing off our best garden features and favorite plants and we constantly look for ways to highlight them.
Plant stands are great garden additions that just fit the pill!
Outdoor plant stands do not only highlight certain plant pots, but they also add visual interest to your patio and help keep your potted plants organized and well-maintained.
If you're looking for ideas to display your outdoor potted plants, you're right where you should be! Here's everything you need to know.
Types of Plant Stands
1. Corner plant stand
Corner plant stands are often multi-tiered triangular-shaped structures designed to fit into a corner wall.
They are available in a variety of materials such as wrought iron and wood, and a handful of designs to suit all garden preferences.
Corner stands are an ideal fit for a decorative touch to the corner wall next to your front door or patio.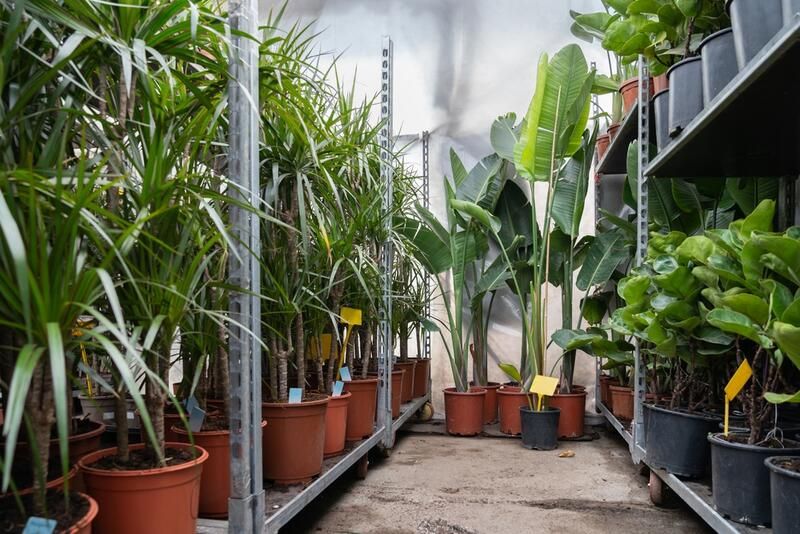 2. Hanging plant stand
Hanging stands are standalone features with pendulous spots from which you can hang plant baskets.
These plant stands are available in different styles and are mostly made of wrought iron.
Hanging plant stands can add visual interest to any spot in your garden and will highly complement an English garden or a Mediterranean setup.
3. Pedestal plant stand
These stands are mainly used to highlight a certain plant or make it more visible by giving it height.
Pedestal plant stands are decorative items themselves as they're available in a variety of materials and styles both contemporary and classic.
4. Multi-tiered plant stand
Multi-tiered plant stands are the perfect patio piece.
You can create an herb garden, display multiple beautiful plants, and add picture frames and books to the cut to create the perfect outdoor living space.
Multi-tiered stands are great for texture display.
Place big-leaved plants on top levels and smaller ones on lower tiers for maximum visual appeal.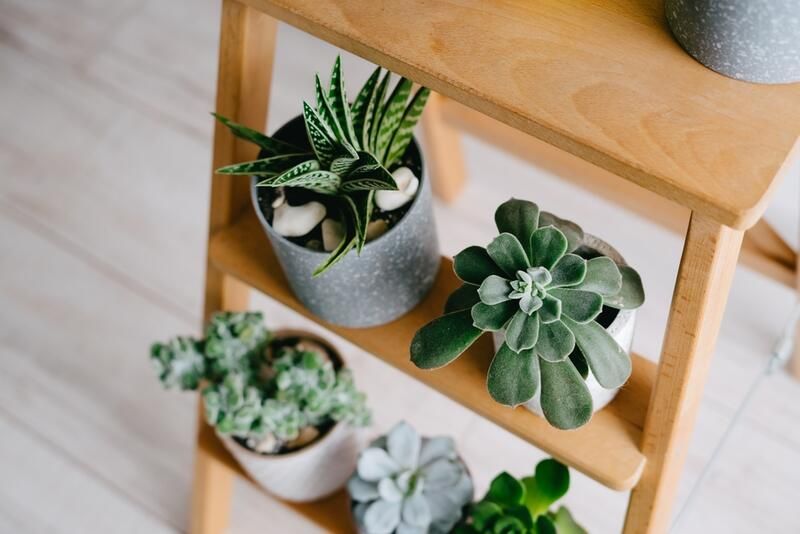 Some Outdoor Plant Stands
Now that we've covered the most popular plant stand types, let's go over some great materials and preset plant stand options.
1. Wooden plant stand
Whether you're looking for a DIY project or preset plant stands, wood is your best friend.
A wooden flower stand is the easiest way to add natural decoration to your space as the natural wood look will blend right into your garden.
Wooden plant stands come in a variety of shapes and sizes to fit all your garden needs.
1.1. Mid-century plant stand
A midcentury plant stand is a wooden structure designed to fit one plant pot.
The minimalistic design of the stand shifts the eye to the plant its holding and increases its appeal.
Midcentury plant stands are best used to hold decorative minimal pots and plants with big glossy leaves for the best display.
1.2. Bamboo plant stands
Bamboo plant stands are perhaps the most natural looking among all others on this list.
Whether you opt for a spiral stand or a single plant display stand, bamboo is granted to add an aesthetically pleasing touch to your garden space.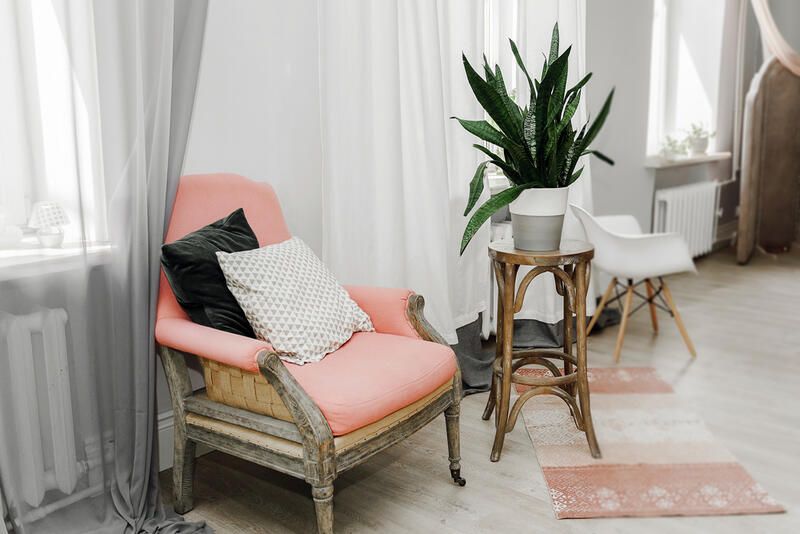 2. Wrought iron plant stands
Long-leaved plants hanging over wrought iron are a pretty view.
The material is super sturdy and has a look that works perfectly with different plant textures.
Wrought iron flower stands are available in a great variety of designs. Some of them are Victorian, pedestal, multileveled, basket design, and Mexican.
3. Copper plant stands
Copper makes perfect modern plant stands.
A copper round plant stand is ideal for brightening touches over a contemporary patio or hangout area.
The shiny color of copper plant stands paired with deep green plant leaves will create a color contrast that is an instant eye-catcher.
Best Partial Sun Patio Plants
Decorative plant stands are better paired with big, beautiful foliage.
Here are some of the best partial sun patio plants to display in your outdoor living space.
Hostas:
Hosta is a perennial plant with big waxy leaves in different hues of green.
Hosta plants are ideal for a patio setup as they thrive in the shade with minimal maintenance.
Maintenance tips: Make sure the soil is always well irrigated and never let it dry out. Place your plant where it can get an hour or two of direct sunlight a day.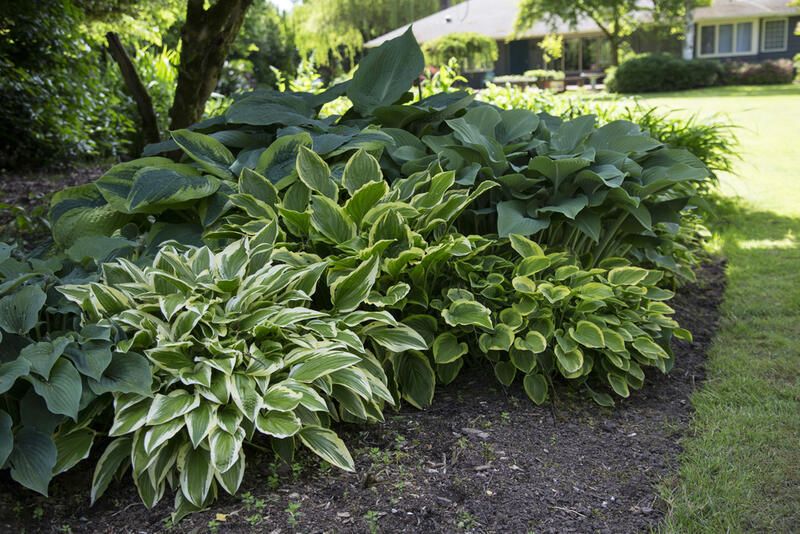 Calathea Orbifolia:
The gorgeous orb-shaped leaves of Calathea Orbifolia make it a head-turning addition to any patio space.
This perennial plant is a humidity lover and is best kept in a spot where it will be visited by daylight (indirect sunlight).
Elephant ear plants:
You're probably familiar with elephant ears as garden plants. They're well known for their huge heart-shaped leaves and can grow up to 3 feet long.
Elephant ear plants are best placed in a sunny spot and require regular watering and well-drained soil.
Cordyline:
Cordyline is an evergreen shrub that thrives in partial shade.
The spikey colorful leaves are what give them their visual appeal and make them ideal as both indoor and outdoor plants.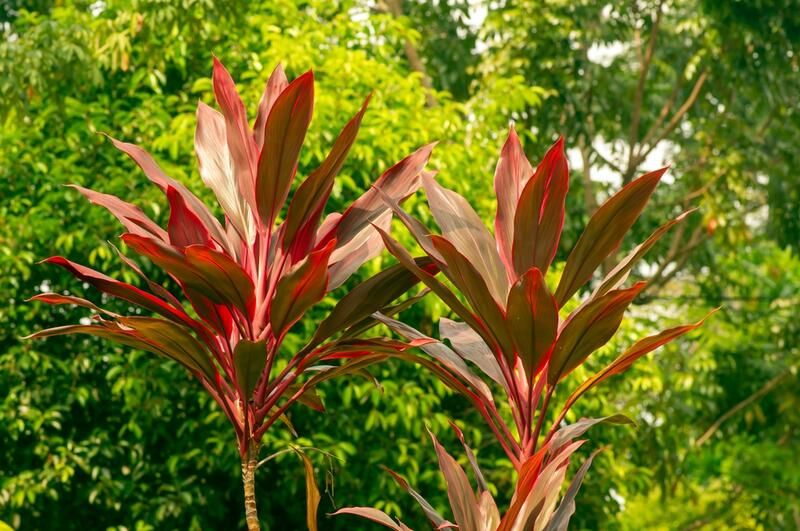 DIY Plant Stand Ideas
1. Ladder plant stand
A ladder plant stand will create horizontal visual interest and keep your potted plants organized.
A great way to use them in a garden is by making a flowering perennial arrangement.
This will make a focal point feature that will beautify any spot in your garden.
You can create your ladder stand with wooden posts and pieces of scrap wood.
2. DIY concrete plant stand
You can create a one-plant display modern plant stand using concrete for the base and broomsticks for the legs.
This will create a round top 3-legged plant stand that will give your pots height interest.
you can elevate your project by spray painting the top part of the legs with a flashy color.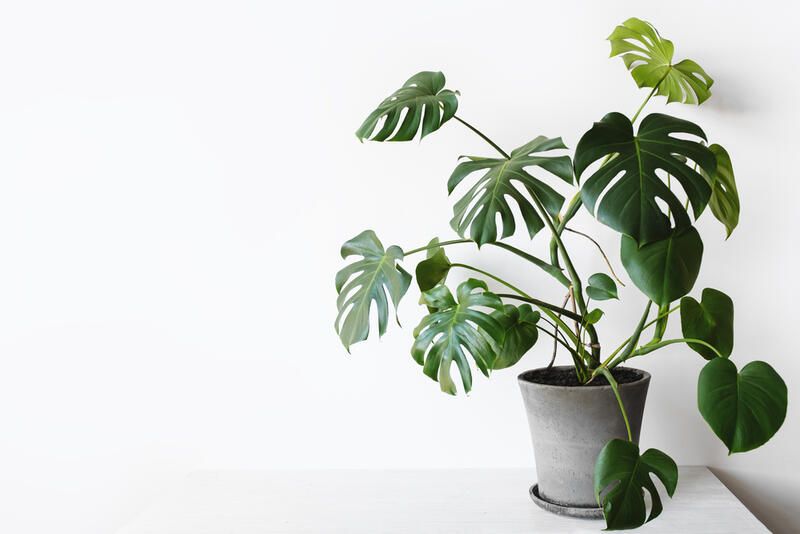 3. Frame plant stand
You can create one by lining and attaching pieces of scrap wood vertically and horizontally and attaching smaller plant pots or mason jars to them.
This project is ideal to add interest to a blank garden wall.
4. Floating plant shelves
Floating wooden shelves give effortless interest to any blank wall you have.
Attach your wooden shelves to a patio or garden wall horizontally, place your potted plants and other decorative items and enjoy your newly created artwork.
5. Hanging plant shelves
Hanging wooden shelves are also very simple but impactful decorative pieces.
All you'll need is good-quality rope and pieces of wood.
You can optimize the size depending on the space you need it for by increasing or decreasing the number of wooden boards used.
6. Wooden crates
You can create a fascinating plant stand by tying old wooden crates together in different orientations and placing potted plants inside the crates.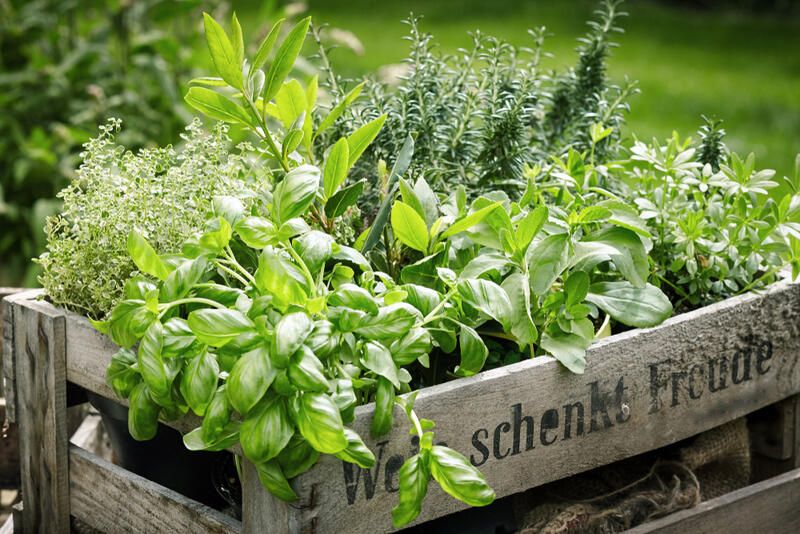 7. Old window shutters
Old window shutters can serve the function of a wall frame plant stand.
By painting old shutters and tying plant pots through the wooden boards, you can recycle them into nice decorative garden features.
Create Your Own Garden Design
Ready for a big change? Shrub Hub's passionate design experts will help you turn your house into a home!
Our designs are tailored to fit your preferences and surrounding conditions all while giving you a detailed plan to rely on throughout your renovation journey.
visit Shrubhub.com and catch up on our cyber week 70% specials.