Outdoor Hardscape Design Tips
Published: 11/10/2022 | Updated: 29/03/2023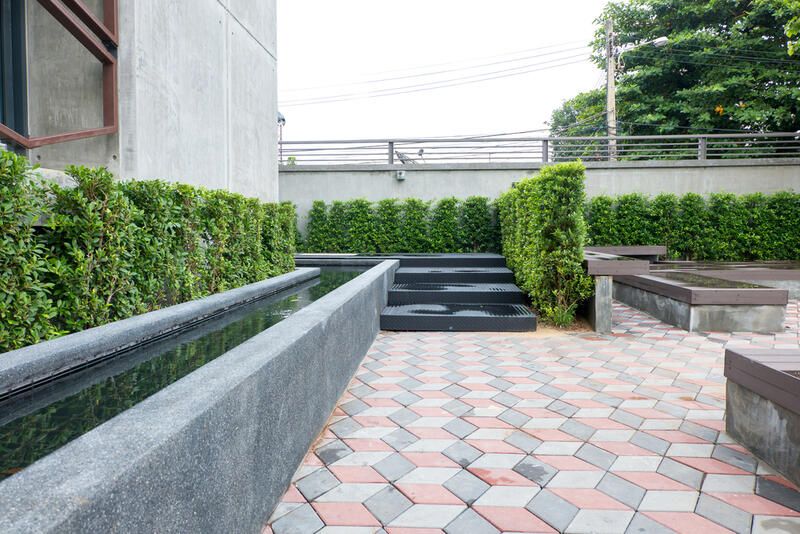 Hardscape
You may have come across terms like softscape or landscape if you're a homeowner, though one question our experts tend to get a lot during our one-on-one design consultations is "what is hardscape?"


A lot of people will probably turn out to be familiar with the process of hardscaping as well as its definition once it has been explained to them, but what type of hardscape is suitable for your conditions, house style, and zone, and which hardscaping features will help increase your property value and bring in.
We will go in-depth on everything you need to know about hardscape! What hardscape materials are, which ones are the best suiting for your area, what features will increase your home value and more tips to consider when working on your landscape design!
What is Hardscape?
Now for the golden question, what is hardscape? Hardscape in the most basic term is anything in a landscape setting that isn't plants or vegetation so it's pretty much non-living elements that are man-made.
Some examples of hardscape would be decks, patios, driveways, pathways, and structures like pergolas.
Benefits of Hardscape features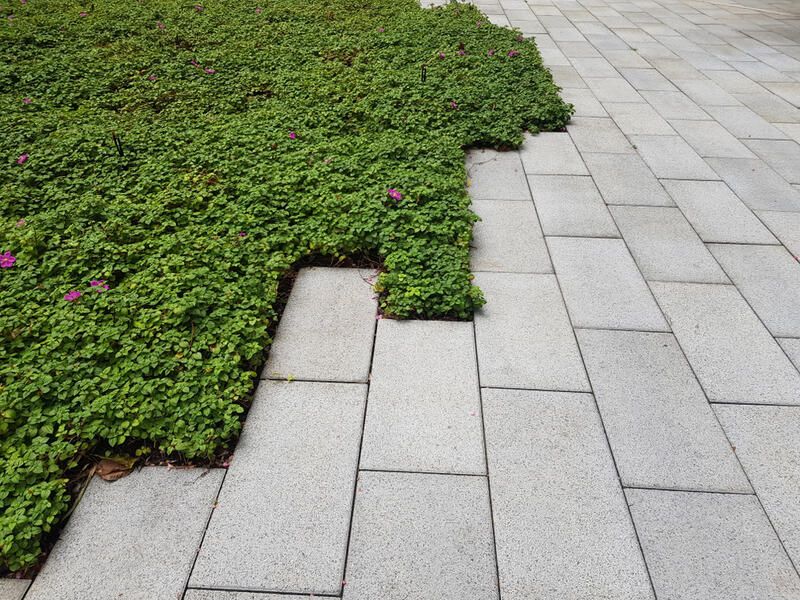 Hardscape features will generally increase the functionality of your outdoor space and make it feel like an extension of your house! The functionality point does not only apply to patios and outdoor living areas but also walkways and driveways since they tell people where to walk and park.
They're also low maintenance for the most part, as they typically don't require a lot of maintenance after installment! They also reduce space that could've been used for lawn or vegetation which are typically high-maintenance elements, this also makes them more environmentally friendly as they help preserve water!
Hardscape elements also give visual appeal and help highlight the style of your home and your other landscape features, making them more defined!
Choosing Hardscape materials for your landscape design
Choosing the most suitable hardscape materials for your yard depends on a few points like the conditions of the area you live in like whether you're in a dry area or you get a lot of rain, personal conditions like the presence of younger children, and most importantly, the traffic and use of the area you're looking to hardscape.
Choosing the right hardscaping design is also as important since you should be thinking of the space you have available for work and the style of your home to ensure that the design you're choosing, will suit your house and add value to it.
Driveways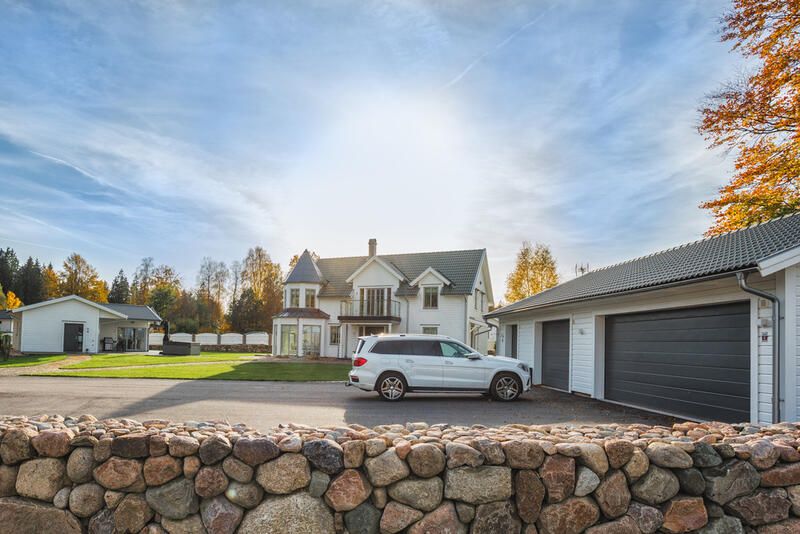 If you're choosing a material for your driveway, you should consider something sturdy, durable and that will handle all the car and foot traffic.
Concrete is the hardscaping material that's used most for driveways since it offers a smooth durable surface for cars to park. Concrete also handles most conditions so it's suitable for most climates. It also is very customizable and offers a variety of colors and shapes so you can adjust it to fit the style of your home and the rest of your yard design.
Best patio materials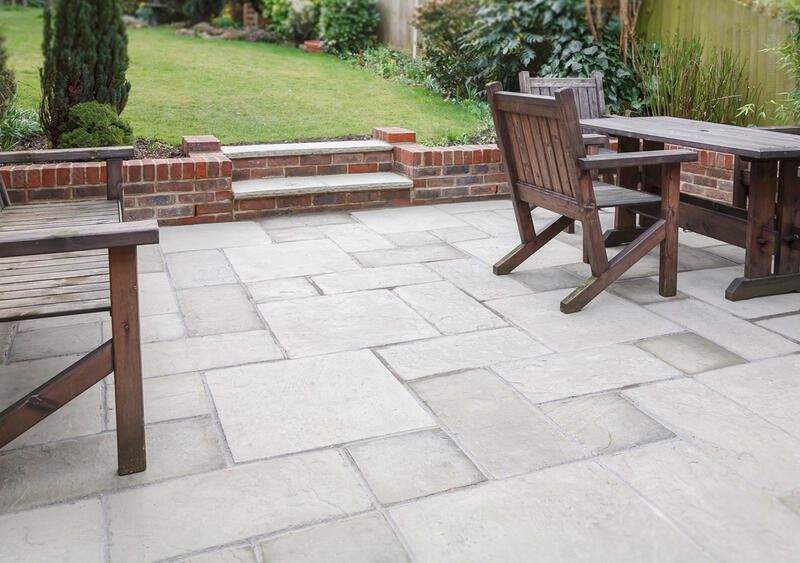 Installing a patio is one of the features granted to raise your property value, (as stated by many real estate agents) if installed correctly and using the right materials!
The most popular patio material is concrete, for the same reasons discussed previously as well as its affordable nature, though to make it sturdier and prevent cracking, a lot of homeowners choose to do pavers instead, paving slabs give the concrete more versatility and make it more durable.
Another very popular hardscape material for patios is a natural stone, offering an elegant appearance for timeless designs, natural stone adds great value to your house! natural stones are considered a more expensive hardscape material, though it's sturdy, elegant, and won't require a lot of maintenance in the future!
Permeable materials
Permeable materials allow water drainage which prevents flooding that happens due to drainage issues or rain from happening near the patio! They also tend to have loose designs and are as sturdy as any other patio's hardscaping material.
One of the most popular permeable materials for hardscaping is gravel and its many forms like crushed aggregate, white marble chips, and pea gravel. These materials tend to be very affordable and easy to work with as you can shape them into any design you prefer!
Best materials for decks
A deck is an elegant element that will add functionality and value to your outdoor space and extend your outdoor living area, here are some material options if you're considering one! You will most likely have to narrow your options by choosing between either wood or composite elements.
Wood decking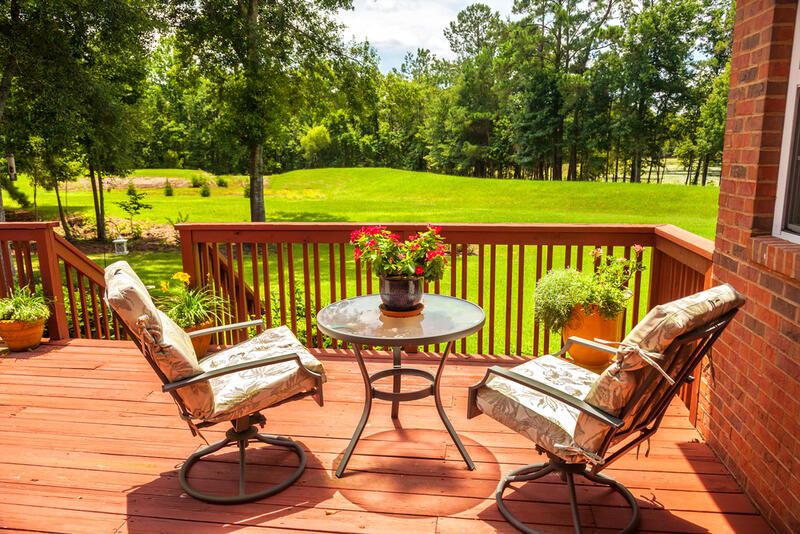 Pressure-treated wood is one of the most popular options for wood decking! It's treated with natural insecticides and anti-rot substances and can be stained for customization! The other popular wood material is cedar\natural wood decking. Cedar is considered an overall higher quality material and it's also very easy to work with so if you're a DIYer this might be your best bet!
Other decking materials
PVC plastic decking is a very popular non-wood material for decks, it offers a wide range of qualities, but higher-quality PVC is much sturdier than wooden materials and requires a lot less maintenance since you won't have to stain or redo it. it also offers a great range of colors, so it'll be very easy to style with any type of home!
Shapes and Mixing materials
When working on a landscaping design, you might get caught up in choosing the right materials and features and end up with a design you're not happy with, that's why keeping in mind the designs you're drawn to is as important as choosing good materials! Mixing materials like pavers and turf or gravel will give you a unique design that won't go out of style when the trend dies!
At Shrubhub landscaping, our experts share their vision for your area with you through previous design samples or inspirational designs to ensure their understanding of your style! Our design experts are passionate about presenting new and creative ideas for a beautiful space you'll enjoy for years!
Creating a functional outdoor space
To create a functional outdoor space, you have to make use of all different areas to it's both usable and not crowded as well as add design features that will bring you out to use the yard!
Retaining walls
If you happen to have a slope, you'll know it can be a great waste of space, retaining walls will maintain the soil and retain the slope giving you more flat areas to work with either by adding other features for functionality or by maintaining a beautiful garden! you can use bricks, natural stones, and many other materials to retain a slope.
Outdoor Kitchen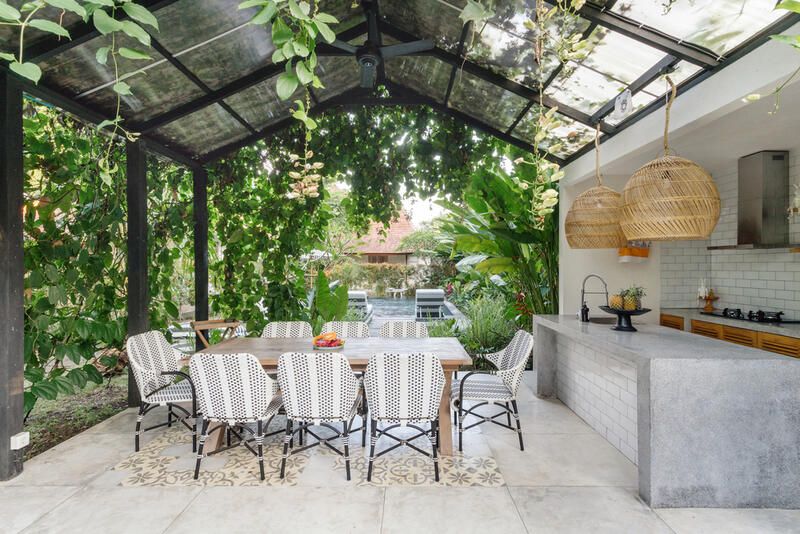 Outdoor kitchens add another functional area to your backyard to entertain, dine, and gather with your family and friends! you can hang a tv or include a bar addition and have the best family times!
Hardscape features
Using hardscape elements like paths and edging can help your yard look more planned and defined! You can easily do them inexpensively as well. Some examples would be using gravel paths to create an area for people to walk up to other features or using brick edging to separate between different flooring materials like mulch and grass for a more defined look.
Fire and water features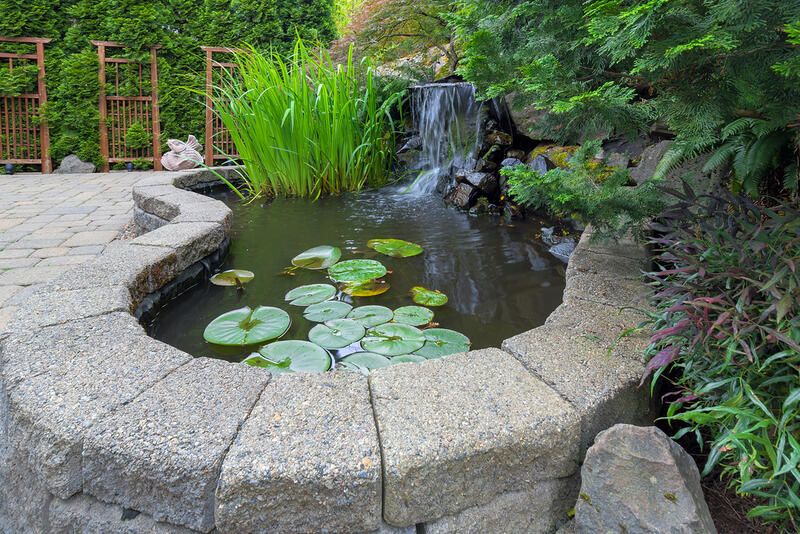 Water fountains can be used in backyards for noise reduction or for front yards to provide a beautiful focal point amidst the landscaping, they come in all sorts of shapes sizes, and styles from modern to traditional. so you'll find a suitable one no matter what your concern is!
Fire pits are also an addition that will give you more spots to entertain, there are built-in options for a more authentic look and portable ones if you're afraid of commitment. They will make a great gathering spot for all family members as well as a way to still go outside on colder days!
Pergolas
Adding a pergola will not only give you shaded areas to shield from the cruel sun, but they also add a great aesthetic to your yard as well as added value! They vary in shape, colors, and materials so you'll be able to find a suitable option for your yard!
Final thoughts
Working on landscaping projects by planning plants, trees, shrubs, and flowers is great when trying to create a beautiful garden but finding the right ratio between hardscape to soft scape is essential to creating a space that's both functional and beautiful! Visit shrubhub.com and start your landscaping journey with one of our talented design experts!