Our Guide to The Most Charming Perth Native Plants
Published: 28/10/2022 | Updated: 29/03/2023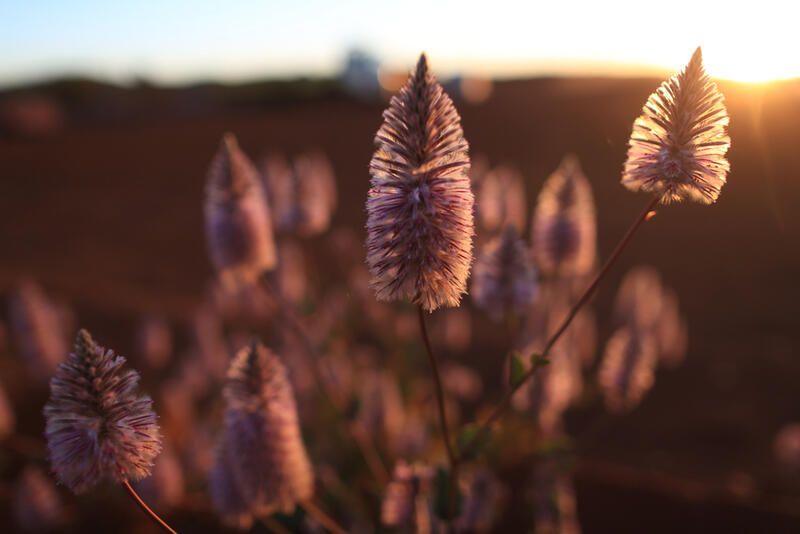 With its distinct climate and hot summer months, Western Australia presents a few challenges when it comes to designing a luscious garden.


Native Australian plants typically need far less watering than other types.
Once established, they are drought resilient and normally require minimal maintenance, making them the ideal choice for our dry Australian climate.
Fortunately, Perth is home to a myriad of native plant species, which are perfectly adapted to WA weather.
With so many species to choose from, there are also countless opportunities for creativity! Australian native plants fit with practically any garden design, from Mediterranean to tropical.
Read on for a list of some of our favourite Perth Natives to attract native wildlife and brighten up your landscape design!
Bacon and Eggs (Eutaxia Parvifolia)
Eutaxia Parvifolia, also known as "Bacon and Eggs," is a species of evergreen shrub belonging to the Fabaceae family.
With its eye-catching red and yellow flowers, this vibrant shrub blooms from August all the way through December, and with a height ranging between one and two meters, Eutaxia Pavifolia is typically grown as an informal hedge.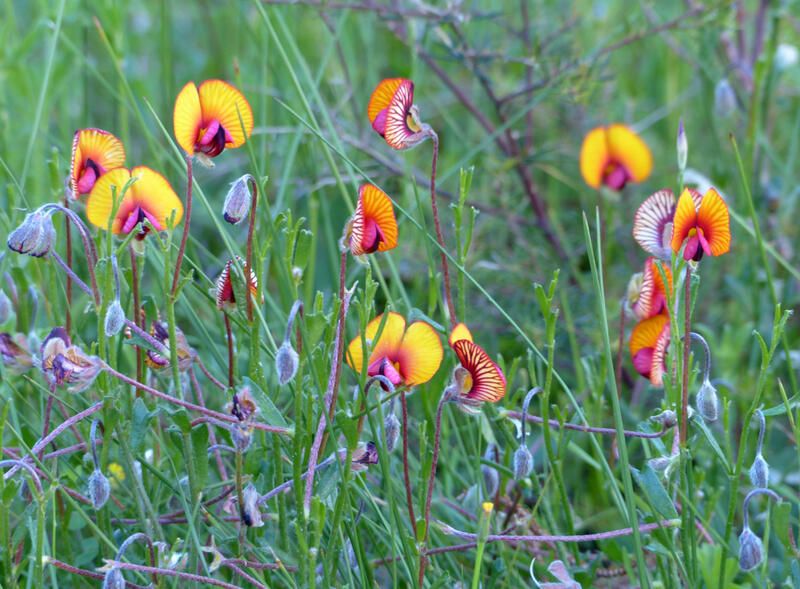 Common Everlasting (Chrysocephalum Apiculatum)
This small native perennial plant blooms all year long and has numerous yellow button blossoms that hang low to the ground.
With its bright yellow colours and delicate daisy-like cream flowers, this full sun-loving plant makes a great addition to any landscape.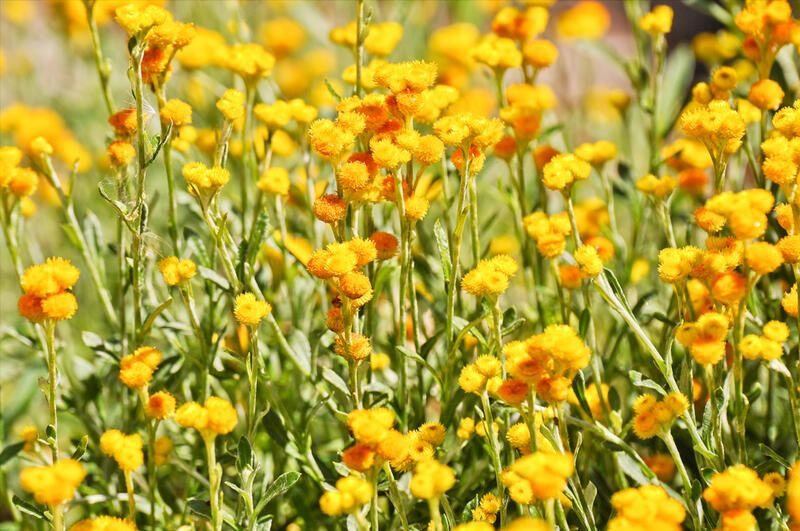 Bower Plant (Pandorea Jasminoides)
The Pandorea is the perfect creeper to add to your garden. Another low-maintenance plant, its charming trumpet-shaped flowers are a delight.
In spring and summer, the pandora blooms in a variety of hues, from white to pink flowers.
Their attractive flowers and dark green foliage make the Pandorea a popular choice among Perth gardeners for wall gardens, archways, and pergolas.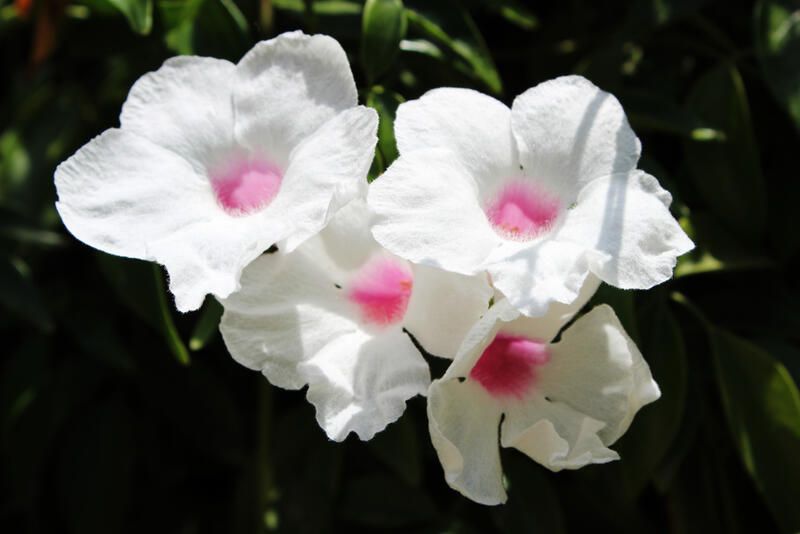 Snake Bush (Hemiandra Pungens)
This robust lovely mauve bloom, with its bright mid-green foliage, makes for an attractive addition to any garden style and is perfect for the warm Perth weather.
It is quick to mature and tolerate a range of climate conditions from full sun to partial shade.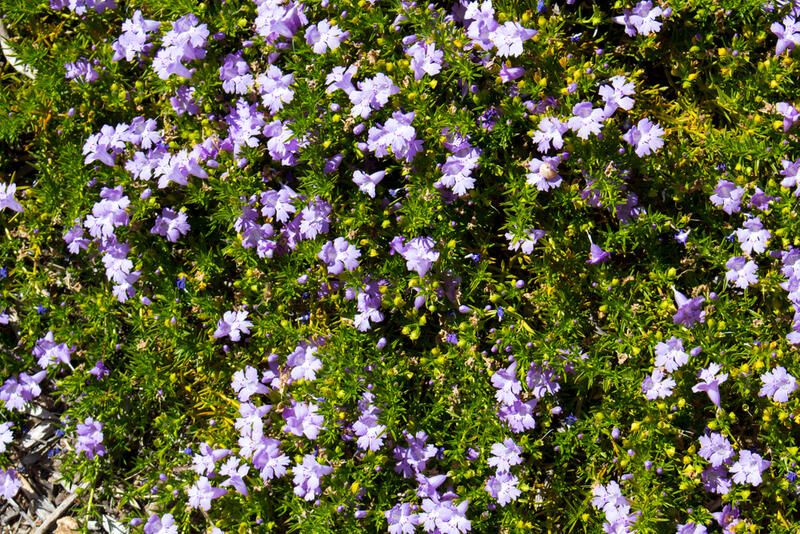 Spider Flower (Grevillea 'Gin gin gem')
This perennial ground-cover plant bears exquisite red flowers for most of the year.
These evergreens not only have a lovely appearance, but they also draw native birds, adding a sense of wildlife to your Perthan paradise!
Candlestick Banksia (Banksia Attenuata)
This beautiful species of plant, endemic to Western Australia grows into a tall shrub or small tree.
With its distinctive bright yellow conical flowers, this iconic candle-like Perth native blooms from early spring to autumn.
The sun loving Candlestick Banksia is perfectly suited to the warm Perth climate.
Native Fuchsia (Correa Federation Bell)
The versatile Correa plant varies from humble ground-covering shrubs to towering two-meter-high stalks.
A moderately sized shrub known as the Correa Federation Bell produces the most beautiful fuchsia-colored bell-shaped flowers.
They require minimal irrigation and make an attractive addition to any garden.
The NSW Christmas Bush (Ceratopetalum Gummiferum)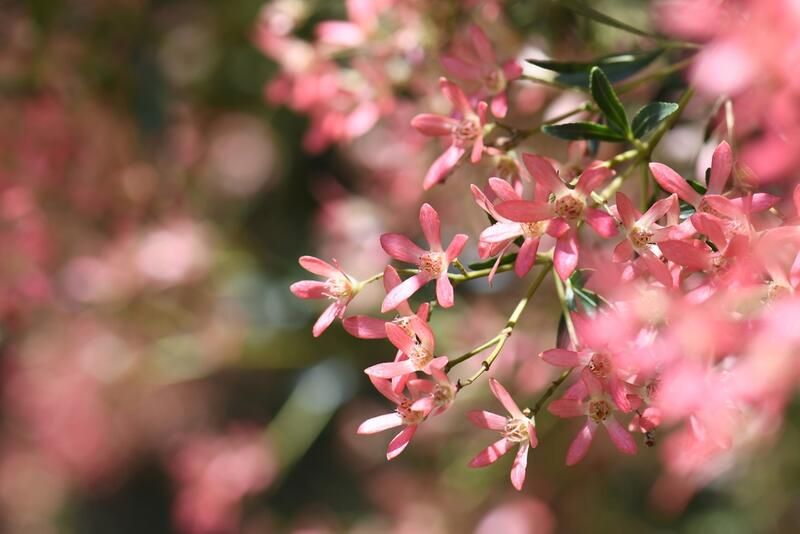 The New South Wales Christmas Bush is a hardy plant that thrives in warmer climates and full sun, making them ideal for Perth gardens.
Producing a cloak of attractive red blooms and reaching heights up to five meters, this festive species adds a touch of yuletide joy to any landscape.
Blue Tongue (Melastoma Malabthricum)
A well-loved Perth native, this perennial species thrives in coastal conditions and partial sun, and produces gorgeous year-round pink-purple flowers.
Reaching heights of up to two meters, this partially edible plant (you can eat the leaves and seeds!) adds a hint of blue to any Perth landscape, not to mention your tongue!
Little Ruby (Alternanthera)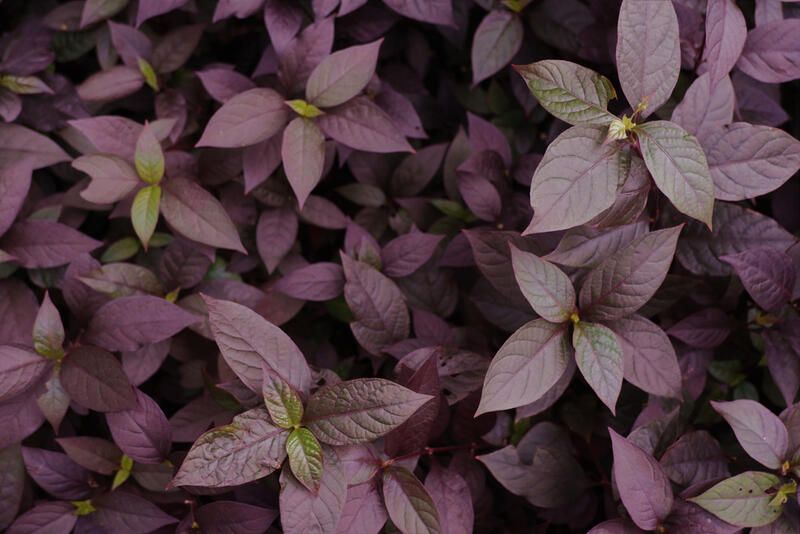 This petite plant reaches heights of no more than 6 centimeters, but this cute shrub thrives in all soil types and it creates a wonderful contrast against light green or yellow flowers.
Heart Leaf Flame Pea (Chorizema Cordatum)
Reaching up to 1.5 meters, this creeping evergreen plant makes an excellent option for hedging, mass planting, pots, and forming part of a trellis.
This flowering member of the pea family, endemic to southwestern parts of Australia produces beautiful multicolored pea-shaped blossoms in tones of orange, pink, yellow, and red.
Kangaroo Paws (Anigoanthos Species)
Resembling Kangaroo trotters, these aptly named flowers are the state flower of WA. Their magnificent nectar-filled blossoms, which come in a variety of vibrant colours from scarlet to brilliant gold come in a variety of hybrid species to accommodate practically every Perth landscape.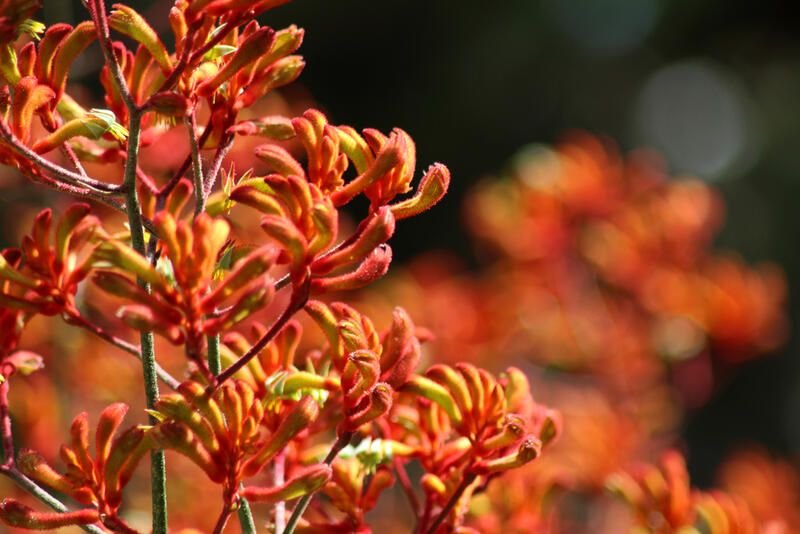 Running Postman (Kennedia Prostrata)
With its sinewy green leaves and year-round blossoms of charming red pea flowers, and growth pattern that spreads out up to 3 meters, the Kennedia Prostrata (a.k.a. the "Running Postman") makes for a wonderful groundcover or restrained climber.
This fine species prefers wet, well-drained soils in full or partial sun and can be arranged in banks, or in attractive formations to spill over walls, trellises, or fences.
Pink Passion (Eremophila)
One of the most appealing and hardy plants to grace any Perth garden.
They also make great hosts for the honeyeaters who appreciate their magnificent tubular pink blossoms.
These drought-tolerant beauties are incredibly water-wise and require minimal irrigation, growing to an impressive 1.5 meters in height.
Burgundy Weeper (Melaleuca Viridiflora)
This fuss-free WA paper bark is a fiercely independent plant that requires minimum upkeep.
It is perfectly suited to the Perth climate, growing bright red flowers in spring and autumn, reaching heights of up to 6 meters.
Silver Princess (Eucalyptus Caesia)
Another native of Western Australia, the "Silver Princess" tree (also known as Gungurru) displays a beautiful open weeping habit and can reach heights of up to five meters.
With its silver-toned grey-green leaves and brilliant flowers that bloom from May to September, it attracts birds and bees alike and makes for a striking garden addition.
Big Red (Geranium)
This lush, semi-trailing, evergreen shrub enjoys large round luscious leaves and profusions of strikingly colored, large bright red flowers that bloom all the way through spring, summer, and Autumn.
It makes for the ideal ornamental flower whether in garden beds, hanging baskets, standalone pots, or window boxes.
Big Reds thrive both in full and partial sun.