Make the Best of your Backyard: Bonfire Party Ideas
Published: 20/12/2022 | Updated: 26/04/2023
There is no better use for a backyard than a backyard bonfire party. No matter what the season is, bonfire parties are irresistible. With the right ideas, it's never too hot or too cold for a festive gathering with friends, an outside birthday party for a loved one's special day around the fire, or just some fun family time to break the routine.


But especially for the winter! Fall is behind us and we're heading toward the colder months. This is no reason to close the gate on a good night outdoors. There is no shortage of ideas to make it warm and fun!
A bonfire party is not just a basic bash, after all, it's a traditional way of celebration that can make one of your favorite days of the year. The best backyard bonfire party would be a mix between the old and the new, using the best of the technology to make our parties better, while also leaning on nostalgia and traditional ideas.
Lucky for you, we have all those right bonfire ideas!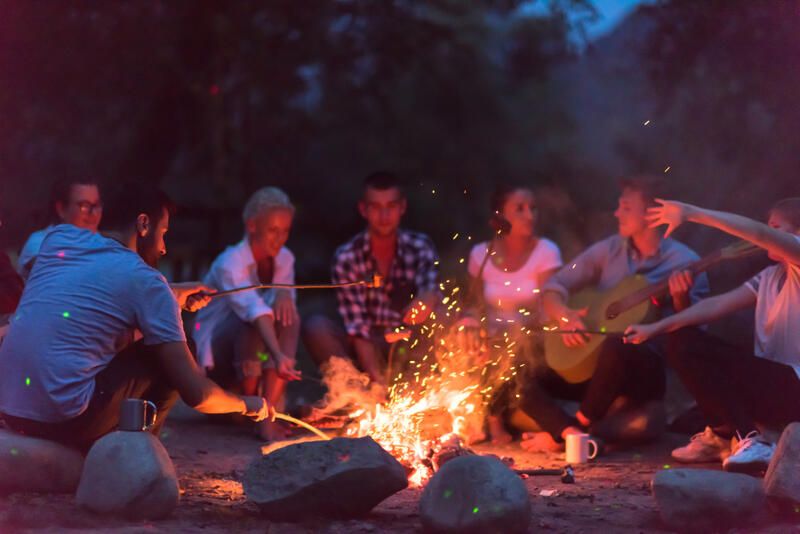 Go Classical with the Fire Pit
We can't spell bonfires without fire after all, can we? There is just something about traditional fire pits that conjure the exact right mood for a bonfire party.
Especially for a smaller backyard or garden, fire pits are small and safe enough for an intimate gathering. And the best part is, a fire pit is multifunctional.
You can gather around the fire pit all night with your friends or family, to cook on it with the use of additional accessories; toast some delicious treats like marshmallows; to fill it with logs for extra warmth.
Get a Patio Heater
If the flames of the fire pit aren't enough for warmth in your area, then a porch heater is an excellent idea to keep your guests warm and happy. A winter bonfire party won't work without extra measures to properly host it.
Especially if your plans don't include the guests standing around the fire the whole time.
A porch heater is a generally worthy investment to enjoy your outdoors all winter, not just for a bonfire party.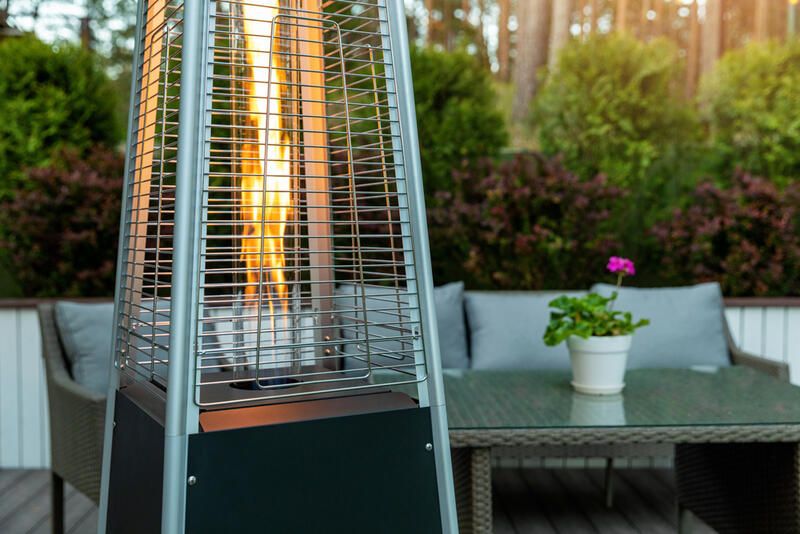 Don't Forget the Blankets
If you don't want to invest in the patio heater at the moment but still want additional warmth for the fire pit, or to even have all options around to the contention of every guest, then you can't go wrong with warm blankets!
You can have a basket with blankets for guests to grab whenever they want or spread them on the chairs.
Or forget about the Fire!
A fire pit is a perfect way to host a bonfire party, but it doesn't come without its cons. Ash cleaning is one of them. Another is the potential harm of smoke, especially so late in the pandemic when the virus has left a lot of people with permanent respiratory problems.
A third is a potential fire of course. There are a lot of ways to remain safe and provide safe seating with a fire pit, but if you want to completely avoid any potential problem, then you can go with either a gas fire pit or a stylish electric smoke-free one.
And control the heat without the hassle of bringing more logs!
In the end, it depends on what you want and the vibe you're going with! There isn't just one perfect backyard bonfire party!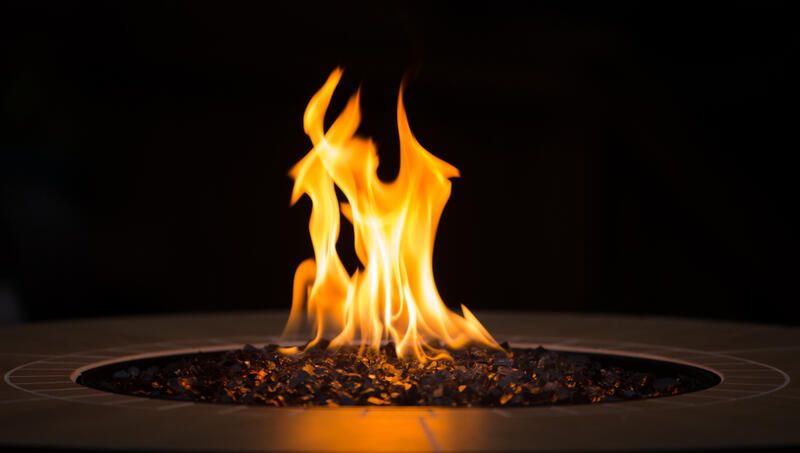 Provide Enough Lawn Chairs
As the evening goes on, your guests will be tired and want ample seating. Make sure you have enough lawn chairs with your benches and are close to the source of the fire.
You don't want to have to scramble for extras after your guests arrive, so be ready and prepared. If you don't know the exact number of people arriving, then better be safe than sorry and provide enough for the maximum number of people that could arrive!
Don't Forget the Music
A bonfire party is still a party. And what is a party without appropriate music? The right music will make the evening even more magical.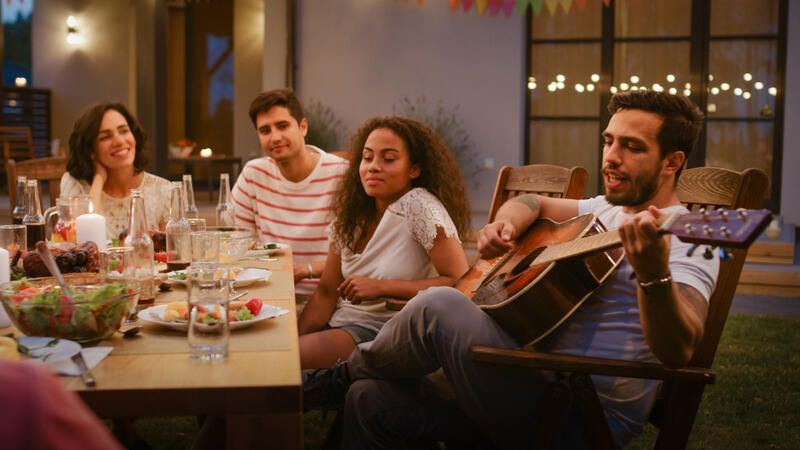 For this, there are two main things to keep in mind:
Get Outdoor Speakers
Whether for sing-along songs or dancing or just background music for the fun, you want the music to comfortably reach everyone.
Like porch heaters, investing in speakers for the outdoors is beneficial even after the bonfire night.
Prepare Your Playlists
An important thing to remember while preparing for your bonfire night! You don't want to hinder the evening while you search for the right music on the spot.
If you're not going with a particular theme, then it's best to go with classic campfire songs. It wouldn't hurt to have those campfire songs no matter the theme!
Nothing is like singing along with a whole group to nostalgic songs!
Bring Out the Grill
Why not hit two birds with one stone, and have your backyard bonfire party also a BBQ party? If you have the equipment, then it would be a great idea to go with it.
It would make your bonfire night food top-notch! Cooking outdoors is always fun, anyway, especially with a grill, and it would give you the chance to serve proper (and tasty!) food that will keep everyone full until the end of the night!
Whether vegetables, steaks, hot dogs, or hamburgers, grilled food is always a pleasure, and your guests will thank you for it!
Set Up Small Stations for Different Food
Speaking of food, no matter whether you have an outdoor grill or not (and the space for it!), you can make your backyard bonfire more organized by setting up different stations for the food you want to serve.
It's great for all the choices to be laid out and for everyone to know where to grab whatever they want.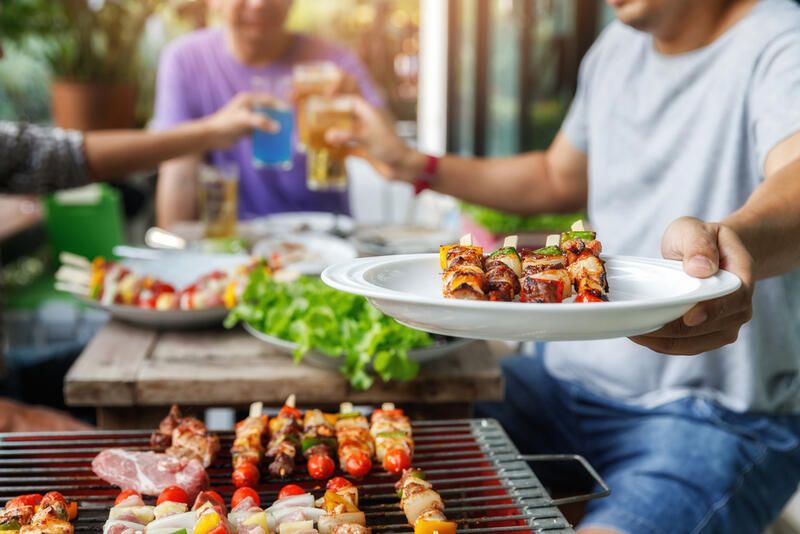 While putting together your bonfire party menu, first make sure you have set-ups for the classic and quintessential bonfire foods:
Toffee Apples
This classic treat is beloved by all and any age group. Kids and adults love it.
You can get them from a store or you can have some extra pre-party fun by preparing them at home! This way you can add your twist on it too if you like getting creative in the kitchen!
And you can prepare them a few days in advance and leave them in a dry place if you're worried about all the preparations overwhelming you!
Marshmallows
If you're setting up a fire pit, then you have no excuse! Toasting marshmallows over the fire is something that everyone, kids and adults, would love. There is nothing like sitting around the fire, laughing, chatting, and singing while enjoying this toasted treat.
As there is no complete campfire night without some good ol' s'mores, have everything s'mores need on the station: the marshmallows, enough graham crackers in a bowl, and chocolate squares or molten chocolate.
And of course, don't forget the roasting sticks!
This way anyone can make their s'mores easily, standing up. Or just grab some graham crackers for easier nippings.
However, if you want to serve it even more easily to your guests, you can consider baking a pan of S'mores and serving pieces!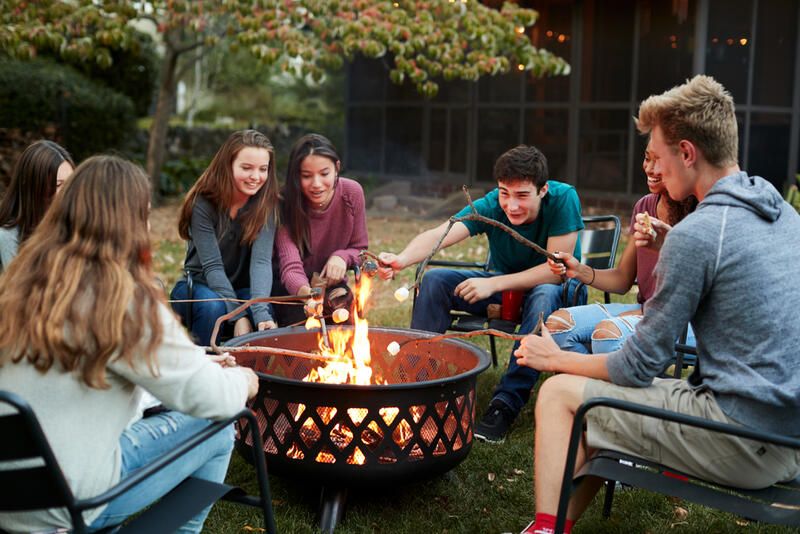 Hot Dogs
If you're not going with the grill at all, then having pre-made hot dogs ready on a plate either in sandwiches or with another plate of bread is a good idea. The kids would love it. And the adults wouldn't resist it too.
They are easy and fulfilling enough to keep the night going!
Fresh Fruit
To make the bonfire night equally fun for everyone, providing some healthier (and refreshing!) choices is among the good bonfire ideas!
Do the Same with Drinks
No bonfire party menu is complete without the classic drinks! Setting up stations with enough mugs and glasses is a good way to ensure everyone can easily get a hot drink to warm themselves up or another drink to refresh during the party.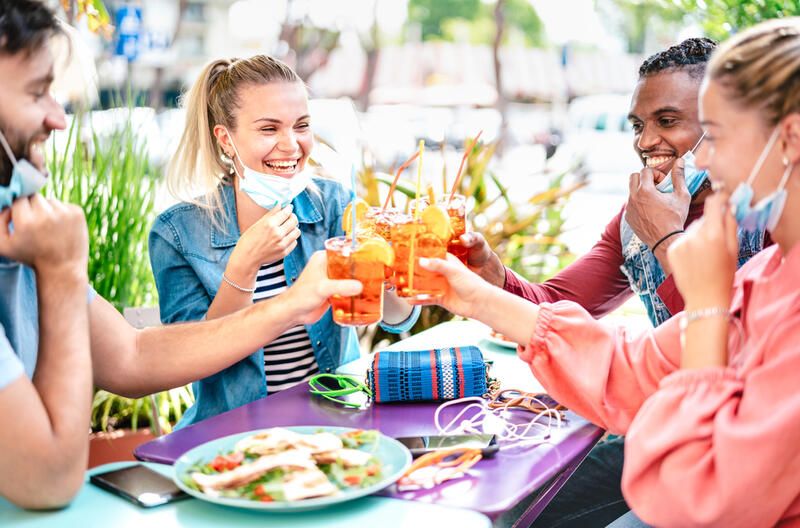 Those drinks and food stations are especially helpful bonfire ideas if you're hosting a big bonfire party and don't want everything to get out of hand.
Hot Chocolate
Hot chocolate is the most perfect drink to warm up during a chilly night. Plus what could look cuter than a small, hot chocolate drinking station?
Put some cute mugs (make sure you have enough for all the guests so you wouldn't have to clean and re-clean them). Then prepare the milk, cocoa powder, marshmallow, and any other toppings you'd like to have for your guests!
It would also be great if this station is closer to the fire pit so everyone can warm up or heat their milk.
Mulled Wine
Mulled wine is one of the loveliest winter drinks and is a perfect addition to any bonfire night.
Have it in a cauldron with mugs and glasses around it for everyone to be able to help themselves. A bowl of cinnamon sticks on the side would be very nice too.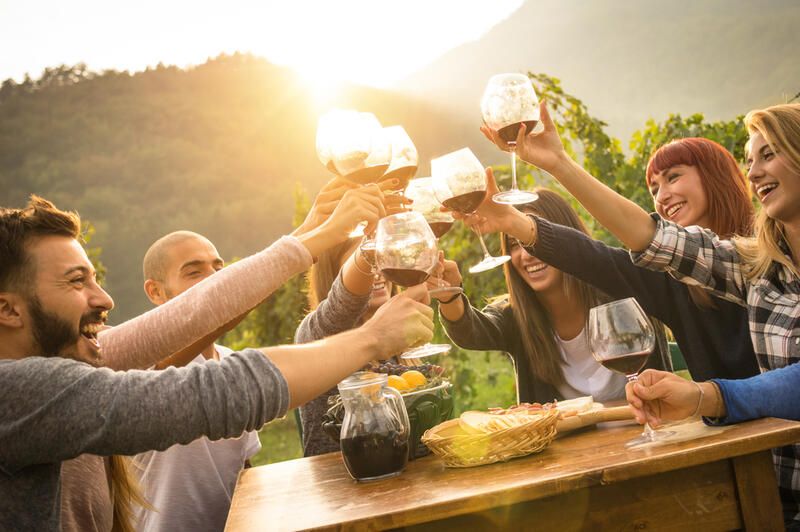 Mulled Apple Juice
If you have the space and children or non-alcohol-drinking family members or friends are expected at your bonfire party, then it would be a good idea to have an equally nice alternative to mulled wine!
Set Up the Mood with the Night Light
Pretty lighting is just the thing for the loveliest backyard bonfire party atmosphere. Good lighting is needed for any outdoor celebration too.
And you can mix and match a couple of ideas to get the exact light you want! Some candles spread around your patio would instantly add to the atmosphere. Especially scented candles that can take your backyard bonfire to another level.
And string lights, with their Christmas-y and winter feel, are also a perfect contrast to the campfire.
Get Some Glow Sticks
Speaking of light, glow-in-the-dark items are increasingly rising in popularity among bonfire ideas.
For extra fun and vibrancy, consider adding some to your party ideas shopping list!
Prepare for Some Bonfire Activities
To host the perfect bonfire evening, you don't want to risk your guests, friends, and family sitting around long enough to get bored. Especially not with all those possible and fun activities for the outdoors.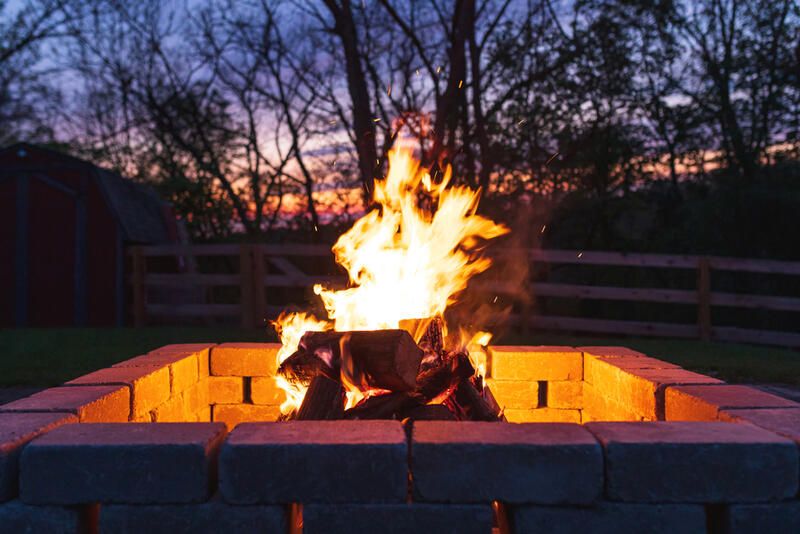 Here are some suggestions for outdoor activities.
Tell Scary Stories
If you're a natural storyteller, then show off your skills while also practicing one of the most classical bonfire activities out there. Especially if there are young ones around, they will have the time of their lives getting to gather around the fire and get scared by a story.
Even your adult friends will have tons of fun finding their inner child again with this activity.
Set Up a Dancing Floor
If you have enough space, then save some of the room for fun dancing! Nothing like dancing to get up the heat in our bodies during a chilly night, too!
Make it a Movie Night
Hitting two birds with one stone again, you can pair your bonfire party with an outdoor movie night and it would be a great idea to make the night more fun.
Also, it's not that much extra effort. All you need is a big enough, white sheet as your screen and a clothesline to hang it from. Anchor it with whatever heavy item you have, including big rocks. And use your projector.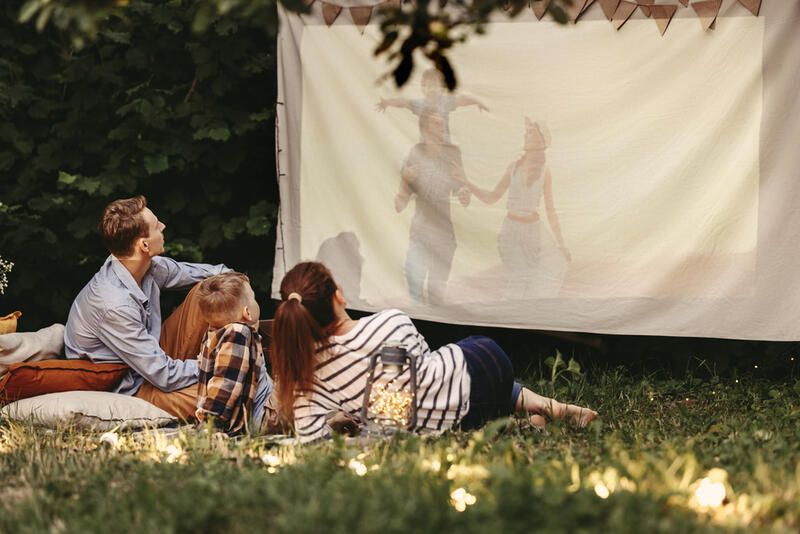 Play Bonfire Games
There is no shortage of fun games to play with a group around a campfire. Here are some you can start with!
Hide and Seek
If there is enough room in your backyard, then there is no reason you shouldn't wake up your inner child for some hiding and seeking!
Two Truths and A Lie
The game goes like this: each player share three facts about themselves, and all the others guess which two facts are true and which one is a lie. Every member who gets it right wins a point and once everyone has had a chance to share their two facts and a lie, the player with the most points wins.
Telephone
A classic group game, the telephone is easy and fun. The first person whispers something in the ear of the person next to them, then that person whispers what they've heard to the one next to them. Up until the last person who says the message out loud, which would have changed significantly from the first one.
Choose a Theme
Mixing and choosing those previous ideas are sure ways to have a great classical bonfire night! But there are even more ways to make it nicer. You can choose a specific theme to host your party under.
For example, you can go with the 70s or 80s as a theme!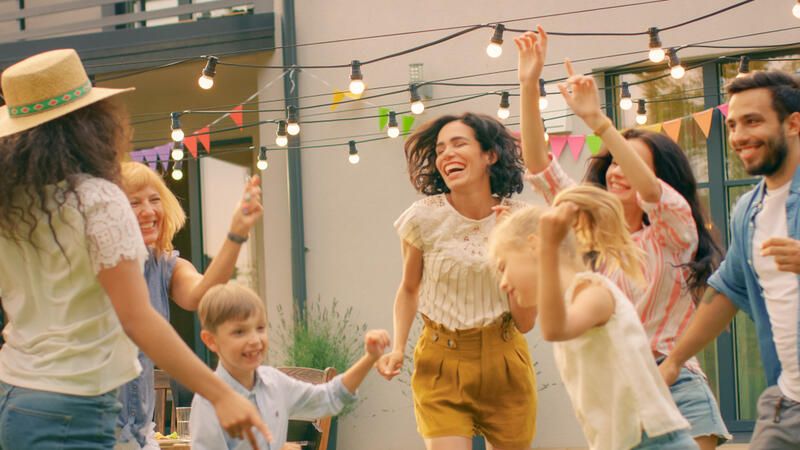 theme. Allocate Your Party
If you like all those ideas so much and want to host the party but your backyard is too small, then you can do all of this somewhere else. A nearby beach or a park! Don't let this stop you.
Just make sure you're following local laws to ensure a safe and fun uninterrupted night for everyone.
Contact Shrubhub.com to make your backyard better for a backyard bonfire!