Large Backyard Design Ideas
Published: 07/06/2022 | Updated: 06/04/2023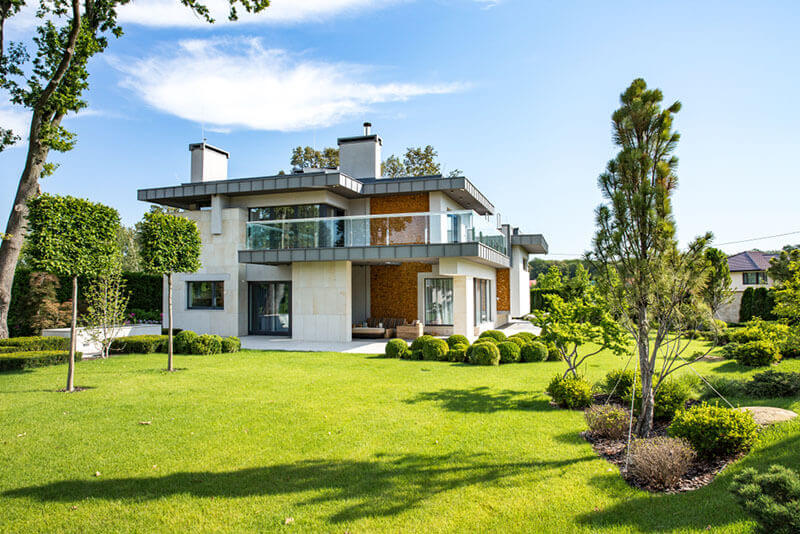 The exterior part of your house is just as important to spruce up as the interior, having a functional backyard space is what inclines us to spend more time outdoors rather than cooped up inside. This is what makes backyard landscaping a crucial part of the overall design of your house.


For those of us with a large backyard, finding ideas to decorate it and use up all our outdoor space can be quite a hassle, especially if we don't know where to begin! Choosing the best backyard landscaping ideas can be difficult for those of us who are easily overwhelmed with too much choice, but no need to panic!
We know that finding the right design ideas can be challenging especially when you have a lot of space in your large yard to fill up. This guide will provide you with the top tips and tricks to help you use every inch of your large backyard and turn it into a fully functional outdoor space for you and your family to enjoy.
Not only is a spruced-up yard useful for soaking up those sun rays, enjoying the fresh air, and relaxing in your beautiful garden, but it is also a great way to increase the curb appeal of your house and increase its resale value, making it a very wise future investment to make!
Our ShrubHub experts are here to help you with your backyard landscaping and will provide you with plenty of landscaping ideas to help you makeover the backyard of your dreams!
Pro Tip #1 - Build A Large Patio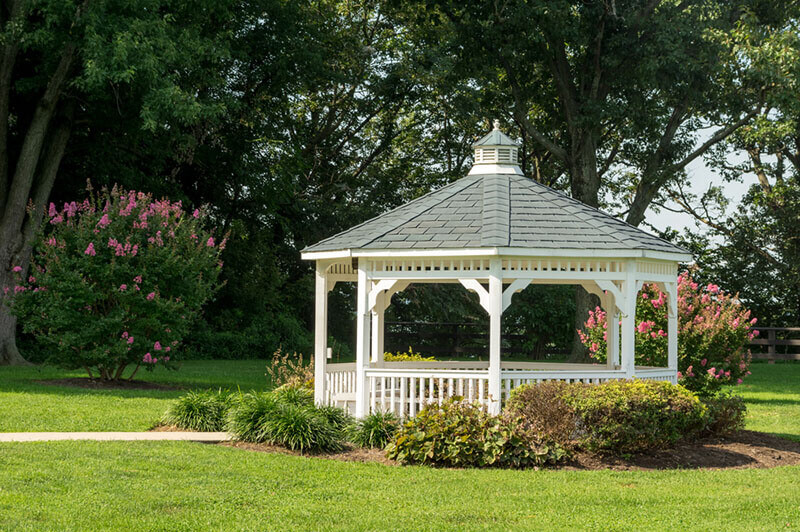 Having a large backyard gives us the luxury of being able to install a large patio. Without a patio, it's more difficult for us to install an outdoor seating area to enjoy our garden which is why your yard is never complete without one!
A patio is also a great future investment to make, they increase the curb appeal of your house and make them much more attractive to potential buyers, and down the line, they increase the resale value of your entire property!
Patios can also separate different areas in your backyard by creating zones especially if your backyard is leveled. You can also use a fence to separate the seating area from the rest of your backyard.
Choosing a patio foundation can be challenging especially when trying to figure out which design aesthetic you would like to for, which is why we have simplified it for you and offered you the best design ideas for your patio!
Choose The Correct Foundation For Your Patio
The foundation of your patio acts as a solid base for the design of your patio and sets the tone for the entire design theme. A good patio foundation needs to be weather-resistant, long-lasting, low maintenance, and of course easy to clean!
But how can you pick the best patio foundation for you?
Simple, to start off you need to think about the style aesthetic of your yard and which design theme you would like to lean into. For example, you can have a Mediterranean-inspired backyard, this style is usually complimented with natural stone or gravel flooring. If you have a sloped backyard you can use stone steps to lead you to different parts of your yard.
For a contemporary-style yard, you might want to stick to concrete slabs or marbling. You can even get creative and mix and match different flooring styles together such as separating concrete slabs with artificial grass or gravel.
You can opt for a wooden deck that overlooks the rest of your large yard. A wooden deck may be slightly more costly to build and can require regular maintenance, however top real estate experts always advise homeowners to build a solid deck in their backyard as it can increase the curb appeal of your house and skyrocket the resale value of your home, more so than a regular patio.
Choosing these durable materials for your flooring will ensure a low-maintenance and hassle-free patio foundation that you can build upon!
Choose Your Patio Furniture Wisely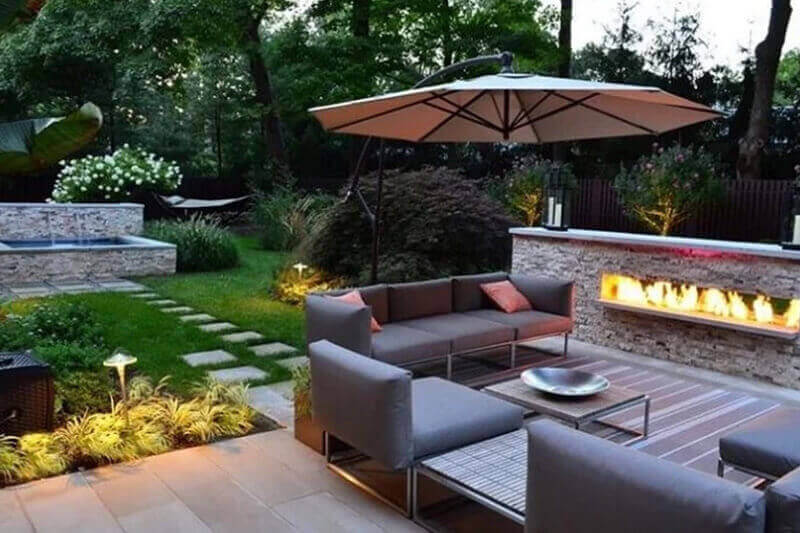 Once you've set up your patio foundation and picked the flooring that matches the style you are going for, it's now time to design your seating areas and pick out the right outdoor furniture.
There are plenty of furniture ideas to choose from when designing your outdoor living room area that matches the style and theme you have in mind. For example, built-in seating is a great way to complement a Mediterranean backyard and can be surrounded by a beautiful wooden table and a few wooden patio chairs. You can use earthy tones for your built-in couch cushions and chair pillows and throw an outdoor rug as a focal point.
You can keep things simple by adding a few Adirondack chairs around a small coffee table under a large wooden pergola. To style your wooden pergola, you can grow climbing plants around it for a gorgeous cascading greenery effect.
You can make your patio design even more special by adding lighting fixtures to it. You can add string lights for a beautiful cottagecore effect, you can hang light fixtures from trees, walls, or a large fence. You can also opt for alternative lighting like tiki torches for an exotic resort ambiance!
You can also add green elements to your patio by adding potted plants such as smaller trees or flower boxes for a pop of natural color and texture!
Add An Outdoor Fireplace
A fire pit will do wonders for your yard and will allow you to enjoy it year-round even during cold, windy winters! Nothing is cozier than huddling up with your family under a fuzzy blanket roasting marshmallows on a blazing fire pit.
Your fire pit can play an essential role in the decor of your patio as you can design your outdoor seating area around it. You can add a couple of Adirondack chairs around your fire pit as they are comfortable and lower to the ground. You can also pair it with built-in seating for a contemporary style.
A firepit area can be a very special addition and can provide an unforgettable backyard experience as it transforms your outdoor space into one you and your loved ones can make lasting memories together.
Pro Tip #2 - Be Strategic With Your Garden Landscaping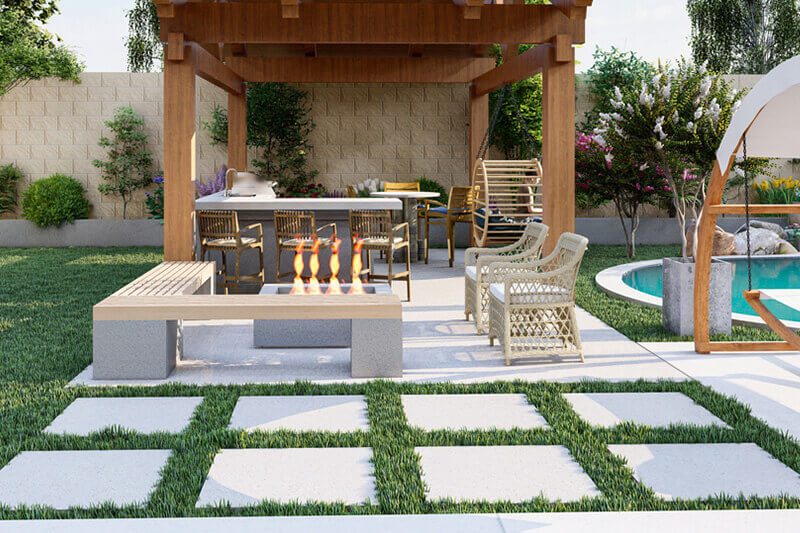 Living elements are crucial to the design of your outdoor living spaces which is why when choosing the correct plants for your yard you need to be very strategic.
There are a variety of ways you can design your garden and millions of different plants to choose from. Our expert garden designer has provided you with the best ways to plant your own backyard and turn it into a lush green haven!
Plant A Native Garden
One way of ensuring a hassle-free and low-maintenance garden is by opting to plant native plants in it. What are native plants and why is native gardening increasing in popularity, you might wonder?
Native gardening is when you plant a garden using plant species that are indigenous to your environment, meaning that are already grown naturally in your state. There are plenty of native plants to choose from depending on where you live so make sure to do your research!
Grow A Flower Garden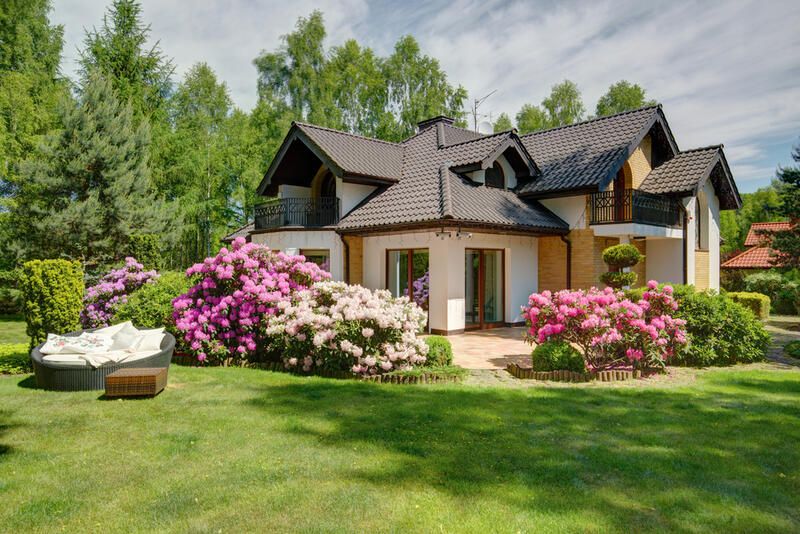 You can also grow a beautiful flower garden in your backyard and surround it with natural stone creating a gorgeous focal point people can't resist but turn to. A flower garden is a very special addition to your yard especially if you opt for aromatic flowers that give off a sweet scent that fills your entire property!
Planting flowers can require a little bit of effort on your side, especially when considering planting annuals, for this reason, stick to planting flower beds with perennials to ensure they will continue to bloom for many years to come!
Opt For Non-Traditional Backyard Garden Ideas
You can also separate different areas in your garden using a small wooden fence or by drawing separate clean lines using natural stone or gravel. You can even add stepping stones that lead to a small secret garden which you can build in your side yard to make use of it as well!
Make Use of Vertical Space with a vertical garden. If your backyard has a lot of empty walls or a large surrounding fence it might be a good idea to think vertically!
If your garden falls on a slope you might want to consider terraced gardens, this is perfect for creating zones in your garden that are dedicated to different plants. For example, they can be separated according to plant type, one area could be a designated flower garden full of brightly colored flower beds and the other can be an herb garden.
Go for The Most Original Lawn Ideas
With a large yard, you get to play around with your lawn ideas and do not need to opt for a classic natural grass lawn. You can use your lawn to separate different areas in your yard, for example, one space can be a traditional grass lawn and another space can be designated to grass alternatives like ornamental grasses which are becoming increasingly popular due to their very aesthetically pleasing nature.
You can also use alternative lawn ideas such as using creeping thyme as a ground cover which gives your yard a beautiful pop of purple color that will transform your outdoor space!
Add Your Own Backyard Vegetable Garden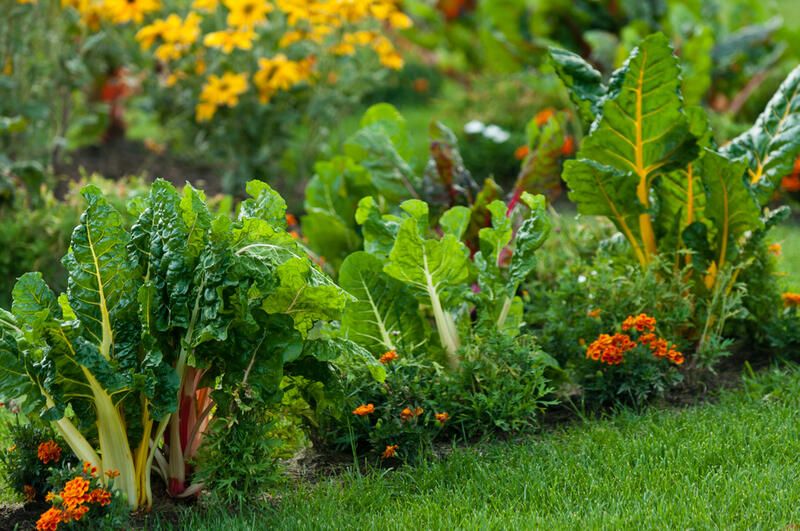 A vegetable garden is a great way to ensure you and your loved ones are being provided with organic produce that is chemical free, the best part is you get to grow the organic produce in your own garden!
You can use raised beds to separate each vegetable type which not only adds depth t your yard and layering but it is also very beneficial to the growth of the vegetables. Remember, you don't have to be limited to vegetables and legumes with a vegetable garden, you can also grow fruits and herbs!
Pro Tip #3 Add An Outdoor Kitchen And Adjacent Dining area
Outdoor kitchens are becoming an increasingly important addition to your yard. They allow you to host plenty of family gatherings and parties in the comfort of your own backyard.
Building an outdoor kitchen will allow you to enjoy those hot summer days when you want to fire up the grill, cook up some juicy stakes and enjoy the outdoors with the family.
There are many ways to stock up your outdoor kitchen, you can add a traditional grill, make space for a fully stocked kitchenette that includes a built-in stove and cabinets, you can also add a pizza oven and mini fridge.
Always add a seating area to complement your outdoor kitchen. What use is a fully equipped kitchen if you have no place to sit down and enjoy the tasty meals you whipped up?
Seating areas can include large outdoor dining sets with enough space to fill up the whole family as well as invited guests, they can also be a set of smaller round tables inspired by a Parisian Café which is perfect for hosting outdoor events!
Pro Tip #4 Make Use Of Your Outdoor Space With Water Features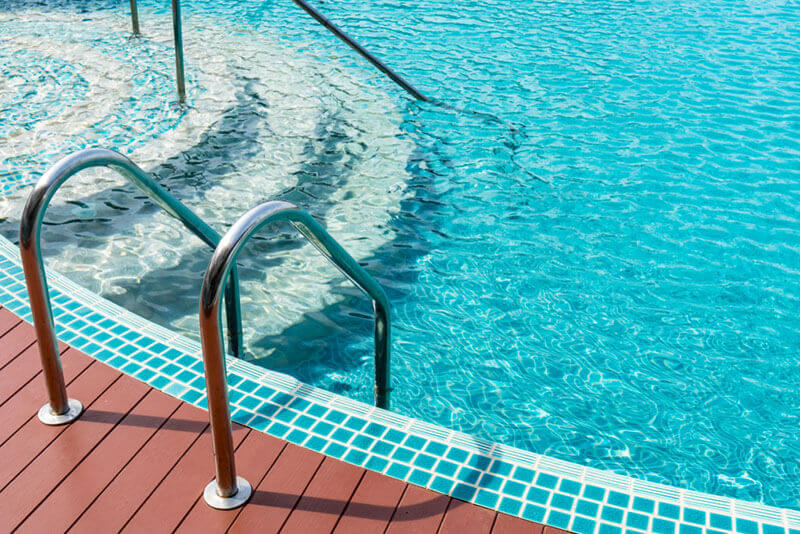 A large backyard would not be complete without the addition of water features! A water feature can range from a large backyard swimming pool to a backyard pond.
Adding a water feature to your yard also increases the curb appeal of your house making it a worthwhile investment to make but you are not necessarily limited to one water feature only! Having a large backyard gives you the luxury of adding multiple water features to it.
Add A Pool And Jacuzzi
A swimming pool is a classic staple to a large backyard, especially when considering all the different ways you get to use it! From backyard water sports to entertaining guests and hosting birthday parties a pool is a perfect way to add fun and entertainment to your home.
You can also compliment your pool with a relaxing jacuzzi which is perfect for when the long working day gets to you and you just want to sit back, relax and enjoy the massaging jets on your back! Jacuzzis are also perfect for a winter swim as the heated jets will keep you warm.
Incorporate A Backyard Pond
Ponds are a beautiful addition to your large yard as not only do they make use of an empty space you may have been wanting to fill up but they are perfect for nature lovers who want to build their own ecosystem.
You can add Koi fish to your pond which is gorgeous to look at and add striking colors to your yard, they are also easy to care for and the kids love feeding them! You can even add lily pads to your pond and other water plants to attract local wildlife like native frogs to your pond!
Add A Bird Bath or Fountain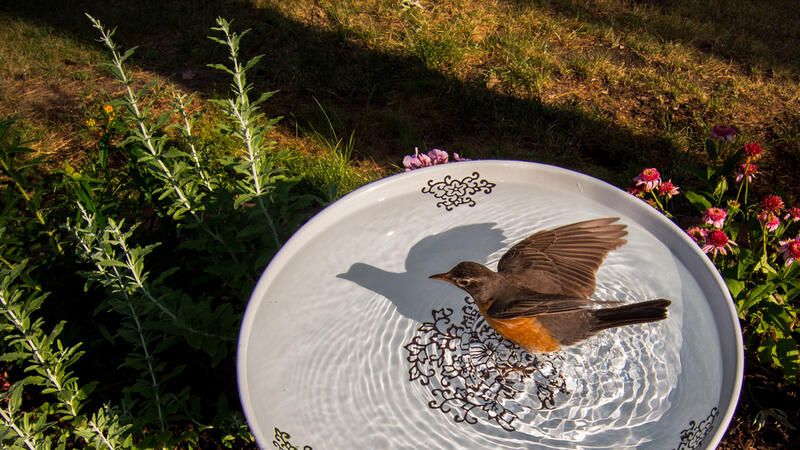 Bird baths are making a comeback into yard design styles due to their delicate and elegant nature as well as more and more people value the addition of natural wildlife visiting their homes.
Fountains make a very glamorous focal point in your yard, inspired by Mediterranean villas, a large fountain in your backyard is a great use of space as it adds a touch of sophistication and elegance to your outdoor living space.
Where Else Can I Find Backyard Ideas?
Our experts at Shrubhub have years of backyard landscaping experience and can transform any outdoor space no matter if they are large or small backyard!
There are plenty of backyard landscaping ideas we can help you with all you need to do is check out Shrubhub and sign up for our services. We will provide you with all the landscaping ideas you will need to makeover your dream large backyard!
If you sign up now you can get the backyard landscaping design of your dreams for just under $300!