Improve Your Quality of Life with Outdoor Saunas
Published: 20/10/2022 | Updated: 29/03/2023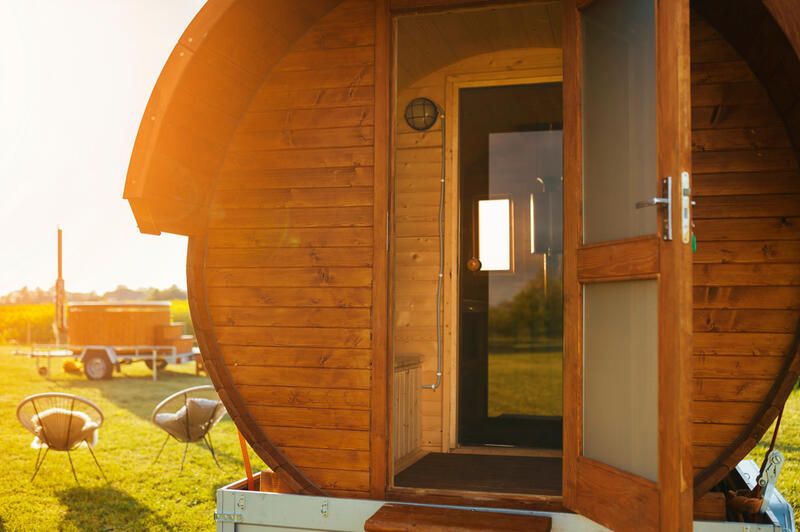 Ever zoomed in on your backyard while reminiscing on the memories that come flooding back? No? Then it's about time for an intervention to give your backyard a purpose.


It's not news that it gets unbearably dull indoors every now and then, and we tend to search for an inspiration that features entertaining alternatives outdoors. With some dry heat, this long-abandoned, void outdoor space can turn into the dearest place to your heart.
It doesn't matter if you are after a mediocre garden that just harbors your favorite plants or if you are aiming to design your outdoor scenic sanctuary where you get to unravel freely. Either way, an outdoor sauna adds depth and character to your yard while giving a somewhat stylistic edge to your landscape design.
Envision inviting your friends over for a sauna evening! Although it might hit you as a rather new tradition, it could actually strengthen your bond with your friends and family. Socializing while literally sweating your worries off can do wonders for your life.
As an all-year-round innovation that strikes a perfect balance between style and healthy well-being, an outdoor sauna is an efficient method to revel in the intricate beauty of nature. Whether it's scorching hot, freezing cold, raining cats and dogs, or covered in deep snow, this spot will always be a welcoming backyard retreat where you can freshen up and come back stronger!
Have a Mood Changer Nearby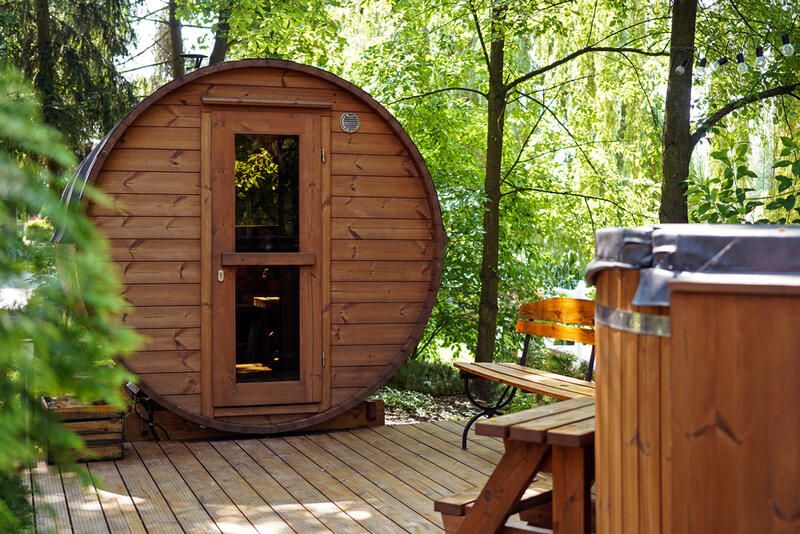 If you are often caught up in the frantic pace of life, consider slowing down for a beat in your own outdoor retreat. From the comfort of your home and right outside your door, you can lie in your outdoor sauna to recharge your mind and body whenever you come home drained out.
While our physical health is of paramount importance, we usually pay little to no heed to our mental health. We more than often come back home after a stressful day feeling zapped out of our energy, wondering how on earth we can possibly free ourselves of this burden.
Close at hand, an outdoor sauna is proven to help you release euphoric hormones which relieve stress and anxiety. Regular access to a sauna decreases cortisol levels, enhances your mood, promotes deep relaxation, and reduces tension headaches.
Escape the chaos of the world by hopping in your outdoor sauna, eventually soothing yourself and altering your emotional state, ready to face reality again.


Heat It for a Healthier Body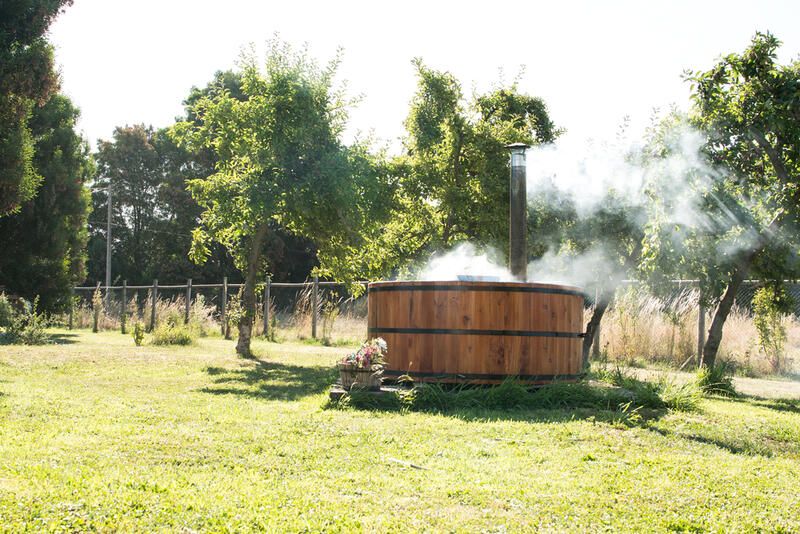 Beyond the marvels, an outdoor sauna can do for your mood swings and stress levels, a sauna experience brings you considerable health benefits.
What can be more reinvigorating than a deep sweat? According to Harvard Health Publications, saunas have been around for thousands of years, and sweating has been a widely-recognized therapy across different cultures.
An outdoor sauna not only improves your cardiovascular health by increasing circulation, but it also eliminates harmful toxins from your body.
If you are back home after a strenuous exercise (with only sore muscles as a solace), you will not find a more inviting, utterly relaxing space than your outdoor sauna. Exposing your body to sauna heat results in reducing muscle tension, alleviating pain, and accelerating the healing process.
Tossing and turning all night long and failing to sleep poses a challenge for many of us. Stepping into your hot outdoor sauna is a surefire way to drift into a more relaxed, deep sleep. You will therefore improve the quality of your life, function smoothly and efficiently, and surely feel more energized.
Who wouldn't possibly want to shed that extra weight? Along with following a balanced diet and maintaining regular exercise, your outdoor sauna can be one of your tools to burn additional calories.
Spruce Up Your Landscape Design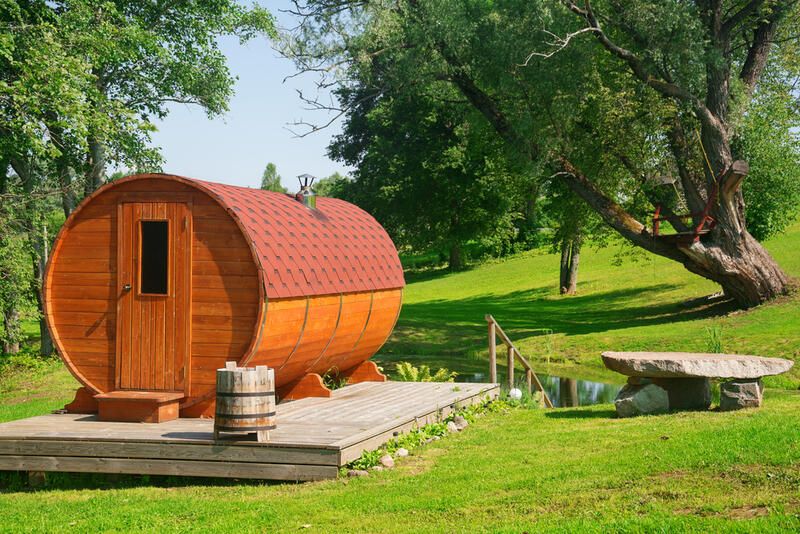 Enhancing your outdoor living space can be quite a daunting challenge. Not knowing how to wrap your head around this process can be vexing, but don't fret! Nothing makes the arduous task of finding creative inspiration more rewarding than the soothing feel of an outdoor hot sauna.
Whether you aspire to have a cottage, modern, contemporary, urban, wild-life friendly, or a Mediterranean landscape design, spring for outdoor sauna kits add a ground-to-sky appeal to your yard.
The garden style of your choice is how you will eventually decide on where your outdoor sauna fits in your landscape design, how it accentuates the surrounding features, and what materials will best harmonize with the whole vibe.
To pull an outdoor sauna design off and create a daily-sought oasis for you and your loved ones, you need to consult a professional designer to help you infuse an exotic feel throughout your yard.
Beware! The Devil Lies in the Details
Before deciding whether or not an outdoor sauna is a right fit for your landscape design, take a moment to evaluate your yard's actual space. You will not only be needing ample room to build the sauna itself but also enough space to easily access it.
A uniquely-designed outdoor sauna is one of the great ways to give your yard some character. However, with the overall landscape design in mind, your sauna should bridge the gap between functionality and style. If your sauna functions seamlessly, yet the design is simply out of place, why bother?
Never underestimate the power of planning. If you are willing to keep errors at bay, you might want to add utilities to your list of considerations. Water, electricity, and internet access require coming up with a detailed utility plan to guarantee a smooth build.
To get the most out of your daily retreat and wind down with the best outdoor sauna kit, design your room with durable, high-quality materials, and equip it with some eye catchy sauna stones.
Pick Your Match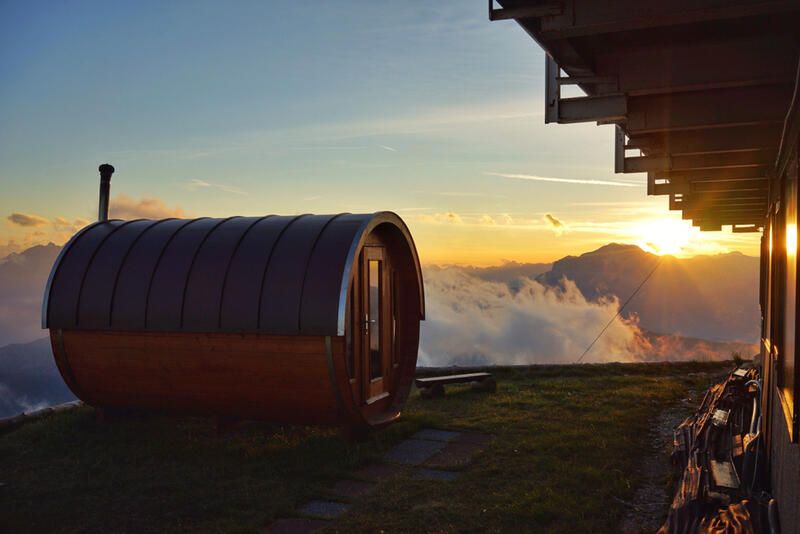 Whereas backyard saunas add some pizzazz to your abode, there is a definite question that certainly popped into your mind: "which type fits my yard?". The best part is that we have the answer right below!
Without knowing what are the available outdoor sauna heaters and which one suits your landscape design the most, you will face an overwhelming task, especially if you are jumping into an uncharted adventure.
Wood Burning Stove
For many, the Farmhouse rustic feel is to-die-for! You, however, don't need to own an actual farmhouse to take joy in your space. Adding a wood-fired sauna, that uses firewood to heat the rocks, weaves in all the rustic vibes you long for.
Electric Heater
On the other hand, many outdoor saunas are electrically-heated, reaching the requested temperature in a beat. Trouble-free, clean, and quick, electric heaters allow you to enjoy your sauna more frequently because the overall routine is free of any fuss.
Unlike wood-burning saunas, the electrically- heated ones ensure safety levels. Be wary of the swings and roundabouts of this situation because the utility bill may be the price.
Infrared Sauna
While traditional saunas rely on heat to warm the air in the room, infrared-heated saunas directly heat your body. Mind-blowing as it is, light is how an infrared-heated sauna makes heat.
But what do you feel in a traditional sauna? If you feel like it is ruthlessly roasting you alive and you can't stand the extreme temperatures, then an infrared-heated sauna is your way to go.
Design Your Dream Outdoor Sauna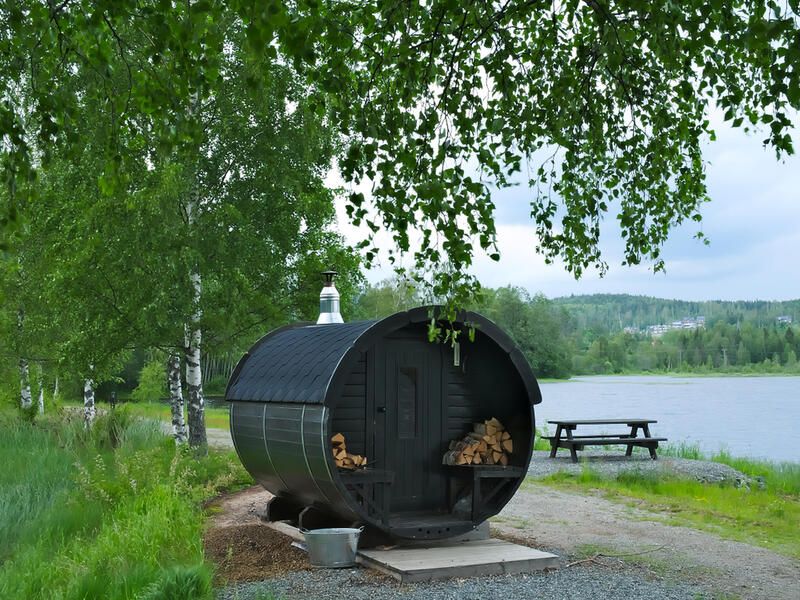 Outdoor spaces, although spellbinding and mind-cooling, require a ton of work to get the most out of them. In a highly creative world where artistic designs meet state-of-the-art technology, you are about to explore a wide array of home saunas.
For a charmingly simple yet sophisticated look, the Iglusauna boasts majestic greatness from the outside while offering you all-enveloping steam from the inside. Traditional crafting techniques are portrayed in Iglusauna's design. It draws fresh inspiration from a dreamy, slow-paced life.
A steel and wood sauna, unlike the embracing feel of the Iglusauna, brings nature right into the room. Envision yourself sitting in a sauna that features a sleek, modern, and glass-based design with a beyond-beautiful view available all year round. This smooth design not only immerses you in the captivating wonders of nature but also reconnects you with yourself.
Get the Most Out of Your Landscape Design
What actually matters the most in your landscape design is factoring in the vibe that complements your personality. With budget, style, and desired goal in mind, you will be able to add a level of class and elegance to your landscape design by building your own outdoor sauna.
You get to take joy in the entertaining yet beneficial features of a sauna placed just a few steps away, be it a custom sauna, an outdoor barrel sauna, a traditional sauna with cedar shingles, a pre-built sauna, or a mere sauna box.
If you are a bit overwhelmed by all the details and the many more available options, you can always consult a landscape designer to reveal your yard's maximum potential.