How To Use Dramatic Lighting
Published: 16/08/2022 | Updated: 29/03/2023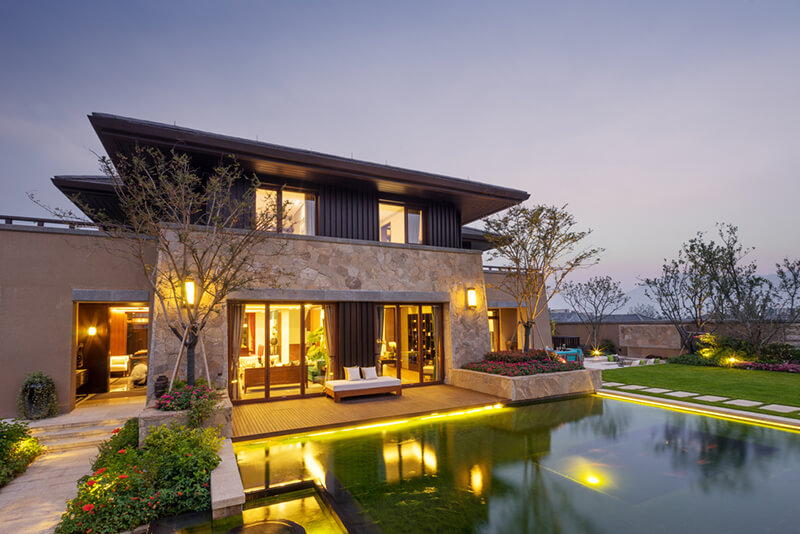 Thanks to the warmer weather, an increasing number of homeowners are looking forward to enjoying their outdoor spaces every minute of the day.


Modern outdoor lights are not only perfect for providing safety and security but also for amazing decorating, achieving the desired nighttime mood, and highlighting the beauty of any yard and its landscaping and hardscaping features.
Clever lighting ideas can swiftly transform your yard and elevate it to its max potential, making it an extra living space to enjoy in the evenings. With well-planned lighting, your yard can achieve a dramatic look while providing a cozy, people-friendly environment; you can light pathways and frame entrances, spotlight focal points like water features and help create the perfect ambiance for different areas and occasions whether it be a relaxing evening with a loved one, a BBQ night with your favorite coworkers, or a lively get-together for drinks with your friends.
We know you want your space lit to perfection, so the ShrubHub Design Experts have prepared useful and budget-friendly ideas to make your garden come to life at night!
The Different Types of Outdoor Lighting Techniques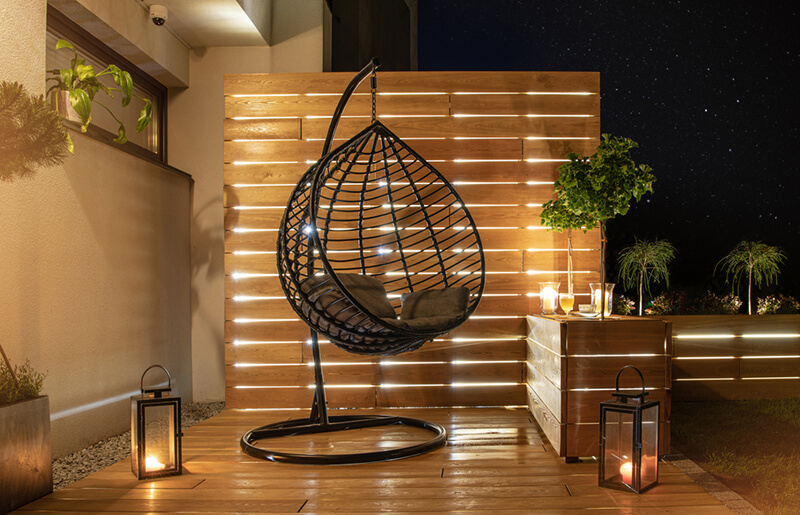 Light washing & shadowing
The Light washing technique uses lighting on features like walls, and pillars, focusing on all aspects of a home's architectural elements.
On the other hand, Shadowing is a very useful technique if you want to project shadows on the surface behind a specific feature or plant, and it's achieved by placing and angling a spotlight at the base of the feature of your choice. For example, you can use this effect on plants that sit in front of a fence, wall, or other large surfaces to create an eerie and mysterious effect, lighting them from the bottom.
Silhouetting & mirroring
Silhouetting is when you focus the light on the features that surround the object you want to highlight., creating a silhouette of your highlighted feature against a bright background. A great example of this is silhouetting a tree or sculpture as a way to add ambient lighting.
Your highlighted landscape or hardscape feature will light up beautifully, and it will give your outdoor space a classy but homely feel.
Alternatively, you can achieve an even classier Mirrored effect by installing a light across a water feature or body of water to reflect a beautiful image in the 'mirror' that the dark water will create.
Spotlights & uplights
Using Spotlights is a great way to attract attention to an area or piece in your outdoor space to make it stand out.
Soft uplights can be used for dramatic effect on your scenery, enhancing your plants and trees, sculptures, or water features. When used correctly, uplights can make the simplest plants and trees look like architectural marvels, transforming them into focal points of the evening gardens that take advantage of this lighting method.
Downlights & crosslights
Downlights are good doorways or decked areas, and you can also use them to shine some light on a living plant wall, or a well-designed fence with their stylish glow. They're usually better-looking when used in smaller amounts. With downlights, less is more!
Cross lighting happens when two or more spotlights positioned on opposite sides of a highlighted area are used to bring attention to it. In this case, we suggest spreading out the spotlights to avoid oversaturation.
The Greatest Ways to Bring Light to Your Outdoor Patio and Garden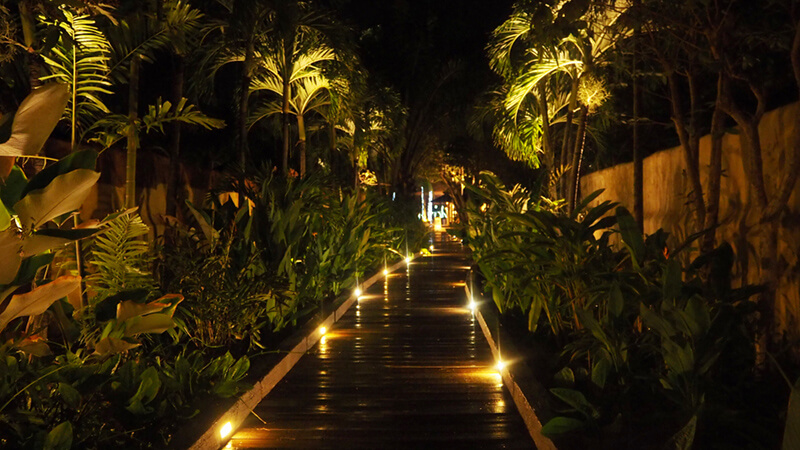 Fairy Lights
For some of you, this one's a given, and for those who are yet to try it, you're missing out! String lights, widely known as Fairy lights are a perfectly simple and budget-friendly way to light up your outdoor space and to give it an imposing but cozy feel. They are versatile and come in a wide variety of colors, shapes and sizes, so it's quite easy to incorporate them into your preferred style.
Lanterns & Candles
A good set of stylish lanterns or large outdoor candles can help you bring a relaxing and inviting feeling.
These are especially good for lighting up tables for dinner parties or pathway lights to direct your guests to highlighted areas of your outdoor space, and if you get your hands on a good set of Citronella candles, you'll make sure to keep pests from joining your party!
Pool Lights
If you are lucky enough to have your own in-ground pool, your outdoor space will be completely transformed if you take advantage of it as a means to add some much-needed light.
You can go for underwater lights, floating lights, or simply light up the area around your pool, making for the perfect lounge space.
Fire Pit
There's almost no better way to make the most of a lovely starry night than a backyard fire for you and your loved ones to sit back, relax, and enjoy this ideal hangout spot; but not only does it provide you with warmth, comfort and entertainment, it can also be the perfect source of light for a cozy feel!
It's Time to Love Life Outdoors Again!
In these post-quarantine times, our outdoor spaces are being used a lot more as entertaining and socializing hotspots, so homeowners all around the world are more interested in how these spaces transform after the sun sets and they can no longer count on natural lighting.
The perfect outdoor illumination demands previous planning in order to properly consider both aesthetics and function. At ShrubHub Design Experts, we like to make our clients' lives easier by clearing all possible obstacles that keep them from enjoying their outdoor spaces to the fullest, and with this in mind we created our affordable Lighting Plan as an add on for any traditional 3D yard design our clients purchase.
Our experts know lighting needs to be flexible, combining fixed and portable lighting options, and that even if we're dealing with artificial lighting it still needs to look natural to maintain its alluring and beautifying effect.
To achieve this, our design professionals work on removing the amount of lighting fixtures placed on the same level as the viewer's eye or are too visible during the daytime, carefully crafting lighting designs that keep the artificial light sources away from the spectator's eye-level, so they can be marveled by the final effect, simultaneously being left to wonder about the lighting's source.
Adding a lighting plan to your landscape and hardscape design, will not only bring a classy but homely ambiance to your outdoor space, but also add to its practicality, making it liveable at all times of day!
Visit www.ShrubHub.com to see how our complete design package can help you improve your yard!