Garden Upcycling: 23 Unusual Up-Cycling Ideas
Published: 10/02/2023 | Updated: 29/03/2023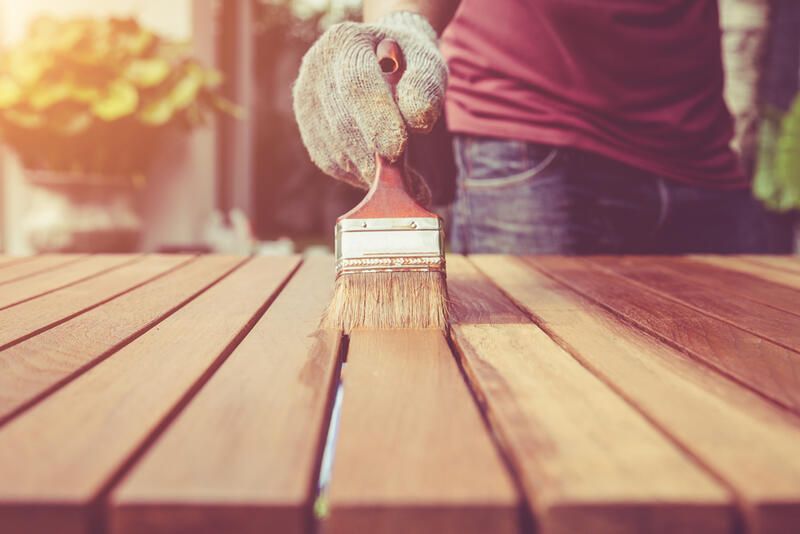 We all have some random items lying somewhere around the house: old furniture, packing crates, cardboard boxes, scrap wood, plastic containers, and many more!


If you're thinking about throwing them away, think again! You can upcycle or repurpose them instead!
Upcycling is an excellent way to put these objects to good use and create some unique DIY projects in the process!
Read on to get some inspiration on your next upcycled garden art!
1. Turn old furniture into garden furniture.
Because old furniture pieces take up the most space in any house, we've put them first on our list! The good news is that you can easily transform old chairs, tables, and cabinets into garden benches or planters.
This is a great way to get the most use out of your old furniture pieces. You can also paint them in bright colors and decorate them with vining plants, which will help them stand out in your garden.
2. Add height to your garden with an upcycled dining table.
If you have an old, large tabletop, consider using it as a plant stand in your garden. This is especially useful if you have some tall plants that need support (such as bamboo).
You can also use an old dining table as a garden bench by shortening its wooden legs and painting it in bright colors. Using that upcycled garden bench, you can define the entrance of your home or provide extra seating for entertaining.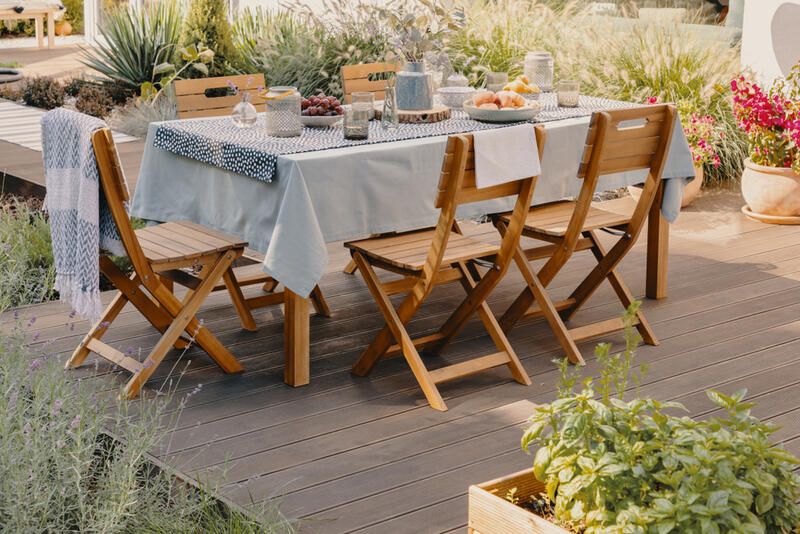 3. Use old chairs as indoor or outdoor planters.
Many of us have old broken chairs lying around our houses serving no specific purpose. If you happen to be into gardening and have a yard big enough for some planters, then you can create some beautiful upcycled garden planters with those chairs.
You can easily do that by removing their base, then painting or staining them. You can be as creative as you want with this project!
You can even create interesting garden art by painting a simple design on the chair and decorating it with beads, buttons, sequins, etc.
By painting the chairs in vibrant colors and covering them up in good waterproof fabrics, you can also repurpose them as garden furniture.
4. Transform a wine rack into a herb garden.
If you're a plant lover and enjoy gardening, then you've probably come across many upcycling ideas for vertical gardens. With those beautiful structures, you can grow as many plants as you want without taking up much space.
If you have an old wine rack lying around, you can easily transform it into a vertical garden, or more specifically a herb garden!
You will need to find containers or small pots that will fit on top of each tier or shelf to insert your plants into.
If you have enough space in your garden, you can use the wine rack as a small garden by filling it with soil and inserting your plants directly into the soil.
Always remember to place these racks where there is plenty of sunlight, such as near the window or in front of an open door so that these plants get enough sun exposure during the day.
5. Create your plant stand or vertical planter out of wooden pallets.
Instead of using a wine rack to build your vertical garden, you can make them from scratch by using old wooden pallets.
You can paint the pallets to make them look more interesting, or change the size of the planter by cutting it in half.
This project needs a little bit more than basic carpentry skills, so make sure you check multiple guides before you start building your vertical planter.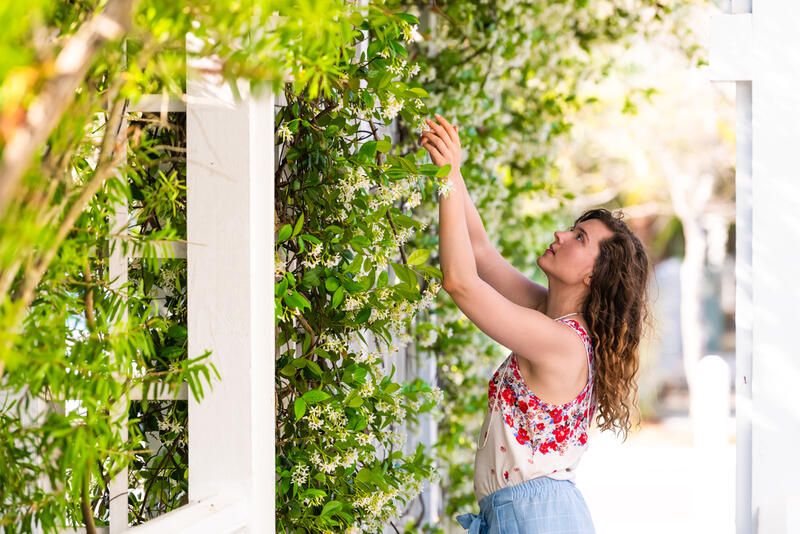 6. Turn an old ladder into your decorative plant stand.
Ladders are a great way to give your garden some height, making it easier to reach tall plants that need watering or pruning.
If you have an old wooden ladder that you don't need anymore, you can transform it into a decorative plant stand!
All you need to do is wash down the ladder with soapy water, then wipe dry with an old cloth or paper towel. Then, you can paint it or stain it using a paintbrush.
7. Create beautiful flower beds with an old wheelbarrow.
If you have an old wheelbarrow in the garage or shed that has seen better days, it's time to give it a new life. Wheelbarrows are sturdy and versatile tools that can be used for transporting materials as well as plants.
You can turn an old wheelbarrow into a flower bed by painting it and filling it with soil. Then, planting colorful flowers in them. You can even add some metal supports to keep your wheelbarrow bed sturdy if you plan on adding heavy plants like azaleas or rhododendrons.
8. Create quirky stepping stones from old china plates and pottery.
Mosaic art can be a beautiful addition to any garden and what's better than china plates, pottery, and old glass bottles to create colorful masterpieces?
Using broken ceramic dishes, you can create stepping stones and beautiful patterns around your garden.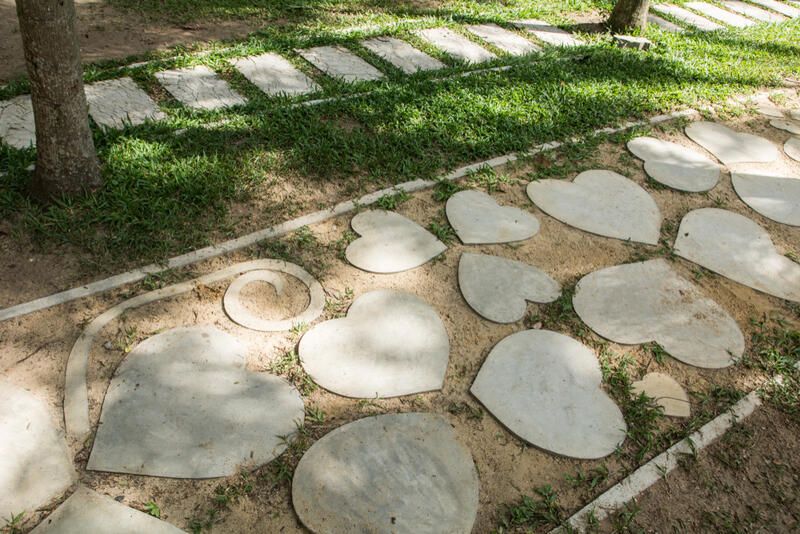 9. Turn Tin Cans into Clever Plant Pots for the Home.
Whether or not you're a gardener, tin cans make an excellent vessel for growing things. It's as easy as cutting out the bottom of the can, planting your plant, and adding a little soil.
If you're feeling crafty (or just want to add some color to your home), paint and decorate your tin cans before using them as planters. You can also use fabric to cover them up entirely—perfect for succulents!
10. Create a gorgeous potting bench from a packing table.
A packing table is a great starting point for a garden upcycling project because they're made to be sturdy and cheap. You can get them used on Craigslist or at thrift stores, but you can also find them new online.
Paint the table with your favorite outdoor paint to ensure that it lasts through years of weathering outdoors and stays looking good. Choose one with a design you like so that it fits in well with your backyard décor!
You can also add wheels to the bottom so you can roll it around easily when needed.
11. Transform a fence with broken chairs.
There are many ways to transform an old fence, but the most interesting one is by using broken chairs.
You can easily repurpose your old chairs into something that can add value to your garden and enhance your outdoor space.
For this project, you'll need to take apart any old chairs you may have to lie around, so make sure you have the necessary tools for that.
12. Build raised beds in your yard using wooden pallets.
The benefits of using wood pallets for your garden beds are numerous. They're cheap to source, easy to get your hands on, and can be used in a variety of ways.
Plus, they're strong enough to withstand the elements outside while retaining some flexibility.
This project can be done with just one pallet and it can be as simple or as complex as you want!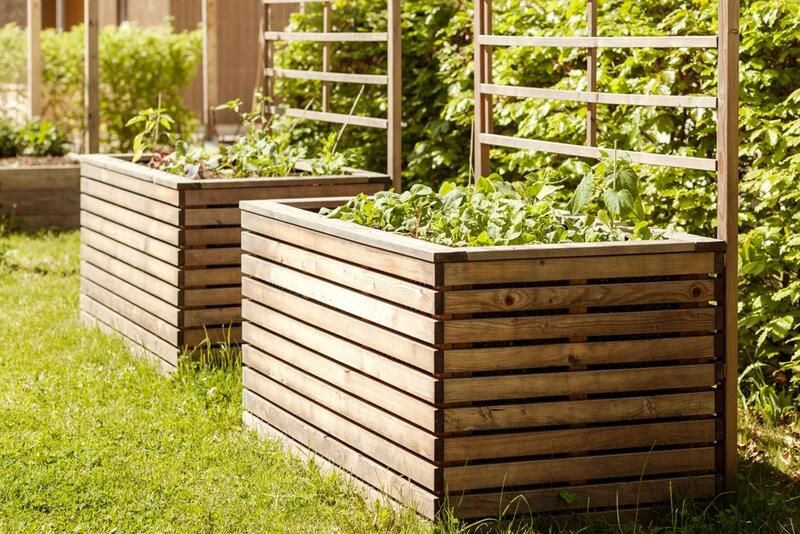 13. Create a planter from an old picnic basket.
What if I told you that there's a way to turn a picnic basket into an actual garden planter? All it takes is creativity, elbow grease, and maybe some extra fabric or paint for decoration!
To do this you'd need a basket that has a lid on it so that your plants don't dry out too quickly. You'll also want to put drainage holes in the bottom of each compartment so that water can drain easily.
14. Sprucing up old garden furniture using paint and stencils.
You can give old garden furniture a makeover with stencils and spray paint.
Outdoor spray paints are available in many colors that will match your garden, but you may have to test some on an inconspicuous part of the furniture first to make sure it will be suitable for outdoor use.
For example, if you have an old wooden table that has been neglected for years or is starting to look weathered and worn, try using stencils and spray paints to spruce it up. You can find all kinds of cool designs online on websites like Pinterest or even in craft stores.
If your benches are made from steel which has rusted due to exposure to sunlight and the elements, then why not paint them?
You could use bright colors such as red or green which would stand out nicely against any backdrop such as shrubs and trees around them!
15. Make your DIY trellis.
If you want to give your garden that extra interest, then a beautiful DIY trellis can be exactly what you need!
Here are two ways you can build your trellis:
Pallet: A simple way to build a garden trellis is by using an old pallet as the base of your structure.

Wooden Panel: If you're looking to go more modern with your garden design, but still want something that will last outside year after year, then consider using some reclaimed wooden paneling from an old barn or shed instead!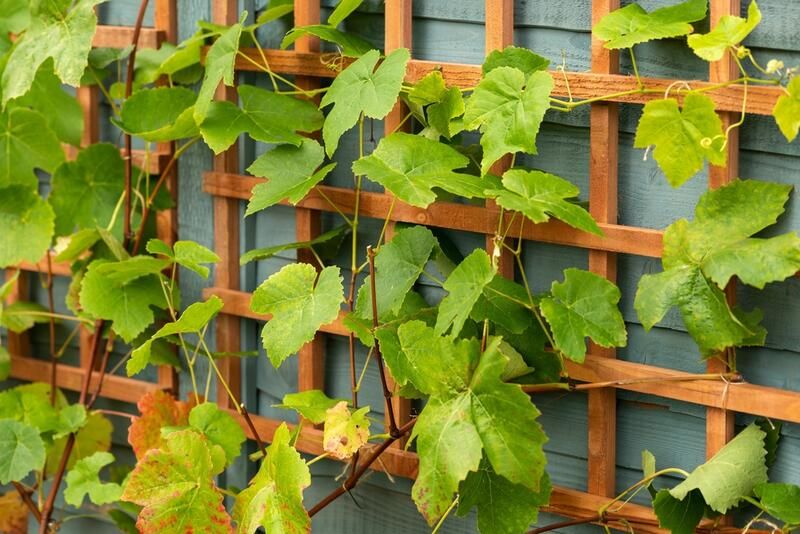 16. Upcycle old toolboxes into planters.
If you have an old toolbox, try painting it and turning it into a planter.
Here are some step-by-step instructions on how to do just that:
Wash your toolbox with soap and water to remove any dirt or grease from the surface. Then, dry it thoroughly with a towel before moving on to the next steps.

Choose a paint color for your planter that complements your garden them.

Add two coats of paint as necessary until you get an even finish on all surfaces of the box (if needed).

Let dry completely between each coat so there won't be any risk of smearing when pressing down against wet paint.

Lastly, place a good soil mixture and add your favorite plants!
17. Use pallets as plant shelves.
Think of pallets as a way to create something useful in your garden. As long as you have a clever idea, you can make a shelf or even an entire wall out of wooden planks.
Here are some ideas for how to use them:
Build a small bench that looks good around your garden.

Make two or three shelves for plants on the ground.
If you want to get more creative with your pallet projects, here are some things to keep in mind:
Choose where you want the shelves before cutting them down so that they fit perfectly into their location.

Paint or stain the wood first if it will be exposed outdoors so that it doesn't get damaged by weather conditions.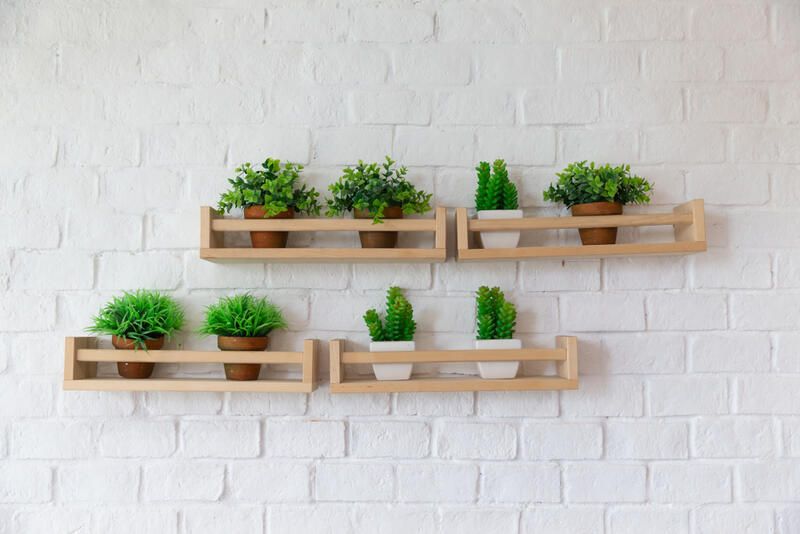 18. Use old garden tools to create a unique-looking gate.
With some creativity, you can put your old garden tools to good use by incorporating them into a unique-looking gate.
Here are some examples of what you might do:
Use the tool as a gate post. Some tools may have holes in the center where they were attached to handles or hooks. These holes can be used as posts for attaching other pieces of scrap metal and wood to create a gateway that looks like it was made from an old door.

Use the tool as a hinge for the gate. Many tools are made out of metal, so they're sturdy enough to support hinges.

Use the handle end of an old shovel as your latch mechanism.
19. Create interesting plant pots from Lego.
Lego is as popular with adults as it is with kids. You can use lego pieces to create interesting-looking plant pots for your garden if you like the look of Legos!
Lego pieces come in varying sizes and colors, so the possibilities are endless when it comes to creating unique-looking plant pots.
However, a great way to make sure that all of your Lego creations turn out looking fantastic is by using only one color at a time.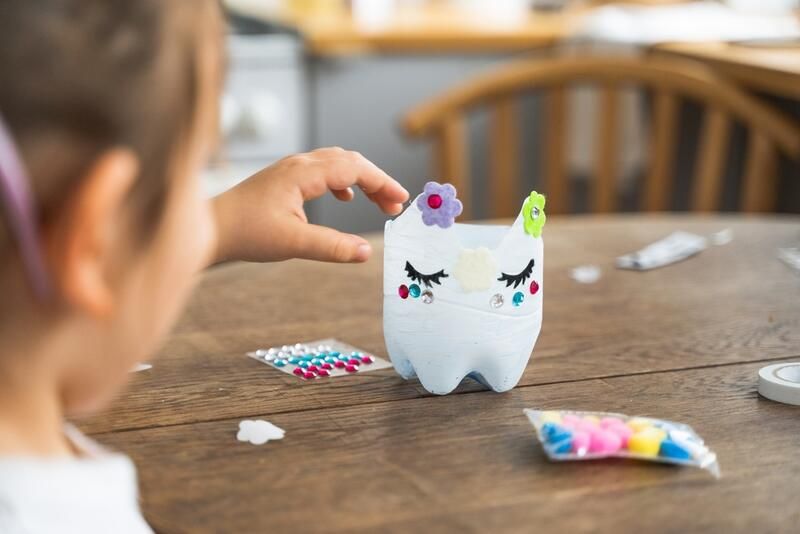 20. Create a fire pit from old tires.
Building a fire pit from old tires isn't for everyone, but if you want something that will stand out in your yard, it might be worth the effort.
The materials and tools required for this project include:
Two or three used car tires (you can also use motorcycle tires).

A metal grid creates a circular pattern for the fire to sit in (2 or 3 tire rims are also good enough).

An angle grinder with cutting discs or a hacksaw blade with metal blades.

A steel-cutting blade tool kit and safety goggles.
21. Make plant labels from kitchen utensils.
There are many ways to use kitchen utensils around your garden. One of the visually appealing ways to use them is by making labels!
Here is how:
Use a sharpie or marker to write on the utensil.

Flatten the end of your spoon with a hammer and use it as an ink stamp.

Make holes with an awl or any sharp pointy tool, such as a nail or drill bit.
22. Give a new purpose to your steel drum by making a garden bench.
A steel drum is the perfect size and shape for a garden bench. You can easily turn it into a fun DIY idea with the right tools and a little bit of creativity! The result will be a beautiful garden bench placed anywhere in your yard or patio.
Just cut off the middle of your drum, remove any paint or rust, and sand down the edges. Then attach some wooden legs or a pedestal to the bottom of your drum, and you have a beautiful new garden bench!
23. Create garden art from old CDs.
You can easily turn your old CDs into beautiful outdoor décor! All you have to do is cut the CD into thin strips, paint them with different colors and patterns, then place them on a board in a creative way.
The result will be a beautiful piece of garden art that can be placed anywhere in your yard or patio. It would also make an awesome decoration for any party!
There you have it,
This list of clever and unusual upcycled garden ideas can transform your garden into a beautiful space.
If you want to get started on any of them, just look around your home for items that could be repurposed as containers for potted plants or potting benches.
Remember that those ideas are only the tip of the iceberg, you can create many more upcycling projects.
You'll be surprised at how many great ideas you can come up with using what you already have at home!
And don't forget to check out ShrubHub's discounts on landscape design! You can get up to 70% off your first order and a free plant expert consultation too!