Garden Event Ideas: New Year's Eve Outdoor Party
Published: 24/01/2023 | Updated: 05/05/2023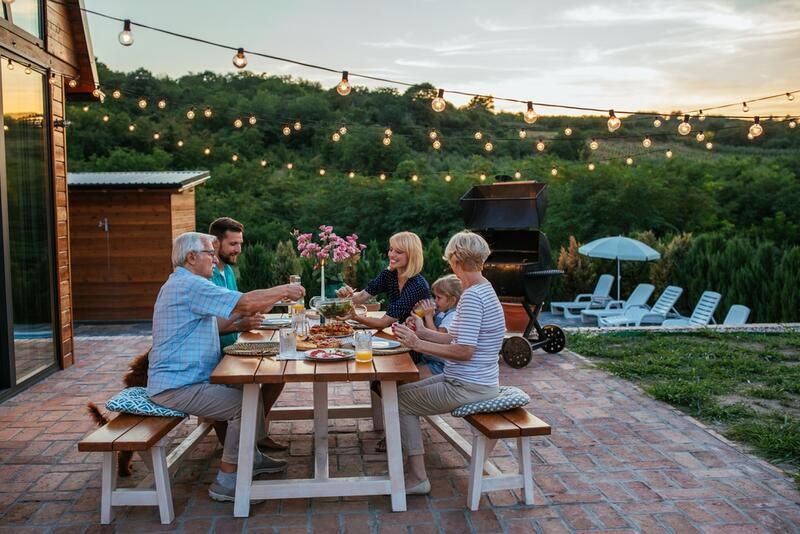 The year has finally begun to descend to an end which can only mean one thing... New Year's Eve celebration! With everyone ready to leave this year behind and jump onto the train of resolutions and alcohol, we've got the perfect idea for this year's celebration. New Year's Eve outdoor party!


Even if you haven't hosted a New Year's party at your house since high school, switching to it might highlight how much you've been missing. One is that you can modify the timetable to suit your needs. You can choose between an early party or a New Year's Day brunch if staying up until midnight has never been your strong suit; night owls can extend the enjoyment for much longer. Second, if you want to stay in your pajamas, by all means, make the dress code as casual as you can.
We know you've been slaving away this year trying to make sure your garden and yard are always bright and welcoming which is why we think it's time to start using it! Nothing beats intimate parties when it comes to New Year's Eve celebrations because you get to spend it with those you love most instead of a bunch of strangers plus you get to enjoy the luxury of doing whatever you want since it is YOUR backyard.
Let's jump right in on some of our favorite New Year's Eve party ideas on how you can get your yard ready for the perfect start to a new year!
The Perfect Ambiance
You're not simply holding any party on New Year's Eve, so create the mood by providing a welcoming atmosphere where guests can relax and have a wonderful time. This time of year, the sun sets considerably earlier, so make the most of the low light by illuminating the space with votive candles, twinkling lights, or a warm fire.
By setting up the room(s) with drink stations, canapés, and lots of seating, you can make your guests aware of the party areas in your house and give them a hint as to what is off-limits. Make sure to collect jackets and other stuff from your visitors so that there is more space for resting, dancing, and enjoying the celebrations and less clutter in the party area. The party will succeed right away just by creating a beautiful atmosphere.
New Year's Resolution Jar
Encourage everyone to jot down their resolutions to get them thinking about their New Year's resolutions. Make blank cards or pieces of paper available in a jar so that each person can tuck one into their pocket or handbag.
Create a Theme
If you're organizing a bigger gathering, encourage participation by choosing a theme in advance. Whether it's elegant black-tie clothing or a more whimsical approach like "wigs and shades" (admission is contingent upon wearing a wig and sunglasses), when every guest is appropriately attired, the party has a welcoming, enjoyable atmosphere. Planning your guests' clothes is another fantastic approach to including a theme and making them excited about the occasion. It will creatively distinguish your party from other NYE parties.
Include Some Cool Activities
Since NYE parties often linger longer (beginning at cocktail hour and waiting for the ball to drop), prepare a few entertaining activities to break up the party's monotony. During the appetizer hour, set up games (such as backgammon, dice, or cards) and place them strategically throughout the space to offer your guests something to do together before dinner.
Have everyone put down their New Year's resolutions or predictions (and guess who belongs to which resolution) during a second, more celebratory break. You'll have plenty of entertainment in store to keep the celebration going all night long rather than making everyone wait for something to happen (or at least until midnight).
Try a printable challenge like this "Drink If" game as an alternative to conventional card games. These cards are available on Etsy as an instant download in PDF format that you can print on card stock or if you're playing over Zoom, you can put them in a randomizer. The text at the bottom can also be changed to better suit your organization.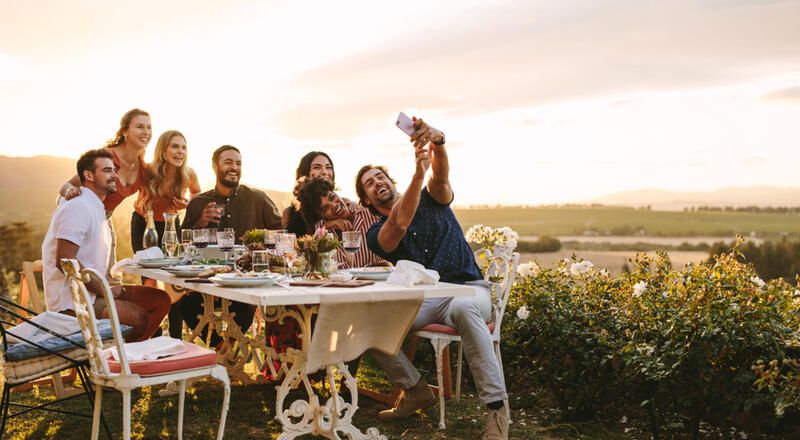 Provide The Best Photo Props
All of your guests will have hours of fun using these straightforward photo props, which are simple to build. The props will take care of all the festive work; all you need is a straightforward backdrop!
Make an Unforgettable Meal
Choose a meal that your guests will remember for being both tasty and inventive, regardless of whether you've decided to host a sit-down dinner or hearty nibbles. For the main course or dessert, fondue is a popular New Year's Eve dish that is always a terrific way to bring the company together over cooking and discussion. If fondue isn't your thing, pick a simple one-pot entrée instead so you can still enjoy the party without having to spend the night in the kitchen. A delicious chili or family roast recipe is sure to please everyone, and it makes clean up in the kitchen simple for all.
Get Festive!
While party hats, streamers, and other accessories can occasionally come off as gaudy, this is not the case on New Year's Eve. Distribute hats, horns, sunglasses, and any other accouterments that will give the evening a festive feel to get everyone in the mood for a group countdown. Items for New Year's parties are relatively simple to find and order online, and when everyone gets to participate in the fun outfit, it makes for unforgettable images.
TIP
Pick up some sparkling drink stirrers or any other décor piece (a small disco ball, sparklers, etc.) that will make the party ambiance festive without requiring the participation of each guest if you'd prefer not to go full-on New Year's Eve for expense or clean-up reasons.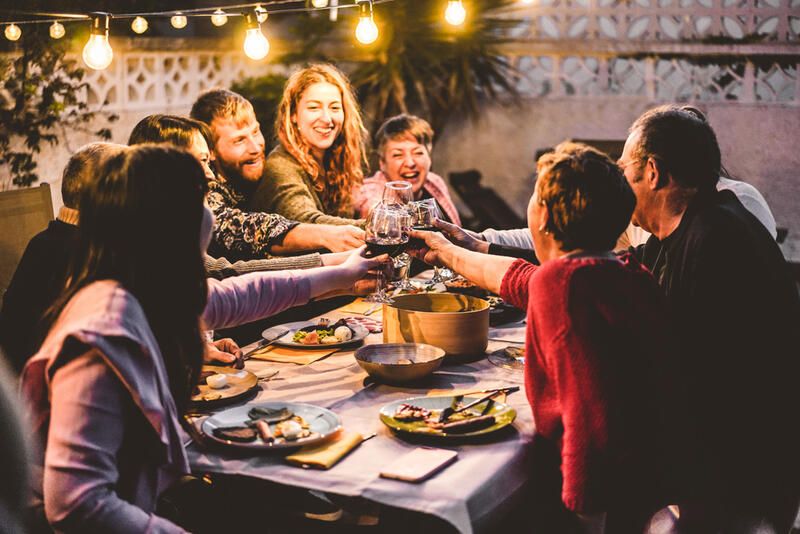 Easy Drink Access
If the drinks are plenty and simple to get to, your guests will feel more at home and have more fun. Set out champagne flutes that have already been poured for guests to enjoy when they arrive, and then replenish bottles for more servings when the ball drops. Wine, beer, and glasses should be available for your visitors to help themselves with, and you should prepare a special batch drink that you can serve from a huge carafe.
Make sure to serve plenty of water (including sparkling water) to keep everyone hydrated. To prevent crowds from accumulating around a bar or in a specific room, self-serve stations may be preferable for house parties. Allowing guests to restock themselves at any time will make them happy (and tipsy), plus you'll save money over hiring a bartender on an hourly basis.
All For Sparklers
You need a strategy in place for when the clock strikes midnight and that ball drops, that much is certain. Sparklers are a fun (and frequently affordable) addition to a champagne toast.
Photobooth Area
You should prepare a cute location with festive decor and a gold fringe backdrop since you can be sure that everyone in your home will be shooting a ton of photos throughout the evening. Bonus points if you carry a portable instant camera.
New Year's Eve Noisemakers
On January 1st, do you feel crafty and don't mind cleaning up a mess? Utilizing cake pop shooters and tissue paper, you may create your oonfetti poppers to be released at midnight.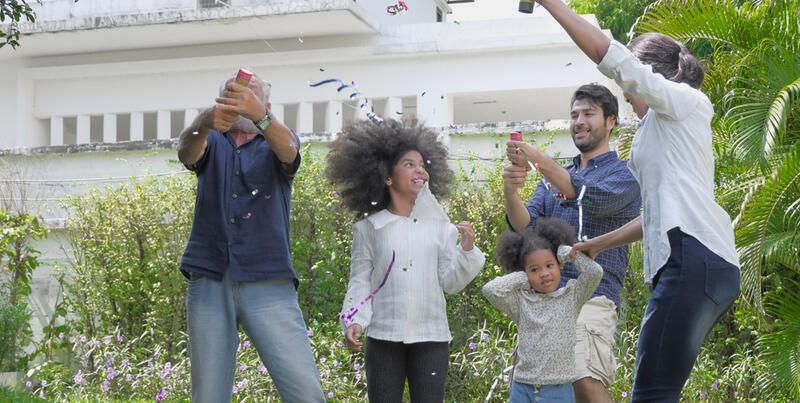 Disco Party Theme
Even though adopting a studio 54 ambiance is one of the New Year's theme suggestions for adults only, this party could be modified when children are invited. Who doesn't enjoy disco, after all? Clear the floor area for dancing and group the seats for the VIP section. A kitschy '70s-themed restaurant with a dance floor and availability in your region would be excellent, as would an ice rink for skating indoors.
Nothing beats a disco ball drop like a disco dance floor! Create your disco dance floor with removable colorful tiles and a few disco balls around to decorate. Set up very bright and cute lighting and create the ultimate disco dance track to get everyone moving!
Focal Point & Details
The little things seldom escape the attention of your visitors, even while the overall environment, food, and beverages play a significant role in arranging a successful party. All of these small gestures will go a long way with your guests, whether it's as simple as handing out shot glasses of mouthwash before the clock strikes midnight (everyone wants to be fresh for their NYE kiss) or creating a personalized playlist (have each guest send you their favorite songs in advance that will serve as the night's entertainment). A different popular party favor? Give away disposable cameras or set up a few Polaroid cameras on a table for guests to use to capture memories of their NYE celebrations as a result of your efforts.
Play Around with Trends
Honor the look that you think will be popular in 2022. Choose between a relaxed grandmother look, a bright pink Barbiecore moment, or a warm cottagecore atmosphere. Alternately, perhaps you prefer the Wednesday Addams-inspired dark academic look. There are many alternatives!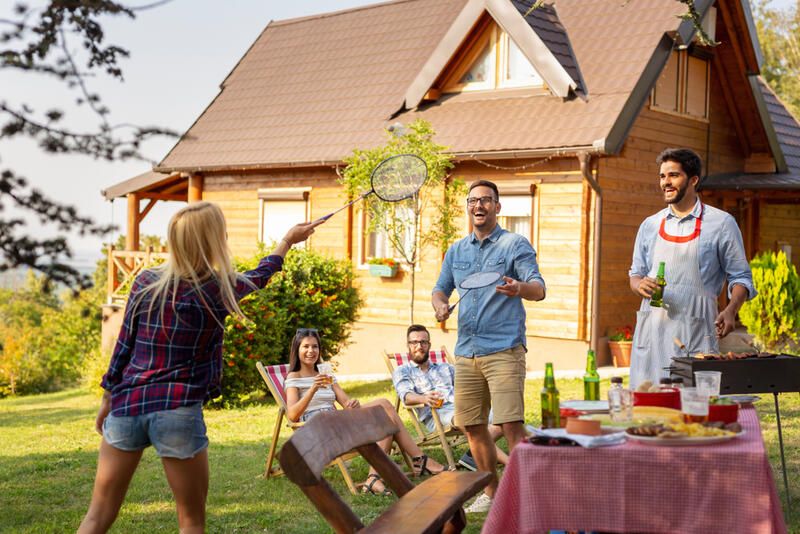 Create a Cheese Board
These days, no party is complete without a board of some kind. Consider a traditional charcuterie board or try a butter board, dessert board, or French fry board instead.
Overnight Accommodations
If you have any friends coming from far, look into setting up your guest room as an after-night haven. You can put headache medicine and liquid IV next to the bedstand along with some midnight toast snacks and a toothbrush for the morning. If there close, you can probably get them to help with clean up in the morning!
Giant Balloons & Streamers
Without balloons, is it truly a party? A magnificent display can be created by adding streamers and grouping them Add some lighting for the perfect way to capture some New Year's Eve party pictures!
A Red Carpet Casino Party
By renting game tables, you may transform your living room into a luxurious casino straight out of a Bond film (some party rental services may also have slot machines and dealers available for an even more authentic ambiance). Blackjack and other card games are a given but keep an eye on the clock to make sure nobody forgets to mingle because they are too engrossed in a game. You might want to steer clear of poker unless you specifically designate this as a poker night for this reason alone.
Set up buffet stations with easy-to-eat appetizers, a bar cart to make mixing favorite cocktails simple, and push a table up against a wall. Elvis Presley, Frank Sinatra, and the rest of the Rat Pack's music are a nod to Vegas. Ask attendees to dress in their "Vegas Best" when it comes to the dress code (red: Sequins).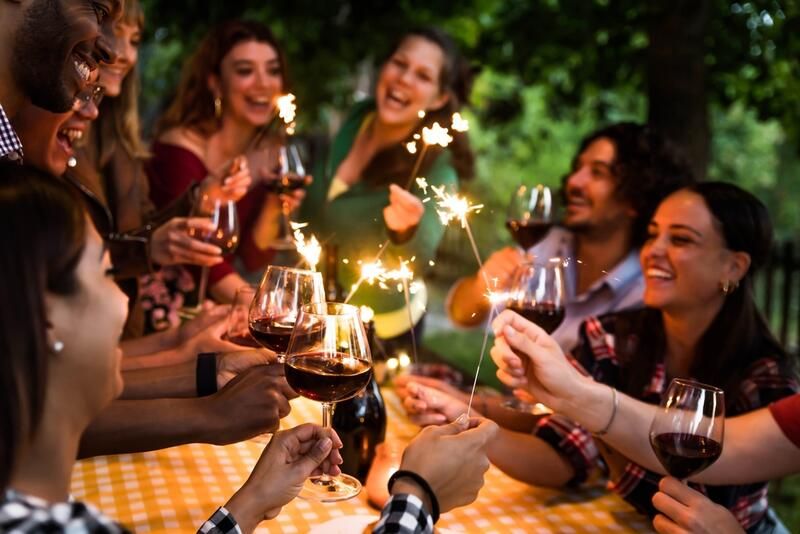 Remember What's Important
New Year's Eve is all about getting together to celebrate a new year with new friends and even new bell bottoms! Try and make your party favors and events those personal to everyone coming, kids and all, adults alike.
Ring in the new year with live music, passed hors d'oeuvres, a premium open bar, passed appetizers, fireworks, and lots of champagne! Plan around the weather and focus on the small details.
Transform your outdoor spaces into a second Las Vegas or even create your own makeshift time's square ball drop! New Year's Eve is about great music and great food with great people, so if that's the center of your party, it'll be great!
Happy New Years!