From Playhouses To Gated Pools: How To Create The Perfect Kid Friendly Yard
Published: 16/08/2022 | Updated: 29/03/2023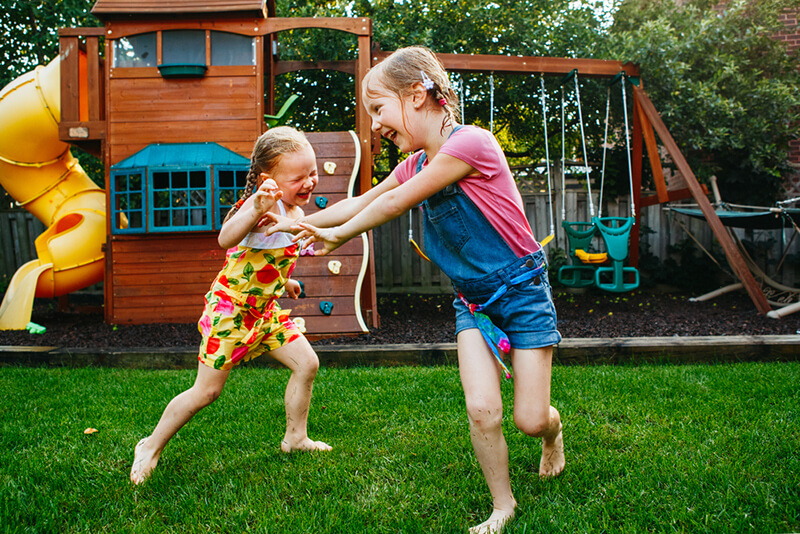 It's no secret that kids love playing outside. As a parent, you want to give your kids the freedom to enjoy themselves and discover their creativity in the great outdoors.


But with safety being of utmost importance, there are plenty of ways you can design your yard so it's fun and safe for kids too.
Don't worry, Shrubhub is here to help. We've gathered eleven of the best kid-friendly yard ideas to help you create a space that's fun and safe for your little ones.
Whether you're looking for a playhouse, a pool, or just some extra room to run around, we've got you covered!
1. Build a playhouse.
If you have kids, the idea of building a playhouse in your yard may sound like a dream come true. Not only will it provide them with hours of entertainment and fun, but also give them a place to go when they need some alone time.
Here are some tips for building the perfect kid-friendly playhouse:
Build It Safely
If your children are old enough to climb stairs, build stairs into the design of their playhouse so they can easily access it from inside or outside.
For younger kids, make sure there is at least one door on each side of the house so that they don't have to walk over hot concrete or asphalt.
Also make sure any windows are located well above ground level to prevent anyone from falling out while playing inside!
Use soft materials around the corners of the doors and windows like foam so that your children don't get hurt if they accidentally bump against hard corners during playtime activities.
Keep It Clean and Sanitary
Playhouses should be made out of easy-to-clean materials like plastic or wood. These materials will require less maintenance over time.
Also make sure that the material you're using doesn't not absorb liquids and food particles from spills can be easily cleaned. Don't leave any place where bugs might crawl around unnoticed.
2. Build a Treehouse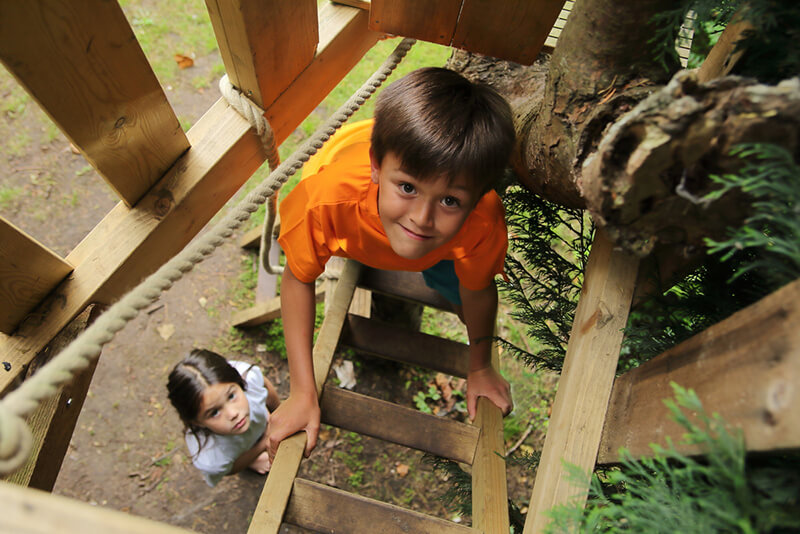 Treehouses are a common feature in children's backyard design, and they add a lot of fun to your space. They can be used for relaxation and play, as well as for physical activity like climbing or swinging.
Before you begin building one, though, there are several things you should consider so that it is safe for your child to climb around in.
First and foremost: keep safety in mind at all times! There are certain things that should be off-limits when designing any type of treehouse—or any other part of your yard design—for children.
Don't build too high; if possible, make sure the lowest part of the treehouse is ten feet above ground level at its highest point (and never more than twelve).
This will prevent accidental falls from happening due to too much wiggling around by little people who think "falling" means "landing on the ground" instead of "plummeting toward certain death."
Also avoid building near power lines or trees with diseased or dead branches that could fall down unexpectedly during playtime; this could cause serious injury if someone gets struck by them while inside their own home territory!
Finally, don't place anything under any part of your structure which might impede natural growth patterns within nearby trees.
3. Install a Gated Pool
Some kids are natural pool-divers. Others can't swim at all. In either case, gates are a great way to keep kids safe around the pool. They prevent little ones from wandering into the pool area unsupervised and provide a sense of security for parents.
The height of the gate should be at least five feet high and self closing, self latching, and self locking. It should also have a release mechanism that can only be accessed from outside of the pool area.
So before you pick out that perfect pool liner, make sure you factor in the need for a gate. It could make all the difference when it comes to keeping your little ones safe and sound.
4. Add More Play Areas
You can add a number of features to your yard that will make it more inviting for children, like planting shrubs with berries and fragrant flowers.
You might also want to install a swing set or a slide. Why not add a sandbox or a water play area as well? These will keep the little ones entertained for hours on end, and they're perfect for hot summer days.
Sand boxes can be installed in a variety of different ways – you can choose to have one that's attached to your house, or you can go for something more elaborate like a sandbox treehouse. And if you want to get really creative, you could even add a splash pad or a wading pool.
A climbing wall is also another great way to keep kids active and entertained (not to mention it's good for their muscles).
Just be sure to keep an eye on the kiddos while they're playing, and stock up on sunscreen – it's going to be a scorcher!
5. Add Built-in Seating
Think about your yard as a place where you can sit and rest, too. You'll want to add built-in seating so your kids can rest between activities, whether it's a bench, swing or chair.
If you have the space and budget for it, consider adding a hammock as well! Built-in seating doesn't have to be fancy or expensive; you can make it from wood, metal or plastic—even recycled materials like pallets!
And if your yard is on the smaller side (or if this is just something you'd rather not commit to), consider making built-in seating temporary with some extra pieces of furniture that aren't permanently planted in the ground.
Because seating is an important part of any yard design, you might want to hire a professional to create a comfortable space for you and your family. Our landscaping services can help you get the job done quickly even if you have a limited budget!
6. Provide Plenty of Shade
When it comes to playgrounds, it's important to consider the comfort of the children. A shaded area is a must for kids; you don't want them baking in the sun all day long.
If you're building a playground on your property, make sure that there's plenty of space under which to sit or rest during playtime.
This will allow them to cool down and refresh themselves before going back at it again. Also remember that some kids might not like being exposed in all their clothing when playing on an outdoor playground, so provide a place where they can change quickly if necessary as well!
You may also want to consider putting up an umbrella or two around your yard so that younger kids can stay out longer without getting too hot and bothered. This will also help with keeping bugs away from little ones' faces too!
7. Use Brightly Colored Outdoor Furniture
When designing your yard for kids, it's important to use brightly colored furniture that will keep them entertained for hours on end. And what's more entertaining than a hot pink gazebo?
Not only will brightly colored furniture make your yard look more fun, but it will also make it safer for your little ones. No one wants their child to accidentally step into a dark hole while chasing a butterfly.
So why not add a splash of color to your yard with some fun outdoor furniture? You and your kids will love it!
8. Consider a Home Gym or Trampoline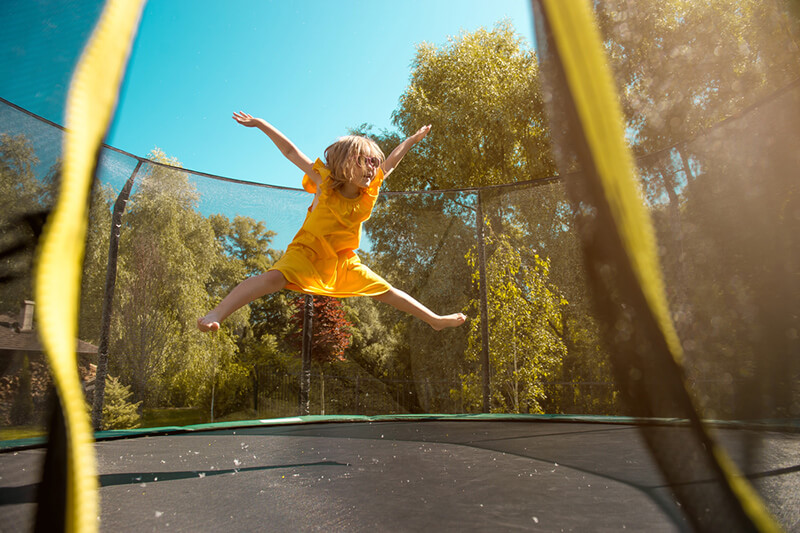 You might be thinking that a pool is a must-have for a kid-friendly yard, but we're here to tell you that there are plenty of other great ideas out there.
For instance, consider adding in a home gym or trampoline. Not only will your kids love it, but you'll love it too – bonus!
When designing your kid-friendly yard, make sure to keep in mind all of their favorite activities. Maybe they love to climb, swing, and slide – in which case, you'll want to add a jungle gym.
9. Plan Some Outdoor Fun With Backyard Games
Now that you're thinking about adding a kid-friendly element to your backyard, you might as well include some fun games and activities that will keep them busy for days!
Here are some ideas that you might want to consider:
Giant Jenga: This classic game is perfect for everyone from the toddleriest toddlers to teens and adults alike! Kids can take turns pulling out blocks until they topple the tower.
Badminton: If you have space in your yard for two badminton sets and goals, kids will flock over for this classic summer game that gets them moving around. Even if you don't have enough space for two separate sets, there are plenty of options online where all you need is a small net, which makes it easy to play wherever you want!
Bocce Ball: Have an empty spot in your yard or driveway? Turn it into an exciting bocce court! You'll need different colored balls and cones along with rules!
10. Install Outdoor Lighting
Having lighting in your yard is a must for both safety and creating a relaxing atmosphere. It's especially important if you have kids playing around in your yard all day long.
You can also use lighting to highlight certain features in your yard. You can choose low-voltage LED lights that are safe for children and won't attract insects. You can also choose some colorful fairy lights for decoration!
Remember, though, not to place the lights near breakable items such as glass table tops or fragile flowers. Don't place them near trees either.
It's good practice to install lights at least 15 feet from any plant due to the fact that plants need sunlight for photosynthesis and growth; if you block their light source with lamp posts or other lighting fixtures, they could die out prematurely.
Also make sure there's plenty of space between lamp posts so no one trips over them.
11. Grow Some Safe Plants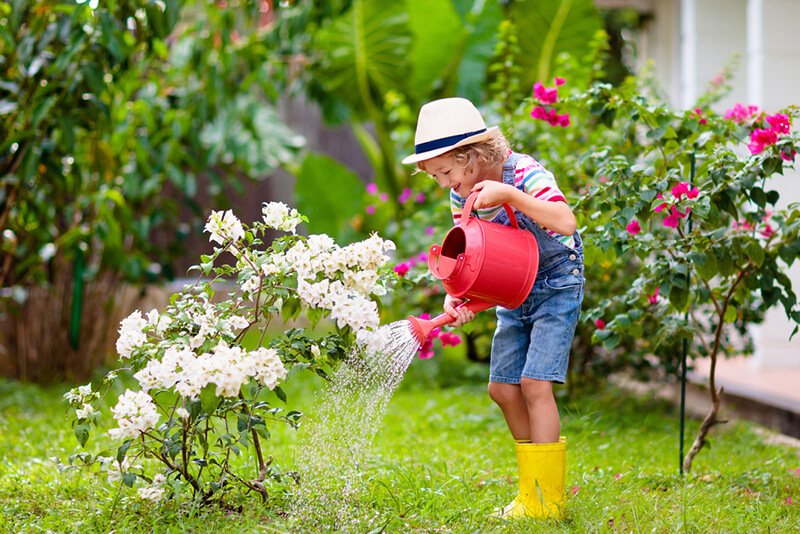 Make sure the plants you use in your landscaping are child friendly - no poisonous berries or toxic foliage to be found here!
Be aware of which type of grass you're using as well as some types of grass can cause irritation or attract insects or secret toxic substances.
For example, certain types of grasses like boxwood or juniper have leaves that can cause skin irritation if touched or ingested by a child.
Instead opt for non-poisonous varieties such as pachysandra (spotted spurge), which has pretty purple foliage and grows well in shade too.
How to Design Play Areas Specifically for Kids
Think about how you can make your yard more kid-friendly by creating a play area specifically for them.
Take into account the ages of your kids when designing the play area, making sure it's safe and fun for all ages to enjoy.
Make sure that the play area is accessible to all kids who visit, whether they use a wheelchair or walker or have any other disability or physical limitation, such as blindness or hearing loss.
And don't forget to consider whether these needs are likely to change over time—as children get older they may want more space in their play areas!
Finally, keep safety at the forefront of your mind when planning out this space; be sure that nothing in it could cause harm (like sharp edges on structures) so you can relax and let your kids explore safely without worrying about what might happen next!
Channel Your Inner Kid and Go Play!
We hope these ideas will help you create a yard space that is both fun for your kids and safe for them to play in!
Try out some of our tips and tricks that we've outlined above, and let us know if any of them work for you. We know that this might be a lot of work, but it will be worth it at the end of the day!
If you think you might need help designing the perfect kid-friendly yard, you can always check out Shrubhub's landscaping services! While this used to be a pricey option, ShrubHub's design experts are currently offering custom, professional yard designs for just $197 (for one yard) or $297 (for two yards).
Check out their website to learn more about what their remote team can do for you!