Farmhouse Exterior Design Ideas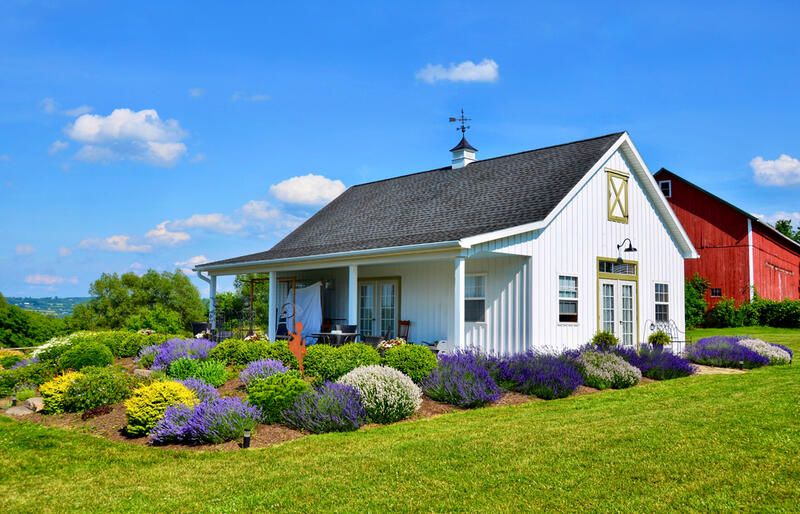 Partially thanks to television series like Fixer Upper and Sharp Objects, the modern farmhouse style is gaining more and more attention.


The clean lines and luxurious spaciousness mixed with a modern touch, make it one of the most favorable house styles out there.
This should be another reason you should strongly consider adopting this style; the farmhouse style is timeless and only gains more attention and love as time goes by, making it a sure way to increase your house's curb appeal and value.
There are a lot of different ways you can turn your house into that style, all of which we have here for you. But farmhouse style isn't just a few decorative elements, it's a style with many qualities that distinguish it from others.
What is Farmhouse Style?
In its most basic form, a farmhouse is a type of house typical of rural and agricultural settings characterized by a straightforward structure that prioritizes functionality.
Now, the farmhouse isn't limited to location. Any house, anywhere, can adopt that style.
Modern farmhouse style has gone through a lot of shifts and turns, at first only imitating the look of farmhouses, inspired by nostalgia, to eventually focus on the main elements that made the farmhouse what it is.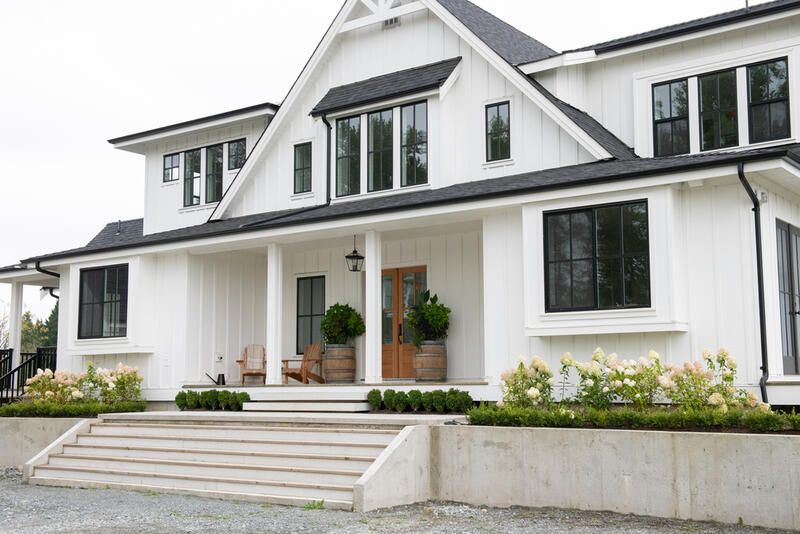 Farmhouse Style Main Elements
Currently, a few influential subtypes of farmhouses are usually adopted. Modern American, European, and French, farmhouses, and industrial farmhouses.
But they all have some basic elements in common.
Natural Materials
Farmhouses use a lot of natural elements. Wood, stone, and metal scream farmhouse style, especially when used prominently and in the exterior design. Traditionally, rural communities built their houses with the materials closest and cheapest to them: natural ones.
Now, even with the availability and affordability of alternatives, naked, natural materials immediately add the country charm typical of a rustic farmhouse. As well as connect the house to nature in an authentic form.
Practicality in Both Form and Function
Traditionally, farmhouses' construction followed practical reasons above aesthetical ones. Ease of construction was highly valued, and this element has remained.
Above all, farmhouses should have a practical form, to accommodate the needs of the ones who live there.
Lack of clutter and clean lines are then elements that immediately tie to farmhouse style, even the modern farmhouse one.
Natural Color Scheme
Inherently tied to the natural materials used, farmhouses fashioned natural colors. Natural colors are elegant and sophisticated without being too showy, a characteristic trait of farmhouses.
Beauty is achieved by mixing those colors, either in stark contrast, or an elegant mono-warm palette.
That makes the beautiful farmhouse inviting, cozy, and warm with a rustic feel that immediately makes the inhabitants and visitors feel at ease.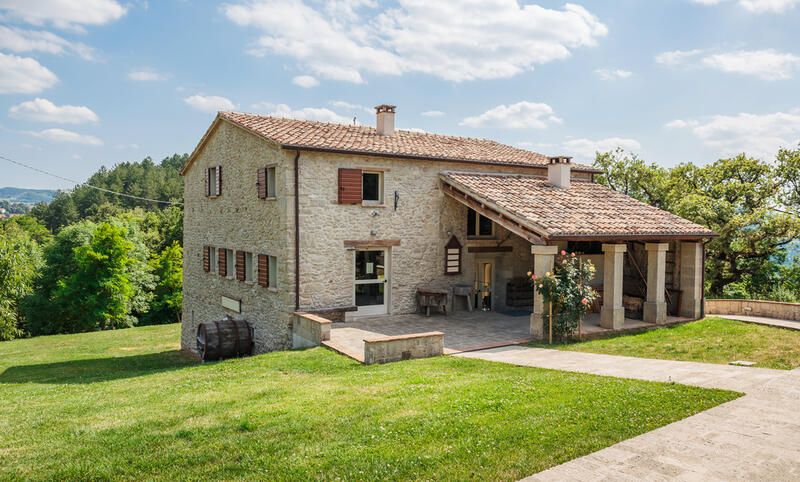 Textural Variety
Even as simplistic and clean in form as it is, the farmhouse style is still distinguished by its visual depth.
This is due to the use of a variety of textures in an elegant way. And this isn't just for the interior of the house, but for its exterior walls and outdoor landscape and furniture.
Layering materials and fabrics, all preferably natural and organic, immediately distinguishes the farmhouse from other styles.
Cozy Minimalism
Farmhouses are all about clean structure and a simple, practical approach. So minimalism is key.
Farmhouses reject clutter, whether exteriorly or interiorly.
Modern Farmhouse Exterior Design Ideas
Now that you know all that makes the farmhouse look what it is, where to start? We have a bunch of cool ideas for you that will help transition your house's exterior into a modern farmhouse exterior.
Classic Gable Roof
Nothing screams farmhouse home exterior as much as a gable roof. Gable roofs are stylistic and highly effective in functionality.
It sheds snow and rain very easily and as it tends not to have valleys, it reduces the chances of leaks.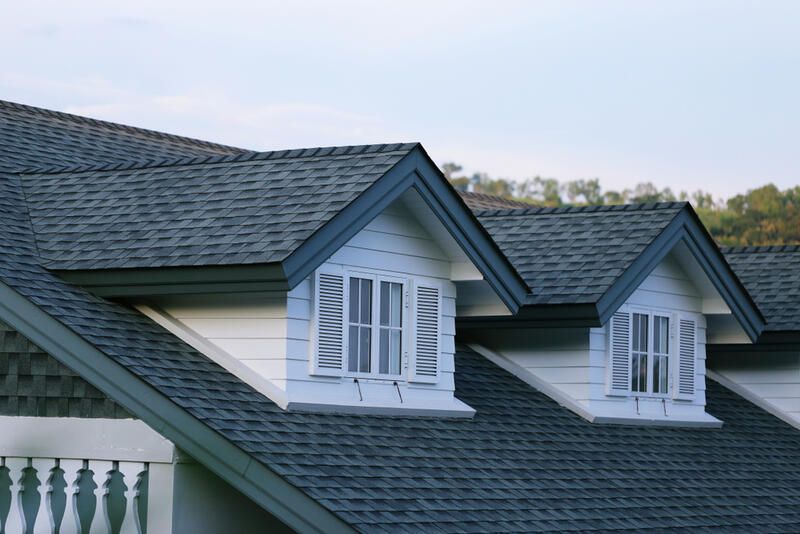 Black Metal Roof
A black metal roof is ideal for a farmhouse exterior. It might be a bit costly, but it's very durable. An important quality of any modern farmhouse.
It highlights the natural metal in the house. Especially when combined with gable roofs.
A metal roof is stark and string in character and looks, as well as sleek and elegant, and modern. All of this makes it one of the best exterior ideas for a farmhouse.
Black Window Trim
Black windows, especially with full white paint, form a stark, stunning exterior look that's beloved by many homeowners and unlikely to go out of style.
Black window trims make a strong statement while giving the place a striking, energetic character. And frames the house beautifully from the outside, while also framing the external views stunningly from the inside.
White Paint Exterior
One of the most famous farmhouse exterior looks is painting the house white. It highlights everything good about the farmhouse exterior look: clean lines, simplicity and minimalism, and farmhouse colors.
And especially to the luxurious modern farmhouse too, as the white farmhouse exterior gives a sense of royal, elegant grandness that doesn't contrast with the ideals of farmhouses.
A white farmhouse exterior is then a perfect modern farmhouse look, with the slight disadvantage that anything white usually has of being more easily dirtied than other paint colors.
But with care and maintenance, it's a timelessly elegant, stylish look that you should consider.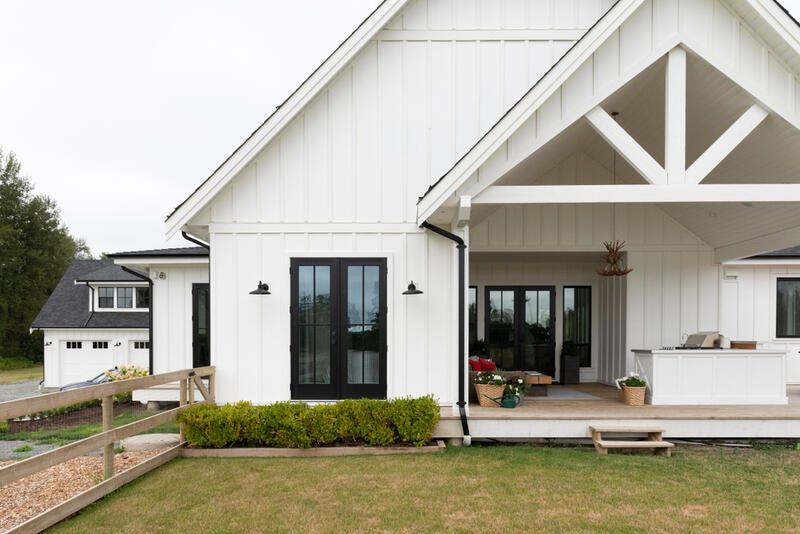 Board and Batten Siding
Known as bard siding, board and batten siding is a very distinguishing characteristic of farmhouses, both old and modern homes.
This look is achieved by applying thin strips of wood molding, known as battens, to the seams of panel boards.
The batten siding adds visual interest and intriguing texture to an otherwise plain wall. Which gives it an effortlessly chic while rustic aesthetic.
Wood Doors
Wood is one of the materials most used in farmhouses. Hardwood is excellent and long-living, with a strong natural beauty.
You can highlight this by using wood for your external doors, especially the front door. A wood door adds to the textural and visual interest of the house. And it's very suitable for a modern home exterior as well.
Covered Porch
A farmhouse porch is a big part of the idyllic lifestyle this style of home represents: functional, lived-in, comfortable, relaxing, and inviting.
Porches aren't just part of a home's exterior style or front yard but are meant to be used on a day-to-day basis, for a relaxing cup of tea when the weather allows.
The covering provides shades and layered visual interest without overcomplicating the structure of the house.
Stylistically, railings are also well-liked with the porch cover. Together, they separate the front porch from the front yard while still being part of the outdoors.
This highlights the aspect of the clean line and also the functional use of this architectural style.
Covered porches are a perfect modern farmhouse design that you should go for.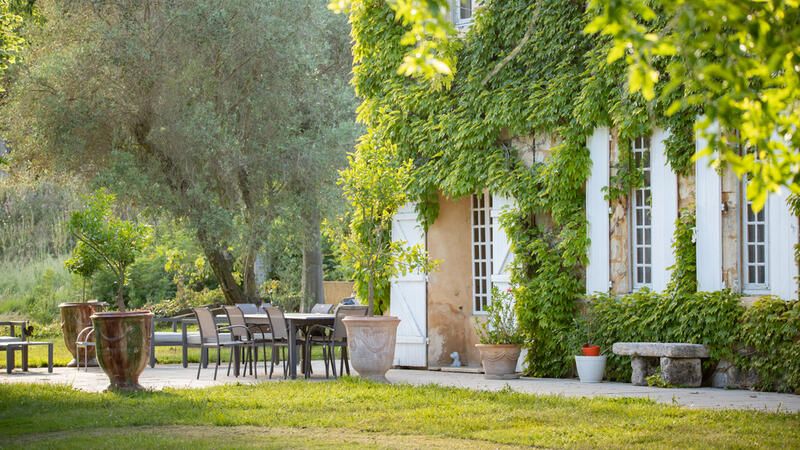 Rustic Vintage Outdoor Furniture
When choosing your patio furniture with farmhouse exterior ideas in mind, you should go for furniture that highlights this.
Choose wooden elements, among other natural elements, to highlight this.
Pine, especially, is a perfect wood for modern farmhouse exteriors.
Pine Outdoor Furniture
Pine is sturdy and long-living and has been associated with the rustic lifestyle for so long that a type of pine is called rustic pine.
Whether for rocking chairs on the front porch, vintage swings, or patio couches and dining sets, pine would be a great choice to add country charm to your exterior designs. Especially with a white farmhouse.
A lot of Windows/Large Windows
Farmhouses are also known for their use of windows. For a farmhouse exterior, windows are large and plenty.
This not only adds a lot of texture and visual interest but has practical reasons for letting in as much natural light as possible.
As well as cross ventilation, which allows for the natural and cool circulation of breeze, and is part of the reason why old farmhouse styles never felt stuffy.
This is still a great look to go for with a modern farmhouse exterior, as all those reasons still stand.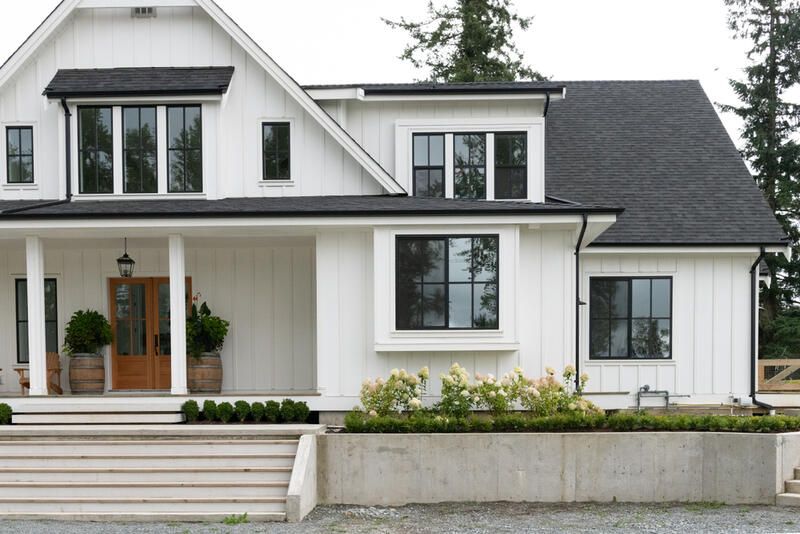 Grille Windows
Another thing you can do to your windows to give them that farmhouse look is to make them grille windows. Without being too much, this look adds to the visual interest, texture, and aesthetical appeal of the exteriors.
Glass-Decorated Front Door
Glass decorated front door is characteristic of classical farmhouse exteriors but is also wildly adapted with the modern farmhouse.
For mostly the same reasons as the large windows, a farmhouse front door is decorated with glass to let more sunlight. And to decorate the door simplistically.
Black and White Color Scheme
This is a beloved, classic color scheme for a farmhouse exterior. And is very suitable for the modern farmhouse as well.
There are many ways to achieve this look. You can go for a white farmhouse exterior with darker hues, like black windows, front porch railings, and gable brackets.
Or you can go bold and paint the house black with white accents like white siding. A very modern look!
Barn Doors
Another great modern farmhouse exterior idea is barn doors; a barn door may look intricate but it's simple.
It's mainly used to shape and direct light to create focused light in different shapes. You can adopt barn doors for the front door, or any other exterior door in your home. And it'll add a lot to it!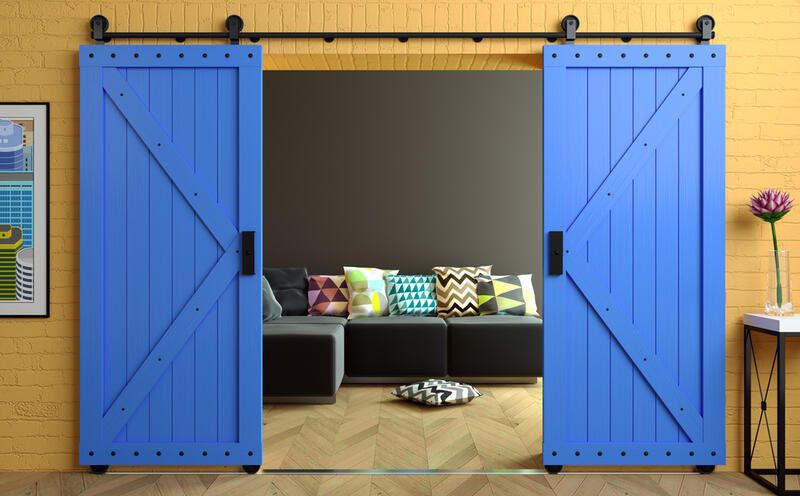 Attach Flower Boxes to the Windows
Flower boxes are a charming look for most houses, but especially for a modern farmhouse.
Nature is highly valued in this style of house and no better way to show it than add cute and pretty flower boxes to the windows.
Shingle Siding
Shingle siding is a great way to add to the texture variety of a farmhouse exterior. The board and batten siding are great, but you have even more options to go with what you prefer.
Even though shingle siding isn't as characteristic of farmhouse homes as board and batten siding, it's still a modern farmhouse inspiration as it functions according to the characteristic elements of a modern farmhouse exterior.
It can be of natural elements and the overlapping styling of the horizontal siding adds visual depth to the entire look of the house.
Exposed Brick
Exposed brick is a look that's getting more and more adored by designers and homeowners.
Exposed brick walls bring warmth and coziness to the exterior of a house. They all add character and visual depth, which are especially beloved for the modern farmhouse exterior.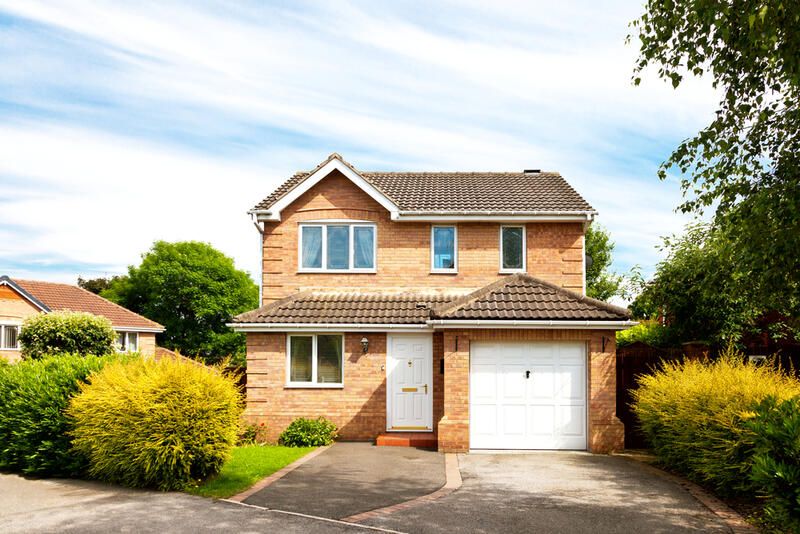 Warm Neutrals
Just because farmhouse homes prefer neutral colors, doesn't mean you're limited to only black-and-white color schemes.
Warm neutrals are perfect for a farmhouse's exterior paint colors. Orange and pink undertones, such as beige, tan, and gold give an elegant, sleek, warm, cozy atmosphere.
Dramatic Front Door Color
The modern part means you can go bold and add your personal touch! You can have a dark red front door and it'll be a focal point in an otherwise simplistic structure and color scheme and be beautiful!
Garage Door Color
While thinking of the colors for your outdoors, don't forget your garage door. It's also a part of the look. You can go with cool neutrals, like gray, or even paint it the same color as the house or windows.
Mix Between the Old and the New
Don't stick to only the traditional farmhouse look or the purely modern farmhouse one. You can mix and match those ideas until the design reflects your personal touch.
Reclaimed Wood
Other than the front door, you can use wood to accent the walls outside. Reclaimed wood is especially adored for a farmhouse look.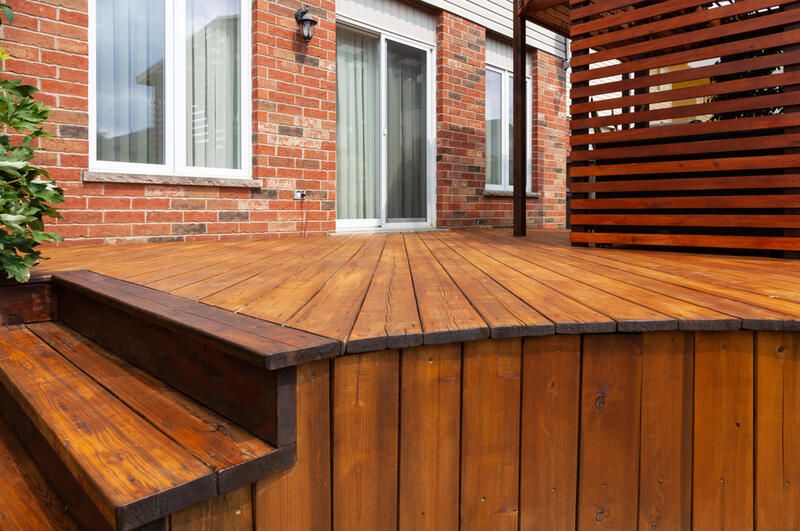 Exposed Rustic Beams
Rustic beams are elegant and add dimensions and a sense of space. You can use them for your covered porch!
Curated Hedges and Trees
Don't forget the living aspect of your outdoors when planning your farmhouse exterior look. It's all about nature. And there's no better way to highlight that than with large and curated trees to add to the charming rustic look.
Transforming the exterior of your house from one house style to the other is no easy task. At shrubhub.com, our professionals are experienced in all American designs and our project managers take into account your climate, environment, functionality, and personal preferences to meet your aesthetic requests to transform your house's exterior to a farmhouse exterior. Your dream farmhouse home is waiting for you!
Through comfortable and professionally easy communication with our project managers, you're sure to receive exactly the end goal you have in mind, especially thanks to our latest 3D technology that will give you an eye-level view of your landscape, in both daylight and nighttime, before any implementation starts. Which ensures a smooth, anxiety-free process!