Dwarf Olive Tree Ideas to Add a Chic Touch to Your Yard
Published: 24/01/2023 | Updated: 12/05/2023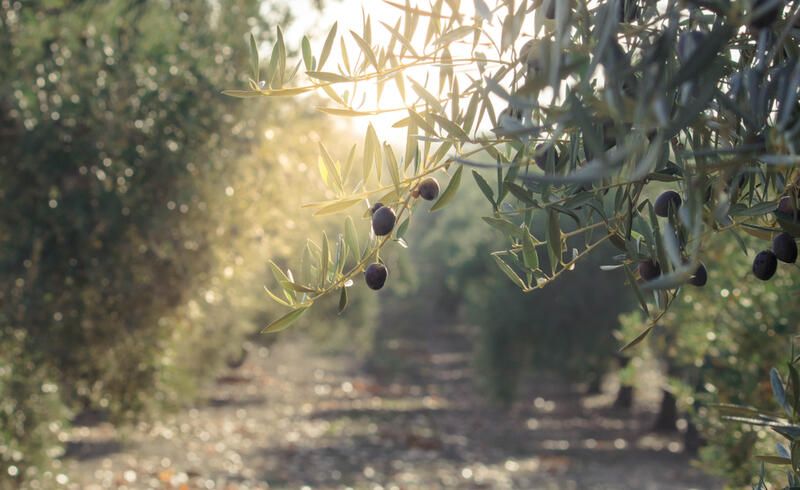 One magnificent olive tree can transform your outside space. This heat-hardy species with its distinctive deep green leaves will not only have a positive visual impact on your space, but it will also help the environment too!


Both a full-size olive tree or a member of the dwarf species can add a lot of interest to your outdoor space, but dwarf olive trees are so easy to maintain and so versatile, that we just love adding them to any yard!
So many arrangements!
A single olive tree has the power to occupy the focal point of a courtyard garden or terrace. Planting them in pairs will give your design an attractive symmetry and allow them to gracefully flank entrances and water features. A row of olive trees, on the other hand, will boldly stand out against a dark background while softly blurring boundaries like fences and houses.
Olive trees can be raised as single-stem tree varieties or as multi-stems with twisted trunks. One or two olive trees are a must-have for every garden, whether you carve them into artistic shapes or allow them to grow more naturally.
These silvery-green Mediterranean favorites are among our favorites because of how easy they are to grow. Whether you like a contemporary, minimalist style or something more conventional, traditional, and classic, you'll quickly find that olive trees mesh perfectly with your surroundings.
Olive trees may not be the first species that comes to mind when you are arranging your evergreens, but adding a few of them to your yard will help it to stand out from the crowd.
The olive tree is one of the best trees for small gardens because it won't grow too big and still creates a lovely silhouette.
Olive trees can add a focal point that will anchor a courtyard design. The twisting branches of an olive tree will act as a sculpture, focusing attention and drawing you in.
When landscaping with olive trees, keep in mind that they grow somewhat slowly, you'll need the patience of a saint to wait until some real growth begins, so if you want to see results right away, it is worth opting for a mature specimen, especially if you intend to use this evergreen tree for screening.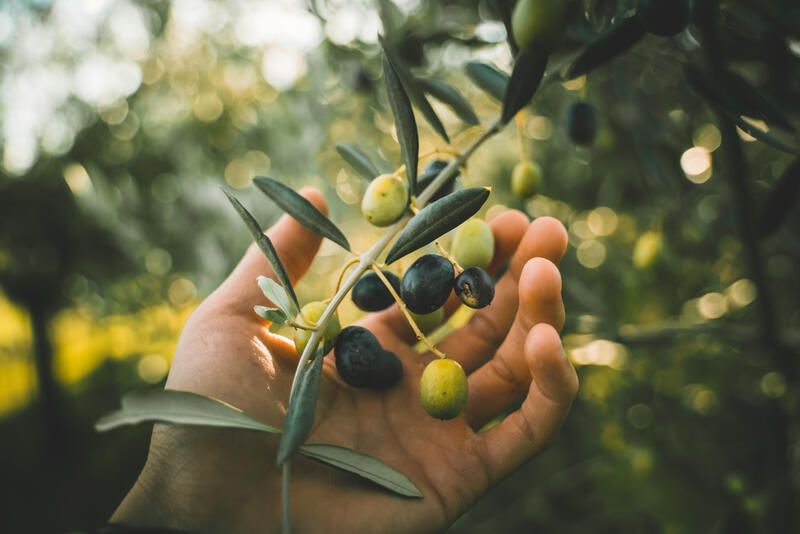 Container olive trees
They make great container plants! They also go very well with other essentials of the Mediterranean garden, such as lavender and aromatic herbs like rosemary, sage, oregano, and thyme.
When buying an olive tree, put it in a larger pot, preferably one made of terracotta rather than plastic, and use a compost based on loam to improve drainage, and make sure to place it in olive tree-friendly native soil.
Plant your olive tree in a place that will receive as much sun as possible and make sure to keep the soil moist, especially during the growing season, and fertilize once each month with a balanced liquid fertilizer. Like most perennial species you can reduce watering during the winter, but make sure to water container plants regularly enough to keep the soil hydrated.
A courtyard is a perfect home for an olive tree
An olive tree is best placed in a sunny, south-facing outdoor patio or courtyard garden.
Olive trees are more difficult to grow than you might imagine, so try to find a sunny, protected, well-drained place. Also, aim to plant in the spring, after the risk of frost has passed but before the end of July, to give the tree enough time to mature before the following winter.
One great way to provide your olive tree more sun is to plant it in a raised bed. Cipressino, a sturdy tree that grows upright, and Arbequina, a variant with a weeping habit ideal for tiny gardens, are two types that perform well in a courtyard.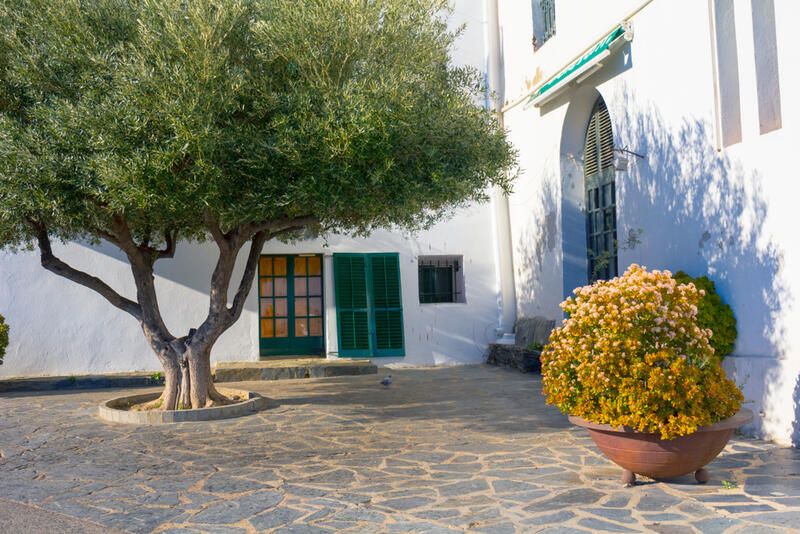 Cloud pruning
Numerous different plants can benefit from cloud pruning, but evergreens like olive trees make the best pruning subjects with their year-round attraction. The plants you choose should have striking branch formations because they will be the base of the design.
Whether you opt for a natural or sheared hedge design, the olive trees in your yard should be kept in proportion to the other vegetation. You can cut branches, prune different tree segments, and control their growth to achieve the desired effect. The good news is that they are not just beautiful to look at but also remarkably hardy.
Liven up your patio with a potted olive tree
Olive trees make great patio trees, and adding them to your patio or deck is a wonderful way to liven up those spaces. Dwarf olive trees grow into a clean, compact shape so that they won't take up much room, and they hardly ever shed leaves or other plant debris.
If your deck is made of wood, use non-fruiting olive tree varieties like "Majestic Beauty." However, keep in mind that you must live in an exceptionally hot climate for your tree to generate a harvestable yield.
Olive trees as focal points
A collection of dwarf olive trees can make a wonderful terrace centerpiece, particularly if you've pruned them into living sculptures. Make sure to maintain them regularly to keep the cloud-shaped charm going. It is most likely that when you bought them, they were already trimmed so keep in mind that trimming will be a regular appointment from now on. It is worth it as well manicured dwarfs make a striking feature that can be appreciated from both inside the house and the garden.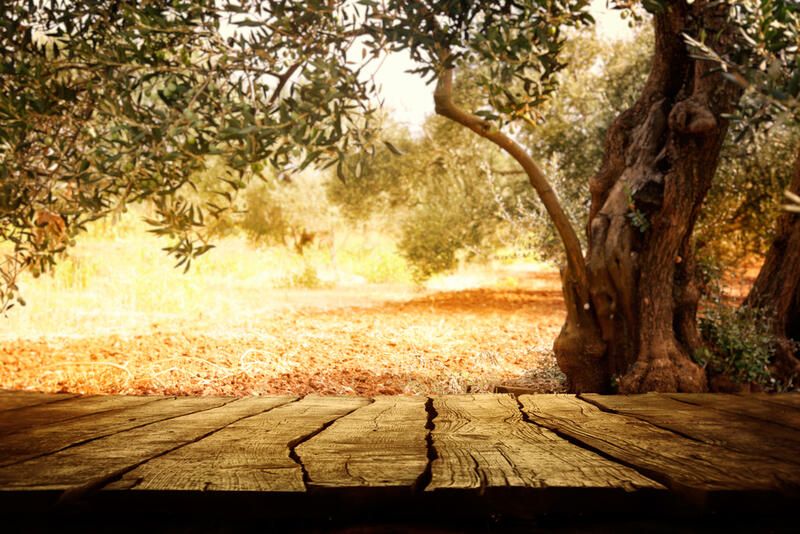 Are You Ready to Opt-in with an Olive Tree or Two?
The beginning of the new year is the perfect time to give your yard a makeover. You can begin planning your very own olive garden from now so that when spring comes around, you're ready to get planting!
By planning early, you'll be ahead of the curve and can do your homework about which seeds to invest in, or whether you want to opt for a mature specimen that will instantly transform your yard.

If you're new to olive tree gardening, you may want to enlist the help of an olive tree connoisseur. There are dozens of olive tree specimens to choose from, and you may up a little underwhelmed with the results if you allow for ample planning.

So why not get started on the right foot, and secure the expertise of a seasoned landscape designer to make the most of your olive tree vision?

We love a beautiful olive garden and our team of expert designers is ready when you are to help you achieve exactly that!

What you'll get with Shrubhub:

* 3D Landscaping Design
* Door-To-Door Shipping from Our Exclusive Nursery
* Recommendation for Your Location's Top Contractors
* Shopping List with All the Elements Used, Be It Decoration or Vegetation
* Free Phone Consultations with Your Designer
* 24/7 customer support
* Free Insider Secrets eBook
Happy landscaping!