Delaware Landscaping: ShrubHub's Top 10 Native Plants
Published: 07/03/2023 | Updated: 05/04/2023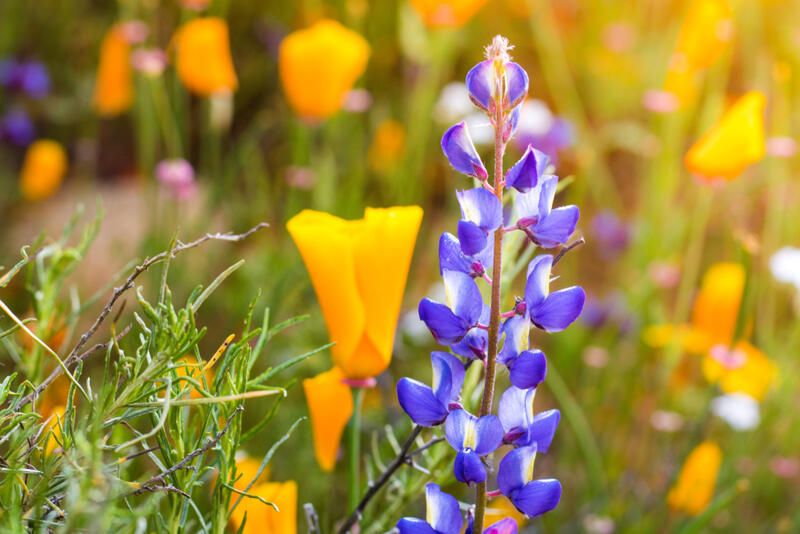 When thinking of Delaware, what is the first thing that crosses your mind?


For us, it's the all-year-round beauty: when the ocean breeze brushes against one's face on a hot summer day or the beyond-charming blooms embellish houses in spring. And when fall suddenly creeps in, Delaware becomes magically dressed up with an irresistible fiery blend of orange, red, and gold. Then, winter kicks in, boasting picturesque sceneries and marvelous decorations across the cool coastal streets.
Distinguished by its style, personality, and joyful nature, Delaware is home to some of the most captivating gardens and sun-drenched beaches.
Given the fact that spring is just around the corner, it's a golden opportunity to summon the beauty of Delaware's nature to your yard. Imagine bringing home the thrill of its adventures, the serenity of the ocean waves, and the bright colors of its floral breathtaking displays!
When it comes to Delaware landscaping, this state offers a wealth of opportunities to every homeowner. However, building a beautiful property with a captivating curb appeal in Delaware calls for some landscaping services: lawn care, snow removal, mulching, lawn maintenance, clever plant selections, and many other landscaping needs.
While some owners opt for a full-service landscaping company to take on their garden maintenance as a project, others prefer handling their yard's business solo! Whichever scenario you want to play out, we are here to help you choose the right native plants for Delaware's mild climate and soil conditions.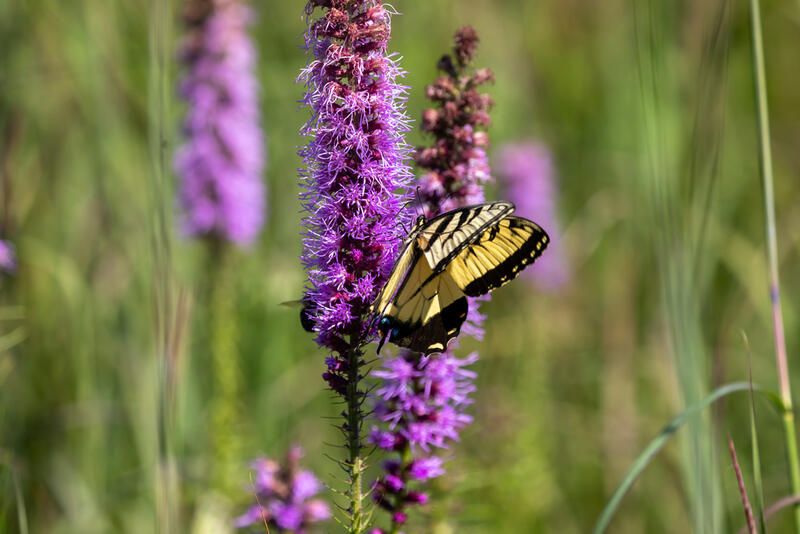 Today, we will delve deeper into how to create unique landscapes with Delaware's wide variety of native plants:
Butterfly Milkweed
Also known as butterfly weed and orange milkweed, this flower blooms in late spring and embellishes your outdoor space till late summer.
If you are looking for ways to bring a dreamy escape to life, butterfly milkweed is a great way to add instant charm to your space. Adorned with clusters of bright orange-yellow flowers, lance-shaped leaves, and silky-haired seeds, this herbaceous perennial grows perfectly in dry, well-drained soil.
When planting butterfly milkweed, its orange tones will bring a sense of cheerfulness and playfulness, turning your garden not merely into a captivating outdoor space but also an exotic and exciting journey.
Acer Rubrum (Red Maple)
Let this tree take center stage in your outdoor space to spark up your entire home decor with this fiery, spectacular autumn color!
Once your visitors step into your garden, they will be in awe because of its majestic impression. What is truly amazing about red maple is that it magically changes color throughout the seasons, it's like it has a distinctive personality that matches every vibe.
Come early spring, it grows clusters of tiny red flowers that look like they have come straight out of a fairytale. Throughout spring, leaves gradually alter their color to dark green. And when fall kicks in, magic happens! Marvelous shades of yellow, orange, and red fashion an eclectic outdoor space.
Wild Bergamot
Nothing says relaxation, youthfulness, and optimism like the lavender color. Grow this plant to bring an air of bright serenity to your outdoor space!
Showing off whorls of lavender flowers, and wild bergamot in dry to medium-wet, well-drained soil. Decorated with masses of fragrant tubular flowers that shine in lilac-purple, this plant blooms from mid-summer to early fall and thrives best in full sun or partial shade.
Wild bergamot does not only draw humans' attention to its charming beauty, but it also attracts butterflies and hummingbirds!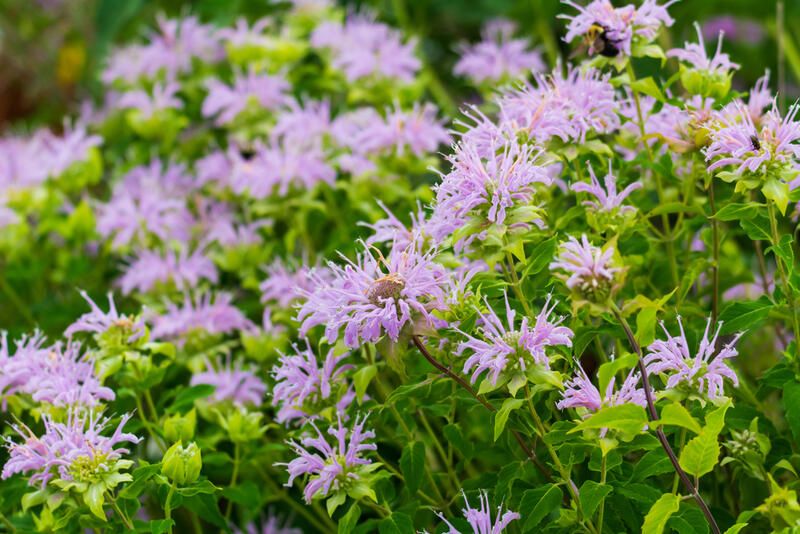 White Yarrow
If your current yard is uninviting and boring, convert it into this dreamy retreat that emanates ethereal beauty!
With leaves that are finely split into many small, delicate leaflets and white to pink flowers cheerfully blooming on top, yarrow white gives your outdoor space a feathery appearance.
This perennial herb blankets your garden with clusters of creamy-white feathery foliage that look like tiny fairies roaming around your backyard.
You might think that white yarrow is all about aesthetics—after all, it oozes purity, innocence, and boldness—but it is not all about being pretty. This plant benefits your health in terms of enhancing wound healing, alleviating digestive problems, reducing symptoms of anxiety, and fighting inflammation.
Narrow Leaf Evening Primrose
Bursting with happiness and pride, this vivid yellow plant is nicknamed sun drops for a reason. When taking a closer look at it, you'll be amazed by its beguiling clusters of cup-like bright yellow flowers and lance-shaped, fresh green leaves!
Provide this beauty with the perfect growing conditions by placing it in full sun to partial shade area and planting it in well-drained soil.
Just like glowing stars amid a dark night, these showy golden flowers shine brightly, enveloping your golden with an animated glow!
White Baneberry
Accentuated with finely divided, vividly green foliage, white baneberry is even more beautified with close-packed, globular clumps of delicate and airy white flowers.
Growing on red stems, pea-sized white berries show off a tiny purple dot in the center, also known as a doll's eye.
This plant is often stunning to behold: it displays a captivating blend of purity and passion with its white and red color palette.
For an unexpected twist on your Delaware's landscape design, scatter white baneberry across medium moisture, well-drained soil in full sun to partial shade.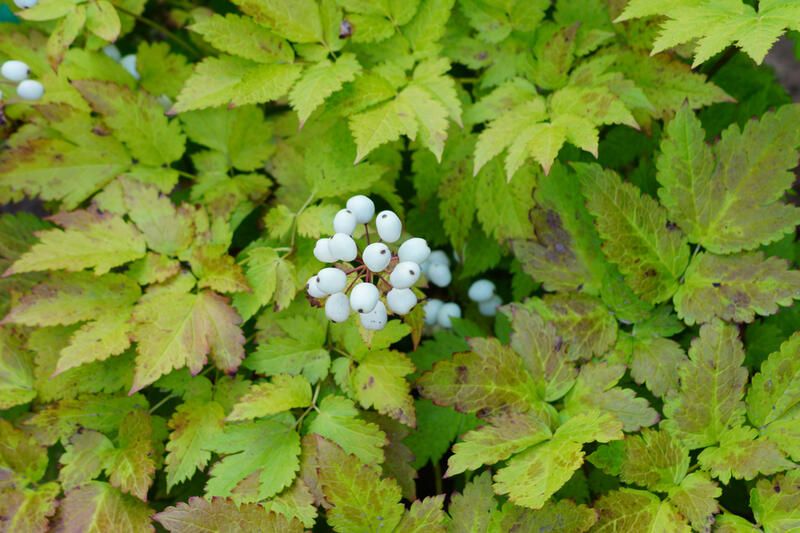 Lanceleaf Tickseed
Stealing your visitors' focus with delightful, glowing colors is a great way to create an inviting atmosphere at your home!
Fancy playing on the yellow color scheme?
Irresistibly attractive details like deeply-cut leaves, daisy-like bright yellow ray flowers, and a flat center disk all give this herbaceous perennial a homey charm.
Growing up to 24 in. tall, lance leaf tickseed blossoms well in full sun in dry to medium moisture soil.
Anise Hyssop
Turning an incredibly boring landscape design into a heartwarming scene is often a hard feat to accomplish.
To bring instant charm to the scene, opt for this one statement that has the power to create an in-focus center of attention. With a few tweaks on the side, you get to wrap up the whole scene.
In this scenario, anise hyssop is a great statement that adds magic and cheers to your outdoor space. Eye-catching spikes of tubular, purple-blue flowers adorn your garden from early summer to early fall.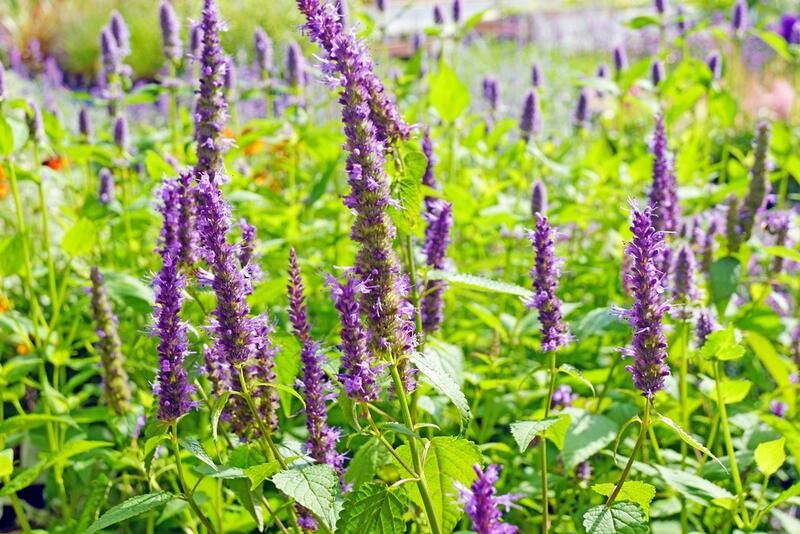 Pale Purple Coneflower
It's a well-known fact: what is beyond the grass is what matters and it is what truly channels your personality, style, and dreams.
Well, nothing can scream your personality like this exotic plant! It instantly and unapologetically draws everyone's attention to its marvelous, bizarre beauty. A noticeable cone stands out in the center of the plant, adorned with gracefully hanging thin pink to purple flower petals.
Displaying such a delicate, elegant, and upright perennial is a great chance to show off your graceful style. The only downside? Visitors and passersby will freeze in awe of its delicate pink-to-purple hues and tender appearance.
Indigo Bush
Is your yard feeling somewhat lifeless lately? Grow indigo bush to gift your space a meditative pause.
This shrub boasts spike-like clusters, upright form, fine-textured foliage, leggy character, purple to dark blue flowers, and yellow stamens.
Fast-growing and attractive, the indigo bush develops ornamental blooms that attract nectar bees and butterflies.
Your Delaware Landscape Design Is One Step Away
Overall, as shown by this article, Delaware opens a world of possibilities when it comes to landscape design ideas and native plants.
With a wide variety of colorful blooms, paired with fresh green lawns, you will fashion a perfect oasis in Delaware!
With an affordable design package that starts at $297, ShrubHub's most talented designers will bring to life the outdoor space of your dreams!
Tailored to your needs, desires, and (most importantly) budget, our 3D designs help you realize your dream and build an outdoor space without breaking the bank.
Turn your Delaware backyard into an outdoor oasis with ShrubHub. Get in touch with our designers now!