Create an At-Home Getaway with These Tropical Landscaping Ideas
Published: 18/01/2023 | Updated: 05/06/2023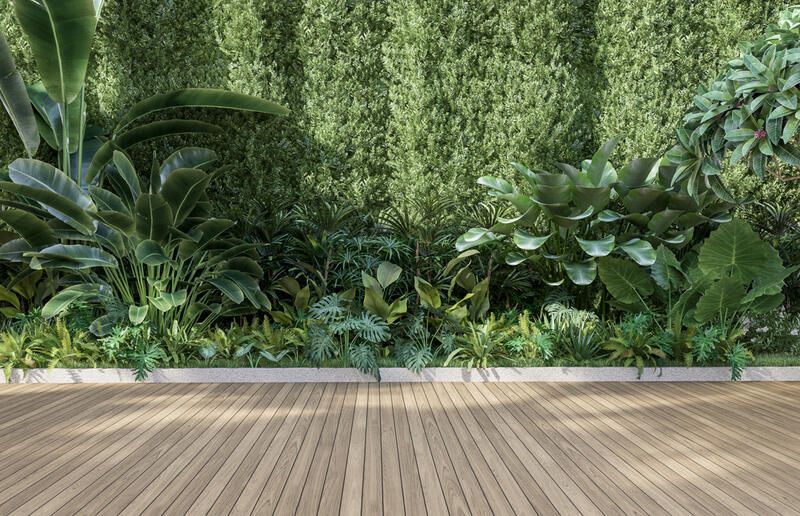 There are only a few states around the nation that exhibit somewhat tropical climates around the warm seasons, though, these are not the only states that can enjoy beautiful tropical-style yards.


Achieving the tropical look is easier than you might think, and the rewards are incredibly pleasing.
Almost any homeowner with a decent backyard space can recreate their favorite holiday destinations with appropriate plant selections and good space planning.
At Shrub Hub, we share a great passion for landscape design, creating unique layouts that work for every architectural style, and educating our clients on the different residential design approaches.
Today we've put together this design manual that we hope will be your guide to exploring the tropical style.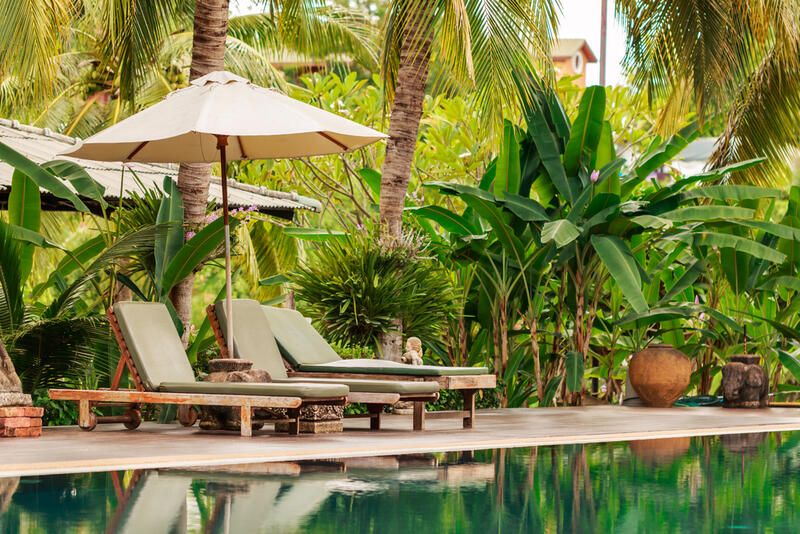 How to Recognize Tropical Landscapes?
The tropical style exhibits a lush look employing big-leafed plants, palm trees, and exotic plants with vibrant colors and a great variety of textures.
Since most homeowners rely on the lushness of tropical landscaping for seclusion and screening, you're more likely to see natural screening elements like bamboo or hedges than structural privacy and fences in a tropical layout.
The tropical style tends to use pavers, flagstones, and other similar hardscape components to create a natural flow rather than a formal atmosphere.
Furniture and decorative elements also play an important role in shaping the tropical style; we will cover some ideas to help you make good choices throughout this article.
Create Your Own Tropical Oasis; What You Need to Consider
You might have associated tropical gardens with high maintenance and water requirements, and you wouldn't exactly be wrong.
However, the ultimate goal here is to create a beautiful space without overburdening your schedule with maintenance.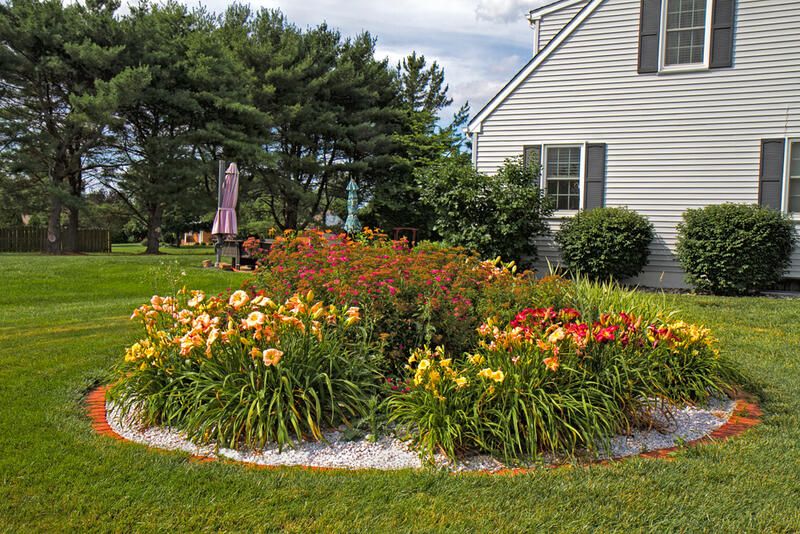 Let's look at some ideas to help you create an easy-maintenance tropical garden design.
Select Appropriate Plants
Your plant selection will shape the theme of your design and define the tropical atmosphere, so it's probably one of the most important decisions you'll have to make.
Consider some of the following plants.
1. Birds of Paradise
You'll probably see a bird of paradise plants in almost any tropical garden.
They're hardy and drought friendly, and add great lushness to any space with their big glossy leaves and attractive blooms.
These plants bloom in early spring and thrive in zone 9-12 in full to partial sunlight exposure.
2. Daylillies
While not strictly a tropical plant, a daylily grows in a wide range of soil and environmental conditions, and blooms and colorful flowers add vibrancy to tropical landscape arrangements.
Daylilies grow in zones 3-9 and can survive in full or partial sun preferably in hydrated and well-draining soils.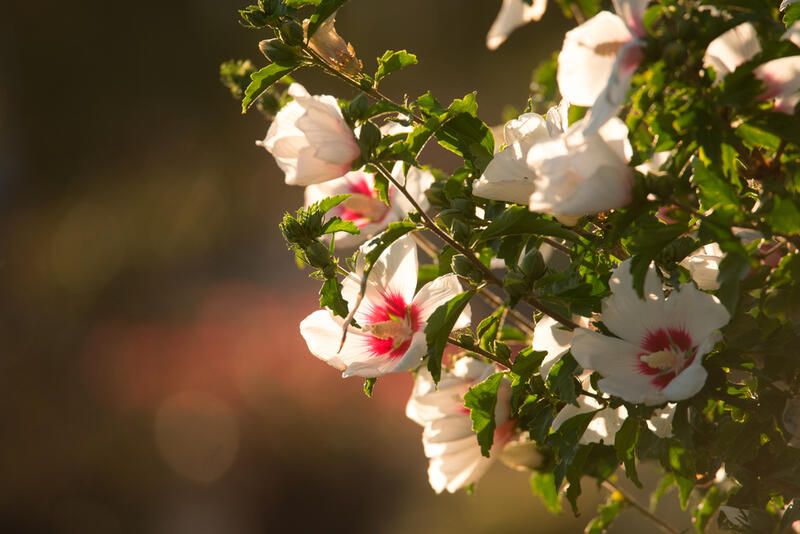 3. Christmas Cactus
Growing Christmas cacti can be a bit tricky since they seem to only do well in warm climates.
To keep your Christmas cactus plants alive while enjoying a touch of color and texture charm, plant them in decorative pots to control the conditions they're exposed to and bring them inside when needed.
4. Plumeria
Plumeria plants have tropical foliage and bicolored blooms that make them a great fit for a tropical vibe.
They are best grown in an area with well-draining soil and decent sunlight exposure.
5. Rose of Sharon
Rose of Sharon plants bloom in an array of colors and are highly tolerant of poor soil, humidity, and heat.
Once established, they will even withstand drought making them great for tropical designs in areas like southern California.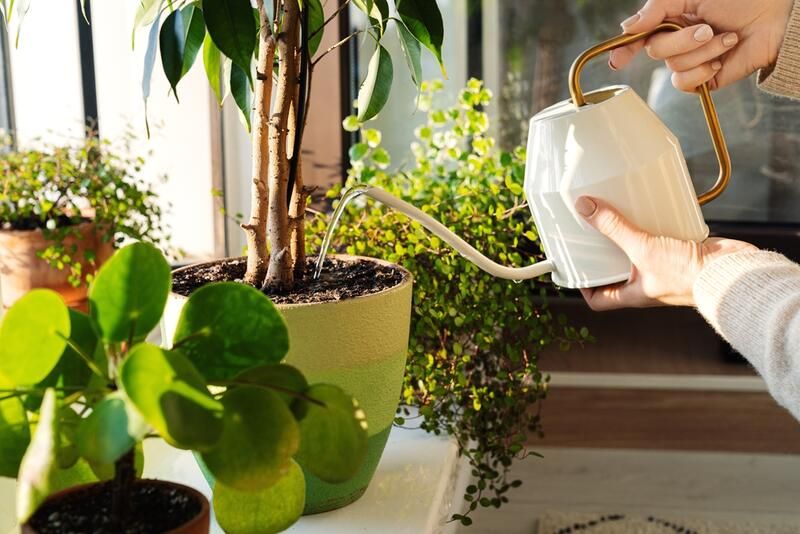 6. Lantana
Lantanas as perfect for the tropical theme as they grow in clusters of fragrant, vibrant flowers and are indigenous to tropical areas.
Further to that, they are pollinator friendly, so be prepared to host butterflies!
7. Elephant Ears
Elephant ears are another essential plant for tropical gardens.
Unlike the other plants on the list, elephant ears are not mainly valued for their blooms but rather for their showy, large foliage, which gives gardens a lush appearance.
They grow in zones 8-10 in shaded and partial sun sites.
Tips For Caring for Tropical Plants
If you want to grow tropical plants outside of your zone, we recommend planting them in portable planters that you can bring inside during the cold seasons.
While the indoor warmth will keep your plants from freezing, you must still ensure that they receive sufficient direct sunlight.
This will vary from one plant to another, so it's best to research the plant you're interested in or seek professional advice for a successful garden.
Your plants may lose leaves while trying to adjust to their new environment, so make sure to trim any bad leaves to keep your plant healthy.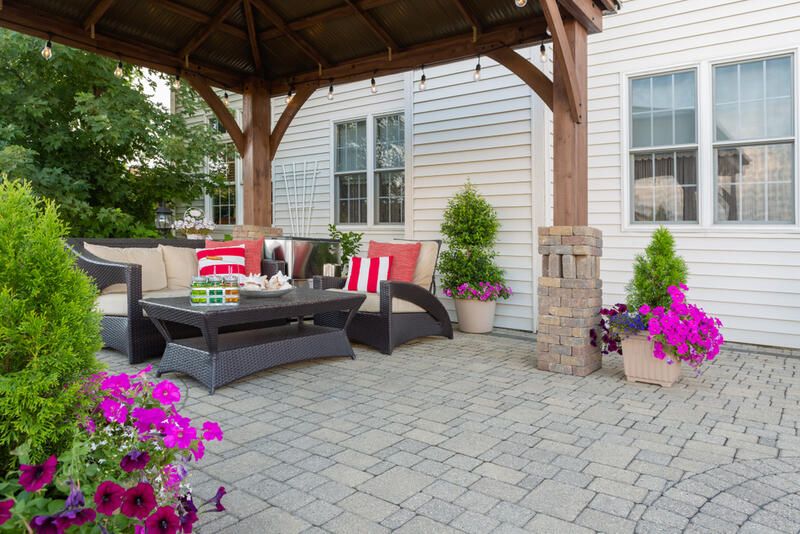 Consider Including Palm Trees
Palm trees are beautiful, grow in a variety of climates, and are a must-have in any tropical landscaping design.
They're also available in a variety of sizes, so even small yards can benefit from their lush appearance.
Go for Organic Hardscape
As previously stated, the tropical design style employs less formal and more organic and freeform hardscape; keep this in mind when planning your tropical garden.
Gravel
Gravel is an affordable hardscape material that gives designers the flexibility to create a variety of layouts, reinforcing the freeform concept.
Use gravel to create pathways, a fire pit area, or even a decorative element.
Pavers
Instead of a connected walkway go for pavers and mix them up with other materials like stones or artificial turf for an organic look.
Your choice of pavers' shapes and arrangement will play a big part in setting the mood of your garden.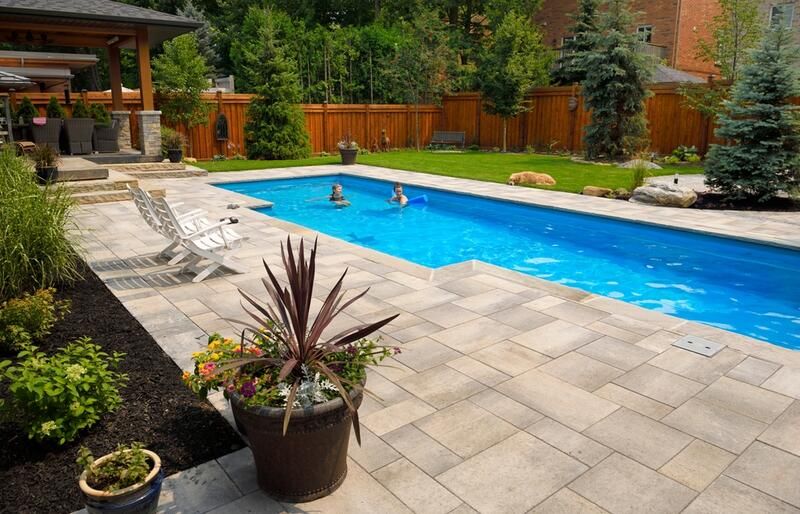 Garden Edging
While the tropical style celebrates natural, freeform, and lush elements, you don't want your garden to look like an overgrown jungle.
Use the proper edging techniques to create borders in your garden between walkways and planting beds as well as between different materials.
To avoid blocking your yard, keep your larger plants and palms in the back.
And finally, make sure to trim your plants when necessary to make sure they don't get overgrown.
Water Features
A water feature will tie your tropical oasis together.
Whether you planning to install a luxurious swimming pool, an elegant fountain or a simple water bowl, the presence of water will add a sense of tranquility and refreshment to your outdoor living space.
Choosing Outdoor Furniture
Sign yourself up for a swing or a hammock, and go for pieces like loungers and umbrellas to create a relaxing resort atmosphere.
Rattan, wooden, and bamboo furniture all complement the look of a tropical landscape, but you should consider your climate's conditions before purchasing furniture to ensure durability.
Create Your Tropical Paradise
Tropical landscaping is more than just adding plants to your yard; it is about creating an atmosphere reminiscent of a tropical paradise.
Shrub Hub will help you create a vision for your dream tropical garden in a design plan inclusive of everything you'll need starting with creative hardscape planning down to plant size and perfect placement.
Start planning now and enjoy a refreshing and memorable summer!