Colorado Springs Yard Design Ideas
Published: 13/10/2022 | Updated: 29/03/2023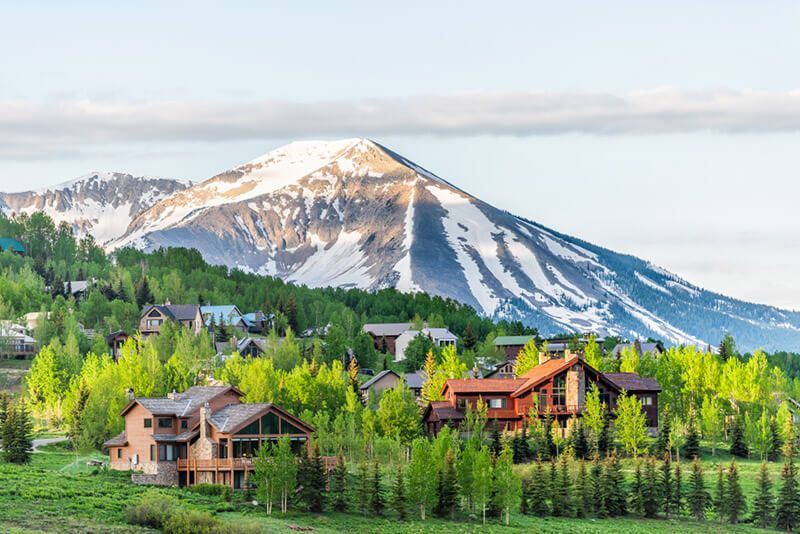 Since owning a home is considered one of the biggest financial investments, landscaping makes for the cherry on top! Choosing the right landscape for your home will give you more space, increase the quality of your time spent at home and add to the value of your house. Colorado Springs has an average of 250 sunny days in a year which balances out colder days and makes it easy to spend time outside (with the right landscape features). In this article we will go over some of the best landscape ideas to customize your Colorado Springs yard into a beautiful space you'll want to spend your at-home time.


Make wise plant decisions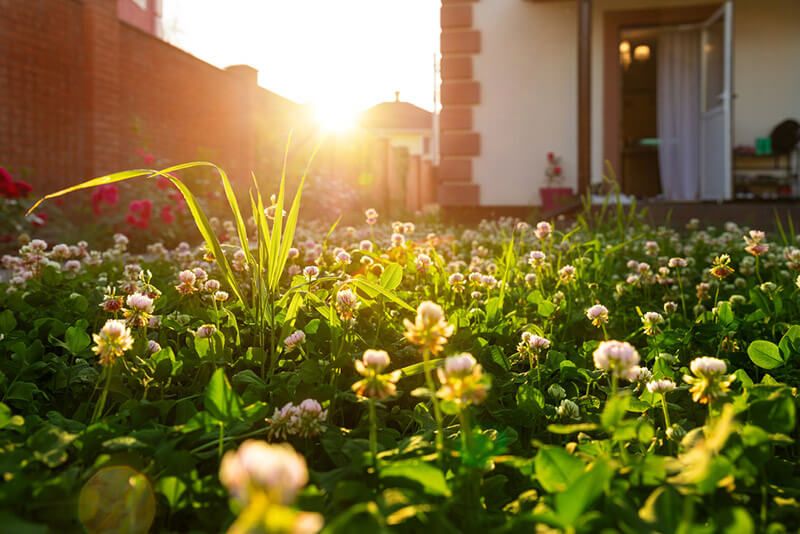 A very wise decision to make when choosing landscaping elements is implementing native plants. Native plants offer sustainability and are generally easier to maintain and keep alive! These are plants that have been evolving for tens of years to survive the soil, climate, and environmental conditions of the area and so they will need less maintenance and care than non-native plants. These plants also blend nicely with the natural scene and attract wildlife! Some Colorado Springs native plants, grasses, and shrubs are Clover, Goldenrod, Grama grasses, Little Bluestem, Rabbitbrush, and snowberry amongst many more.
Another landscape option that offers great sustainability, overall lower maintenance, and is very environmentally friendly; is Xeriscaping, considering the dry climate of Colorado Springs and sometimes having to go under water restrictions. Xeriscaping is using xeric plants or plants that overall need low water to survive, but that doesn't indicate having to have a sparse yard since there's a variety of xeric plants in different textures and colors that will make it easy to maintain character and style! Some colorful xeric options are Lewisia, Red Bird of Paradise, and Zebra grass. Using native or xeric plants doesn't mean only having to use them though, as you can mix in non-native plants and turf for a bit of added spice!
Personalize your yard with other features
Adding different features and personalizing your yard will bring you outside! Creating an outdoor living area will help you enjoy and appreciate your landscape; you can do that by adding a patio, seating areas, and other features based on preference and needs. Considering the sunny nature of Colorado Springs, adding a pergola can be very effective in making your yard an area you'd want to spend time in! You can further personalize your outdoor living space by adding an outdoor kitchen, water feature, fire feature, and other elements based on the probability of entertaining and personal preferences. Any landscape elements and decisions you settle on will add greatly to the value of your home!
Creating a personal oasis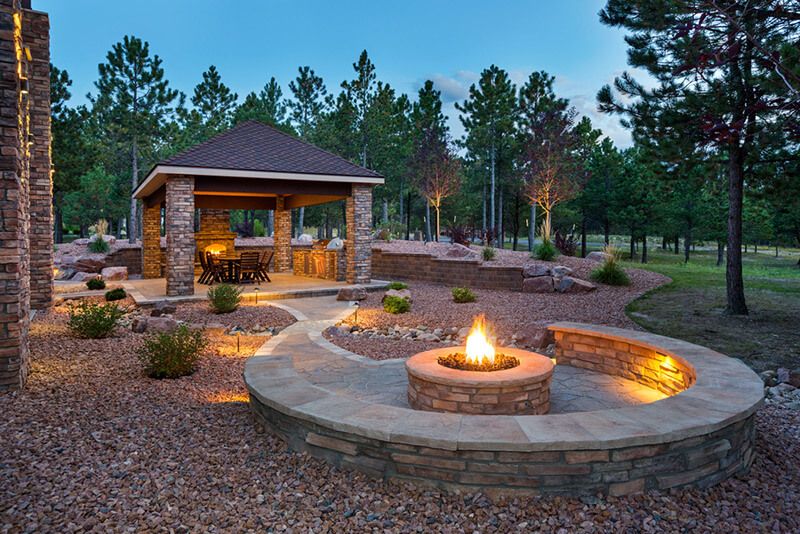 Using native grasses and wildflowers will give you a lush natural look that will compliment your home and give a natural freeform feel! You can spice things up by using rock elements or creating a rock garden; this can be done by using different-sized rocks and different textured grasses! You can also achieve this personal retreat feel by adding a pondless water feature! Water features provide relaxing natural sounds and a beautiful aesthetic helping your personal oasis come to life. Using potted plants will give you the freedom to color things up and move them around in the future in case you want a quick change! You can choose pots of different colors or styles to complement the color and style of your home. Adjusting the design flow based on the style of your home can bring your landscape to the next level!
Choosing curved designs to soften edges or straight lines for a more formal look works wonders in bringing the landscape to life. Landscape lighting is another element that adds greatly to the functionality and beauty of your landscape and increases the time you can enjoy your outside space in a day! Adding landscape outdoor lighting will increase safety and emphasize your landscape at night so you can enjoy it at any time of the day!
Implementing features for aesthetic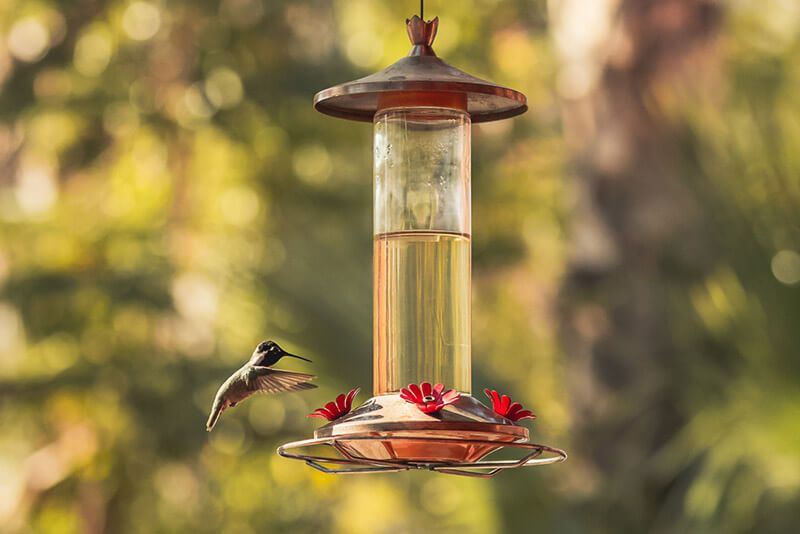 Just as functionality helps make yards liveable and attractive, some aesthetic features can add greatly to the quality and oasis feel of your yard. Hummingbird feeders and birdbaths look beautiful on their own in a landscape setting but they also help attract different types of hummingbirds which is pleasing to any eye!
Another feature that will make great use of the sunny days is a sundial! Sundials add both visual interest and functionality, they can help you keep track of time while doubling as a garden décor! Other aesthetic elements are wind chimes, birdhouses, and garden sculptures. Features like these can be used according to the overall style and personal preference but tend to add greatly to the personal retreat feel.
Choose the right irrigation system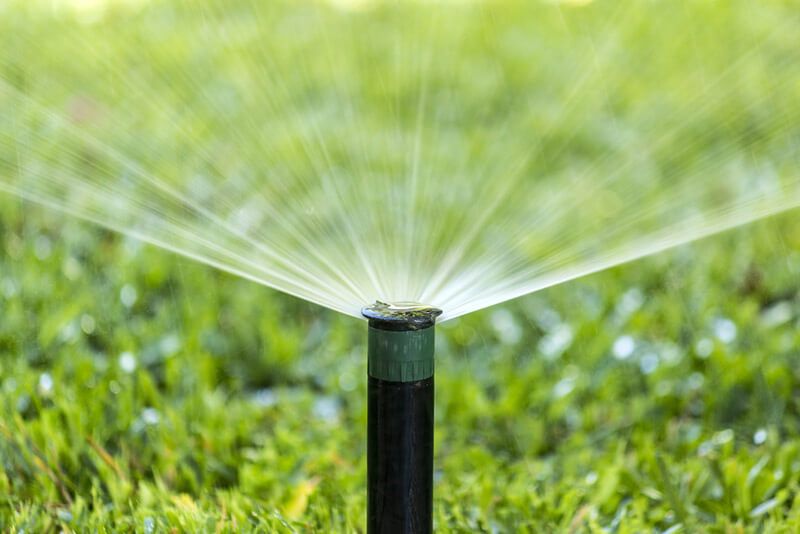 A good irrigation system will help keep your garden thriving while conserving water and effort! Drip irrigation systems are one of the best options when discussing sustainability and drought-friendly plants, they also reduce runoffs and evaporation resulting in much less waster waste compared to traditional garden watering. Drip irrigation systems are designed in a way to provide water to the roots making it easy for soil nutrients to be absorbed by the plants and not washed off, these points make it a great option that gives you less maintenance and more benefits.
Colorado Springs Style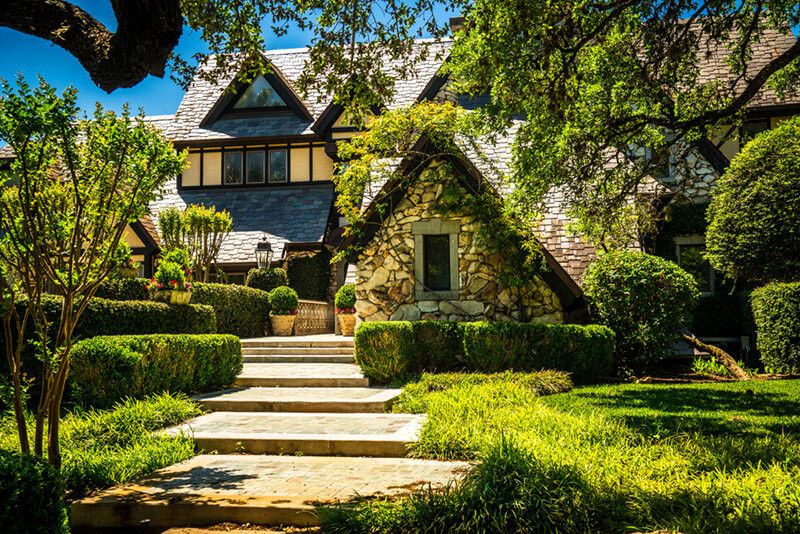 Colorado Springs has beautiful authentic home styles from the craftsman, to mid-century modern and rustic homes. Homeowners need to design their yards in a way that makes their house style flow from the inside to the outside. Since your yard is the first thing people see passing by or before coming into your home, you'd want it to express your style or the style of the inside of your home! That's why landscape design choices matter!
At Shrubhub, we help you find your most suitable style and your best plant options to ensure your yard will represent you! Check out our affordable design packages at ShrubHub.com and get assigned to trained professionals who will help you create a vision and bring it to life!