Bring Vertical Appeal to Your Space With These Garden Trellis Ideas
Published: 05/12/2022 | Updated: 29/03/2023
Do you have a green thumb? Then without a shadow of a doubt, you understand what it's like to be fond of your garden. Going the extra mile to fashion a well-manicured yard that offers you a warm, inviting setting to bond with your family and friends, you never seem to grow tired of diving into new ideas.


While keeping an eye on your precious yard, you tend to explore various ways to ensure that your garden not only functions smoothly but it also thrives to its full potential.
Focal points posing as pieces of art, ready-to-eat fresh vegetables right outside your front door, and a private garden with no one peeking to get hold of what's new in the neighborhood are all landscape ideas that call for inspiration. In this case, trellises can simply do the trick.
Bring a sense of charm to an uninspiring surface
Have you come across your yard shortly, posed for a moment, and squeezed your brain while thinking of creative ways to refurbish your outdoor space? Nothing says "brilliant!" just yet. Trellises sure will.
While some might tap into a wide range of DIY trellises to give their yard the glow-up it needs, others find it more convenient to hire a professional who knows exactly where to incorporate these trellises in the landscape design for a heightened sense of harmony.
Either way, if your garden needs a little fixer-upper, bring some trellises into the scene and watch your garden enlivened by the romantic mood of flowers.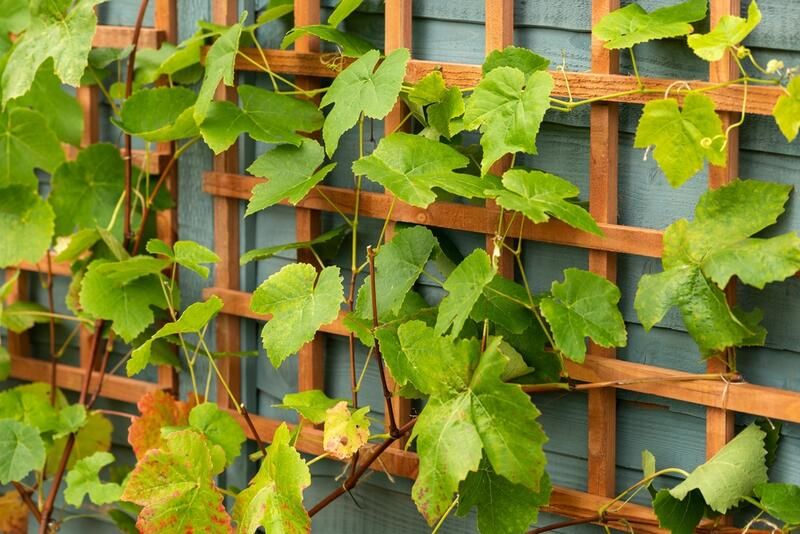 Wondering if this is the right option for you? Here are some reasons why you should give trellises a go:
Space Is No Longer an Issue
Whenever you feel like you ran out of horizontal space, look around you one more time because the vertical space is all yours now. The plants have the liberty to grow spontaneously and showcase their beauty.
Loads of ideas popping into your head and you don't want to lose this almost-one-in-a-lifetime inspiration? Because of this another dimension, a garden trellis brings your idea to life and becomes a safe home for your favorite plants.
Healthy Plants = Pretty Garden
Envision yourself trapped in a densely crowded room, robbed of your freedom to simply move around let alone breathe properly. As claustrophobic as this sounds, plants share the same struggle when only offered a limited horizontal space to grow.
Believe it or not, plants, similarly, require space to thrive, stretch, and sunbathe. Trellises not only increase air circulation but also help you maintain a healthy garden because the leaves will stay dry and clean, ultimately keeping pests and mold at bay.
All you need to do is build your garden trellis, train plants to climb on it, and finally revel in a dazzling creation.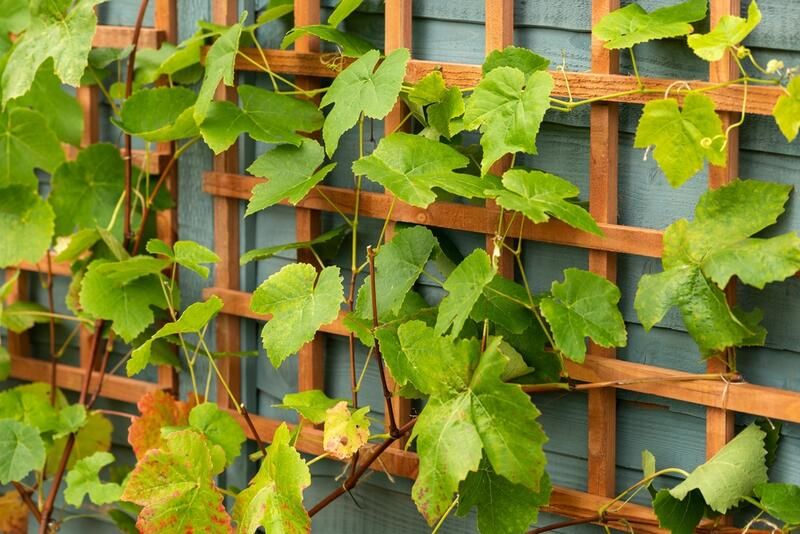 A Thing of Beauty
In search of an architectural piece of art that sticks all-year round to impress? It doesn't matter if you are blowing off some steam in your garden after a long scorching summer day or reveling in the beauty of your garden in winter while staying indoors and relaxing on your sofa, there is more to trellises than just meets the eye.
Along with its functionality, a trellis can make a bold architectural statement that goes hand in hand with your home's design, be it a trellis fence, wire trellis, garden bed trellis, wall trellis, arch trellis, tomato trellis, or wood trellis. Adding a trellis to your yard means you are about to marvel at its vivid elegance when covered in lush greenery during summer, while still appreciating its exquisiteness when cold hits.
To give your outdoor space the glam it deserves, consider taking a spin through some of our favorite garden trellis ideas:
Build a Living Arch
Installing an arched trellis in your yard never fails to bring a level of class and elegance to your abode, casting a fairytale spell all over the place.
One of the greatest ways to give your arched trellis an ideal position is to set it up at your entrance. Boasting a grandiose look, your entrance will welcome your visitors with greeting colorful roses dangling in delight and ushering them in.
Impressive, vivacious, and head-turning, this arched trellis comes in the form of a living tunnel. It's a masterpiece displaying climbing vines creeping their way across the metal garden structure of the trellis, providing you and your family with a shaded walkway and leaving your visitors in awe.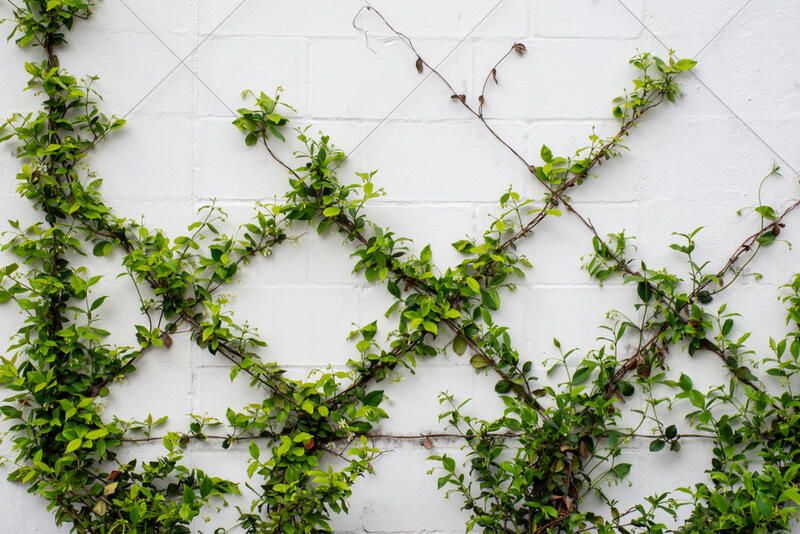 Design a Door-framing Trellis
First impressions can make a huge difference. When meeting someone close to your heart for the very first time, you do whatever it takes to convey a favorable impression.
Similarly, your front door is the first (and also last) thing that your visitors see. It often sets the tone for your entire home, adds value to your property, and enhances curb appeal.
However, what if you already have a not-so-appealing front door that does not explicitly say "this home will never run out of style" but more like "welcome to my boring house"? Luckily, we have a life-saving trick that can transform your bland door into jaw-dropping art.
When in doubt, frame your front door with a garden trellis adorned with colorful climbing plants to give your entrance a posh look.
Install a Pergola Doubling as a Trellis
Instead of building your trellis in the middle of the garden and ending up taking more space than required, benefit from an already-existing structure.
Designed to offer you and your family a cozy space to connect with nature, a pergola creates a tranquil mood, extends your life to the beauty of the outdoor space, and introduces an entertaining spot for your guests.
How often do you find it difficult to revel in the wonders of nature while having to cope with the unbearably scorching days of summer? Fortunately, this is when a lush pergola, which doubles as a trellis, comes in handy.
Not only will you have a shaded outdoor seating area, but also be embraced by flowering vines blanketing the top of your pergola.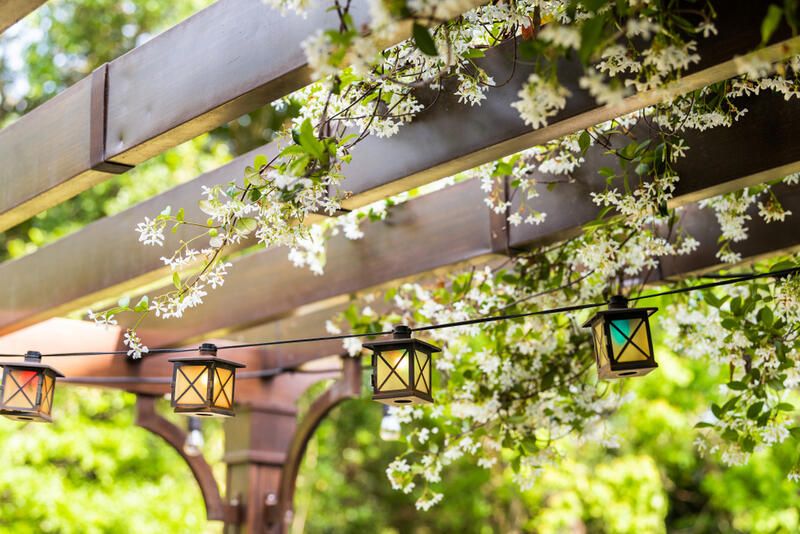 Showcase Climbing Plants by Zoning Your Garden
Your garden is constantly on a mission to fulfill its true potential (it's simply an attempt to please mother nature). To get the most out of your outdoor space and give your yard a makeover at the same time, consider garden zoning.
From a comfy outdoor seating area, a vegetable garden, and a kid's area to a reading nook, and a hot tub, your garden deserves to be perfectly designed in a way that divides up the space without waving its charm goodbye.
Embellished with vivid climbing plants and eye-catching flowering vines, vertical planes give you the answer. Posing as a brilliant, easy-to-build zoning idea, a lush trellis turns your void vertical space into a living masterpiece that gives your outdoor space a romantic edge while doing its main job: dividing up your garden.
Grow a Vertical Garden
Whether you own a huge yard or have a tiny balcony in the city, you can still reap the benefits that a vertical garden has to offer.
What better way to beautify your vertical space than to grow a garden? It's an innovative way to keep your hands in the dirt without taking up all the space you have.
With the help of a piece of wood and nails, you get to add a whole new element to your yard by installing a trellis on your wall and waiting for the magic to happen!
Peas, tomatoes, melons, Malabar spinach, cucumbers, and winter squash are some of the vegetables that love to climb, dressing your space up with captivating greenery.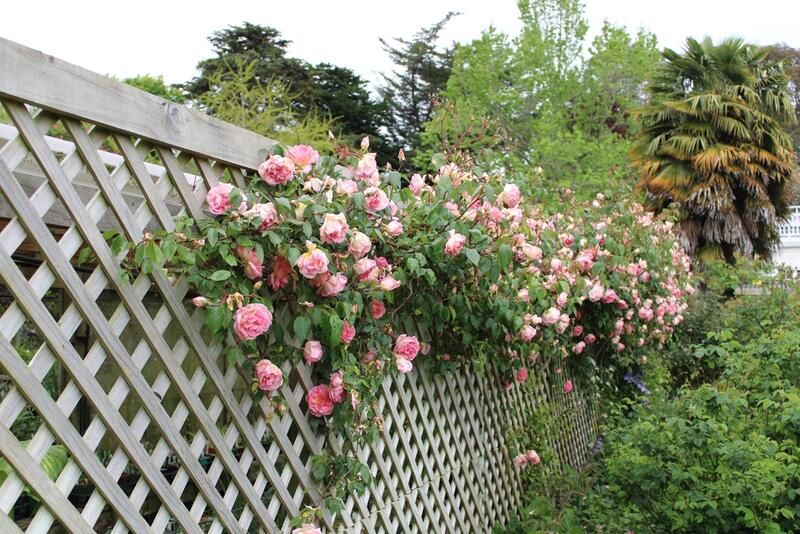 The Best Flowering Vines for a Stunning Trellis
If you have concluded that growing climbing plants on garden trellises give your outdoor space a mysterious allure, you might need to identify the dainty-looking flowers that offer you a show-stopping display.
There is a variety of climbing plants that can freshen up your yard design and render an intense burst of colors, among which are: Black-eyed Suzan Vine, Blue Moon Kentucky Wisteria, Carolina Jessamine, Chocolate Vine, and Cup and Saucer Vine.
One of the hardest feats to accomplish is to search for ways to elevate your landscape design. However, Shrubhub, along with a passionate team of talented designers, makes sure to provide you with the guidance you deserve to design your dreamy escape.
Start Designing Your Ideal Yard With ShrubHub!
At ShrubHub, we're all about providing our customers with the most value for a low-cost price. Your garden can be your new favorite place to gather all your loved ones, entertain guests, or relax after a long day!
Our entire process is done online, which means you can start your renovation from the comfort of your own home! With the guidance of an experienced Project Manager, we will bring your dream yard to life, and thanks to our very latest 3D technology, you'll know exactly how everything will look from an eye-level perspective as if you were walking through your yard.
Start planning a first-class makeover with ShrubHub today!
Visit our website for more information.