Best BBQ Island Ideas for Your Outdoors
Published: 27/03/2023 | Updated: 10/09/2023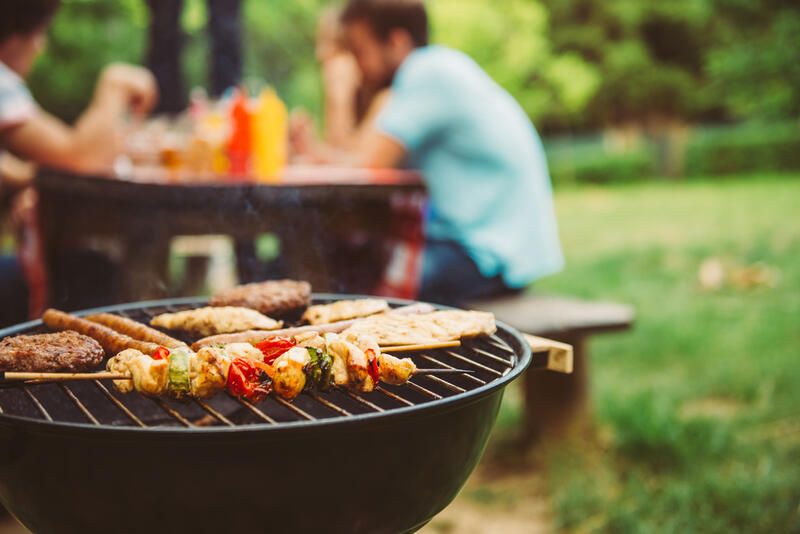 When it comes to the outdoors, nothing combines high functionality with aesthetics like bbq islands. If you're reading this, then you're probably already considering it! Well, you should consider it even harder.


Let us walk you through what exactly a bbq island is and why you should rush into installing one for your outdoors! Then, we'll give you all the great ideas that make it even better!
What is a BBQ Island?
A BBQ island is an unfixed outdoor kitchen. Also called a grilling station, it's a unit of build around a grill, with appliances, countertops, and the essentials you'd need to cook and grill outside.
Since, unlike general outdoor kitchens, bbq islands are unfixed, it gives you the flexibility to move them or otherwise.
Why Should You Install a BBQ Island?
An outdoor kitchen, in any shape or form, isn't a small investment. It's a money, effort, and space investment. So why should you go for it?
The answer is simple! We have the top reasons for you around why this is one of the absolute best investments you could go for with your outdoors!
Make Your Outdoors More Guest-Friendly
Outdoor grills aren't just functional in the sense that they allow you to cook outside, it's an entire living space unit outdoors where you can host your dinner and entertain your guests.
There's generally a lot of pleasure hanging outdoors, but especially when the outdoors is luxurious and has the comforts of the inside.
Think of all the dinner parties where your guests share a drink and chat with you while you're doing food prep!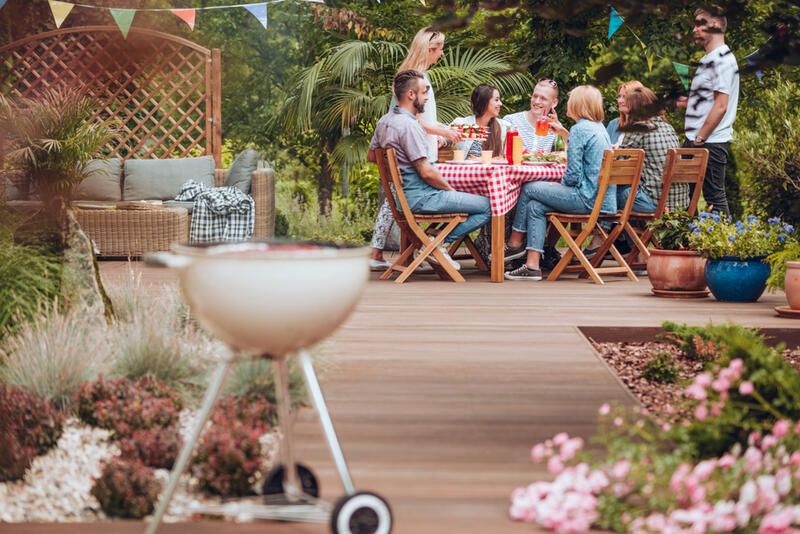 It Increases your Living Space and Lessens Demand on Your Indoor Kitchen
An outdoor bbq grill is another kitchen in your house. There are many benefits to having an outdoor kitchen in that sense.
For once, it means both your kitchens have a longer lifespan since you'd be dividing your cooking demands and use into two instead of one.
And in the same sense, it essentially makes your house bigger since that would be a complete outdoor living area.
If you're entertaining a large body of guests, think of how much better it would be to divide the cooking demands with others and work in two kitchens instead of one!
Increase Your Curb Appeal
An outdoor kitchen is one of the most straightforward ways to add way more value to your house.
It would set apart your house from others on the market and attract buyers easier and faster who is also willing to pour more money into your house for the outdoor kitchen.
So while your outdoor kitchen would be very valuable and practical for your everyday use, it's also money guaranteed to return to you if you ever think of selling your house.
So it's definitely one of the best investments you could go for!
Great BBQ Island Ideas for You
You have as much freedom to put your personal style and touch into your outdoor bbq island as your interior kitchen. Those ideas we have for you are a good starting place to make bbq islands more luxurious, practical, beautiful, and comfortable.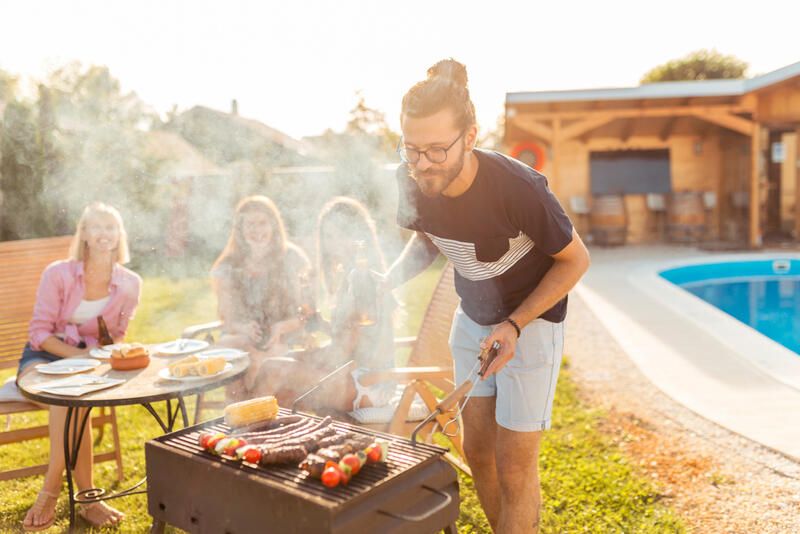 A Pizza Oven
What could possibly be cooler to add to outdoor kitchens than pizza ovens? On all levels, a pizza oven is one of the best possible additions to your bbq island.
It's very stylish and impressive. Your guests would think it's amazing. But other than aesthetics, this oven is also very useful for your gatherings. You can feed a whole crowd or family with that (while you look cool with the stick!).
And it would also give you another convenient cooking station with your burners, where you can roast potatoes and other food. You would be able to make your own professional bread outside! Something that got very popular with people since quarantine.
So, on both function and aesthetic, this wooden oven is a relatively inexpensive purchase which features that definitely outweigh the money!
Add a Television Screen to The Structure
Your backyard can truly transform into a completely functional and luxurious living space if you display a television screen on your island.
On the day to day basis, it would give you even more reason to cook outside and get all the benefits of the outdoors. Maybe you like cooking and trying out new recipes on cooking shows! It would make your neighbors envy the lifestyle of your family.
This idea would also make the island space even more beloved by your family and guests. It's a convenient way to invite your guests for dinner and to watch a big football match or an exciting season finale of the most popular shows in the air outdoors.
Fully Stock An Outdoor Kitchen
To make your island even more convenient as a true kitchen, fully stock it with all your cooking needs so that you wouldn't have to run in and out of your house.
Fully stocking your island would create more reasons for you to fully incorporate it into your everyday life. See what you most use inside like a blender, or other appliances, and get extras for your outdoor kitchen too!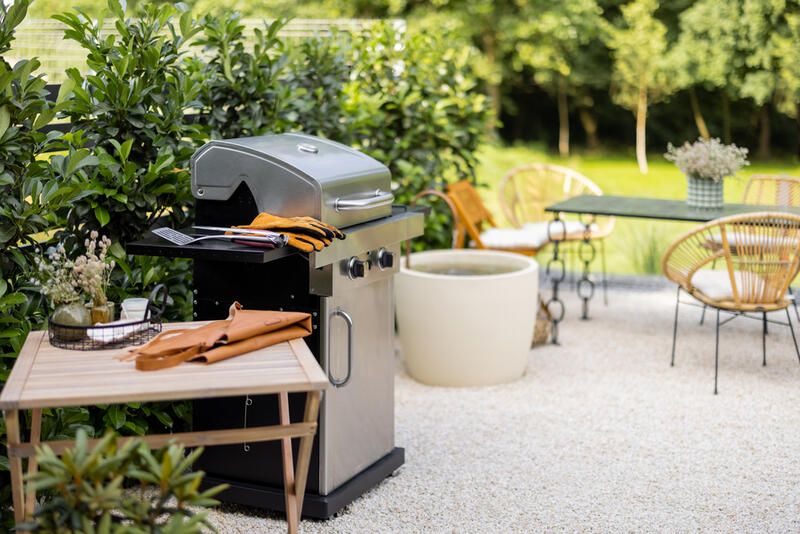 Extra Storage
If you have the space on your patio, add extra storage cupboards to your island. Like the previous idea, it would give you more access outside and less reason to go inside to grab anything.
You can store more plates, utensils, and packaged food just as you can in your indoor kitchen.
It's a cheap way to make it much easier to serve your guests comfortably.
Extra Burners
Adding a cooktop or an extra burner is one of the most on-point ideas on this list! More access to different burners gives you a wider range of dishes to prepare simultaneously.
More of those create an environment where you can cook full meals and don't have to worry about having to use your indoor kitchen too to fully serve your visitors. You can make rich, pasta, soup, and even tea, while grilling meat and others on your island grills.
It wouldn't be way over budget while creating a highly valuable kitchen!
On the same note, consider also going for a bigger counter space, an extra countertop, or a bigger one, to make your island more convenient.
A countertop gives you more accessible space that would make your time on your island outside easier and less overwhelming!
Add Warming Drawers
This is another very useful addition! Warming drawers protect your already prepared dishes from cooling while you grill other dishes, giving you more peace of mind.
This way, you can cook at a much easier and looser pace without any stress. The less stress and more practical convenience would make your outdoor island way more enjoyable and inviting for you and others coming to visit you!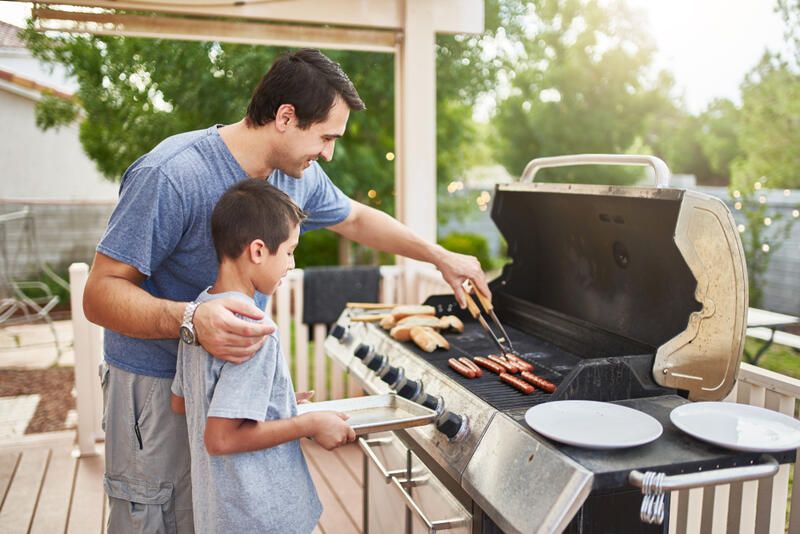 What to Consider when you Decide to Build a BBq Island?
Now that you have all those great ideas that would add to the style and fun of your outdoor grill island which hopefully inspired you, let's dive into another very important matter.
Namely, all the other important factors to have in mind for a safer outdoor time. Your patio and backyard should be extremely safe and nice for you and your family to spend an easy time there while you serve and eat your favorite dishes.
Plumping
The first thing you have to think about is plumping and water drainage. Especially if you have or would like to add a sink to your outdoor grill station or patio.
While your backyard grill island can technically be a DIY project, it's best to include professionals when it comes to plumping so that you wouldn't unknowingly create any long-term problems.
Electric
Electricity is another thing that shouldn't be included in your DIY plan unless you're very experienced and knowledgeable.
The electricity line tied to your patio kitchen should be very safe for your house to give your ease of mind and guarantee good outdoor time.
Gas
Gas is one of the most important features to have in mind and the one thing you shouldn't cut corners with.
It should be given the highest value on your budget if needed to guarantee absolute safety in your backyard. Like the others, it's best to hire professionals to take care of it as DIY can lead to problems.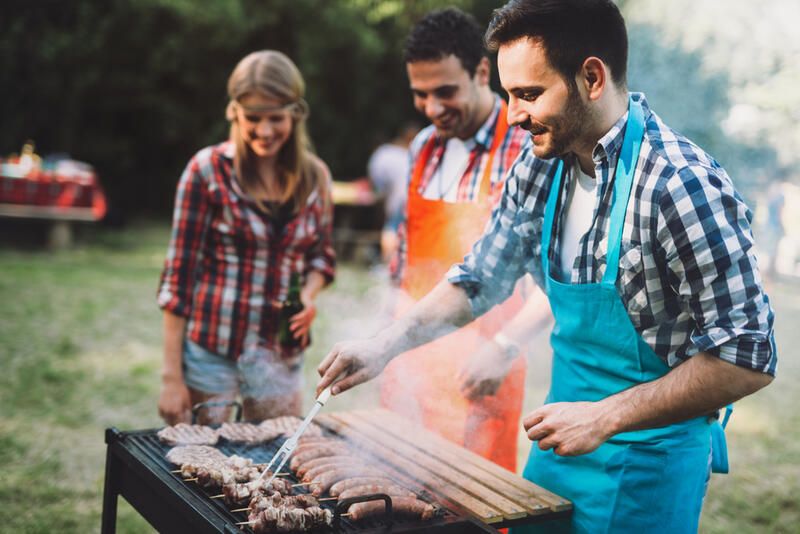 Paver Floor Stability and Strength
Before you tile your patio or any other space in your backyard, make sure the outdoor ground you chose has maximum stability and strength before you position your backyard grill kitchen.
You don't want to get everything and later find out that the pavers aren't stable enough to carry the weight.
Flammable Surrondings
With gas, electricity, and smoke, make sure there are no materials in the surrounding area on your patio that are flammable. You want absolute safety while you serve your friends so this is one thing to have at the top of your mind.
An outdoor kitchen is an exciting project to plan. But it's best to leave only the little things to DIY and hire experienced professionals to carry out the essential project to make certain you end up with exactly what you wanted. You can definitely do that on Shrubhub.com, where you'll get a 3D display of all your ideas and how the final project will look in its surroundings.
And the timing couldn't be better, since there is a current limited time 70% off all our services. You can take immediate advantage of it now by signing up here!