Best Backyard Fire Pit Ideas To Make Your Outdoor Space More Fun
Published: 20/10/2022 | Updated: 29/03/2023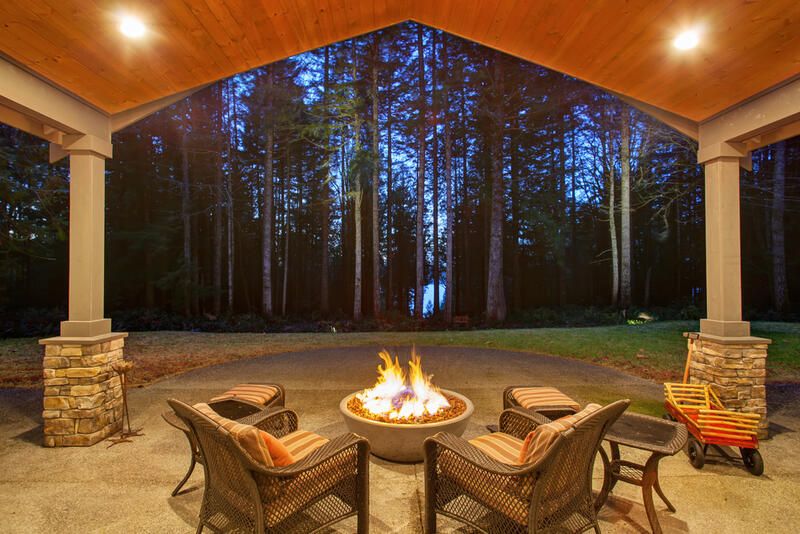 Making your garden or backyard more fun is easy with the help of some outdoor fire pit ideas.


A leisurely evening is best spent around the soft glow of a fire pit.
There are many different places where fire pits can be installed, including patios, decks, and backyards.
They are also fun and practical additions to your backyard and are a wonderful way to unwind, keep warm, and take advantage of the lovely weather.
They not only set the mood for a party but also provide a wonderful place to hang out with friends, spend time with your family toasting marshmallows or cooking s'mores, or simply relax with some much-needed me-time.
Here, we provide some fantastic ideas with the best fire pit options to choose from for your backyard.
Table of Contents
What to Look for When Buying a Fire Pit?
Are Backyard Fire Pits Actually Worth It in the End?
What to Look for When Buying a Fire Pit?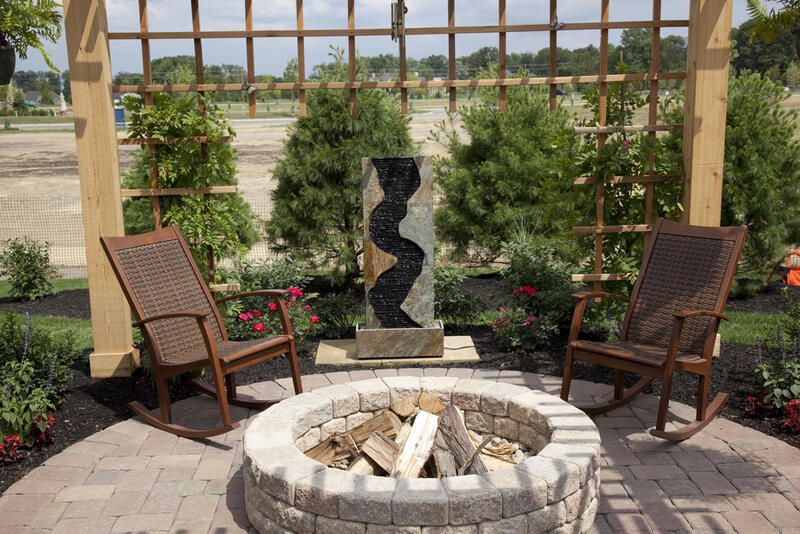 It's crucial to pick a fire pit that fits your outdoor space's needs in terms of size, shape, style, fuel type, and functionality because they can be a valuable addition that will not only help increase the value of your home but also offer durable and semi-permanent home appliances.
But in the end, everything comes down to your preferences.
However, one feature—fire containment—continues to be the most crucial requirement for any fire pit.
You must look for models with strong fire safety measures and durable materials.
Fire Pit Fuel Types
The decision between fuel types continues to be the most difficult fire pit selection criterion. Although most fire pits burn wood, there are a few more current models that use propane or natural gas burners instead of wood.
Wood Burning Fire Pits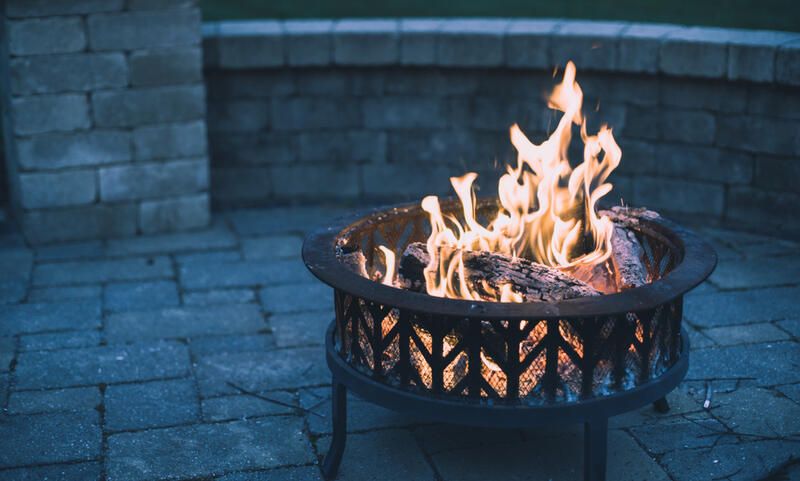 For a warm, timeless ambiance, go with a wood-burning fire pit.
A wood-burning fire pit can produce significantly larger fires than other sources of fuel.
With this authentic log fire, you can remain warm, cook food, or toast marshmallows with your family while indulging in the satisfyingly campy aroma of burning wood.
Additionally, since wood is an abundant, inexpensive, and efficient energy source, it is incredibly cost-effective to heat your yard in the winter or enjoy a bonfire in the summer.
This fantastic ornamental element will illuminate your backyard, adding to the overall design of your outdoor space and establishing a warm, cozy atmosphere by the crackling fire.
Style Recommendation
For an authentic and traditional experience, a wood-burning stove is the right choice. It is a cost-effective and secure alternative to an outdoor fireplace that also functions as a fire pit.
It has a wood storage area as well as a chimney, so you can enjoy an ash-free and smoke-free fire.
Choose a fire bowl for a more portable option that can function as an alternative to a patio heater.
Invest in a removable ash pan to keep your patio clean.
Safety Advice
All wood-burning fire pits should only be used in open areas free from other flammable materials.
They need manual tending.
It is not recommended to be used near wood decks or other combustible areas.
Liquid Propane Fire Pit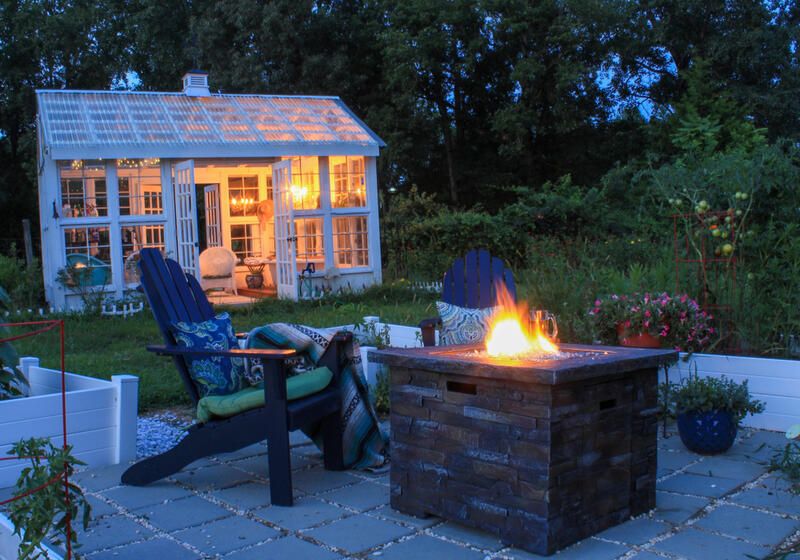 Perfect for people who don't want to use wood because of municipal regulations or safety issues with live fire.
As an option for smokeless fire pits, the propane clean burning fire is safer than wood, so you can eliminate the smoke and mess that come with actual fires.
Additionally, because they are equipped with automatic ignition systems, they can be started with the flip of a switch and provide better control over the flame.
Even so, they are more expensive to operate than those that use wood because they rely on 20-pound propane tanks that must be constantly refilled with liquid propane.
Style Recommendation
Fill it up with lava rocks or colorful fire glass.
For a tidy appearance, go for a hidden tank option; alternatively, consider employing a tank cover.
Safety Advice
Never keep propane tanks inside of an enclosed, warm environment.
Ensure that your tank is securely fastened and standing upright.
Avoid overfilling your tank.
Before using your tank, check for leaks.
Natural Gas Fire Pit
Similar to liquid propane fire pits, it is another smokeless fire pit option. This one, however, requires a direct connection to a natural gas line or a propane tank for the entire house.
Both installation methods need a qualified plumber's help, who must seal the fittings and check them for leaks.
They are typically the ideal smokeless fire choice for a fire pit that will be permanently installed because they are less expensive to run than fire pits using liquid propane.
Fire Pit Materials
Concrete Fire Pit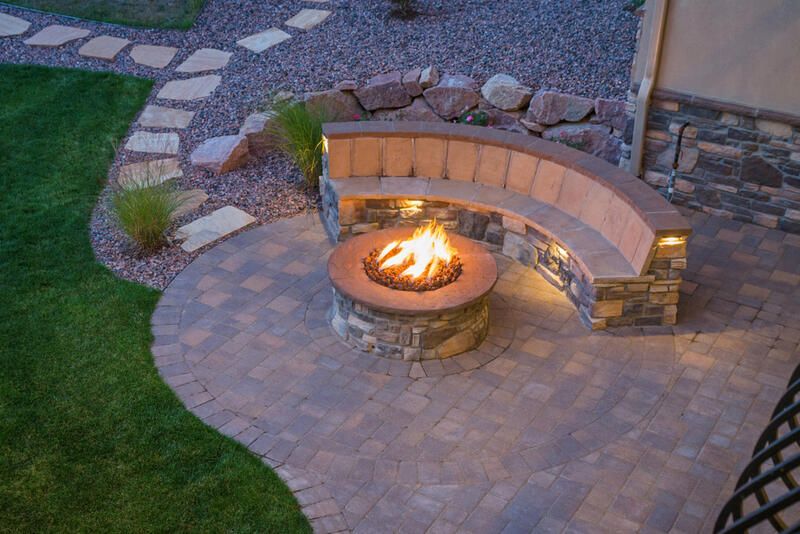 Choose a concrete fire pit for a sleek, contemporary look.
They are simple to install and require very little upkeep, making them the ideal choice to serve as the focal point of your backyard's landscape design.
They also hardly ever need to be cleaned because they often use fuel systems that run on liquid propane or natural gas; all it takes is a few hose-downs to make the concrete look brand new.
Extremely high temperatures are something that concrete is made to resist.
As a result, concrete fire pits are incredibly durable, not at all susceptible to environmental issues brought on by water and weather, and they do not chip, tarnish, or peel with time.
If cracks do develop, they can easily be repaired with concrete patches.
For the filling, sand should be placed at the bottom of the pit as the initial filling material, followed by gravel, lava rocks, fire pit glass, and paving stones.
Style Recommendation
There are many different designs for concrete fire pits, including fire pit tables and bowls in various shapes and sizes.
Select a design that appeals to your sense of style and improves the overall appearance of your backyard.
Safety Advice
Because they are often hefty, concrete fire pits shouldn't be installed on elevated wooden decks.
Natural Stone Fire Pit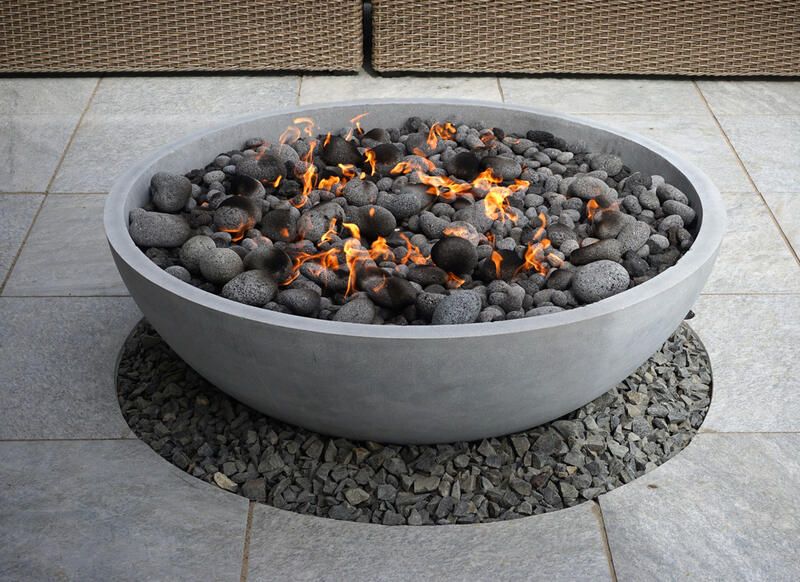 Natural stone fire pits will give your backyard a beautiful aesthetic and a cozy, genuine atmosphere.
And because the natural stone has so many benefits to offer, these are also fantastic options for gas and wood-burning fire pits.
Natural stones are extremely resistant to mold, extremely durable, and unlikely to suffer from any kind of water damage.
With them being almost indestructible, fire pits made of natural stone are much more resilient than their counterparts and are much less likely to require major maintenance for many years.
This led to natural stone fire pits needing very little maintenance; all they need is warm water wipedown to keep them looking good.
Thanks to all this, they quickly gained popularity as a design option for immovable, permanent installations.
As for heat, no other material will allow you to maximize the heat produced by your fire as natural stone will.
Natural stone outperforms almost every other material when it comes to heat retention, so natural stone fire pits often have a high capacity for doing so, retaining heat for a considerable amount of time after the fire has been extinguished.
Your gas and heating costs will go down thanks to that level of efficiency, and you won't need to keep burning firewood to keep the house warm.
Style Recommendation
A wood-burning fire pit that is made of stacked flagstone will have a naturally textured pattern and will add a relaxed and comfortable atmosphere to your backyard's landscaping.
To make it the ideal gathering spot, surround it with appropriate seating arrangements. Furniture made from materials such as wicker or weathered wood would make a lovely accompaniment and add an extra layer of inviting warmth.
Invest in a removable ashtray to keep the air clean.
Safety Advice
Invest in a metal fire ring to reduce the stress applied to the stone and make your fire pit last longer.
Are Backyard Fire Pits Actually Worth It in the End?
The answer is YES!
Fire pits are perfect for creating a warm and cozy ambiance and for adding character and flavor to your outdoor space.
They can provide warmth on cold nights; they can serve as an extension of the kitchen, providing the ideal spot for grilling hot dogs or outdoor camp-style cooking; and they can serve as a great gathering place for hosting parties or simply spending quality time with the family.
They can also double as additional lighting for your backyard. Fire lighting is incomparable when it comes to setting up a romantic mood and enhancing intimacy in the air. Just remember that it cannot be the only source of light in your backyard.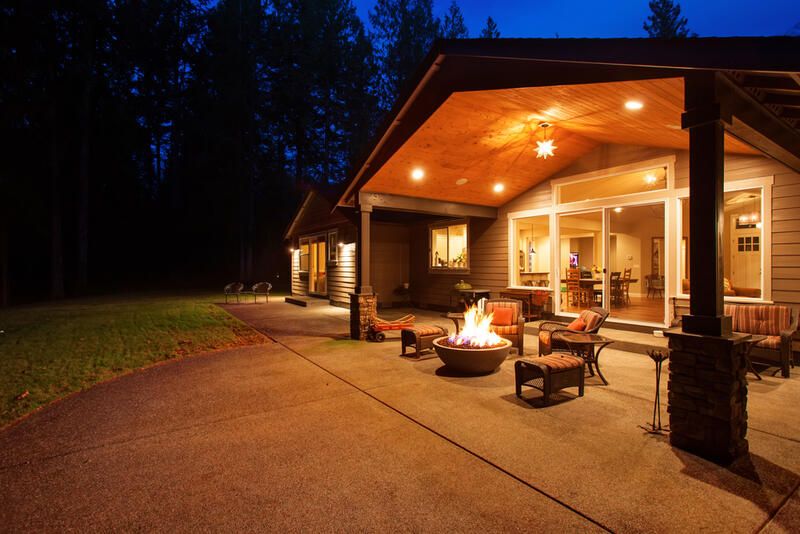 And besides increasing the real estate value of your home, they are also a much more affordable option than fireplaces since they don't require as much maintenance or regular chimney cleaning and inspection.
And best of all, they create the opportunity for you to spend more time outdoors rather than being cooped up inside the house.
Before you head out and purchase a fire pit, though, make sure you have taken into consideration all the safety precautions and how much space you have in your backyard. That includes choosing the right, most safe spot for your fire pit.
And if you want to revamp your backyard completely, ShrubHub's professional team of landscape designers will not only help you find the best fire pits for your house but will also provide the best landscape design for your backyard, regardless of the difficulties or obstacles.
For just under $300, our customers will receive ShrubHub's comprehensive package of professional design services.
These services include:
3D Landscaping Design
Door-To-Door Shipping from Our Exclusive Nursery
Recommendation for Your Location's Top Contractors
Shopping List with All the Elements Used, Be It Decoration or Vegetation
Free Phone Consultations with Your Designer
24/7 customer support
Free Insider Secrets eBook
And for a limited time, you will get a 70% promo discount on all our design services.
All you need to do is sign up on our website, shrubhub.com.
Visit our website today and get started on landscaping your dream backyard.
ShrubHub is a network consisting of the best landscape designers in the industry, using the latest state-of-the-art software to deliver high-quality, unique, and creative designs. We work from home, so we have no overhead. And that is how we can offer our top-tier design services at such an affordable price.