Beautiful Backyard Gazebo Ideas You'll Fall in Love With
Published: 09/11/2022 | Updated: 29/03/2023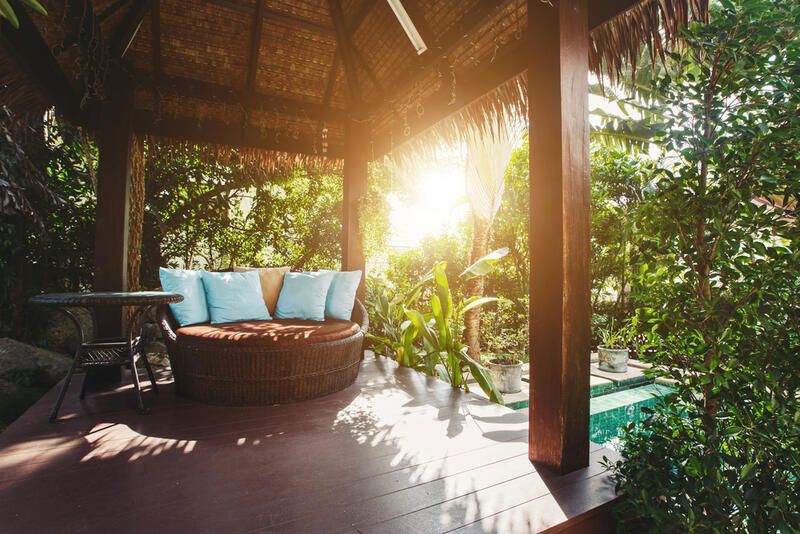 When you think of a gazebo two things probably come to mind straight away: the first one being a timeless romantic getaway in the center of your backyard that catches everyone's eyes and hearts, the latter being an outdated wooden structure/octagonal gazebo that's dull. The reality is it can be both. Which one you get all depends on how design your outdoor space and your gazebo ideas. Luckily, we have some of the best gazebo ideas around complied all for you! Let's get started on the not-so-mysterious backyard gazebo.


What is a Backyard Gazebo?
A gazebo is an open outdoor living space created to beautify the surrounding environment. The traditional octagonal gazebo has rails around the entire perimeter, posts in each of the eight corners, and a shingled roof with a small cupola on top. Of course, not all gazebos have this traditional layout. Some are rectangular, square, or oval. Some lack a rail while others don't have a cupola. However, the majority of gazebos adhere to the traditional style so closely that it is easy to identify them as gazebos.
Your gazebo can do a very wide variety of tasks. In a smaller gazebo, you can hang a hammock and unwind in the shade while enjoying a book and a cold cocktail. An unexpected downpour might be avoided by scurrying into your gazebo. A larger gazebo can be set up with a table in the middle for an outdoor dinner party or lined with benches for a more relaxed get-together. It's a romantic location to pop the question to your sweetheart. You can organize a backyard wedding or invite a local band to set up inside and play a concert by positioning chairs, so they face the gazebo.
Gazebos can truly be the eye-catcher of your backyard that brings everyone together or a relaxing haven for you and the family. The real question is, how do you design a gazebo that works perfectly for you? That's what we're here to talk all about!
Structural Gazebo Ideas
When you imagine yourself lounging in your backyard, enjoying the night sky and the peace that comes along with the perfect cup of cocoa in your hand, the shape of what you're laying in and the structure matters so let's get into some structural ideas for your new gazebo!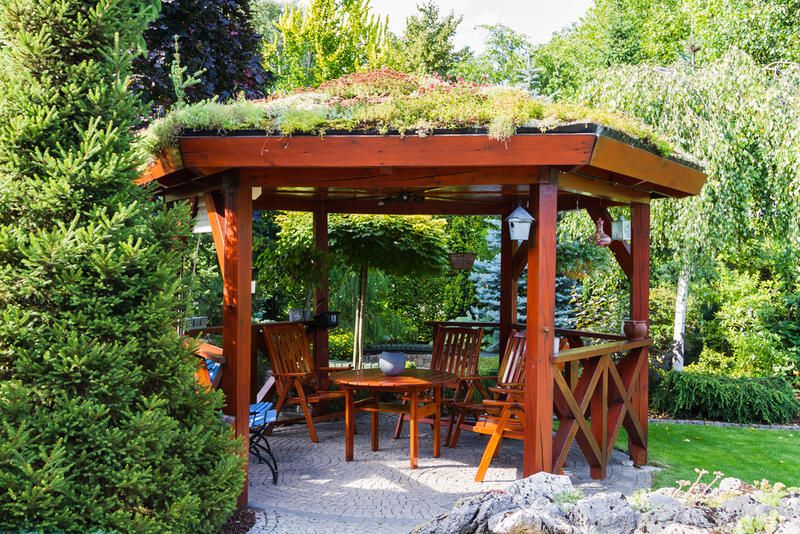 Enclosed Gazebo
They are a few different types of enclosed gazebos. You can either enclose your gazebo temporally with gazebo covers (usually found at home goods and garden stores) for the winter or buy your gazebo semi-enclosed or enclosed. An enclosed gazebo protects against UV rays while still letting you enjoy the sun and fresh air. Choosing a gazebo that is fully enclosed with a roof and closed sides is great for areas that witness a lot of rain since they'll help protect the space, and minimize the cleanup and water that gets into the gazebo itself. Semi-enclosed gazebos are good for providing some sun protection while still leaving open sides for open air, wind, and a more year-round-friendly gazebo.
Built-in Seating
Built-in seating is often one of those decor elements your either love or wouldn't touch with a 10-foot pole. Built-in seating can be modernized and help create a beautiful atmosphere for your backyard and gazebo. Imagine a concrete fire pit in the middle with built-in seating heavily covered by cushions, throw pillows, and blankets with the heat from the fire pits keeping you and your friends warm. These are the potential memories you need to think of when deciding on a style for your structure.
The Modern Approach
Change up the traditional gazebo's look by choosing a more contemporary style. Although most people see gazebos as having an octagonal shape made of wood, they can be any freestanding structure that resembles a pavilion or pergola. Creating a simple gazebo that has tapered columns and a soft canopy to complement your patio and possible pools' clean lines and architectural attractiveness can be all it takes to transform it into a minimalist gazebo that is the perfect spot for your modern home.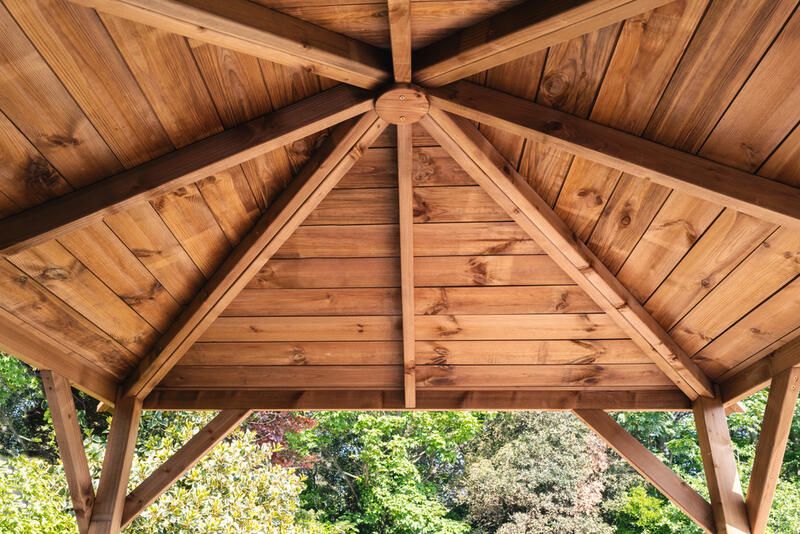 A Hot Tub Haven
Adding a hot tub beneath a covered gazebo can help you boost usage and get full use out of your gazebo with a relaxing spa-like experience year-round. Keep snowfall at bay when soaking on a frigid winter night in your perfect comfortable spot or shield yourself from the sun's beams in the summer. The perfect getaway regardless of the weather.
Decor & Accent Elements
The best way of course to personalize your backyard gazebo is with decor and accent elements! These can make or break your gazebo. Taking ideas from what your house looks like indoors and continuing that aesthetic is a great place to start!
Entertaining Guests
Include an outdoor TV in your gazebo design to serve as the go-to location whether you're enjoying a movie night under the stars, watching the big game, or binging on your favorite Netflix series. You can either select a TV engineered to endure outdoor elements or buy an enclosure for an existing TV.
You can also manage to hang up your TV if space is a concern. You can even look into projectors/mini projectors for limited space!
Curtains & Couches
By hanging curtains around the gazebo's sides, you may replicate the sense of relaxing under a cool cabana at your favorite seaside resort in the privacy of your backyard. This can increase seclusion and shade without requiring a long-term enclosure. One of our favorites is partially translucent drapes that let you see your yard while also offering protection on rainy or bug-filled nights.
Furniture is always a biggy when it comes to outdoor living spaces so choosing a cozy couch that can be fitted for your gazebo is always a must. Couches and lounges are great pieces of outdoor furniture, and they don't have to be boring! Look into couches that turn into beds or transform into double their size for star-gazing nights!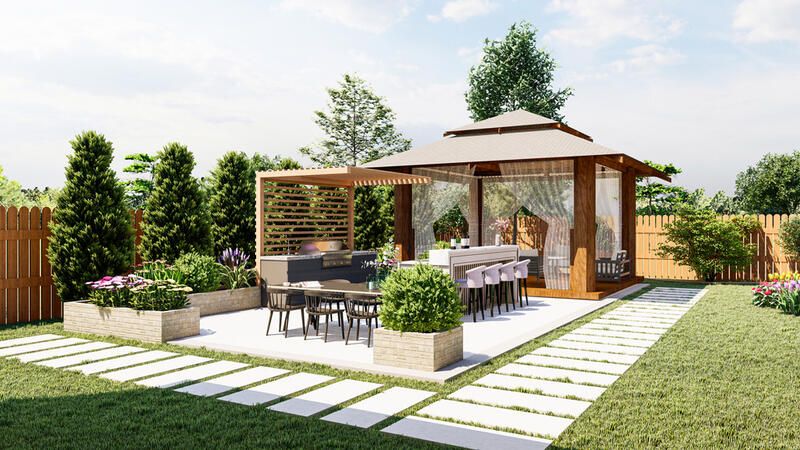 Decorate Seasonally
To make the gazebo seem more like an extension of your home rather than a distinct room, incorporate it into your seasonal decorating plan. To change up the appearance throughout the year, adorn the rails with fresh pine garland in the winter, line the stairs with pumpkins in the fall, and add decorative throw pillows in the spring and summer.
Add Decoration to the Perimeter
By emphasizing the poles, railings, and beams, you may draw attention to the gazebo's simple lines. You can use wind chimes hanging from the ceiling joists, flower boxes attached to the railings, and even exterior thermometers mounted on the pillars. A visual point of interest can be enjoyed from any seat by incorporating decorative items from various locations on the gazebo.
Paint Your Wooden Gazebo
By painting over the wood, you can give an outdated structure fresh vitality. You can choose a more subdued color, such as beige or white. Or choose a striking color like this vivid blue to stand out among the yard's foliage.
Outdoor Kitchen Feast
Keep an outdoor dining set/outdoor kitchen in your gazebo so you always have a spot to eat in your yard regardless of the weather and don't let a little rain ruin your plans for al fresco dining.
You can even elevate your outdoor kitchen space even more by adding a grill, an outdoor fireplace, and a mini fridge! Create the perfect place for your summertime BBQs and al fresco meals regardless of the weather when you keep it all under the roof of your gazebo!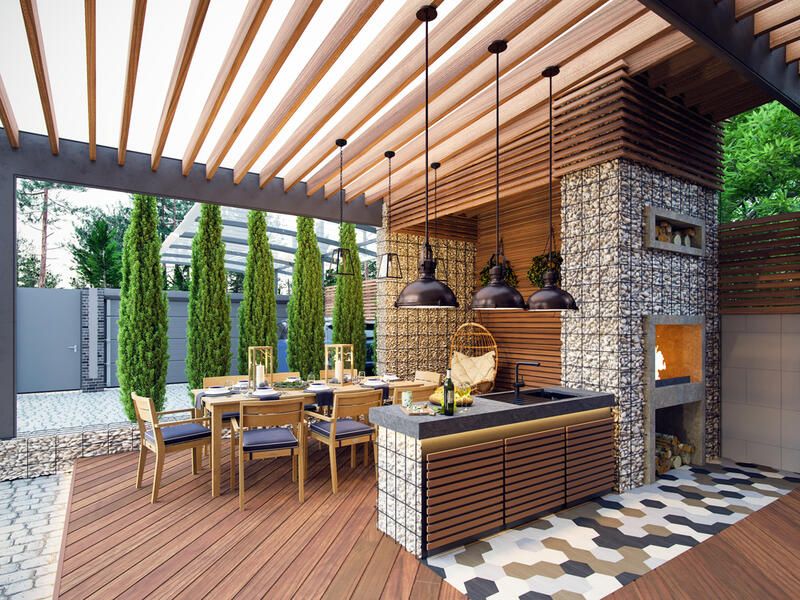 Outdoor Reading Nook
Who said a library needs to be indoors? Some of your favorite summertime books can be kept on a bookshelf in the gazebo with the right coverage. Set up comfortable patio chairs in the area so you can relax and read your favorite book there. Entertain yourself all day long with your own little reading space.
Gardens & Greenery
Nothing beats a gazebo drenched in gorgeous greenery and vibrant plants. Fill your gazebo up to the brim with different flora and shrubs. We guarantee you; you'll never get bored!
Pathway Flowers & Shrubs
By adding flowers and other foliage to the space leading up to the gazebo, you may fully integrate it into the yard. This inexpensive update might give you the sensation that you are strolling through your favorite impressionist painting as you go around your yard. Here are some of our favorite backyard landscaping tips and ideas for gazebos!
Climbing & Hanging Vines
Consider tall climbing plants when selecting plants for your gazebo area to maximize vertical space and draw attention above. You may appreciate flora from a distance and up close, such as sunflowers, roses, and wisteria. Covering your gazebo's roof with different plants can also help elevate the space. Make sure you choose plants that are compatible with your weather and the shade if your gazebo is hidden from direct sunspots.
Metal Gazebos
A metal gazebo gives a garden space charm and an antique appearance. But with time, metal can start to appear beaten up and need some care. An old metal structure can be given a facelift with paint that you can enjoy for years to come. You can paint it yourself or get a professional! Check your local home and garden stores for more information.
Once you paint it, you can cover the metal gazebo head to toe in plants and greenery, even transform it into a garden gazebo! Plant herbs and veggies, add a hanging garden, and create the perfect caged garden! You can use materials from around the house to create the hanging garden as well!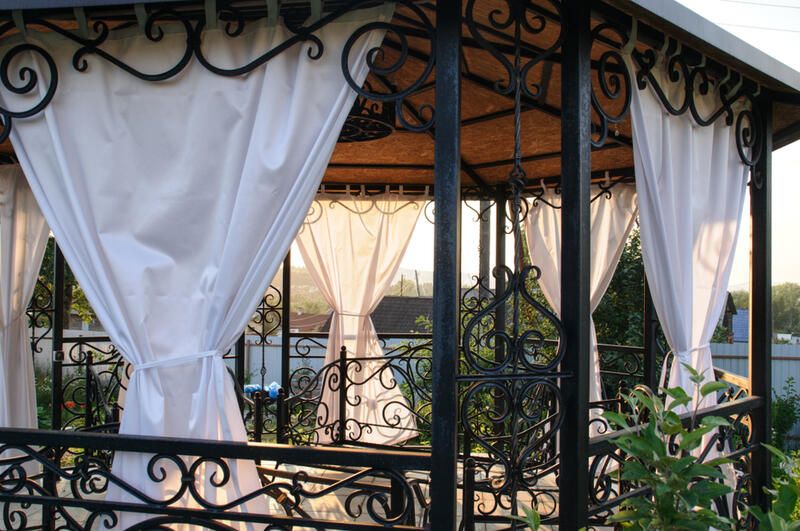 Lighting for Your Outdoor Space
You'll want to think of methods to utilize your newly installed gazebo from sunup to sundown and throughout the whole year. One of the main advantages of a gazebo over a pergola is that you can add electrical wiring to it because it has a sturdy frame. Here are a few various methods for adding lights to your gazebo.
Outdoor Fireplace
Adding an outdoor fireplace not only adds heat and style but is a gorgeous highlight for your backyard space as well! Outdoor fireplaces and fire pits are a great way to add natural lighting during the cold seasons as well.
Ascending Led Lights
Find gentle lighting sources to incorporate into your gazebo design. Your outdoor gathering may transition from day to night with the addition of LED lights lining the stairs and string lighting strung from DIY planter posts to brighten the space.
There are so many ways to customize your gazebo but if you ever feel like you could use a visual Shrubhub.com has got you covered! Shrubhub.com provides a full 3D plan of your yard and allows you to try out multiple different design options for a fraction of typical online design costs! Check them out now for 70% off your order and a free consultation call!