Backyard Deck Ideas for A Beautiful Outdoor Living Space
Published: 05/12/2022 | Updated: 29/03/2023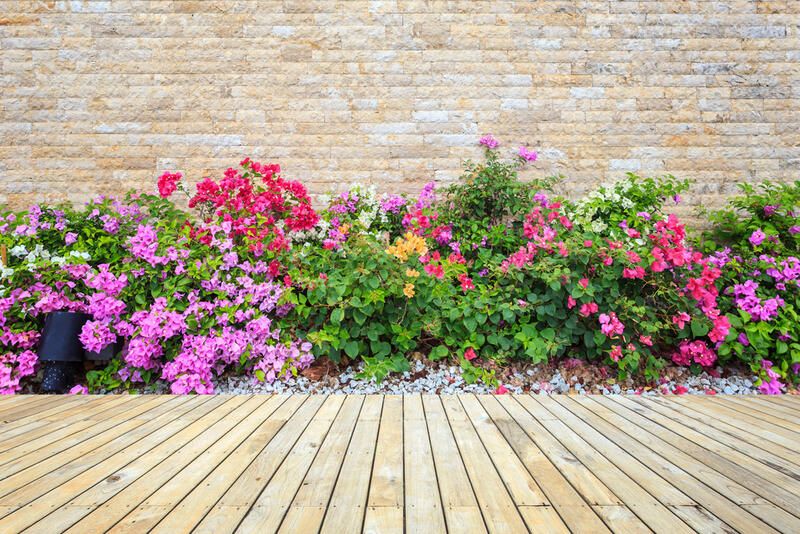 Outdoor decking gives your yard an effortlessly warm and inviting impression as it provides a well-defined space to hang out and relax while enjoying the fresh air.


Decking may be associated with traditional houses and setups in your mind.
Through the wide range of colors, styles, and materials decking offers vast diversity in the types of designs you can create.
If you're looking to hardscape around your pool, create the main hangout area, or add a chic element to your garden area, a deck addition might be just what you're looking for.
We've assembled a list of deck design ideas to inspire your home improvement plan.
Choosing a suitable deck for your outdoor space
Just like any other home improvement project, a deck requires some considerations to ensure a successful result.
Here are a few things to be mindful of.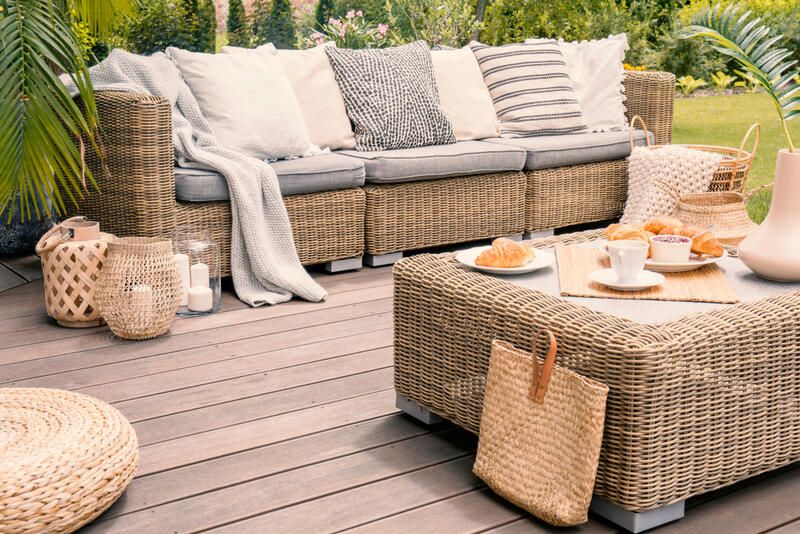 City codes
For larger deck designs, you will most likely need a city permit.
A quick look at your city rules or an early home association inspection visit before getting on with your project will save you a lot of wondering and asking around.
Needed function
Determining what you need the deck for will make your life a lot easier.
Noting the purpose of your deck will help you make smart design, location, and material choices and will affect your plan for the surrounding scene.
Choosing a design
Available space, function, and the style of your home are all factors that will affect your design plan.
Consider these factors to make sure your design of choice will complement your home.
Understanding the space that you're working with is key to choosing a nice design.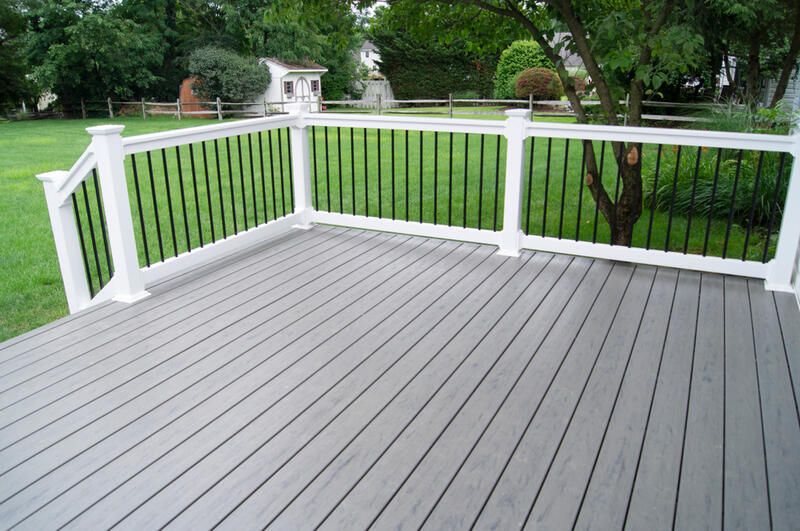 Learn your options
Knowing material options will make it easier to set a budget range and understand what will work best with the environment you're in.
Deck Material Options
Decking is available in various materials to suit any environmental conditions, maintenance preferences, and personal needs.
Let's go over some of the available material options and the conditions they're best suited for.
1. Wooden Deck materials
Wood is the most associated material with decking as it is the standard material for outdoor deck designs.
There is a handful of wood types suitable for decking to choose from, but the most popular ones are as follows.
Cedar deck: Cedar is a relatively affordable high-quality wood that's ideal for decking as it is highly available and sturdy enough for the project.
It also produces natural oils that deter bugs and protects your structure from moisture and rotting.
Pressure-treated wood deck: Pressure-treated wood is one of the most affordable and available deck materials. It's suitable for DIY projects since it's easy to cut and work with.
There are two significant issues with pressure-Treated wood. The first one is that it tends to be less visually appealing than cedar or hardwoods and the second is that it's relatively high maintenance since it requires regular re-staining and sealing.
Redwood deck: Redwood has almost all the same qualities as cedar since it's sturdy, naturally attractive, and naturally protected. Redwood is generally a stronger option than cedar though it's less available than cedar and more expensive.
Generally speaking, all wood materials are quite high maintenance as they require sealing, re-staining, and cleaning.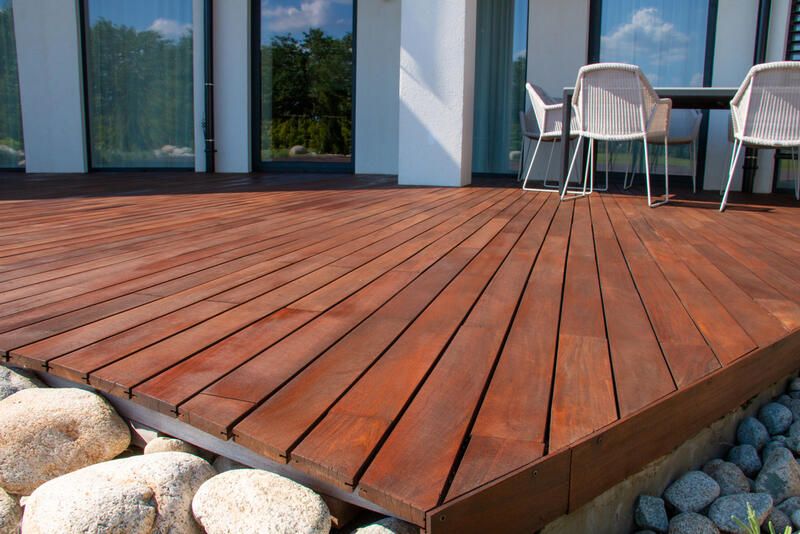 2. Composite Decking
Composite materials are great for decking since they're highly durable and require little to no maintenance. They come in all sorts of styles and acquire that natural wood looks to give the same effect.
Composite decking is ideal for homeowners who are busy or generally not looking to do a lot of work in their yards.
3. PVC Decking
PVC decking is another low-maintenance and highly durable option. It is also available in a wide range of styles to work with in all sorts of styles and its lightweight makes it easy to work with.
PVC is considered to be on the more expensive side when it comes to decking materials, though it saves you money in the long run due to its low-maintenance nature.
Deck Design Ideas
Now that you've learned the basics, Let's go over some design forms and ideas to help you choose a design route to take.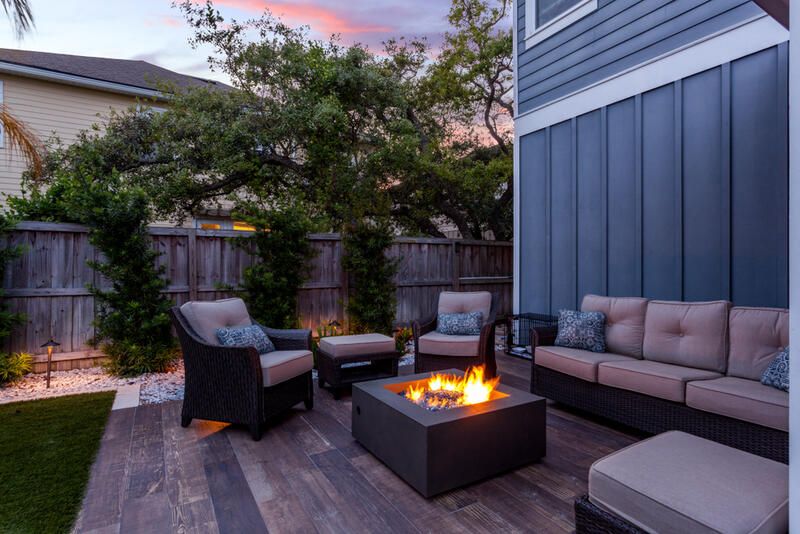 Ground-level deck ideas
Attached deck: An ideal location for a deck is off of your backdoor, this design helps create a seamless extension of your indoor living space and create that indoor-outdoor flow.
These attached decks are ideal for an outdoor kitchen, or a dining area setup.
Floating deck: If you're looking for an elegant addition to create multiple functional areas in your yard, floating decks are a great option to consider.
These decks are not attached to any structures but rather exist as standalone features in your yard and provide a spot for additional seating, dining, and hangout areas.
If you have a nice garden area, one idea is creating a small platform deck amongst the natural scene for meditation and reading.
With a few decorations, you'll have a chic, eye-catching design element that will serve as your little nook.
Covered deck: using covering structures over your deck space provides shelter from the sun which increases the period in which you can enjoy your outdoor space during the day.
They're also very visually appealing and provide the perfect structure to hang swinging chairs and fairy lights.
Enclosed deck: enclosed decks not only provide sun and bug protection but also create a separate outdoor room in which you can entertain your guests any time of the day.
Raised and upper deck ideas
Balcony deck: Creating a second-story deck increases the footprint and square footage of your yard which increases your home's value. The area underneath your second-story deck can serve as an additional patio space to entertain or add specific features to.
Wraparound deck: For larger projects, wraparound decks are ideal to connect the sides of your home while creating one big outdoor living area.
Multiple levels: Create different layers of hard surfaces to maximize your outdoor living space.
Add a patio space with pavers or stamped concrete off of your deck stairs to create more entertainment space and enhance the visual interest with the use of various textures.
Swimming pool and hot tub decks
Concrete is the material most used for pool hardscape. Maybe it's time for a fresher look.
Decking around your pool or hot tub provides a fresh elegant look and a warmer, more inviting space for lounging and relaxing.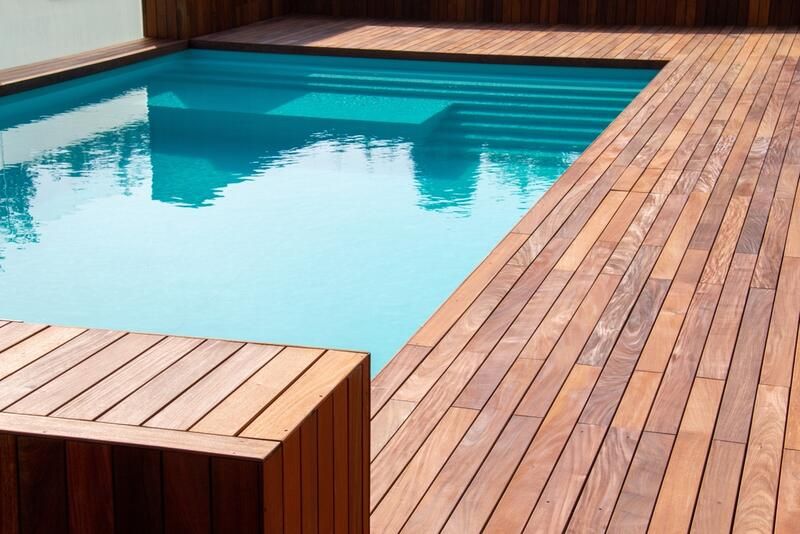 Some ShrubHub deck designs
Check out some design visions from our talented landscape designers.
Contemporary design (Balcony and hot tub deck designs)

This design incorporated various deck design elements giving it character and visual interest. Elements incorporated: A contemporary paver stone second-story deck, stained wood cedar deck around the hot tub, and a cedar wood patio extension in an ash grey stain.
Angular deck designs

The geometrically irregular floating deck added a lively effect to this dry landscape design. The angular design makes it very unique which gives the space a lot of character.
Texture flow

These designs are ideal for larger spaces. The flow from the deck to the patio spaces creates texture variation and multiple functional areas to entertain guests and enjoy outdoor time without leaving home which further enhances the outdoor living space concept.
Small Deck ideas

Small decks can serve as lounging, relaxing, and sunbathing surfaces that are both chic and practical.
This backyard deck idea incorporates a small cedar footprint with a pergola structure and a Baja bed for a minimalistic relaxing getaway feeling.

Although modest in size, this poolside deck incorporates multiple landscape features such as a fire pit seating area, swing chairs, and stone accents making a multi-purpose elegant area out of a small space.
Go to Shrubhub.com for professional guidance on your yard renovation journey.