Yard Design Pro Tips for the Perfect Arizona Landscape
Published: 17/12/2020 | Updated: 29/03/2023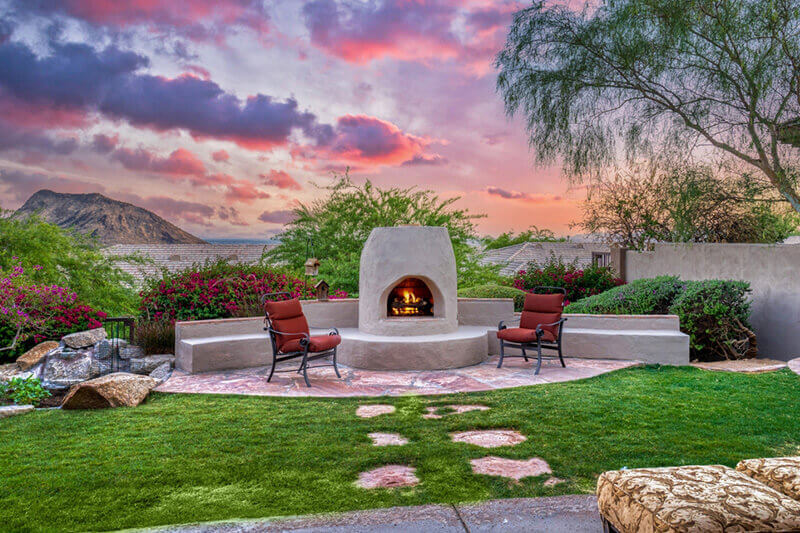 Lush, vibrant green lawns aren't exactly natural in Arizona's dry climate. Whether you're in Phoenix or Sedona, putting up with scorching and dry summers is sure to be included once you sign up to desert life; this doesn't mean your landscape is the same as the freezing temperatures of the lower desert valleys' frosty winter nights.


Not only that, but most of Arizona receives little to no rainfall which means only a handful of plant life will be able to thrive and shine in a landscape design.
With all this in mind, planning for a beautiful outdoor space that won't be a headache to maintain sounds like a project that will require its fair share of rocket science. If you find yourself running out of ideas (or giving up on your dream garden entirely), you'll be thrilled to know you don't need an environmental miracle or all the money in the world to achieve wonderful and vibrant Arizona landscaping!
As industry professionals specializing in landscape design, we've worked with thousands of homeowners struggling to keep their plants healthy under these extreme weather conditions.
They're tired of being faced with a front yard that takes points off their curb appeal and makes their house look uninviting, but they don't know how to make the best of Arizona's desert climate, and we don't blame them.
It may seem overwhelming and complicated at first, but with the right planning, every garden can grow into a fairytale beauty.
For those who'd rather get direct assistance from a pro, our services cater to homeowners who want to start planning their dream outdoor space and will make the renovation process ten times easier.
Check out our website to find out more about our custom design packages and how to master this tricky Arizona Landscaping challenge!
Arizona Landscaping 101
Crafting the Perfect Desert Landscape
Many homeowners local to the desert region are avid gardening enthusiasts who want the chance to replicate the serene ambiance of their surroundings in the backyard oasis of their dreams.
Due to harsh weather conditions, water restrictions, and limited plant life availability among other factors, an aesthetically appealing and functional desert outdoor space needs a lot more planning than the regular nursery wishlist and some outdoor furniture inspiration pics.
That being said, although a bit more difficult to arrange, desert landscapes , especially in Arizona, can be eye-catching marvels to behold: with Arizona native plant species' distinctive color palettes, sizes, shapes, and textures you can create astonishing and visually striking landscapes that exude the area's unique feel.
As the first piece of advice, we recommend paying attention to the basics. First, figure out your hardiness zone, and start getting familiar with your soil to find out which areas receive more sunlight or harsh winds.
You should also prioritize making the most of your outdoor space throughout the day by adding a pergola for shade on sunny days, water features to keep cool in the hot summers, the perfect lighting to make your garden livable at night, and a fire pit to enjoy those colder nights, to name a few examples.
The plants that'll complement your home's looks and your yard's purpose will be a lot easier to pick once your mind's made up on these essential factors.
Here are some other key elements to consider when planning for the ideal desert landscape:
Plan for a Low-Maintenance Yard
The ultimate desert garden design should always prioritize water conservation since the combination of intense heat and sandy soils means water evaporates quickly and the little moisture the soil can absorb will not be retained for too long. Installing an irrigation system might seem like the best option, but it won't help you save any water.
For the best solution to this prevalent issue, we suggest planting closely to save water and so that plants shade each other (delaying evaporation), and choosing native low water use plants that will thrive with the available rainfall.
Grouping plants with similar water needs will make your garden more water efficient and it'll make it easier for you to keep its lush and healthy look.
Cacti and succulents in your front, or backyard space, will be your best friends, they're a great low-maintenance option for those who love the natural beauty of a desert landscape. There are many inexpensive cactus species that will add flair and drama to your yard while also providing the rest of your plants with some much-needed shade.
Include Native Plants in Your Arizona Landscape
It's easy to see the advantage of planting native species instead of foreign ones. First and foremost, it's beneficial to the environment and to your plants themselves, species that aren't local could potentially harm your natives due to their lack of ability to adapt in this new climate.
Native plants will also save you countless hours of maintenance and fertilizing, they'll help you significantly cut down your water bills and will upgrade your landscaping entirely with a few pops of seasonal color.
Arizona has an impressive variety of shrubs, flower beds, and trees, so you're sure to find the perfect lineup of plants for your yard, our main recommendations are:
Desert Lily

Skyrocket

Desert Willow

Horsetail Milkweed

Arizona Cottontop

Blackfoot Daisy

Pine-Needle Milkweed
Most native species are low water use plants because they are used to Arizona's climate as opposed to foreign plants which usually require more water, and may not last you that long even if you try your hardest to nourish them correctly.
It'll be easier for you to access native plants, as they can be found in most local nurseries, but if you wanted to fill your landscape with foreign species, you'd probably end up having to get most plants delivered from their local state.
These are our favorites due to their mind-blowing beauty, and because despite their very distinctive desert look, they are easy to include in practically any landscape design regardless of the homeowner's style preferences.
That being said, the complete list of Arizona native flowers and trees would be too long to be included here, but we recommend checking out The Arizona Native Plant Society's full list here.
Consider Using Gravel and Natural Stone
When designing an Arizona landscape, one of the most requested features is "maintenance" design elements. Well, this is as maintenance-less as you can get, and they will only add to the aesthetics of your yard.
They are a very affordable option that can be found in a wide variety of colors, shapes, and sizes, and you can even get them for free if you decide to collect them yourself for maximum customization.
Choose Artificial Grass
If you'd love some green in your landscape, artificial turf is an affordable and low-maintenance option for you to consider.
With the installation plus the turf itself, you might end up paying more than you would for a natural lawn, but you'll be saving tons of money in the long run. This also means no watering and no mowing, all you'll need to do is rinse it off and brush it out occasionally and you'll be all set with a beautiful lawn that will last for a long time.
Custom Landscape Design to Build Your Dream Space
At ShrubHub, we're all about providing homeowners with the most value for an affordable price. Your garden can be your new favorite place for enjoyment, where you can gather all your loved ones, entertain guests, or relax after a long day!
Our entire process is done online, meaning you can start your renovation from the comfort of your home! With the guidance of an experienced Project Manager, we will bring your dream yard to life.
Thanks to our latest 3D technology, you'll know exactly how everything will look from an eye-level perspective as if you were walking through your yard.
Start planning a first-class makeover with ShrubHub today!
Right now, ShrubHub is offering to design two yard areas for under $300! So don't wait, conquer the Arizona landscape with a professional 3D design from the ShrubHub Yard Design experts!