Affordable Landscaping for a Modern Home
Published: 05/10/2022 | Updated: 29/03/2023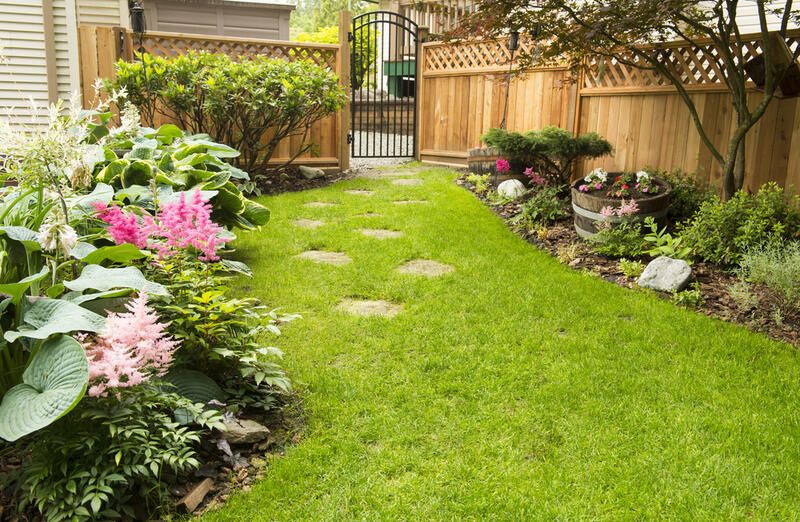 If you believe "less is more," a modern landscaping style for your home is exactly what you are looking for.


But let's back up a minute. You may wonder why you should landscape at all.
For most homeowners, interior design gets a lot of attention when it comes to creating luxurious living spaces, but equally important is landscape design.
Benefits of Landscape Design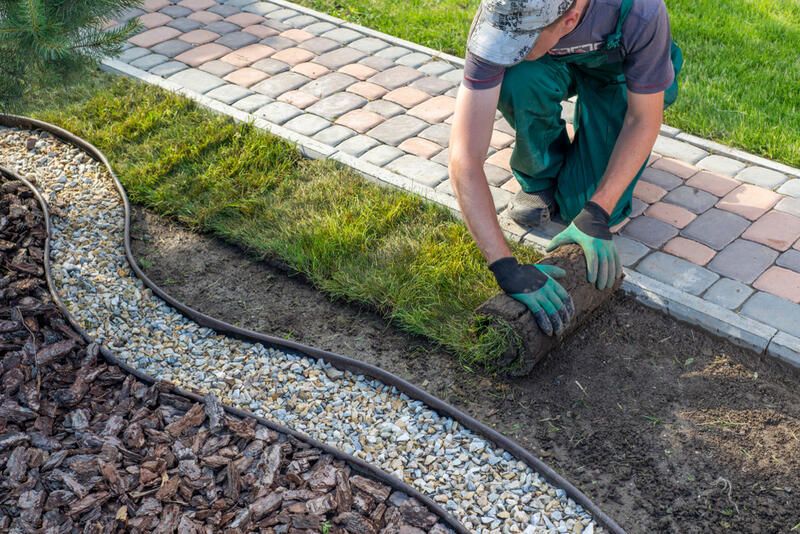 If you're on the fence about upgrading your home's yard, here are a few reasons why it is always a wise choice.
Impression
Landscaping your property is an opportunity to make your home stand out from the rest. Enjoy the pride of seeing your home every time you drive up the street.
Curb Appeal
Well-kept lawns, gardens, and plantings are not only pleasing to live in, but also essential if you ever plan to sell your home.
Better Views
The benefits of landscape design can be felt just as much inside the home as outside. Even when you're indoors, having an appealing outdoor space can help you feel relaxed and connected to nature.
Improved Outdoor Living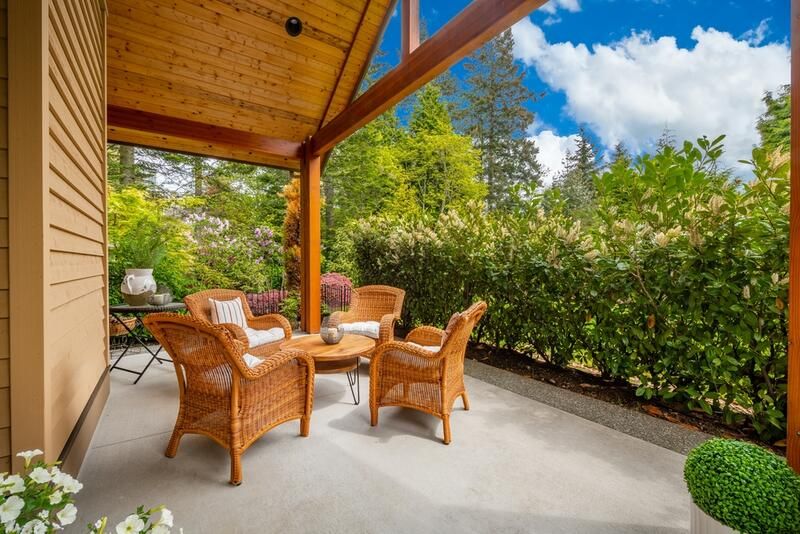 A home's well-designed landscape will entice you and your family to go outside. You can create fabulous spaces for entertaining, playing, or simply finding a peaceful hideaway no matter what your style.
Increase Property Value
Landscaping is one of the few home improvements you can make that not only adds value immediately but also increases in value as the years go by. Data shows that well-landscaped homes can increase property value by 5 percent to 12 percent more, depending on where you live.
There is no doubt that investing in landscape design is money well spent.
Why Would You Want to Go Modern?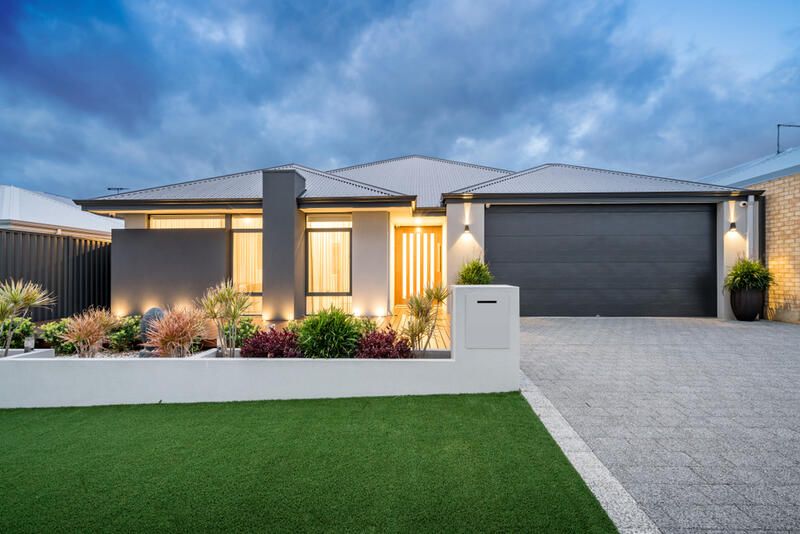 There are many, many ways to construct your outdoor space. One of the most popular is the modern style.
Uncluttered and designed with clean edges, modern landscaping is a great fit for a property with a contemporary home. It is also a popular contrast to a more traditional style. In other words, a modern landscape can work for just about any property.
What Is A Modern Landscape?
A "modern" garden can be so many different things, but there are some basic components that define it.
Designing a modern landscape plan has as much more to do with materials than it does with plants and flowers. No matter which items you choose, think of their placement in terms of rectangles and squares. Curves don't work, and wandering pathways definitely don't match the modern landscape style.
For the most part, modern landscaping features these specific elements:
Design
One of the primary characteristics is clean lines created by hardscape and a focus on minimalism. Hardscape is literally the hard stuff in your yard like concrete, gravel, cement, and stone. And a minimalist garden uses a limited number of items in the design.
Color
Usually, there is minimal use of color, focusing more on neutrals and pale hues in the modern design.
Material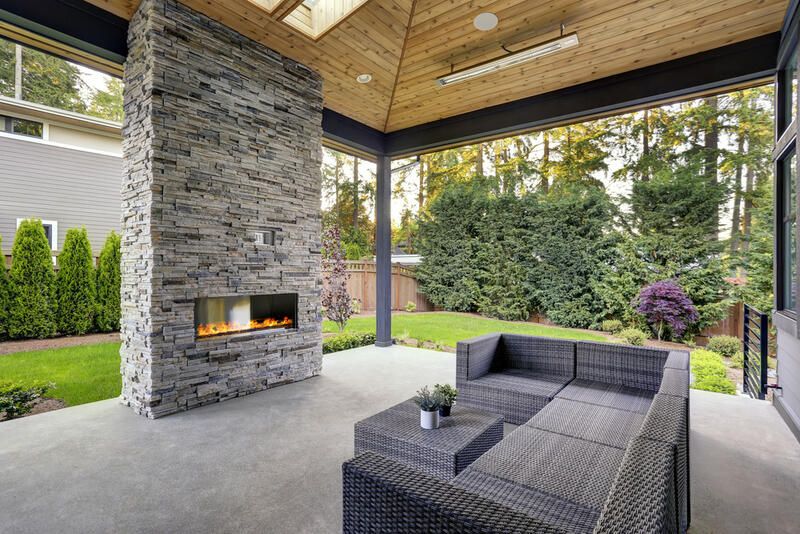 Concrete paths, patios, pavers, and planters that are evenly balanced are central features. You'll also find accents and small touches of wood or metal.
Low-Maintenance
One of the best things about creating a modern look is that it is simple to maintain. This design style will spruce up your backyard and let you spend more time enjoying it, not just working on it. The easy care is perfect for people who have a very busy lifestyle but still want a great-looking yard.
Outdoor Seating
Modern landscape design is especially popular in warm climates because it lends itself well to open spaces. If you plan to use seating outside in your modern landscaping, keep in mind that geometry rules apply. That means you will want to focus on simple shapes like square chairs and rectangular tables.
Dramatic Additions
Water features from a simple fountain to a basic-shaped infinity pool will enhance any modern design with something special. Consider large boulder accents that create drama and require virtually no upkeep. The best choices are those items that create a simple and clean symmetrical design.
Grassy Lawns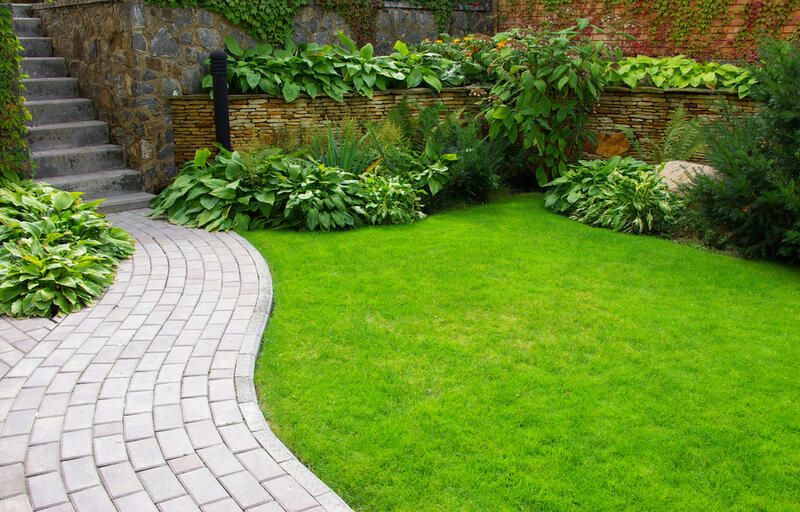 A traditional landscape has the always green and lush lawn as its centerpiece. For the most part, the grass is only used as an accent between pavers or in small patches in a modern design. Yes, a lawn can have a place, but is more of an accent and will not be larger than absolutely necessary.
Plants
But fear not! Plants and flowers can be used to soften the hard edges of the modern landscape. These pops of green and other colors are found in neat rows or a pair flanking the front door.
Modern Landscaping on a Budget
Revamping your long-abandoned yard doesn't have to be expensive. In fact, designing a pocket-friendly modern yard is not beyond the bounds of possibility. With the right material in mind, a touch of creativity, and a wild imagination, you will not only save money but also enjoy an equally-beautiful yard.
Budget-friendly Walkways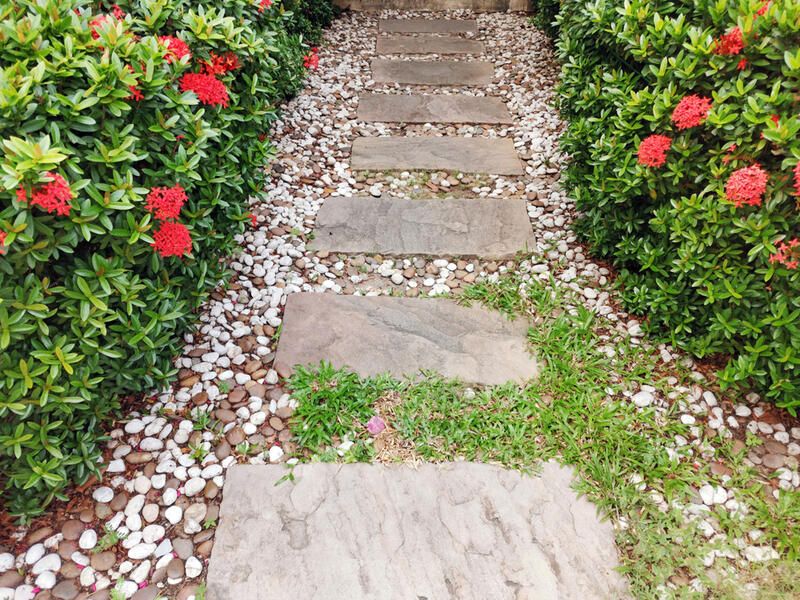 Because it comes in a wide array of shapes, colors, textures, and types; natural stone is among the most commonly-used, cost-effective ways to upgrade your yard.
Highly durable yet stylish, limestone will definitely fit your modern on-budget yard design. Get the most out of its various colors and shapes by installing it in your patio, driveway, walkway, or even pool area.
For a modern, low-maintenance look, design your yard with gravel-inspired walkways.
Affordable and attractive, gravel comes in a range of colors and sizes. You will no longer leave your shoe prints all over your yard, taking them indoors to make an appalling mess inside. A decent gravel pathway won't break your budget, offering you a modern, soft-looking, and affordable style.
Not only are gravel pathways cost-effective and eco-friendly but they also promote good drainage and are easy to install.
Dramatic Solar-powered Lighting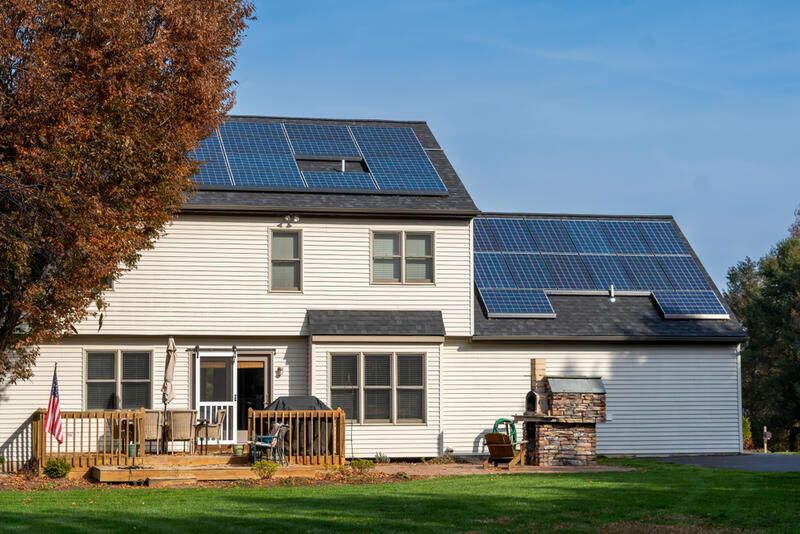 In search of outdoor lights that are budget-friendly, easy to install, and can still fill your outdoor space with warmth?
Using no power at all, you can simply rely on solar-powered lighting to save some cash and forget all about electricity bills. Unlike traditional lighting, solar lights require low to zero maintenance as they are designed to be both durable and waterproof. You have just found an effective way to take advantage of the blazing hot days!
Low-Cost Modern Furniture
When we upgrade our home interior furniture, we tend to devote a considerable amount of time while trying to figure out how to select the most suitable furniture that is at one with our personality. Guess what? Your outdoor furniture shouldn't be given any less attention!
Being tight on a budget doesn't mean that you should overlook this task altogether. Instead, consider a patio revamp, and explore a vast variety of affordable furniture that could be incorporated into your yard design.
Similar to stores that go on clearance at the end of the season, patio furniture will be available low-priced when summertime draws to a close. Here are some cost-effective outdoor furniture ideas to spark some inspiration for your affordable outdoor design:
Firepits
With family and friends right by your side, gathering up around a firepit makes up the perfect memory. Whether on a warm summer day or a freezing cold night, a firepit gives you a fair chance to spend more time outdoors.
Having a firepit doesn't always have to mean fancy and expensive. Pocket-friendly firepits can still do the job just fine, be it a firepit bowl with a mesh cover, a gas column, or a firepit table.
Outdoor Seating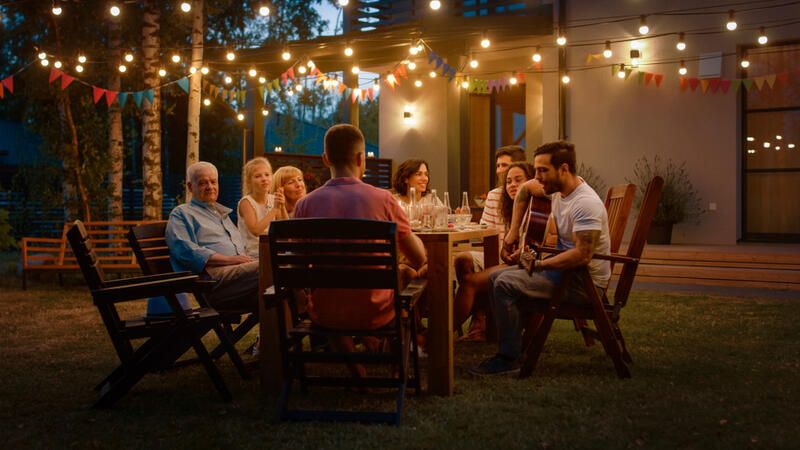 Imagine having the most welcoming set of outdoor furniture, but once you sit on it, you find it hard as a rock! How disheartening could this be?
Comfortable, fashionable, and budget-friendly are all that you can ask for in outdoor seating. Bringing coziness and style to your space, outdoor furniture helps you get the most out of your area all while having some quality time with your family and friends.
Go for a six-piece conversational set. However, if you inspire to have something that is not as uniform in style as outdoor furniture sets, you can opt for an outdoor patio sofa or patio sectionals with a coffee table.
And to create your own Zen zone in your outdoor space, install a cost-effective hammock where you can unwind and lose yourself in a book.
Depending on your personality, and your definition of a comfort zone, you are the one who can decide on your own "great option". It might be a hammock, a swing lounger, a simple wooden chair overlooking your flower beds, or just a giant bean bag and a projector to watch your favorite movie.
How to Build Your Dream Yard
If you are overwhelmed or confused about how to get started on the ideal modern landscape style for your home, then it's time to reach out for some help or to search for landscaping services.
ShrubHub can transform your yard into a spectacular modern landscape and create the outdoor space of your dreams. As a premier online landscape service, Shrubhub brings inspiration, convenience, and expertise when modern landscaping is your goal.