9 Unusual Yard Fencing Options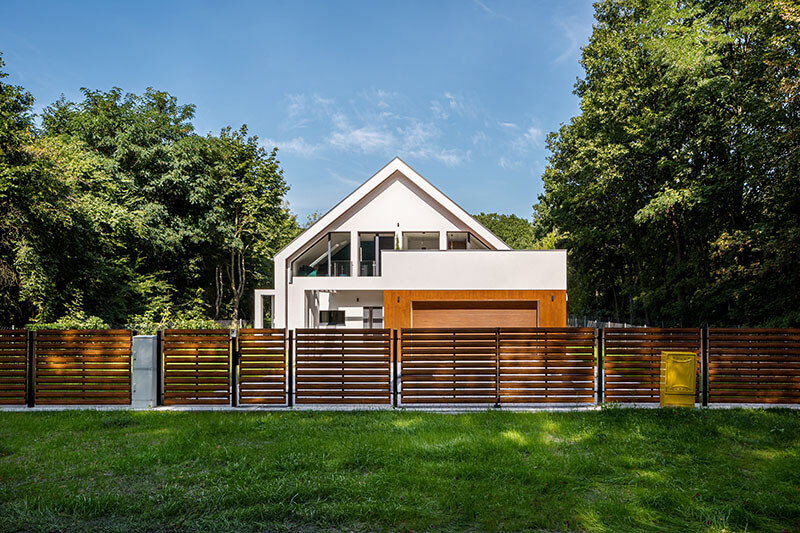 In today's world, fences are not just for keeping your dogs in the yard. They represent the perfect opportunity to express your personal style, showcase your taste in architecture, and give you a space that is uniquely yours


However, with so many variables involved in designing and building a new home, it can be difficult to know where to start when making initial plans. Luckily, there are plenty of cost-effective ways to accentuate the aesthetic appeal of your home's exterior.
To get you started on the right track, here are 9 yard fencing options that will accentuate any front or back yard design.
Reclaimed Wood Fencing
The first thing that comes to mind when we think about fences is the wooden structures that we often see in movies and animated clips—beautifully arranged, perfectly symmetrical wooden slats.
Why don't we take that idea and turn it into something more fun by using reclaimed wood instead of regular wood?
Reclaimed wood fences are typically made of old barn boards or timbers and then stained to match the aesthetic of any given backyard. The reclaimed boards used in making these fences are likely to vary in size, shape, and color and will typically display a number of unique imperfections that add to their charm.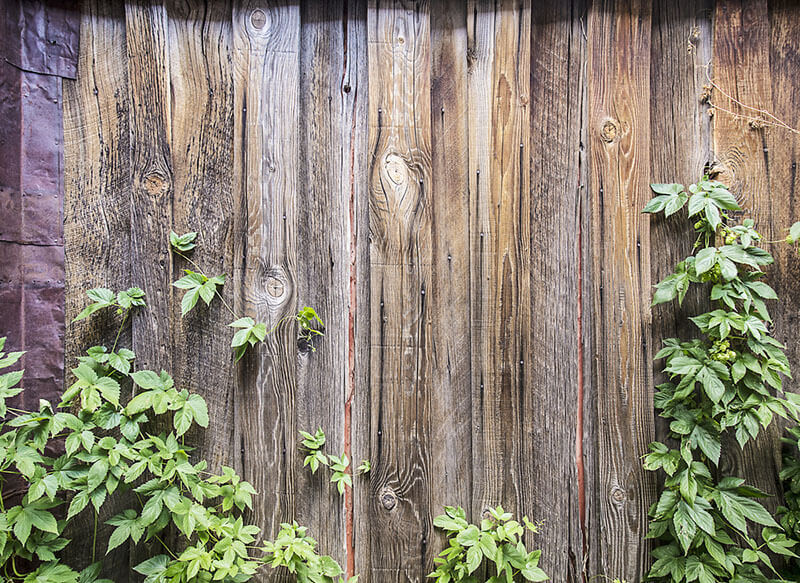 Fences built with reclaimed wood add an extra layer of character to the area you are fencing in and can help to give the space a rustic feel.
While this type of fence can be quite expensive, you can find plenty of used materials through online sales sites like Craigslist, eBay, or Gumtree. You can then use these old boards to construct your own reclaimed wood fence.
Alternatively, you can hire a contractor to construct your fence using reclaimed wood boards that they will then stain to match your desired color palette.
Horizontal Slat Fence
Reclaimed wood is not for you? A simpler, yet equally unique fencing option is horizontal slat fencing.
Unlike vertical fences, horizontal slat fences are made of high-quality materials like premium hardwood, aluminum, or durable vinyl. They are ideal as decorative fences due to their unusual structure.
However, these types of fences are much more than a decorative option. They can keep the noise and sun out and create the perfect privacy screen.
They are also the perfect option if you have pets that need to stay contained while still having access to their outdoor space.
Horizontal slat fences can also be an excellent choice if you have a fenced-in yard already but would like some extra privacy around the perimeter of your property as well as between neighbors' yards.
Iron or Metal Fencing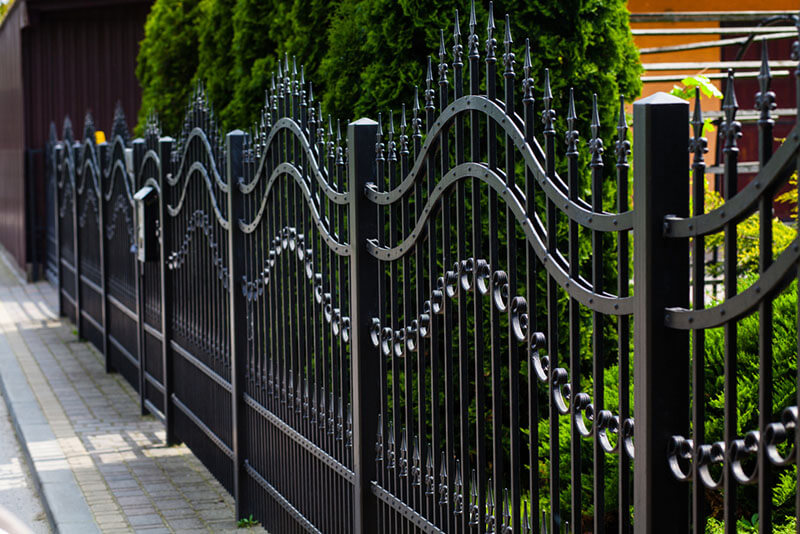 A more conventional, yet extremely durable and versatile option is metal fencing. Steel, aluminum, and iron are just a few of the metals that can be utilized to build a durable fence.
Regardless of which type of metal you choose, a fence built from these materials will last for decades without needing any maintenance.
This particular fence type is often suited for commercial as well as residential applications due to its strength and durability.
Metal fences are perfect if you want a fence that is stylish, maintenance-free, and built to last. They come in many different designs, including picket, panel, privacy, and ornamental. You can also choose from a variety of different colors, giving you countless options to suit your taste and match the design of your home's exterior.
Most importantly they offer you the ability to have an instant fence that can be installed in just minutes!
Vinyl Fencing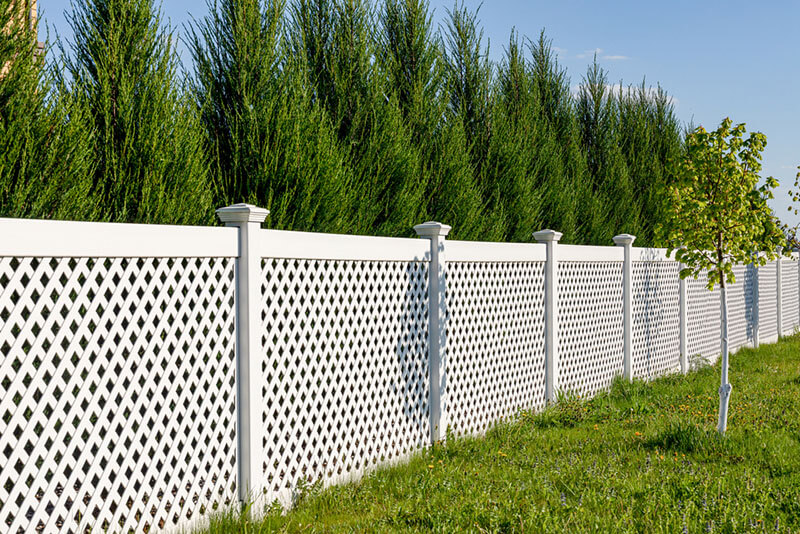 If you're looking for a cost-effective fence option that can withstand extreme weather conditions, vinyl fencing is likely the perfect choice for you.
Vinyl fencing is constructed from a vinyl polymer that can withstand extreme temperatures and resist the harmful effects of ultraviolet radiation.
It comes in many different designs and is available in many different colors, including black, brown, tan, and green.You can also find vinyl fencing that is designed to look like wood or picket fencing.
Vinyl fencing is an excellent choice if you want a durable fence option that won't break the bank. However, it's important to note that vinyl fencing is not intended for use in highly trafficked areas, such as along a sidewalk or around the front yard.
Composite Fencing
A type of fence that is often compared to vinyl fencing is composite. Because composite fences are typically made of a mixture of vinyl and real wood, they're sturdier than regular vinyl fences and have a more natural look.
Composite fences can be used in many different ways—from privacy screens to decorative accents on the front or back yard.
If you're planning on installing a new fence around your home, composite fencing is also an excellent choice because it lasts much longer than traditional wooden fences.
Another thing to note when considering composite fencing is that they're typically more expensive than their vinyl counterparts, but much cheaper than wood fencing.
Cordwood Fencing
Do you want a fence that looks utterly mesmerizing? Then you might want to check cordwood fencing. Cordwood fences are constructed using pieces of wood that are stacked like a log cabin and then secured together with a wood or glue-based adhesive.
This type of fence is a fantastic eco-friendly option for homeowners who want to create a stylish and decorative design feature using repurposed wood.
While this type of fence can be made using a wide variety of different materials, it is commonly made from pieces of wood that have fallen from trees.
To create cordwood fences, we use a variety of different-sized pieces of wood, so each fence will be as unique as the tree from which the wood fell.
Brick Fencing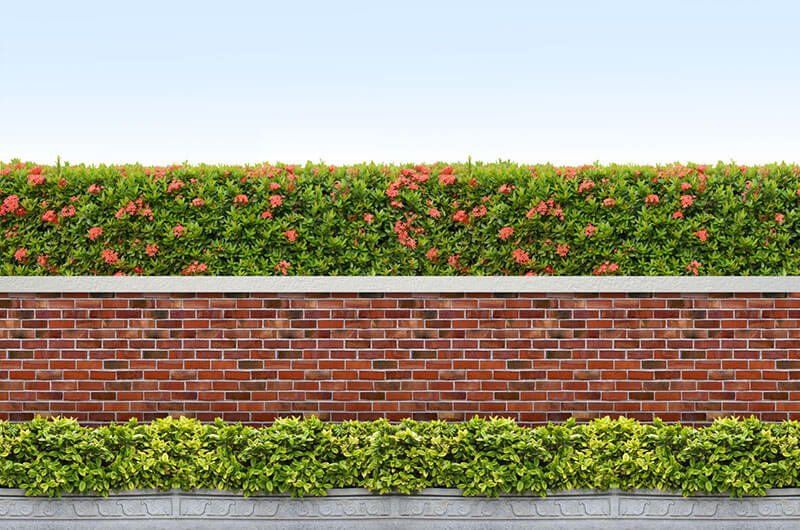 A fencing option that is less of a fence and more of a privacy wall is brick fencing. Brick fences are typically constructed using bricks that are laid in a running bond pattern.
You can choose from a variety of different brick types to suit your design aesthetic, including sandstone, limestone, and red brick.
Brick fences can be built as high or as low as you want. It might be hard to believe, but bricks are as versatile as wood and vinyl. You can use brick fences to create a traditional look and feel, or you can incorporate unique designs and patterns to create a more contemporary aesthetic.
Although bricks aren't the cheapest materials to use, they are extremely durable and will look great in any yard for many years to come.
Although bricks aren't the cheapest materials to use, they are extremely durable and will look great in any yard for many years to come.
Brick fences can vary in thickness depending on the type of material used and the amount needed for each section of the fence.
Natural Stone Fencing
Just like brick, natural stone fences are a popular choice for those who want a durable, timeless design that will stand the test of time. They'll always look elegant, and the materials used in their construction will last for decades if not longer.
The best part about stone fences is that they can be custom-built in any size or shape, and you can choose from a variety of different stone types to suit your design aesthetic.
When compared to brick fencing, stone is stronger and more expensive than brick. It can withstand extreme conditions like sub-freezing temperatures and strong winds.
On the downside, stone fences are built to keep in the heat, which means that they might not be the most appealing in warmer climates.
Retaining Wall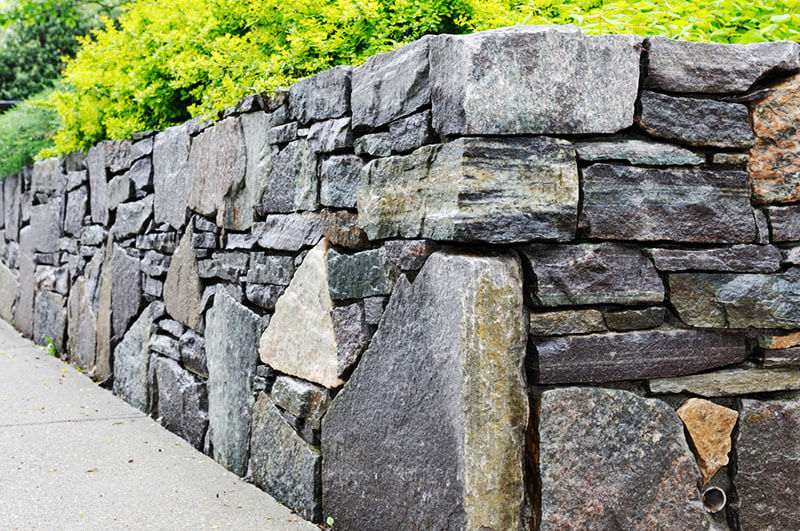 To understand the difference between a retaining wall and a fence, you have to look at what they're made of. A fence is designed to keep people out, not in. It's built to keep dogs on your property and small children safely within it.
A retaining wall, on the other hand, is designed to hold back earth from a sloping yard or driveway. If there's too much earth for gravity alone to keep flat, then you need something that can withstand pressure from above—in other words: more than just dirt piled up against itself!
The most common kind of retaining walls are made of stone or brick; however concrete will also work if it's reinforced properly with steel bars that are anchored into the ground below.
Not only do these types of retaining walls fit in with most backyard designs but they also add character to any yard.
Wrapping Up
There are a number of yard fencing options to choose from, and each one has its own unique look. Whether you're looking for something simple or more elaborate, there are several things to consider when choosing the right type of fence for your yard.
The most important thing is to make sure that the type of fence you choose will complement your existing landscape design. The next thing that matters is whether or not you want an attractive fence or something more utilitarian.
Finally, you'll need to decide how much money you want to spend on your new fence so that it fits within your budget constraints.
And if you're confused about the design, budget, or installment, then don't hesitate to contact Shrubhub's experts for the best affordable landscaping services.