9 Tried and Tested Above Ground Pool Landscaping Ideas to Create a Space that Everyone Can Enjoy
Published: 19/01/2023 | Updated: 24/05/2023
So you've decided it's time to invest in an above-ground pool, but how do you incorporate it into your garden without letting it take over the whole space? Read our guide on landscaping around your above-ground pool.


You've been trying to find a solution for issues like spending more time with your family, possibly keeping your kids (or grandchildren) active and off the couch, finding a way to relax and unwind yourself, or maybe even finding a way to exercise, and you think a new backyard pool may solve them all at once.
But what's your next move? How do you begin landscaping around an above-ground pool?
Even looking for a pool (let alone incorporating it into your landscape design) can be stressful, so we want to assist you to navigate the process and feeling less overwhelmed.
Swimming pools are wonderful and above-ground pools are one of the easiest ways to add a bit of fun to your yard, an above-ground pool is much easier to install and is comparably low maintenance in comparison to an in-ground pool.
Once the weather warms up, you might start thinking about making that above-ground pool dream a reality.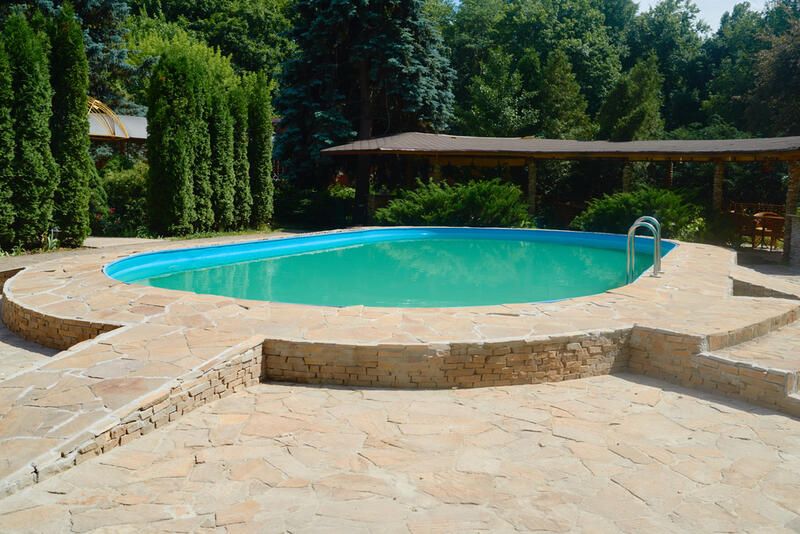 If you like the idea of a backyard pool, there are several advantages to choosing an above-ground design over its in-ground counterparts. They install significantly more easily, which is a perk. They typically cost a lot less as well, which is ideal if you have a tight budget. Above-ground designs are also better suited to small plots because they are more compact and require less space to install.
However...
They can provide a challenge to seamlessly include them in your yard design, so we've compiled some of our top tips on how to make the most of your above-ground swimming pool dreams come true!
Soften the edges with attractive perennials
A quick and inexpensive way to incorporate your above-ground pool into your yard is to surround it with lovely flower beds or planted containers.
Picking annuals that require minimum upkeep is a smart choice. If you choose fragrant plants, they'll grow quickly and surround your pool with delightful summer color and aroma. You can always change the plan for the following year.
Try nasturtiums and cheerful marigolds for their vivid hues, or opt for some sweet peas for their lovely cottage garden vibe.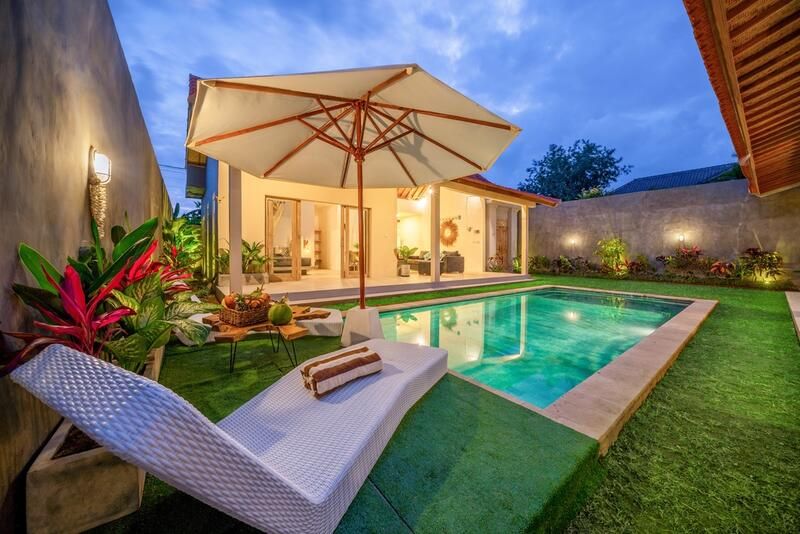 Go tropical
An above-ground pool can still have a lovely pool landscaping design.
An above-ground swim spa, a type of pool with a water current setting for swimming against, is a terrific addition to any little site. It also doesn't take up much space despite being encircled by decking and covered with metallic discs.
Create a warm color scheme with surrounding Corten steel planters, coppery benches, and a fire pit, the space is well-organized and reinforces the tropical theme. Some shade from the noontime sun can be provided by the pergola above.
Try to balance out the hard and soft landscaping elements.
Use smart paving as a barrier
By designating a unique pool patio for your above-ground design, you can effectively divide the space and protect your lawn from water splashes.
Paving is available in several styles, from modern porcelain to rustic actual stone. In addition to picking one that matches the other hard landscaping in your yard, it is advisable to choose a variety that offers traction when wet. A meandering walkway built of stepping stones leading to the zone will lend a playful aspect to your pool.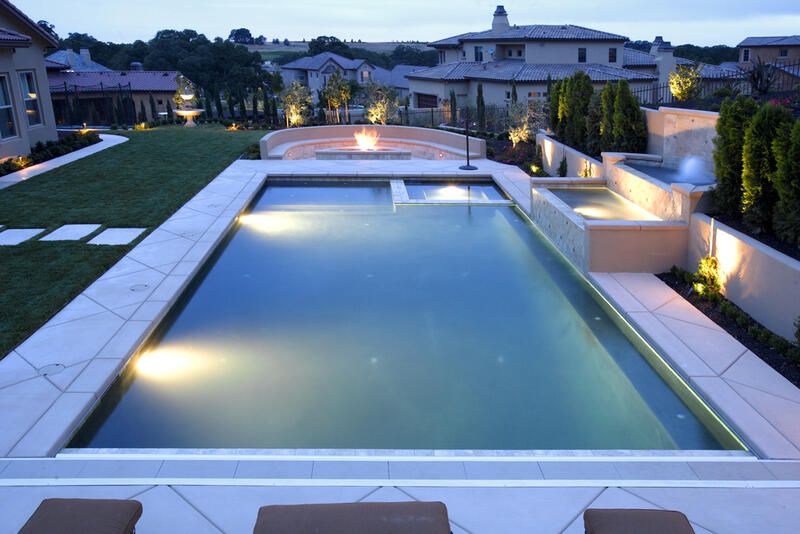 Timber!
Timber has a rich tone full of vintage charm that goes nicely with any garden layout.
Wood is a natural substance. If you choose to build an outdoor surface pool, wood should be one of your go-to materials. Wood is durable, reliable, and substantial that can withstand the elements as well as look stylish as it surrounds the entire pool.
If you don't want to opt for real wood, there are plenty of more affordable wood-like finish materials out there which are a bit more water friendly and won't be affected by water damage.
Create a neighboring living area
Don't forget to design an area nearby for leisure when thinking about above-ground pool ideas for your property. By doing so, you can transform the area into a true social hub that is ideal for outdoor gatherings.
Consider placing inviting lounge chairs, an outdoor dining set, and of course a BBQ for preparing delectable snacks to satisfy the post-swim munchies!
Outdoor lighting is also something to consider. The greatest outdoor lighting will enable the zone to be used late into the night.
Finish the scene with a patio canopy to offer welcome shade. A pergola is a classic option, but there are also many high-tech, readily adjustable louvered versions available today.
Make your pool stand out with stone edges
Want your above-ground pool to draw attention? A stone screen in the Gothic style is a wonderful way to do it! Additionally, it will increase privacy levels in addition to giving you serious style points.
For a softer, leafier appearance, you may also incorporate some climbing plants with the aid of a trellis. A climbing rose or jasmine will undoubtedly heighten the romantic atmosphere.
Size matters
How big should an above-ground pool be? Well, that all depends...
Traditional above-ground pools come in a variety of sizes and are typically circular or oval, making them perfect for most plots.
The smallest typically have a diameter of around 12 feet, while oval ones can be up to 40 feet long and 20 feet wide. When choosing the perfect size to fit your location, keep in mind that dimensions frequently refer to the pool's interior rather than its total size.
Although some designs have deeper depths, the average depth is between 48 and 54 inches. Make sure to enquire about the total size of the pool you're eyeing and measure the dimensions of your yard before you commit.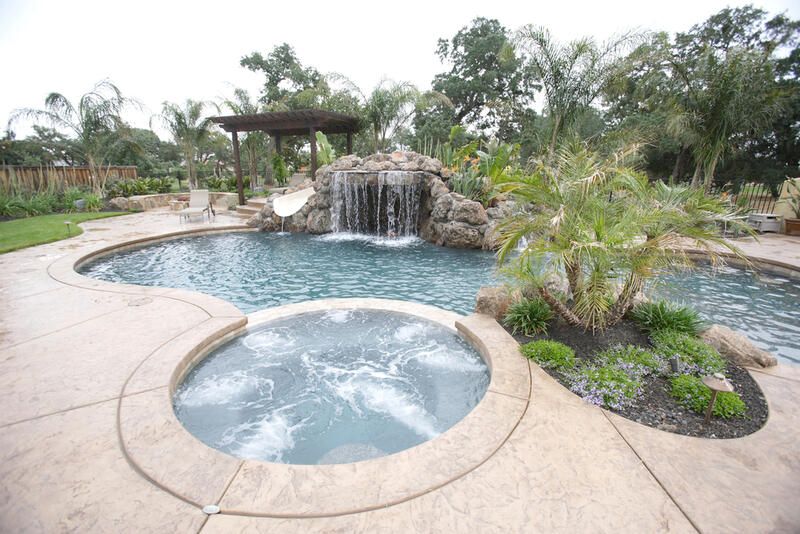 Add a deck
A pool deck is quite useful whether you choose an above-ground pool or an inground pool. This is especially true if you choose composite non-slip flooring (and nowadays, plenty of timber-effect designs are available for that natural look).
We love the idea of incorporating raised decks into an above-ground design. A well-placed deck will integrate the pool into the overall landscape seamlessly. A bonus is that a deck provides a solid foundation on which to set your finest sun loungers for that post-swim snooze!
Choose your wall materials wisely
There are three main materials most people go for when it comes to pool walls, Aluminium, steel, and resin.
1. Aluminum
Aluminum has gained appeal over the past few years due to its light weight and ability to maintain strength in subzero conditions. Unfortunately, these benefits are not greater than aluminum's one important drawback, oxidation. The oxidation that occurs causes pitting, which degrades the surface and increases the risk of vinyl liner rips and tears, so although aluminum may seem like a great option in the short term, we recommend you go for something a bit hardier.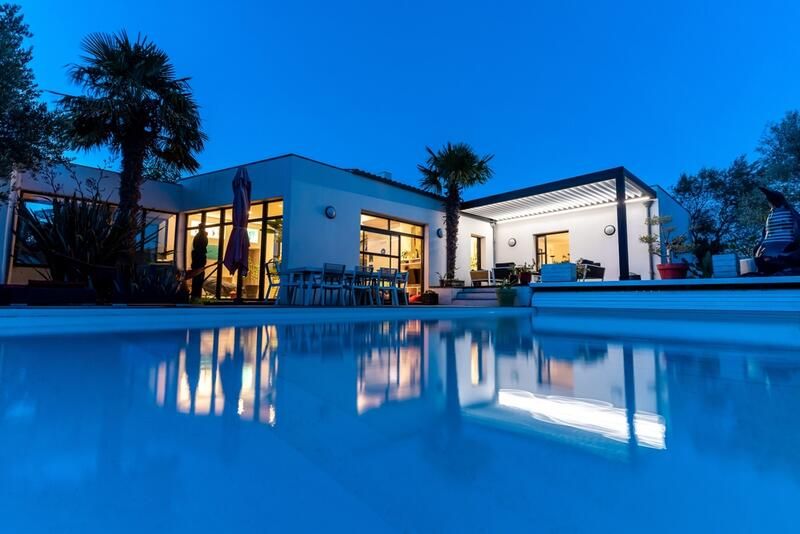 2. Steel
Steel is an excellent material for above-ground pool walls since it is strong, sturdy, and substantial. Despite common misconceptions, steel is relatively economical. Like aluminum and other metals, steel will eventually degrade. The good news is that protective coatings can easily strengthen and prolong the life of steel.
3. Resin
Another wonderful option for an above-ground pool is resin. In a resin pool, the top rails, uprights, tracking system, and caps are constructed from resin- or resin-and-plastic-based materials, while the walls are still made of steel.
Because the metal doesn't have to touch the ground thanks to the resin addition, there is less possibility of corrosion and oxidation. Additionally, resin keeps it cool in the scorching Mississippi sun, and with the correct coatings, it provides additional UV protection. This leads to less flaking, cracking, and fading.
Ready to Dip Your Toe into Designing an Above Ground Pool for Your Yard?
By now you may already be envisioning all the fun-filled Sundays to come with the kids living their best life in their awesome outdoor pool, or even yourself, floating in a pool of serenity, a sweet drink in one hand, a fabulous summer read in the other.
While there are some DIY projects you can do yourself, others require a little bit more expertise. Employing a landscape designer who specializes in landscaping around above-ground pools will help guide you through the whole process from picking the best location for your pool to selecting the right size and materials for the pool itself to landscaping around it in a way that makes it fit beautifully into its surroundings.
Not only will employing a professional make the process a lot smoother and safer, but enlisting the help of an expert will go a long way to help incorporate a pool in a way that elevates the overall look of your yard and probably raise the value of your home to boot, and who doesn't want that?
While having an above-ground outdoor pool is a wonderful way to make your pool dreams come true with minimum disruption to your garden grounds, that doesn't mean it can't be seamlessly incorporated into your yard in a way that will turn it into a restful spa-like sanctuary.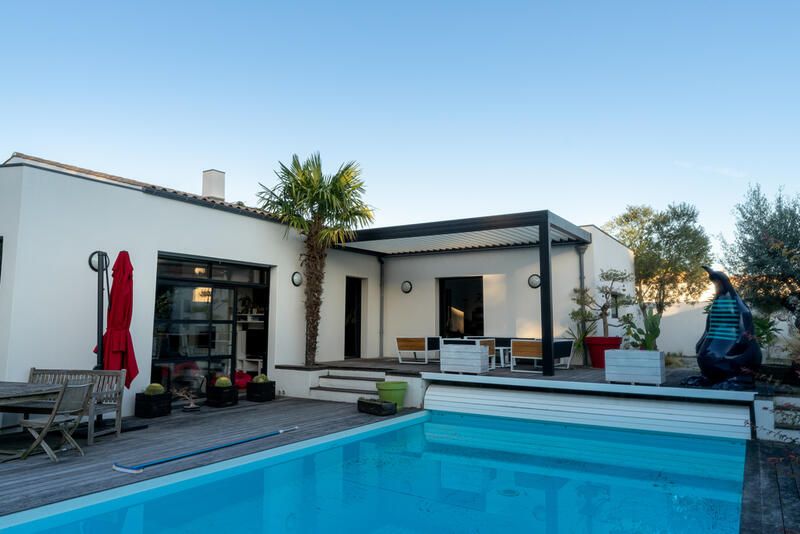 Visit Shrubhub.com and browse our landscape services, we're sure you'll find a plan that works for you. And because our team of designers works remotely, we can design for any location, so that no matter where you are or what your budget is, we're sure to find a plan to suit you.