6 Front Porch Design Tips To Revamp Your Home
Published: 08/11/2022 | Updated: 29/03/2023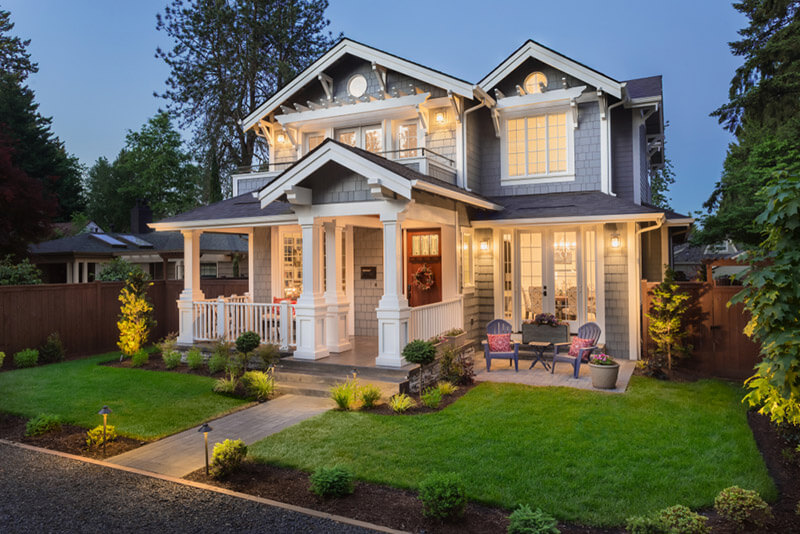 What does your front porch design say about you? Just like a quick personality test that explicitly portrays your character, your front porch design is your way to let your personality shine. Whether you incorporate a wild burst of colors or a humbler palette, your porch ideas serve as an inviting introduction to your home.


A sleek, modern grey sofa unveils a practical personality that favors simple outdoor spaces -free from visual chaos- yet features an artistic flare to your porch decor. But what if you want to make a bold statement with daring yellow paint? It simply says a cheerfully playful character lives right behind that door.
Envision someone giving you a blank space where you could innovatively fashion an outdoor oasis that mirrors your style and personality. Your front porch is literally where you leave your visitors with a first impression. So, if you are aiming for a front porch design that wows your visitors, put in a mix of thought, planning, and a dash of imagination to create more than just an entryway.
How many times have you thought of inviting your friends over to spend the evening but felt overwhelmed by the fact that your front porch is not as welcoming as you wish it to be?
Take pride in your porch decorating ideas whenever your neighbors pass by or you invite your friends over. As an extension of your home that shouldn't be devoted any less attention, your front porch decor is a clever way to find new life in things that have already been worn down.
Blending functionality with charm helps bring some depth to your landscape. Whether you have a small porch or a huge one, you can still create an appealing outdoor space where you could just be part of nature and let go of your worries, take shelter from the weather, or have a middle ground for a chitchat with your neighbors.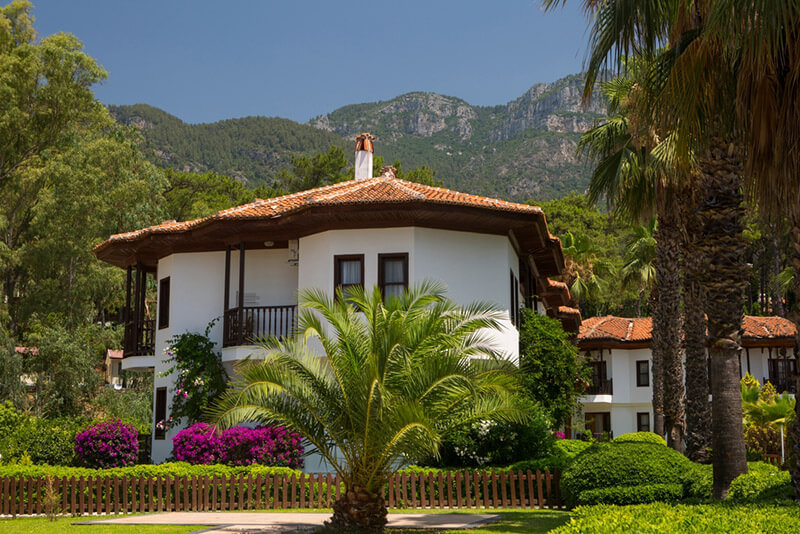 Why the Front Porch?
What can be more satisfying than having a front porch design smoothly in line with the interior beauty of your home? Not only will a neatly-designed front porch give your yard a posh look and do wonders for your home's curb appeal, but it also adds value to the property's worth. Make your visitors at home with an eye-catching focal point that sleekly blends in with your architectural design.
Listening to the heavy raindrops hitting the ground is nerve-soothing, but it is certainly not that appealing when you get all wet. Designed to stretch beyond the porch floor, a rain porch ceiling allows you to enjoy the showers from the comfort of your front porch. Amid fairly pleasant or appallingly stormy weather, your front porch will either be your refuge or an appealing warm setting to take joy in your morning coffee.
Breathe life into your neighborhood with an inviting front porch. Having a front porch design that says "come and say hi" is a great way to get to know your neighbors and socially interact with passersby. Not only will you be able to connect with the surrounding nature and the beauty of the openness, but will also take pleasure in watching your children having a blast in your yard.
In that spirit, we have compiled 6 different front porch ideas to refurbish your old porch and transform it into a head-turning picturesque scenery.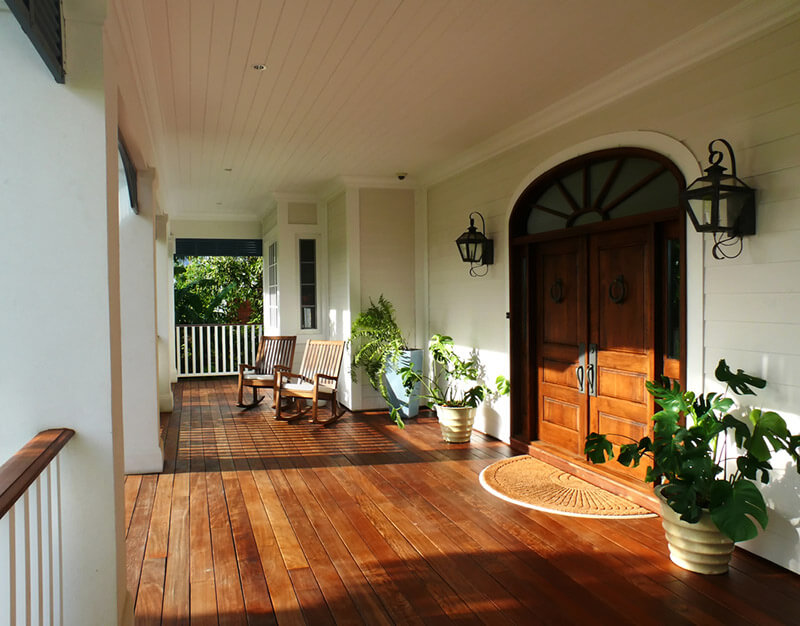 Conversation Starter
Nothing beats coziness to encourage a deep conversation. An inviting outdoor space can do wonders for your relationship with your family, friends, and neighbors. Designing a conversation area, with simply a couple of comfortable chairs and a coffee table adds an element of warmth to your landscape design.
Whether you would like to invite your friends over for casual get-togethers, draw your loved ones into an interesting conversation, or have a word with a passing neighbor; adding a conversation set to your front porch design is your way to go.
Front Door Inspirational Designs
No less important than any other element in your front porch design, your front door is where you welcome your guests in and also where you bid them farewell, so the first impression they make out of your front door's style lingers on longer than you would expect.
To design a front door that channels your style and adds appeal to the entire landscape design, factor in key elements such as paint, hardware, glass, and panel styles. Celebrate the playful side of your personality and make a bold statement with inviting paint, be it a vibrant yellow, a calming blue, raisin purple, or a unique coral.
You can either go for a modern take on a classic with a modern wooden door, incorporate a breathtaking glass door to elevate your front porch design and let in more light, or just stick to the classic woodgrain entry door instead.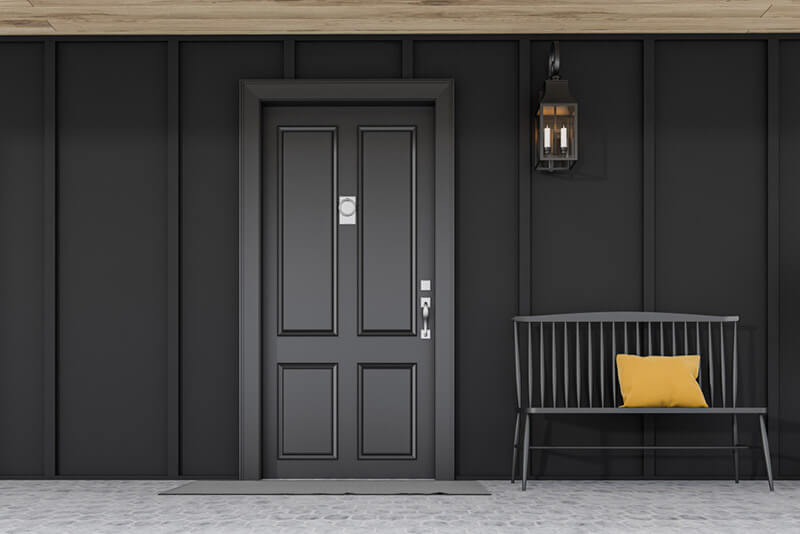 Solo Getaway
Who wouldn't want to escape the chaos of the world and take refuge in a private, cozy getaway any time of the day?
Fashion a little paradise to be your secret spot where you get lost in nature and reconnect with yourself, be it by reading, painting, writing your heart out, or simply staring at blank space to put your racing thoughts at rest.
Embellished with colorful hanging blooms for a soft touch or string lights to create a warm atmosphere, your front porch will be transformed into a Zen zone.
Front Porch Swing Setups
Fancy a modest front porch with a touch of elegance? Spruce up your front porch design with a delicate swing to add some character to your abode. Just take a seat on this gorgeous, relaxing piece of outdoor furniture, lay back, and lose yourself in the wonders of nature.
Add heaps of charm to your outdoor landscape design with a front porch swing that creates a comfortable Zen zone for you and your family. You can either go for a solo-seated round mesh swing that you can take pleasure in all on your own to escape your disturbing thoughts or a sofa swing that accommodates two to three people at a time so you can strike up a warm conversation with your loved ones.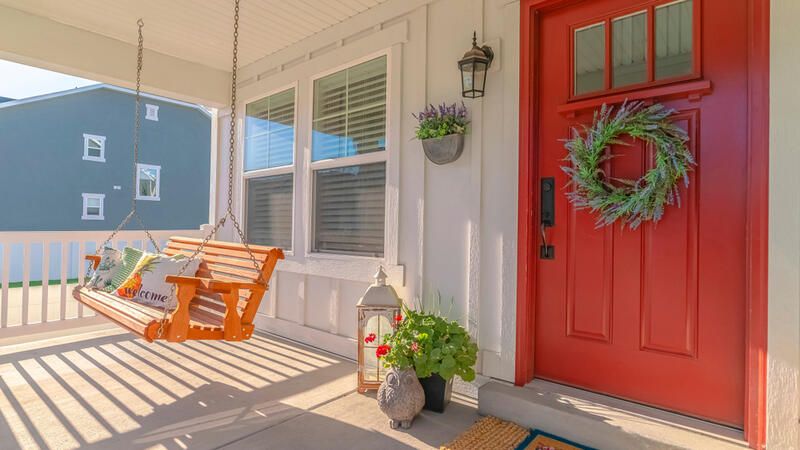 Open Seating Area
Come home to a therapeutic open space where you lose yourself in a book in your cozy reading nook. What better way to channel your personality than styling your outdoor seating area?
Envision a navy-blue front door with reflective glass panels, symmetrically decorated with a couple of white rocking chairs on each side. Accessorized with comfortable matching cushions flaring shades of orange, yellow, and red; the chairs are further complemented with a couple of potted plants featuring your favorite blooms.
Looking for rather a fancier impression?
Create a warm, comfy retreat and add dimension to your front porch design with a full set of an outdoor living room. For a refreshing, cheerful vibe, throw in an elegant sofa and a couple of cozy chairs along with a lively mix of pastels to give your outdoor space an eclectic feel.
Front Porches Lighting
Reveling in the sheer beauty of your front porch day and night calls for a well-planned lighting design. Looking for ways to elevate the aesthetic features of your front porch and create an alluring atmosphere? Then literally shed light on the most appealing elements on your front porch, may it be an eye-catching decor accent, colorful flower pots, or an elegant swing set.
Dramatically alter your outdoor space with an all-encompassing, warm feel. Gone are the days of hanging a single light bulb on your front porch and calling it a day. Aesthetically illuminating your outdoor space and lighting your way home not only add value to your landscape design but also set the mood for the entire property.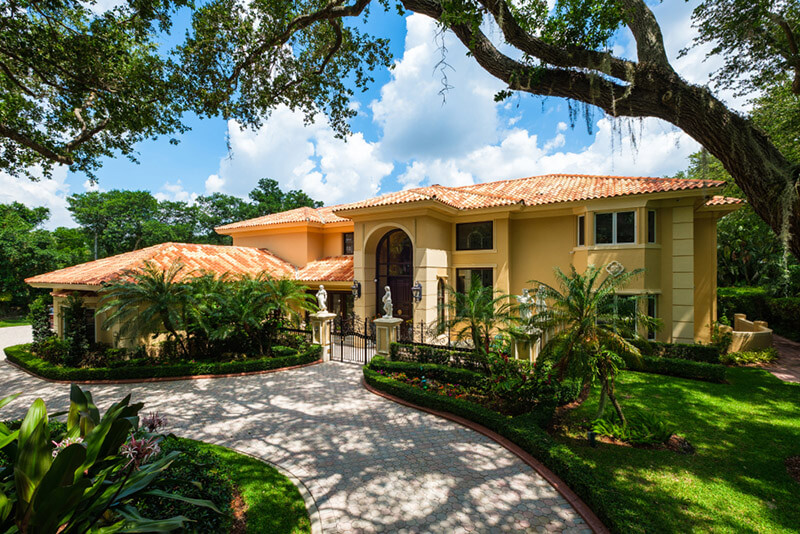 How to Get an Appealing Front Porch Decor?
If you enjoy listening to the chirping birds while admiring the last glow of the sunset, consider transforming your front porch from an uninviting, dull space to a cozy spot where you can recharge your batteries while being enveloped by the captivating power of nature.
What design do you have in your mind for your front porch? No need to overthink it. Fueled by a team of talented designers, Shrubhub offers you a cost-effective 3D design for whatever front porch style you prefer.