25 Amazing Cheap Backyard Makeover Ideas
Published: 27/03/2023 | Updated: 10/09/2023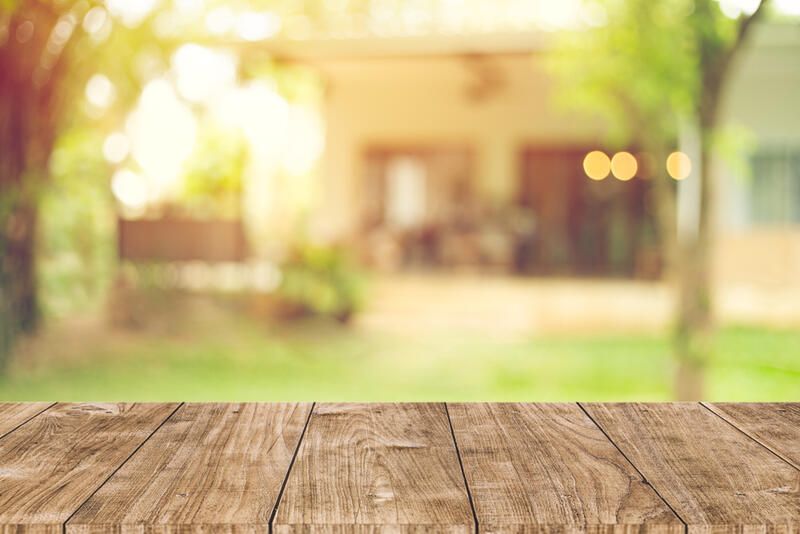 The summer is quickly approaching, therefore it's time to come up with inexpensive, simple backyard renovation ideas. The ideal outdoor entertainment area will help you get ready for outdoor cooking, swimming pool dips, and sunbathing.


We've put together a list of 25 backyard renovation ideas, covering everything from adding some lighting to installing a deck. Check out our picks for the greatest backyard decorating concepts to freshen up your area for the season, then put your DIY skills to the test, grab your toolbox, and get to work!
Build an Entertainment Hub! (Decks & Patios)
Even if you've never built anything before, you can still build a simple patio or deck. After completion, both the appearance of your yard and the value of your home will improve. The cost of completing this project doesn't have to be high despite the variety of materials, designs, and styles available! For less than $1,000, DIY alternatives are available.
A simple design is a wonderful choice if you have no prior expertise in building a deck. On a platform or high deck, try a parallel or perpendicular pattern. You don't want to choose a difficult design only to regret it later for having picked something simpler!
Try a New Outdoor Space Layout
Having a plan is the one thing that, while remodeling your backyard, may save you the most time and money. Everything else appears to fall into place once you are clear on what you want and have mapped out a plan for getting it. By reusing components from the uneven stone garden walk you've been wanting to remove, you can realize your fantasies of relaxing by a fire pit on your terrace, for instance.
It's especially crucial to use your imagination and make thoughtful plans if you have a limited budget. Browse through this collection of quick, low-cost ideas for a superior backyard makeover to get your creative juices flowing. You can get some terrific ideas from these 10 fantastic renovations, whether you're planning to build a patio, improve your landscaping, or grow a garden to attract beauty and animals to your backyard. You can transform your backyard into a welcoming sanctuary that guests and pollinators will enjoy, regardless of the size of your yard or your financial constraints.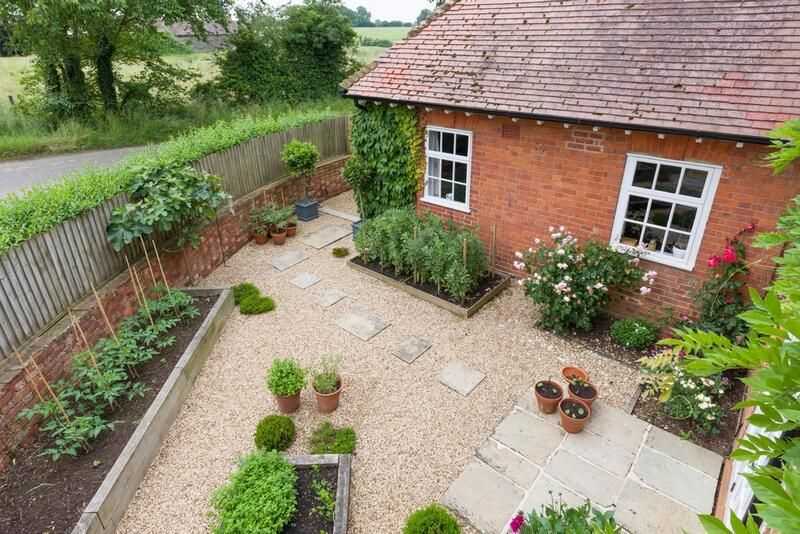 Create a Pathway
Stone pathways are more aesthetically pleasing and very easy and inexpensive to install in your outside area. Make careful to pick out rocks for your yard and stones that go well with your property. For instance, the stones should be textured to prevent slippage if your sidewalk is near a pool or pond.
After choosing the material, position, and level of the stones. Install a weed barrier next, and then cover the space with mulch or pebbles. Consider lining the pathway with lanterns or lights to make it stand out. Alternatives include solar lights, which are both green and economical to use.
Define Your Outdoor Spaces
It can have a significant visual and practical influence on a yard to decide what kind of places you need—dining area, outdoor kitchen, shady lounging area, play area—and to define them clearly. By moving the existing furniture and accessories, you might be able to do this task quickly and without spending much money.
By clearly defining your living areas, you can designate particular areas where you can work, unwind, play with the kids, or cultivate food. If there is too much clutter, you might wish to construct or purchase a storage shed to hide your children's toys or your gardening equipment while not in use.
Build a Garden Bed
Want to improve the appearance of your backyard? Create a garden! Whether you want to grow vertically or create your own raised garden beds or pots, there are endless wonderful opportunities to develop a unique and lovely setting.
When creating your terrain, be creative. Consider placing a sizable planter in the foreground or beds on either side of a path. Use plants of varied heights and add colorful accents to make your garden stand out. If your planters are going to be placed directly on the ground, don't forget to cover the area with a garden cloth to prevent weeds and provide drainage.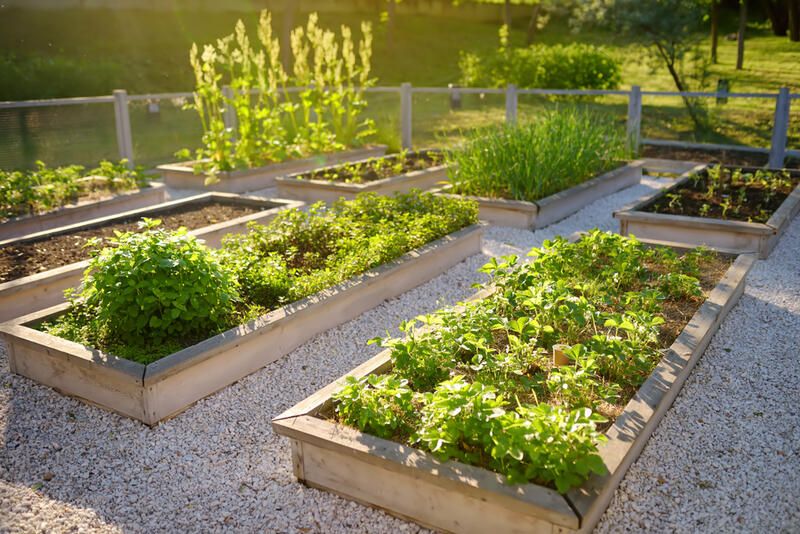 Try a Concrete Cover Up
There are simple, affordable solutions to give your basic concrete patio a new look if it appears dreary. The first step is to paint or stain the surface using concrete paint or masonry stain in your preferred shade, such as warm honey or dark brown. Another choice is to cover the concrete with slate tiles laid over it using a thin-set mortar, such as VersaBond. Or, to make things extremely simple, choose an outdoor rug that matches your style and preferences.
Build a Trellis
DIY trellises are simple, affordable, and give your lawn a lot of charm. They are especially helpful if you want to build a vertical garden; simply surround your construction with plants and vegetables that grow vertically. The best part is that nearly anything may be used to make a trellis, including bamboo, wood, rebar, and garden stakes. Use what you already have to save money by doing this!
We advise constructing the trellis first, then installing it in the ground fully assembled. Assembling before the stakes are buried in the ground is much simpler than later.
The Easy Solution: Painting
For homes with just one story, this backyard improvement is especially useful. Choose a color for the back of your house that goes well with the garden rather than painting it the same as the other three sides. Choose these colors to match hardscaping elements like a stone path or a fence with neutral hues, such as taupe, beige, or light grey. If painting a side of the home seems like too much work, just add a splash of color to your rear wall or fence to help draw attention to your flowering plants and evergreen shrubs. Just make sure to select the proper exterior primer and paint for the type of wood in your walls or fence.
Add a Pergola
An excellent backyard renovation concept is a pergola. Pergolas not only enhance your outside area, but they also provide shade so you can stay cool on hot summer afternoons. You'll want to spend more time outside in your pergola's shade.
It's critical to consider design and direction while constructing your DIY pergola to maximize the shadow. Think about the materials you'll be employing as well as the direction your pergola should face. To further block the sun, you can also add drapes or plants. Before beginning, this project, make sure you do your research, review design plans and diagrams, and enlist the assistance of friends and family.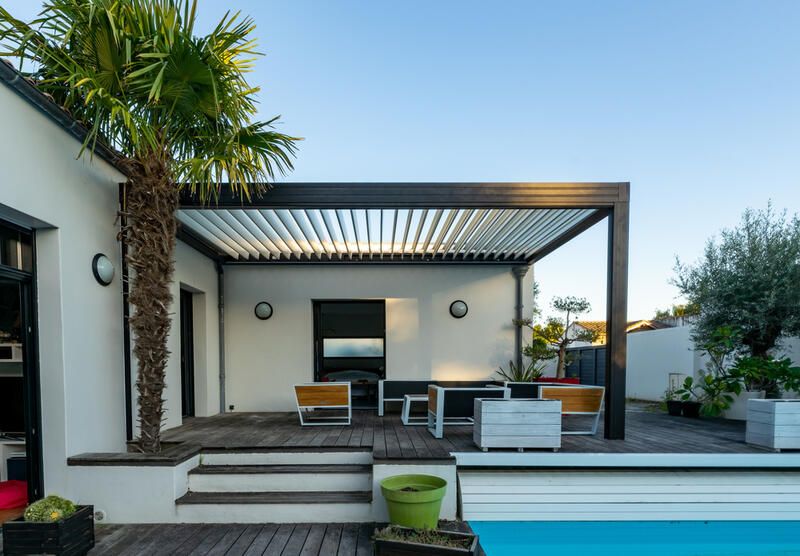 Add Outdoor Furniture
Outdoor furniture is a common and important backyard remodeling project. Lack of seating prevents you from designing the ideal entertainment area! Build an outdoor couch, purchase rocking chairs, or create your chairs out of wooden pallets.
Making your outdoor furniture is a terrific idea because buying it can get pricey. Check out these ideas with detailed directions to make making lovely outdoor furniture simple if it seems intimidating.
Despite being built to endure the elements, outdoor furniture can suffer damage over time. Try these DIY solutions to restore your current furniture rather than spending a lot of money on new items. Thanks to some spray paint, new strapping, and general cleanup, a rusting patio table can now appear to be brand-new.
Go Vertical
If your backyard has a sizable, flat lawn, give the area some depth by scattering stones (which you can find at landscaping supply stores). You can decide to arrange them one by one or group a few of them together. To make them appear as though nature dropped them there, you are welcome to position them either vertically or horizontally and bury them a few inches into the ground.
To make room for stones, don't be afraid to make cuts in the lawn; most grasses will grow back. Leave some room so that you can plant tiny shrubs or colorful perennials there.
Use a Water Feature as a Focal Point
Your backyard will quickly become more impressive with a water feature. These do-it-yourself backyard projects are a terrific investment, whether you want to add a little pond or fountain or construct a swimming pool.
A common and simple project that may be used all summer long is building stock tank pools. To protect your lawn, just be sure to place the tank on a flat surface made of stones or concrete. Find out more about stock tank pools right here!
You can add other types of water features to your yard besides a pool. Other entertaining alternatives include fountains, birdbaths, streams, and koi ponds.
Mulch Is In!
Do you need something to finish off the backyard? To give your backyard a more cohesive appearance spread some mulch of the same color overall flower beds, and exposed soil. Mulch also prevents weed growth and aids in soil moisture retention. Organic mulches decompose to give your plants the essential nutrients they require.
Give Xeriscaping a Try
Xeriscaping is a terrific method to improve the appearance of your yard while establishing a low-maintenance garden area.
It's crucial to analyze your soil's pH and maintain it aerated when xeriscaping. To cover the soil's surface, you can also use organic (wood chips, leaves, and bark) and inorganic (small rocks, gravel) mulch. Succulents, shrubs, trees, and other low-water plants like columbine, iris, and lavender should all be included in your landscape. Include local flora in your landscaping whenever possible.
Wildlife Wonderland
Making your backyard more insect- and bird-friendly is not difficult or expensive. Choose plants that will draw hummingbirds, bees, or butterflies if you're going to add color anyhow. Fill a few containers with the plants pollinators adore if space is an issue. Include trees to provide shelter for you and shade for the birds, as well as low-growing, spiky plants to provide places for birds to hide.
You have more options besides plants if you want to draw wildlife. Birdbaths can be attractive in and of themselves and are a year-round lure for winged animals. Shallow water puddles are appealing to butterflies and bees. To make your own, fill a dish or container with water, sand, and rocks so that the insects have somewhere to land.
Hang Lights
Did you realize that indoor lighting affects your outdoor living space as well? Indoor lighting can do wonders for a place.
If you want to create a whimsical ambiance in your outdoor space, hang twinkle lights or string lights around the edge of your patio or drape them over a pergola. If you're searching for a portable light fixture, lanterns are the way to go because they let you pick them up and change the lighting whenever you want. For added flair, you can also install lights along your yard's pathway. (This also reduces the chance of stumbling or falling in the dark.)
Pro tip: Installing outdoor lighting professionally can get pricey, but by using these suggestions, you can glam up your outside space for a lot, a lot less money. Try Shrubhub.com for a full 3D design and local contractors in your area!
Use Perennials Instead of Annuals
Providing local wildlife with their preferred sources of food and shelter—which are typically plants unique to your area—is one of the best methods to draw wildlife to the area. Try to stick with native perennials as you fill in your garden.
Native plants have adapted to your region's usual soil and climatic conditions, much as nearby wildlife has to the flora and fauna. Even with a little neglect, these adaptable plants have the highest chance of surviving in your yard. Perennials may cost more to purchase initially, but if you gradually replace annual plants with perennials, the majority of which will live for five or more years, you'll save money over time.
Build an Outdoor Kitchen
Your outdoor space can be improved by adding an outdoor kitchen. Install a grill, a small table, and chairs on your patio to create a straightforward outdoor kitchen. Install an island, cabinets, grill, and refrigerator for a larger, more functional kitchen area. Get an outdoor kitchen set if you don't want to design and build your outdoor cooking area from the start. These typically include a grill, a place to store things, and a kitchen.
Pro Advice: the fancier your outdoor kitchen needs to be, the more expensive it will be. To enjoy outdoor cooking for less, purchase a grill and construct a small table and chairs if you're seeking the most cost-effective choice.
Reduce, Reuse, Recycle!
You may save money and landfill space by recycling items from your home or yard. To give that leaky metal watering can some individuality or fun, tilt it and add some pansies to the top. To avoid throwing damaged pots in the garbage, think of creative ways to repurpose them. Many everyday items can be used to cultivate plants if they have drainage.
You might even be able to create garden structures and decorations using recycled materials. Old fence posts can be reused as trellises or chopped up into plant tags. If you need to line a tiny path or flower bed, you should occasionally check the social media pages of your neighbors to see if any are offering free hardscaping materials. One man's garbage is another man's treasure, as they say.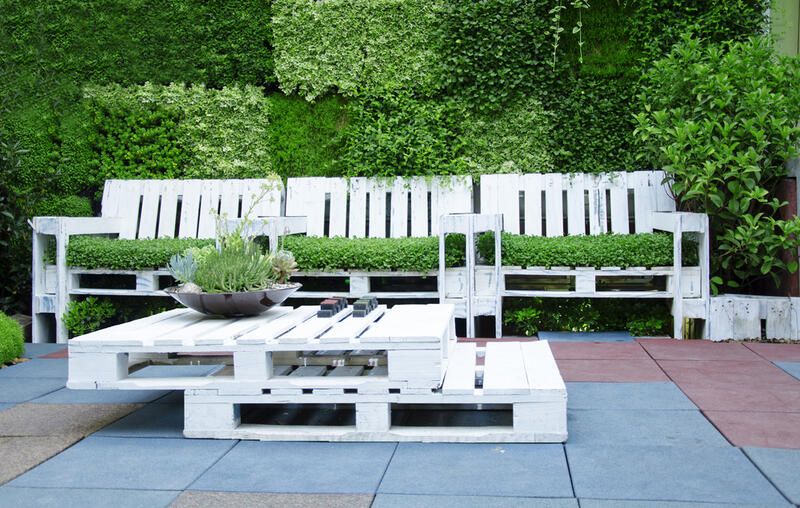 Off Shelf Materials
Budgets for custom landscape features quickly balloon, but with some inventive recasting, you may achieve the same result for a lot less money. To make a simple outdoor bar, regular blocks are used to elevate the lengths of the decking. An outdoor dining table, coffee table, or side table can also be made using the same materials in a different arrangement.
DIY Project: Fire Pits Edition
Spend pleasant summer nights around a backyard fire pit. To create your own, you'll need reasonably priced materials like angled pavers and gravel for the base. After completing this fast DIY outdoor project throughout the weekend, your family will be able to enjoy bonfires for many years.
Pro-Tip: Before putting a fire pit in your backyard, check local ordinances and/or your homeowner's association.
Living Fence Build
Try this inexpensive backyard idea for a high-end aesthetic without the cost: To make a living fence, espalier a tree. The easy method entails planting a tree and teaching it how to grow in a specific way. The end effect is a distinctive appearance that gives a plain wall texture and visual interest.
Smaller Projects
One of the best small-yard backyard ideas is also an affordable option. Use furnishings that can be used in two distinct ways. A two-in-one piece, like this bench and lounger, makes the most of the available space and can be more affordable than purchasing various seating alternatives separately. As an alternative, choose outdoor furniture with built-in storage to add more seats while concealing unused items.
Patio Backyard Makeover Ideas
Try these inexpensive backyard patio ideas to add flair and comfort to your area. If you want a patio ready for entertaining, think about adding an outdoor kitchen or a retaining wall to define your outdoor living space. These simple backyard design ideas will transform your patio from plain to lovely.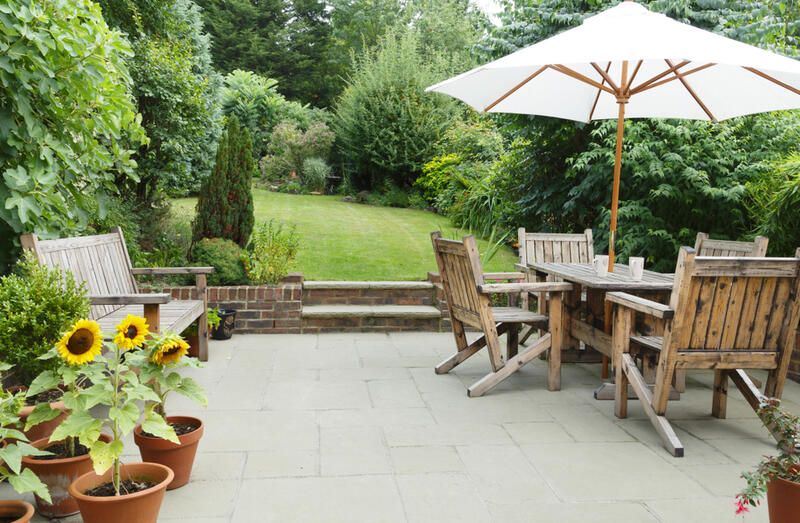 DIY Outdoor Seating
Backyard furniture might be a costly investment, but there are inexpensive backyard patio ideas that can look stylish and current. Use inexpensive DIY outdoor furniture, such as benches, seats, and tables, to outfit your backyard. One of our favorite low-cost backyard design ideas involves dry-stacking inexpensive concrete blocks and covering them with a foam pad. The homemade bench provides a lot of seating in a busy area outside the back door.
FAQs
What is the Average Cost of a Backyard Makeover?
According to Better Homes and Gardens Magazine, remodeling a backyard might cost between $1,000 and $10,000. Smaller tasks like mowing the grass and adding plants can be completed for less than $1,000, while larger tasks might cost significantly more.
By taking on these large tasks yourself, you can help to reduce their cost. There are many internet videos and articles to assist with DIY backyard repairs, even though it requires more work. By eliminating the cost of hiring professional construction labor, you can save a lot of money.
How to Do Backyard Renovations on a Budget?
Your backyard can be updated without breaking the bank. Stick to less expensive materials if you want to renovate your garden on a tight budget. Get a barbecue and construct a table rather than build an outside kitchen. Alternately, stick to simpler (but equally effective) initiatives like creating patio furniture, purchasing outside pillows and rugs, or installing lighting.
Homeowners can do many of the tasks we described in this blog on a budget. Budget-friendly DIY projects are a terrific way to renovate your backyard.
What is a Reasonable Budget for Landscaping?
Generally speaking, 5–10% of the value of your home landscaping expenditure is fair. The size of your yard, the projects you wish to complete, the materials required, the plants you choose, your location, and labor expenses can all affect your landscape expenditures. However, it's vital to keep in mind that any work completed will frequently raise the value of your house, regardless of how much money you spend on landscaping.
How Do I Transform My Boring Backyard?
Numerous backyard projects on this blog can make an uninteresting backyard interesting. Your outdoor area can be improved with landscaping. Think about xeriscaping, excavating out old garden beds, or simply pruning plants. To update your outdoor area, you can also install a patio or deck, patio furniture, or even a kitchen in the rear.
Get Started Today with Professional Advice!
Backyard makeovers are some of the best DIY projects to do, however, they can go a bit overboard if you don't know what you need or what your yard is missing to be perfect.
Using an online 3D landscape design program like Shrubhub.com gives you a special opportunity to turn your backyard into an outdoor oasis. 3D design programs like Shrubhub.com pair you up with a design expert to help you plan out your dream yard with tips and tricks from professionals along the way!
This allows you to try out as many options as you want before settling on any new DIY projects or builds. Check them out now for a 70% discount!