21 Affordable DIY Yard Projects
Published: 14/11/2022 | Updated: 29/03/2023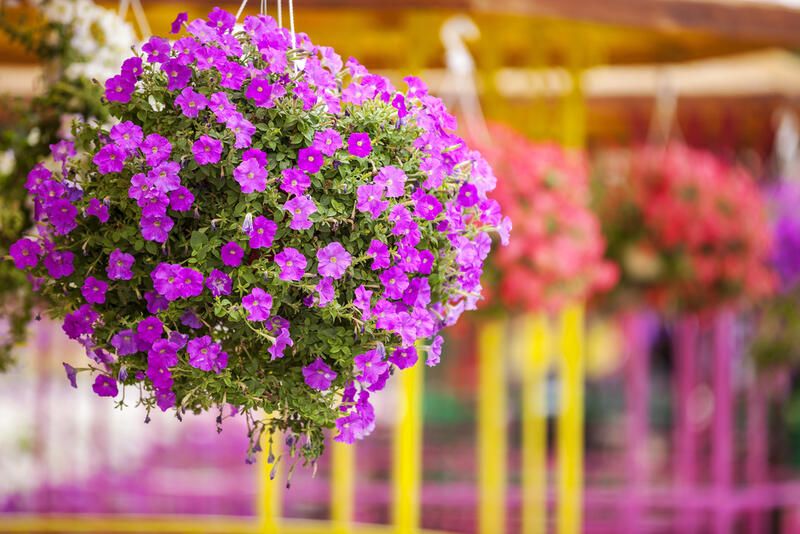 When the weeks have hit triple digits, when the sun refuses to set until 10 pm, or when you just want to get away from your neighbor's temper tantrum, you might start daydreaming about a haven where you can escape and relax.


Perhaps you're one of the lucky people who have a backyard big enough for a small stretch of green grass and fun DIY projects. If this is the case for you, take advantage of it. You can turn it into a relaxing oasis right in your own home!
Here are 21 affordable DIY yard project ideas that are guaranteed to make your backyard fun, fresh, and enlivening.
1. DIY Bar Cart
A bar cart is a great way to spruce up your backyard. It's also an excellent way to add some extra storage space for gardening tools. It makes it easy to serve drinks and snacks. It's also easy to make and will look great in your yard or garden.
On the downside, you have to be an experienced woodworker to make your own Bar Cart because this project requires little more than basic carpentry skills.
You don't have to worry though! There're hundredths of guides out there that will teach you how to make your own Bar Cart in just a few hours!
2. DIY Stock Tank Pool
If your patio doesn't have a pool then a stock tank swimming pool is what you need to enjoy those cool summer evenings.
That pool is easy to make and will provide hours of entertainment for you and your kids.
It's also an affordable way to add value to your property while getting some much-needed exercise during the summer months.
Stock tanks are usually made out of galvanized steel or plastic, but they come in all shapes and sizes.
If you don't already have one at home and you still want to give this project a go, you can find them at most home improvement stores or farm supply stores.
3. DIY Hanging Planters
If you want to create your backyard oasis, then hanging planters are exactly what you're looking for.
Adding greenery that goes beyond the ground doesn't only look majestic, but it also elevates your entire outdoor space!
Hanging planters on the market can be pretty costly, however taking advantage of some old rope, reclaimed wood, or wood pallets can help you create very cheap, yet very gorgeous hanging planters.
Using the rope and a hanging knot you can create a floating potted plant. Grabbing some reclaimed wood, sectioning it, sanding it down, and creating draining holes can allow you to plant directly into the wooden sections.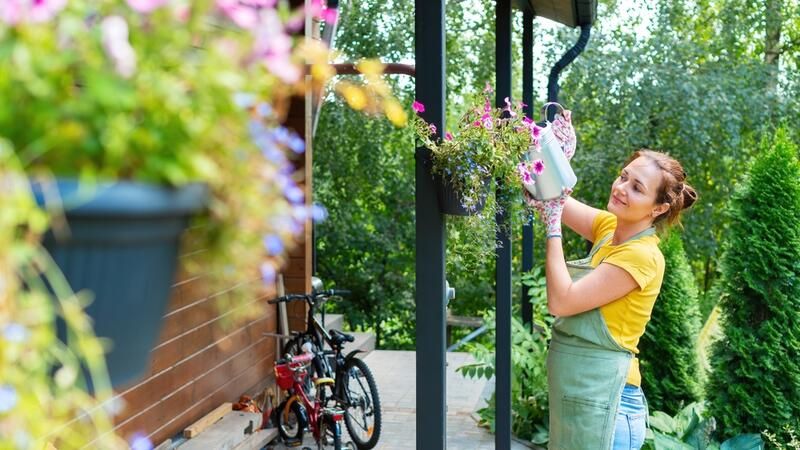 4. DIY Mini Garden
A mini garden is another great way to add some life to the great outdoors. If you're looking for something simple, consider using small pots of herbs and succulents.
These plants work well in all kinds of spaces, whether on your porch or patio or even in the front yard!
Here are some ideas for creating mini gardens:
Use moss-covered stones as pedestals for small potted plants like succulents.

Use floral foam as a base, then cover it with rocks or pebbles before planting your plants in soil on top of that layer. This will keep them stable and make watering easier since there's no risk of drowning them by over-watering.
5. DIY Potting Bench
A potting bench is another great addition to any yard. It's an easy DIY project to create a storage space for gardening tools and supplies. It also provides an extra surface to work on.
You can create your potting bench out of wood or cinder blocks for the cheapest option.
Whatever you choose to use to make this simple bench, make sure it meets these criteria:
Sturdy: A wobbly potting bench is a disaster waiting to happen when you go searching for your tools in the middle of planting season.

Easy to move around: You could be planting anywhere at any time, so make sure your potting bench can easily be moved around your yard as needed.

Easy to clean: Dirt and mud can create a huge mess during the gardening season—try keeping them off surfaces by using a material that can be cleaned easily.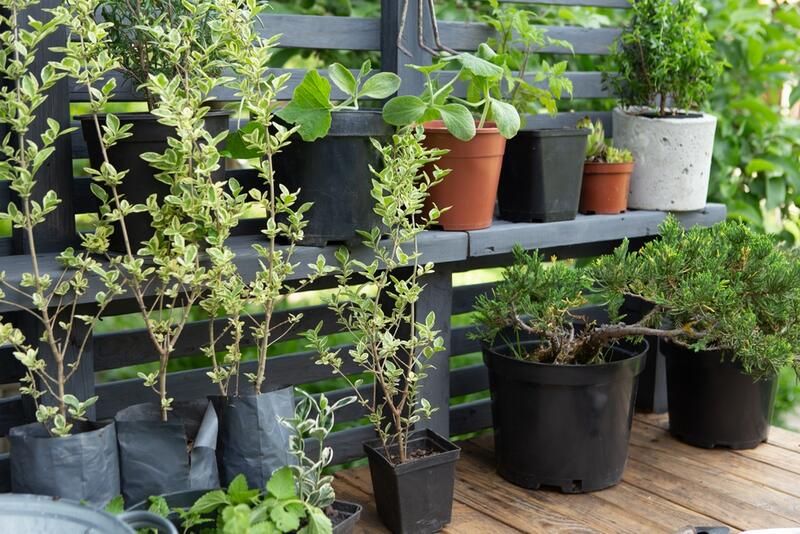 6. DIY Tiki Torch Holder
This is a great project for those of us who love having tiki torches but don't want to spend too much money on them.
The best part of this DIY backyard idea is that you can use very simple materials to make it work.
You can even use pieces of scrap wood and paint them whatever color you like, or even use old pallets from around the garage or home store.
7. DIY Concrete Fire Pits
One of the most common luxuries to have is a cozy fire pit. It can be the centerpiece of all your late-night backyard memories.
Concrete fire pits are a great way to get that same luxury without having to spend a pretty penny.
All you need is some round molds to have the concrete mix set in and your fire-starting materials!
The best part about this fire pit is that it is completely customizable. You can add any kind of pattern you want to the outside or even paint them whatever color you like.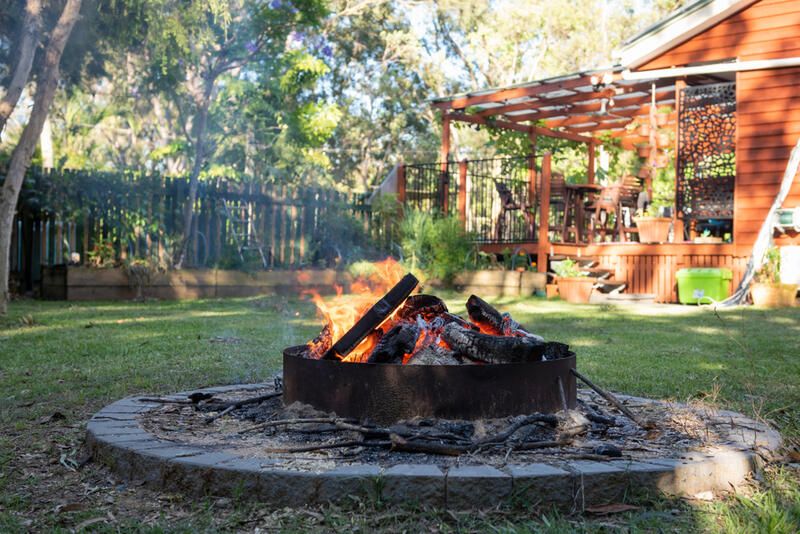 8. DIY Rope Ottoman Chairs
We all love to kick back and relax with our feet up. And what better way to do that than with an ottoman?
Ottomans are some of the best little touches you can add to your backyard. They are inexpensive and you can easily build one with any available materials.
They are also perfect for family gatherings if you need extra seating in your outdoor space.
Grabbing some rope, strong glue, an old car tire, and some simple tools is all you'll need.
Here are some tips to help you:
Start by sanding down any residue on the car tire

Wrap the rope in a circular motion around the tire gluing each piece down as you go.

When the rope is completely dry, you can glow a circular piece of wood on top.

To make the ottoman extra comfortable, you can put a cushion on top.
9. DIY Rope Hammock
If you want to relax and take a break from the pressure of life, then adding a rope hammock to your backyard will be just what the doctor ordered!
It's also perfect for snuggling with someone special or simply enjoying a good book while basking in the sun or shade.
All that's required for this project is having two trees in your backyard that are about 8 feet apart or enough room for two people to lay down comfortably and some rope or chain link!
The nice thing about rope hammocks is that they're easy to hang up and take down.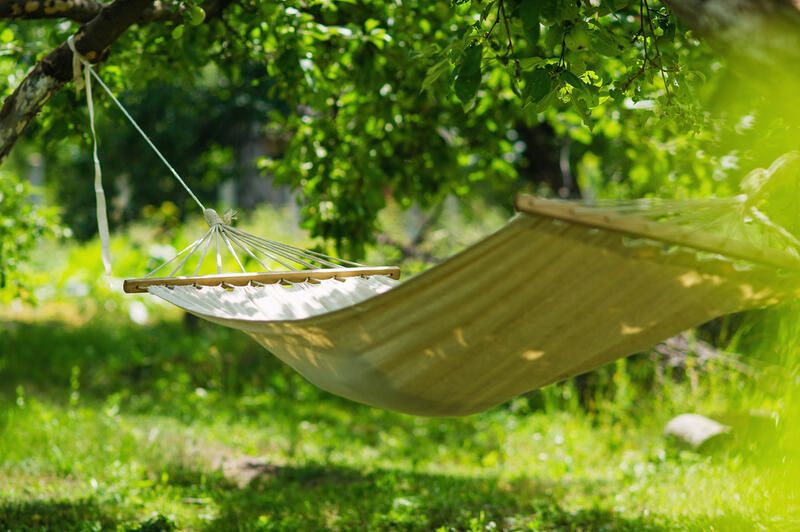 10. DIY Garden Hose Hammock
This is a great way to make your backyard hammock stand out from the rest.
It's also a fun project for kids and adults alike since it doesn't require any specialized tools or materials.
You'll need:
Thick plastic hose

Heavy-duty clips
You must use a heavy-duty hose and clips that are securely attached to ensure safety while lounging in this hammock style.
You may also want to add padding or protective covers if you plan on using this outside frequently.
11. DIY Garden Bench and Table
If you're looking for an easy project that can be completed in a weekend, the garden bench and table are just what you're looking for.
This project requires very little skill—you just need to know how to use a saw and hammer. The best part about this DIY yard project is that it can be used as either a bench or table depending on your needs.
You can customize this project by painting it any color you want!
If you don't want to spend money on paint, consider using an old door as your tabletop instead of wood planks.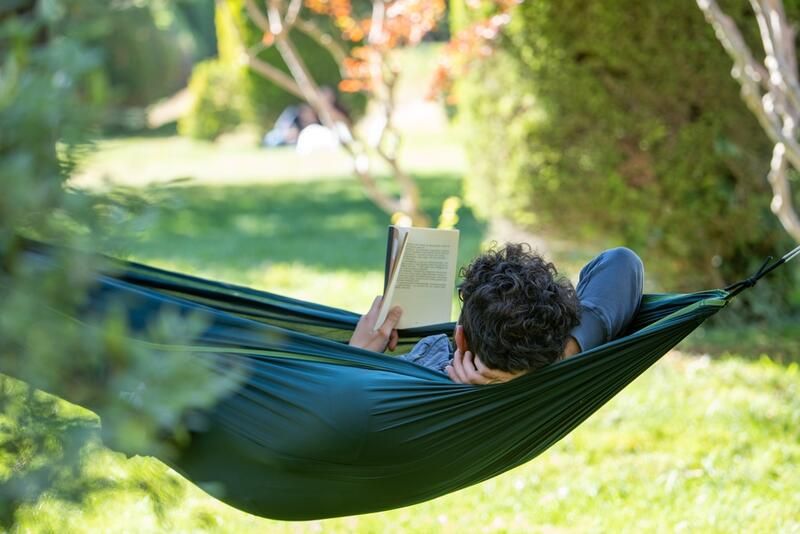 12. DIY Outdoor Hanging Bed
For a budget-friendly DIY project that will please the entire family, consider making an outdoor bed. You can use hammocks and string lights to create a cozy space for lounging in your backyard.
If you want to get fancy with it, try adding pillows or blankets for extra comfort!
You could use a hammock to create a hanging bed, or buy a couple of outdoor chairs and string lights. If you have some extra time on your hands, consider making an outdoor bed with wooden planks!
13. DIY Modern Pergola
A pergola is a great way to add some character to your yard. You can use it as an outdoor dining space or as a resting spot for lounging in the sun.
It is also a structure that provides shade and protection from the rain.
Pergolas are easy to build and can be customized to fit your needs. All you need is some wood planks, metal poles, and nails!
You can find plans online or hire someone who has experience building them to help you with this project.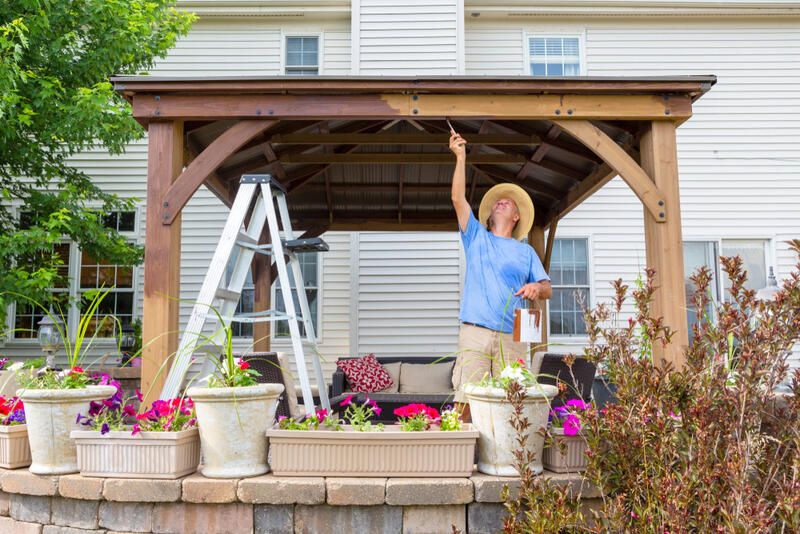 14. DIY Backyard Play Area
You can build a kid-friendly play area in your yard. This is a great project for kids of all ages, and it's also perfect for adults who need to let off some steam by playing with their children.
The play area should be made up of elements that provide the best kind of fun for your family.
Be sure to make it safe by putting down a liner or covering any wood surfaces with plastic wrap so there aren't splinters.
You can include various other small DIY projects like creating a sandbox or a tree swing.
15. DIY Backyard Fire Pit Table
You don't need to spend a fortune on a custom fire pit table. With a few materials and some elbow grease, you can create this fun centerpiece for your backyard that will add warmth and ambiance to every party or get-together.
The beauty of this project is that it's easy to make with the right tools and materials. All you need are bricks, mortar, and a bit of creativity to get the look you want
If your fire pit table doesn't turn out exactly as planned, don't worry! You can always repurpose it into something else like an outdoor coffee table or even a garden bench.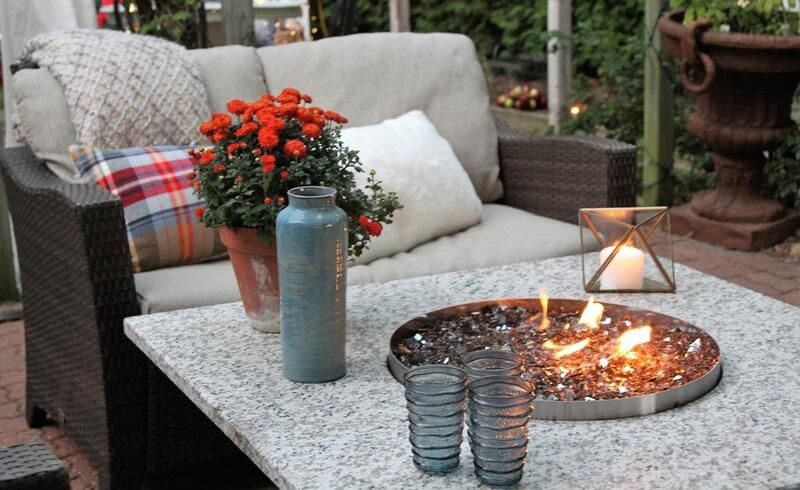 16. DIY Outdoor Lighting with Wine Bottles
You can create fun, unique lighting by turning wine bottles into lamps. You can use any type of bottle and simply cut off the top to create an opening for your light bulb.
Wine bottles are a great way to add color and light to your yard. They can also make great vases for smaller plants or as a decorative element.
17. DIY Garden Path with Spray Paint Lids and Solar Lights
You can create a fun, colorful pathway using spray paint lids and solar lights. The lids will act as stepping stones and the solar lights will provide ambient lighting for your walkway.
If your garden path is looking a little drab, this is a great way to add color and style while keeping the cost down.
18 Vertical gardening
Vertical gardening is the use of space that would otherwise be unused. It's a great way to make your yard stand out, create privacy and add beauty.
Many plants are good climbers and will grow up your vertical garden trellis, pergola, or other support structure. Try ivy, morning glory, or clematis as well as herbs like basil, oregano, and thyme.
When planting vertically in containers or pots you must choose a pot with good drainage holes so the roots can breathe properly without getting waterlogged.
Also, make sure the container is big enough so when your plant grows it won't tip over from being too heavy for its base!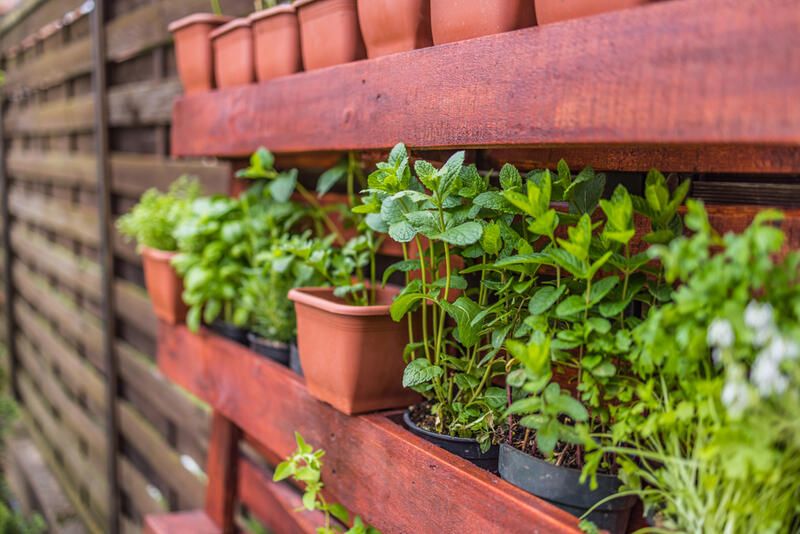 19 DIY Tree Swing for Kids
This is a great DIY project for kids and adults alike. It's fun to make, easy to install, and will give you and your family many years of enjoyment!
The first step is to find a young tree that has low sturdy branches. You'll also need some rope with which to hang the swing.
Once you've found the perfect tree, make sure it's strong enough to hold your weight and then tie it on one end of the rope. Then make a loop at the other end of the rope—that's where you'll put your seat!
Now that all your supplies are gathered, sit back with some lemonade and enjoy this relaxing craft project!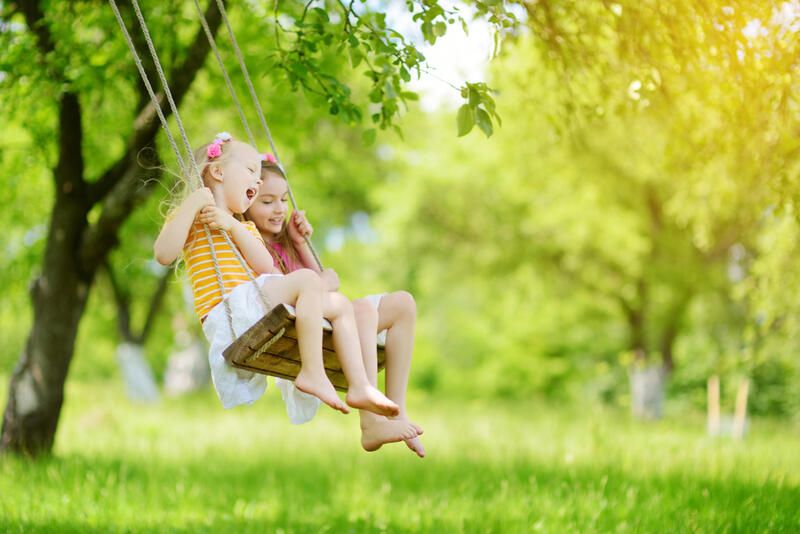 20 DIY Horizontal Slat Fence
This project will take some time (one weekend or a bit more), but it's well worth the effort. The result will be a beautiful fence that doesn't cost much and will last for years! Then you can sit back and enjoy the fruits of your labor.
To get started with this project, you'll need to measure the area where you want to install your horizontal slat fence, then cut down enough 2x4 wooden boards for each panel.
Next, attach them with glue and nails—this is easiest if you use a nail gun! Once your panels are assembled, stain or paint them with a color that matches your home's exterior.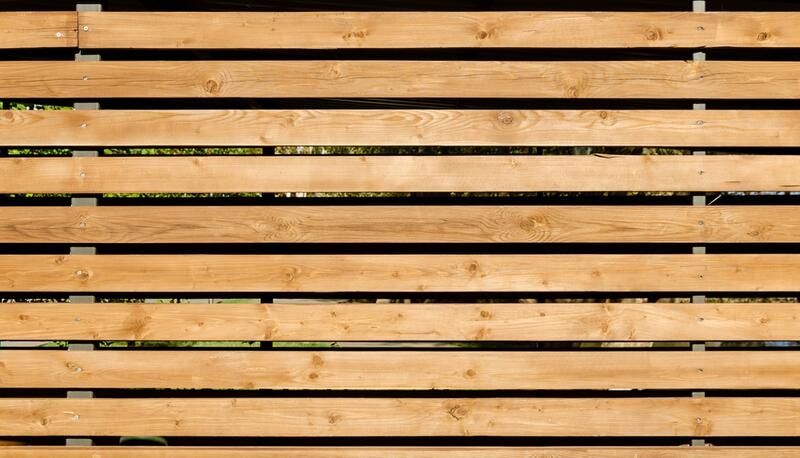 21 DIY Wooden Garden Hose Stand
The garden hose stand is one of the most common DIY projects that people make. They are easy to make and can be made out of just about anything but we recommend using pressure-treated lumber because it will last longer than regular wood.
The first step is measuring the area where you want your hose to hang from so that you know how many boards or pieces of wood should be cut down. Once this has been done then simply screw them together with screws.
To make a wooden garden hose stand, you'll need:
A 4x4 wooden post

For this project, we used an 8-foot-long piece of cedar fence. You can find it at your local hardware store. They'll cut it down to size for you!

Four 2x6s (or whatever length works best for your space)
Lastly,
Keep in mind that these are only a few of the countless DIY projects you can do around your house. Feel free to mix and match the tasks to create a DIY project that suits your needs.
As long as you follow some basic safety guidelines while completing your yard maintenance projects, they should be easy enough for anyone to complete.
And If you need a complete makeover for your yard that is affordable and fast, don't hesitate to contact the experts at Shrubhub today!