10 Stunning Tall Perennials to Elevate Your Landscape
Published: 21/04/2023 | Updated: 09/09/2023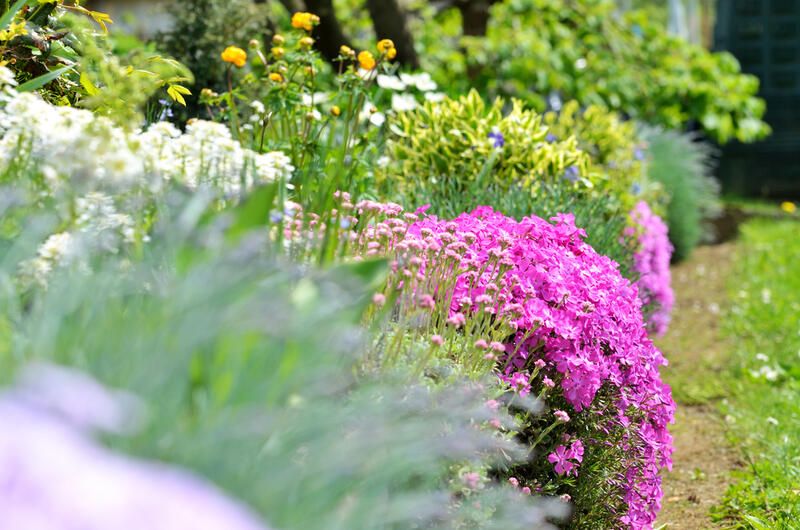 Tall perennial flowers are a warm-weather gardener's best friend. They're ideal for creating a unique garden, providing height, structure, and privacy.


Flowering perennials also hacanstablish a garden's entire character and set its vibe.
That's why we gathered some of the prettiest tall perennials to help you create a gorgeous garden this spring.
Perennial Plants (What are they?)
Perennials are a beautiful and beloved plant group that has been popular among gardeners for ages.
Unlike annuals, which grow, bloom, and die all in one year, perennials can live for multiple years, often regrowing from their existing root systems.
One of the most amazing aspects of perennials is their remarkable variety.
There are perennials to suit every taste and gardening style, from delicate flowers like irises and daisies to tough shrubs like lavender and yarrow.
Some perennials are valued for their bright colors and stunning blooms, and others for their durability and capacity to resist harsh conditions.
once established, many perennials require very little care, making them ideal for busy gardeners who want to enjoy a beautiful garden without spending hours each week tending to it.
Many perennials can thrive with only occasional watering and yearly pruning to remove dead or damaged foliage.
How to Create An Attractive Flower Garden
The first step towards creating a lovely flower garden is to choose the best location.
Look for a spot that gets ample sunlight throughout the day and has well-draining soil to avoid waterlogging.
Your flower garden should ideally be positioned somewhere visible from your home, so you can enjoy it even when you're inside.
Once you've decided on a place, it's time to start thinking about your layout. Consider the size and layout of your garden, as well as how you want your flowers to be arranged.
You can design a formal garden with clean rows and symmetrical designs, or a more natural look with a variety of flowers in all shapes and sizes.
The following step is choosing your flowers. Consider the colors, forms, and textures you want to incorporate into your garden and the seasonality of different flowers.
You can create a mix of annuals and perennials or go for an all-perennial garden, in either case, here are some great choices you should have on your radar.
Gorgeous Tall Perennials For Your Flower garden
1. Eutrochium (Joe Pye Weed)
Native to North America, Joe Pye weed is a fast-growing flowering perennial that blooms purple-pink flower heads.
In addition to the colorful blooms, Joe Pye weeds also have a sweet scent that makes them attractive to butterflies and other pollinators.
Growing Season: Joe Pye weed blooms from mid-summer until fall.
Growth: Eutrochium or Joe Pye weed grows up to 7 feet in height and between 2 to 4 feet wide.
Soil: They thrive in moist well-drained soil. Although some variables can tolerate short periods of drought, we wouldn't say they're suitable for areas with dry climates or water restrictions.
Sun exposure: These tall flowering perennials are best in a location where they can get equal hours of direct sunlight and shade. Overall, they'll do well in full sun to partial shade locations
Planting zone: They grow in zones 3 to 9
2. Helianthus Salicifolius (Willowleaf Sunflower)
This gorgeous tall perennial flower is another eye-catcher for pollinators.
Willowleaf sunflowers grow in clumps and bloom daisy-like brightly colored flowers. These colorful blooms make them ideal for a perennial border or even as a garden focal point.
Growing season: Willowleaf sunflowers bloom from late summer to late fall.
Growth: They grow 8 to 10 feet in height and 1 to 3 feet in width (certainly qualified as a tall flowering perennial)
Soil: They're best grown in hydrated or mid-moisture, well-draining, neutral soil.
Sun exposure: Full sun
Planting zone: Hardiness zones 4 to 9.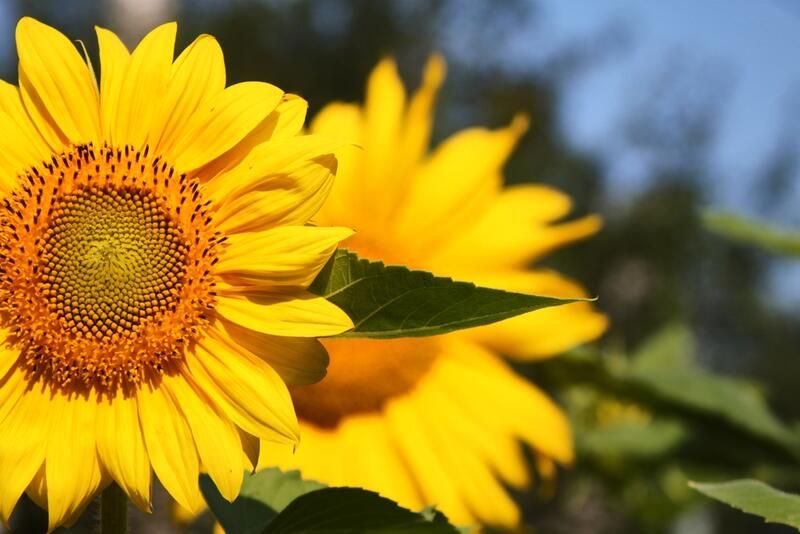 3. Boltonia asteroides (Boltonia)
The daisy-looking white blooms of Boltonia are a gorgeous addition to any outdoor space. Though their charm doesn't only come from the showy blooms as their greenish-blue foliage keeps a beautiful view even when they're not blooming.
Growing season: Midsummer to early fall.
Growth: Boltonia or false aster grows 5 to 6 feet tall and 2 to 4 feet in width.
Soil: They do best in well-drained soils but they also have tolerance for clay and moist soils
Sun exposure: They're best planted in a full sun exposure site.
Planting zone: Hardiness zones 3 to 10.
4. Campanula pyramidalis (Chimney Bellflower)
The Chimney Bellflower is a majestic plant with tall, spiky stems and delicate bell-shaped flowers.
With its vibrant purple and blue hues, this plant is sure to catch the eye of anyone passing by.
Blooming season: Chimney bellflowers bloom in hot and warm weather around spring and summer.
Growth: Up to 5 feet in height
Soil: Well-drained soil
Sun exposure: Full sun to partial shade.
Planting zone: Temperate and Mediterranean climates in hardiness zones 3 to 9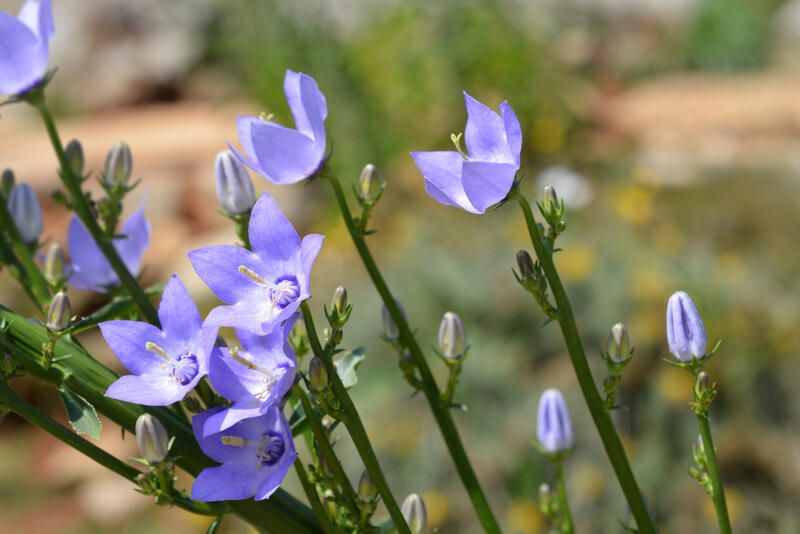 5. Canna Lillies (Canna Indica)
These hardy perennials are available in a variety of colors, ranging from fiery oranges and reds to soft pinks and bright yellow, making them an excellent choice for any garden or landscape design.
Canna lilies are not only beautiful, but they also have a long cultural history and have been used for medicinal purposes for centuries.
Blooming season: Beautiful blooms in various colors throughout spring to fall.
Growth: Canna lilies can grow up to 1 foot making sure their showy blooms get the attention they deserve.
Soil: Rich, moisture-retaining soil
Sun exposure: Full sun to partial shade
Planting zone: Hardiness zones 7 to 11
6. Agapanthus (Lily of the Nile)
It's no surprise that this plant has become a cherished addition to gardens and landscapes all around the world with its magnificent blue or white flowers that bloom in globular clusters atop tall, sturdy stems.
Blooming season: It blooms from mid to late summer, with clusters of blue, white, or violet flowers atop tall, slender stems.
Growth: Grows 1 to 6 feet tall.
Soil: Lily of the Nile grows best in well-drained, organic-rich soil.
Sun exposure: Best in full sun exposure but can tolerate some shade.
Planting zone: This plant is typically grown in USDA hardiness zones 8-11, but it can also be grown as an annual or in containers in cooler climates.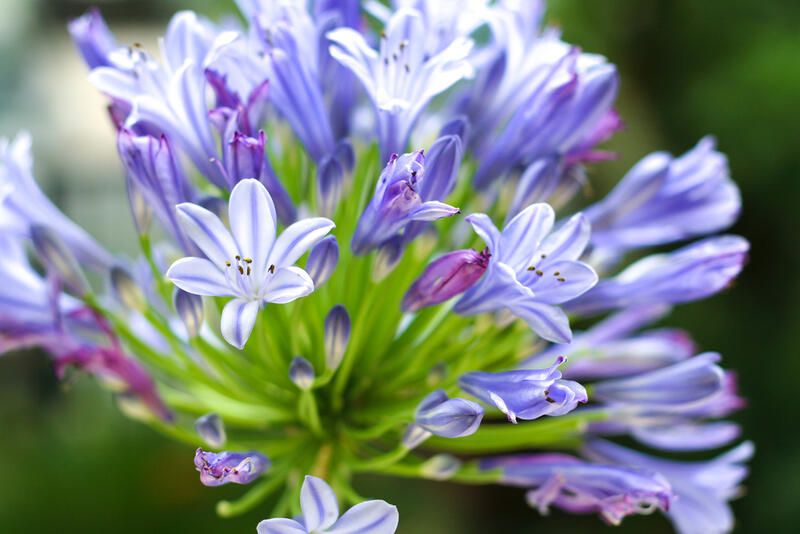 7. Aruncus dioicus (Goat's Beard)
Goat's beard plants offer feathery blooms and showy dark green foliage that takes over when it's not the blooming season. They can make the perfect backdrop on the edges of your garden to give more showy flowers the spotlight.
Blooming season: Early summer through mid-summer
Growth: Goat's beard grows 4 to 6 feet tall and 2 to 4 ft wide at full maturity.
Soil: Best grown in loamy and moist soils.
Sun exposure: Full sun to partial shade
Planting zone: Hardiness zones 4 to 7
8. Lespedeza sp. (Bush Clover)
This stunning perennial plant boasts vibrant shades of pink, purple, and white.
With its delicate blooms and fern-like foliage, bush clover is popular for gardens and landscaping.
It is also incredibly resilient and adaptable, able to thrive in a wide range of soil types and climates.
Blooming season: Bush clovers display pretty blooms from late summer to early fall
Growth: 4 to 5 feet in height and 4 to 10 in width
Soil: Does best in a loamy/sandy well-drained neutral soil
Sun exposure: Full sun to partial shade
Planting zone: Best in hardiness zones 4 to 9
9. Rudbeckia sp. (Coneflowers)
Coneflowers are popular among gardeners and nature lovers because of their colorful and eye-catching blossoms.
With their distinctive cone-shaped centers and vibrantly colored petals in pink, purple, and yellow, these flowers are a visual feast for the senses.
Blooming season: Coneflowers bloom mid to late spring and throughout summer.
Growth: 2 to 5 feet tall and 2 to 3 wide
Soil: Hydrated and well-drained soil
Sun exposure: Best in full sunlight exposure
Planting zone: Hardiness zones 5 to 8
10. Monarda Didyma (Bee Balm)
Bee balm is a charming perennial with spikey pink and purple blooms and a sweet scent and nectar that will invite nature to your garden.
Mondaras are also fast-growing tall plants and often bloom and reach full growth in the first season of planting.
Blooming season: blooms throughout summer.
Growth: Up to 4 feet in height and 3 feet in width.
Soil: Fertile rich soil well hydrated and with good drainage.
Sun exposure: Full Sun to partial shade.
Planting zone: Hardiness zones 3 to 9.
Check out ShrubHub's blog for the best home renovation and exterior design tips and ideas and catch up on the best trends in landscape design.
And if you're ready to stop browsing and start creating the space of your dreams, check out one of our attractive design packages today!
You will have a professional team of landscape designers and plant experts ready to bring your vision to life.
Visit Shrubhub.com for more information.