Your Ultimate Guide On Buying The Perfect Patio Furniture
Published: 01/05/2023 | Updated: 16/10/2023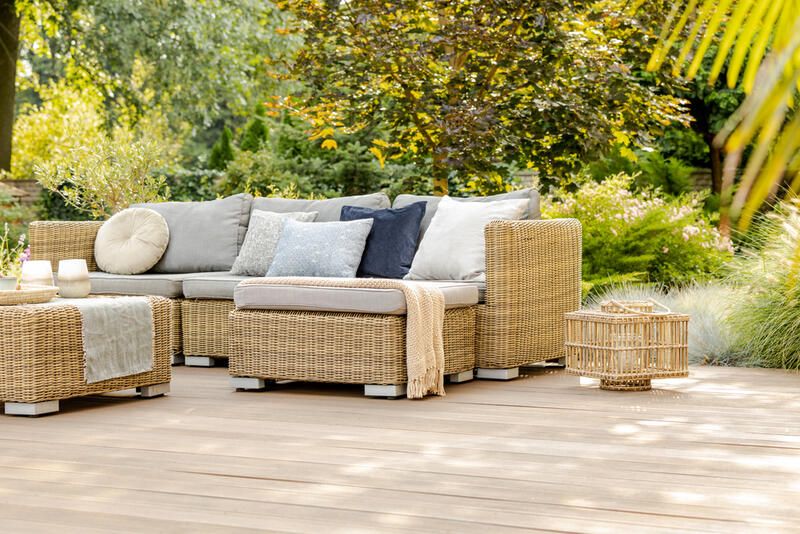 A common homeowner fantasy is to turn a porch or backyard into an outdoor, cozy space where family and friends can relax. Regardless of the style you want for your outdoor space, purchasing patio furniture that enhances the decor is one of the most important steps in making a comfortable backyard haven. This guide covers everything you need to know for picking out the proper outdoor furniture for your space.


Perfecting Your Outdoor Layout
First and foremost, you need to think about how much actual space you have for your outdoor space. You will need enough space so that you can rearrange the furniture, pull out chairs, or recline seats all the way. If your porch is small, you might not be able to fit a complete outdoor dining set and will have to settle with a more compact piece of furniture. It is important to measure your over all outdoor space, before you begin to design the space.
The precise surface space where the furniture will be positioned should be measured. This space could be a spot of sand or grass in the backyard, a wooden deck area, or hard cement. Obtaining a proper measurement of your outdoor space, will enable you to choose the furniture pieces that will match your space the best in terms of size and shape.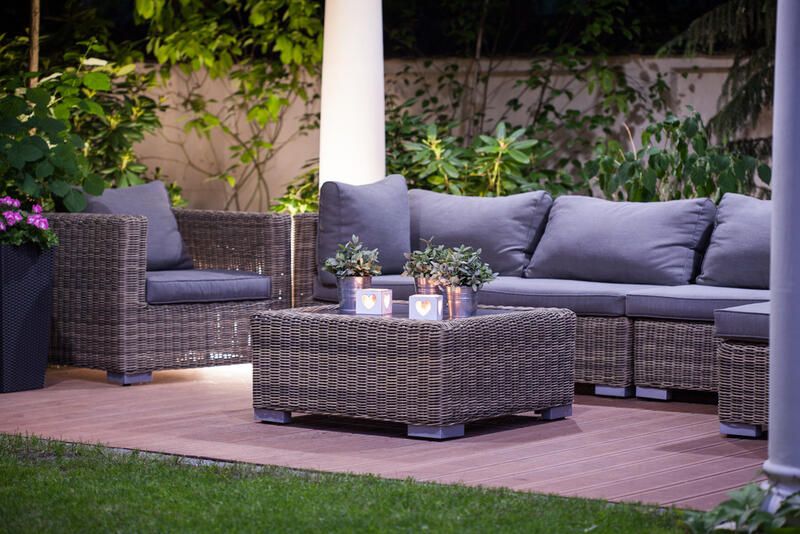 Questions to Ask Yourself Before Buying
Is the furniture the appropriate size for the outside area where it will be used? A modest deck or backyard patio might be overshadowed by large furniture arrangements. On the other hand, a huge deck looks great when there are more people present.

Will there be enough seating on the patio furniture to accommodate everyone? Think about group conversations, outside meals, and the target market for the furnishings. Remember that stack-able metal or resin chairs can be stored in a small space if you need more outdoor seating.

Do the patterns and colors of the furniture match those in your home? Treat the exterior space of your deck or patio the same as any other room in your house when it comes to decorating. From contemporary to coastal, there are many different types of patio furniture. You can pick cushions in as many vivid or subdued colors as you like.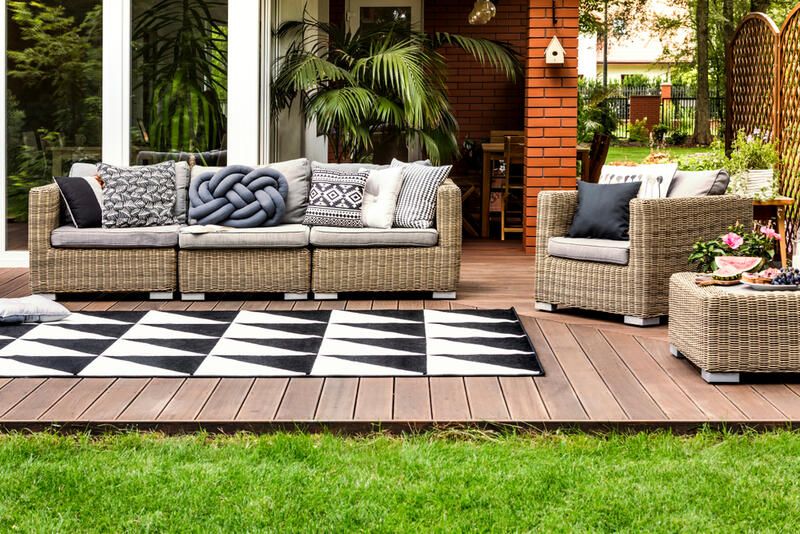 Usage & Function
Do you intend to host catered events where visitors will be seated at a patio dining set that includes an expandable dining table and chairs? Or would you want to unwind with your friends over a casual drink, some games, and some nibbles on a large, comfortable couch and lounge chairs with a coffee table? Perhaps all you want to do is relax in the sun on a sunny summer day in a chaise lounge while sipping a refreshing beverage. It's a good idea to start your planning with a list of the things you wish to do, regardless of the purpose. Consider the furniture that would be required as well as the number of guests you wish to accommodate.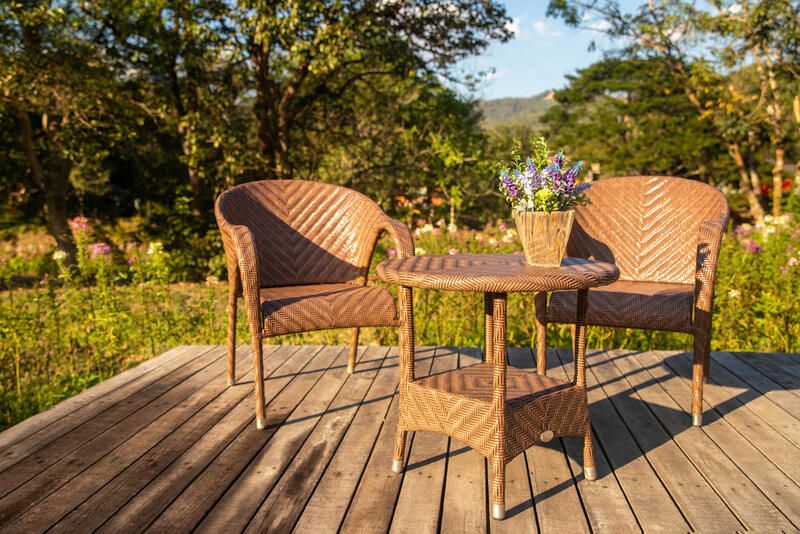 Climate Consideration
When purchasing patio furniture, you should take into account the climate where you live. Outdoor materials can be greatly impacted by the local weather. If you pick the incorrect kind, it can degrade more quickly or sustain damage from the environment. Here are a few of the most important things to consider.
Hot Climates
Choose lighter colors and steer clear of dark metals if you live somewhere that is quite hot outdoors during the summer or at midday. Choose lighter wood patio furniture for hot regions, which won't get as hot as metal or plastic. Additionally, dark material hues will reflect more sunlight and become quite hot, plus the sun will, over time cause the colors to fade.
Lighter wood and fabrics for patio furniture in hot regions, which won't get as hot as metal or plastic, helps keep things cool. In hot climates, it is also a good idea to install canopies or umbrellas to protect the furniture from the sun.
Rainy & Cooler Climates
Softwoods can be easily eaten away by persistent rain, and metal patio furniture can rust. The ideal patio furniture for rainy conditions is composed of plastic or synthetic resin, both of which are very well suited to rain resistance. Additionally, these materials dry fast, allowing you to use your furniture as soon as the clouds part.
If you live in an area where it rains frequently, it is preferable to place your furniture under a covering. This will ensure that the furniture lasts longer and safeguard the materials.
Snow, Ice & Hail
When not in use, it is usually a good idea to store your outdoor furniture if you experience a lot of snow and ice throughout the winter. If possible, pack it up and store it in a garage, a shed, or under a fitting protective cover. By doing this during storage, you can prevent the materials from deteriorating from the hard winter cold.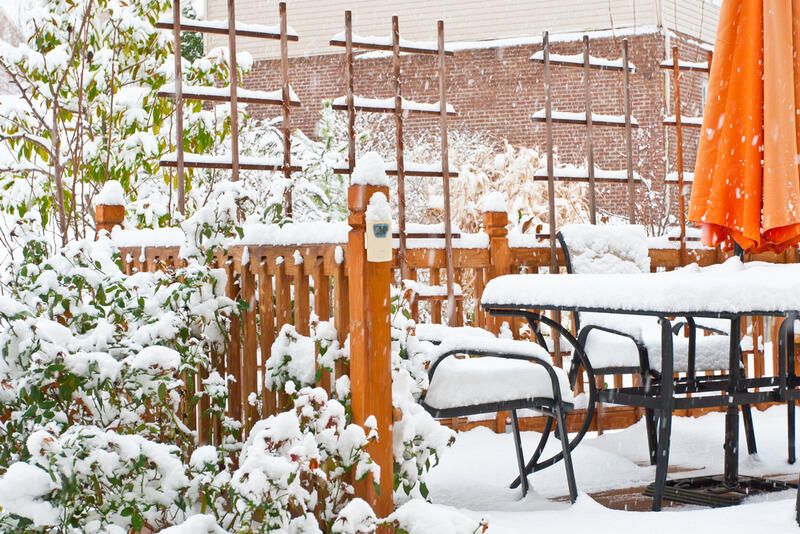 The Patio Furniture Breakdown
Frame Construction
Aluminum is lightweight and impervious to rust. Aluminum can withstand harm since it is tough and sturdy. Given that your outdoor furniture may be exposed to dampness and harsh weather, aluminum takes coatings well. There are numerous options for finishes and colors.
Steel is stronger and heavier than steel, although steel is not as heavy as iron. Furniture with a steel frame is quite robust.
The strongest, most durable, and heaviest of all metal patio furniture, iron won't blow over since it is so heavy. For comfort, cushions are needed for iron chair frames. Wrought iron may require occasional paint touch-ups because it is rust-resistant rather than rust-free.
Because it can be used both inside and outside, wicker is a perfect material for sunrooms, porches, decks, and patios. With cushions, wicker furniture for the outside works best for the great outdoors.
Patio Chairs & Seating
Swivel rockers and cushioned patio chairs are two popular seating options that double as dining chairs. Patio egg chairs, hammock seats, and outdoor recliners are other pieces of shop-available outdoor furniture.
Caned and woven seat styles are comfortable with or without a cushion, and they look great with a small accent table. There are chairs available with high, mid, and low backs. If you want more back support or just a pop of color, decorative pillows can be added to any chair model.
Bench, daybed, glider, swing, and garden stools are now available as sitting alternatives in addition to hammocks and traditional chaise lounges. Collections feature all the comforts of inside furniture, such as chairs with matching ottomans, patio loveseats, and outdoor sofas. Get a hammock for the ultimate in relaxation and sleep.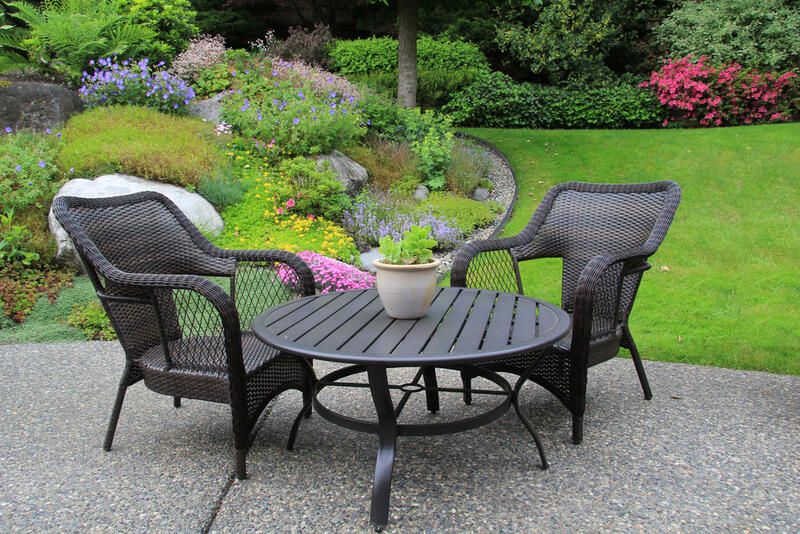 Gazebos & Pergolas
If you desire covered sections for your outside space, gazebos and pergolas are excellent additions. Slatted, louver-style timbers are used in pergolas to filter sunlight and offer ventilation. Pergolas are frequently used to provide partial shade in patio areas, gardens, and on walkways. They can be freestanding, anchored, or wall-mounted. They can be utilized both with and without a pergola cover for added shade. For examples of various designs and installation locations, browse our pergola ideas.
Large outdoor seating areas in a yard are perfect for gazebos. Hard-top gazebos are more sun-protective than pergolas and are often composed of wood, metal, or vinyl. Soft-top gazebos are more portable and less expensive than hard-top gazebos, yet they also offer sun protection. They also have lighter frames. Grill gazebos are a good choice for shielding outdoor cooking facilities from the sun and elements.
Furniture Sets
You can simply create a welcoming space for casual dining or discussion by choosing from a variety of patio tables and chair sets, as well as outdoor lounge chairs such assets that also include couches and loveseats.
Bistro sets come in most materials and is the perfect patio furniture for tiny places (such as a balcony, a small patio at an apartment, or a breakfast nook). For a traditional aesthetic, choose a wrought-iron set. For more comfort, use a cushioned set. Standard and balcony-height bistro sets are available, and the seat cushions can be decorated.
For eating meals outside, dining sets for patios are the best option. They come in sets of five to eleven pieces. Look for a set with an expandable table if you only infrequently need a large dining table. Your patio dining sets can include chairs that are made of wood or have cushions for added comfort.
Outside, conversation sets offer the same comfort as a living room. A welcoming seating area can be created on a front or back porch by adding a pair of conversational chairs with ottomans and an accent table. To give your large family space to stretch out, search for a set that includes a couch and coffee table. Depending on the situation, modular sets can be arranged in a variety of ways.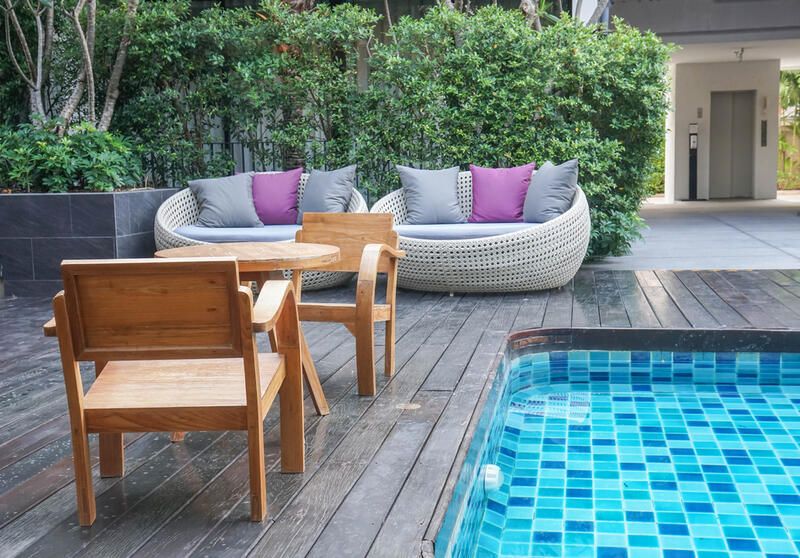 Patio Umbrella, Cushions & Other Accessories
Coverage of the Sun: Whether you're lounging or enjoying outdoor dining, umbrellas, shade sails, canopies, pergolas, and gazebos provide a dynamic appearance and provide relief from the summer heat.
Outdoor Cushions: It's time to replace your patio cushions if they're discolored, grimy, or dingy. Our patio cushions buying guide will teach you how to measure for the right size, choose from a variety of colors and patterns, as well as how to maintain them clean.
Accessories: Complete your patio or deck outfit by pairing complementary tables and umbrellas indoors. You can simply select the finest option because dining and side tables are available in a variety of materials (glass, tile, wood, or metal). To create the ideal outdoor living space, don't forget about rugs, outdoor heating, like fire pits, and an infinite selection of outdoor décor accessories.
Patio Tables
Although patio sets occasionally come with tables, you may also buy them separately to create a custom dining or conversation area that complements your surroundings. Depending on your demands, you can choose the top of your table from materials like glass, tile, wood, or metal. Along with separate coffee tables, end tables, and bar-height tables, dining tables are also available. A patio table with an umbrella hole is necessary if you wish to offer shade. to take pleasure in on chilly nights in the spring or fall? Look for a fire table to make your patio cozy.
Keep Your Budget in Mind
Depending on the style, material, size, and brand name you choose, the cost of outdoor patio furniture varies considerably. Therefore, make sure that you have a defined budget in mind before you start buying.
As is the case with most furniture styles, better materials are typically more expensive. Therefore, if you want quality furniture used to last for many years, you'll probably need to make a larger investment in more expensive pieces. On the other hand, a lower-quality and less expensive item can be appropriate if you frequently alter your style or only plan to wear it for a few seasons.
Keep in mind that you don't have to redesign your room fully at once. Start with the items you will use the most right away if your budget is a little limited right now and add more later.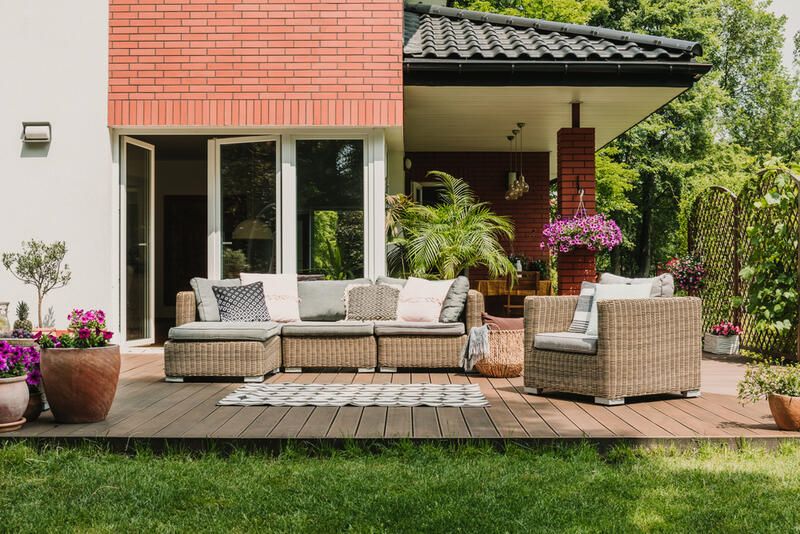 Trying Out Your Furniture Online!
When it comes to redecorating there are a lot of decisions that need to be made which makes settling on a look even harder, but what if we told you there was a way to try your furniture out online on your 3D-designed yard?
By using an online 3D design website like Shrubhub.com you can get the opportunity to try out a plethora of options for your outdoor furniture. Whether you want modern outdoor furniture or something more classical, or maybe you just want simple garden furniture, you can try all of them out in your yard.
Most 3D design websites like Shrubhub allow you to model your backyard in a 3D space where you can then try out different plants, patio furniture, dining sets, kitchens, or whatever you want. You can even change the color of elements already existing in your yard.
Shrubhub.com has a limited-time offer going for 70% off your design along with a free plant consultation! Check them out now and take advantage while you can!